Navigating the airport and waiting for your departure are probably some of the most stressful parts of traveling – especially if you're traveling solo.  There are a million "what ifs?" racing through your mind as you carry your luggage into the airport and check-in for your departure.  Here are some helpful tips from the Contiki travel experts to help you conquer the headaches of airport security, checked baggage, and so on!
Tip #1:  Don't be late
This seems like a no-brainer, but it can happen to the best of us.  Give yourself ample time to get to the airport, find your terminal, check-in, navigate the security line, and hop on your plane.  The rule of thumb for international flights is to arrive at least 3 hours in advance.  It might seem excessive, but if you're traveling during peak travel time, then you'll want to be able to have everything taken care of and be calm and relaxed before you board your flight – including one last trip to the restroom before the long-haul.  There's nothing worse than the feeling of stress and anxiety when you get to the airport.  This is the start of your vacation!  Make it smooth sailing right from the beginning.
Tip #2: Use TSA-approved luggage locks
There might be a small chance that your luggage gets opened for further inspection even after you have checked it for the airplane.  If you use a regular lock, it may be broken open and that's not very fun.  Lock up your luggage with one that is considered "TSA-approved." (indicated by a little red triangle on the lock).  This allows allows the security department to open your luggage and close it with your lock unscathed.
Tip #3: Know the 3-1-1 Laws for Liquids
What does 3-1-1 stand for?  It means you can only take:  3-ounce (or smaller) containers for your gels and liquids, placed in a clear 1-quart bag, and you're only allowed 1 bag per person, placed neatly in the security bin.  Keep this bag of liquids in an easy to access part of your carry-on (such as the front pocket of your luggage, right inside your purse, or the front of your backpack).  Once you hit the security line, you won't start fumbling andunzipping your bags just to find your liquids case.  Check out the icon below or visit the TSA website for more information for 3-1-1.
Tip #4: Navigate the security line with ease
When you first enter the security line, make sure to take out your boarding pass (printed or otherwise) and identification (i.e. passport, driver's license, etc.).  Also take off your jacket while you're waiting, and make sure to locate where your 1-quart bag of liquids.  Once you pass the TSA official, you don't need your boarding pass or ID for the security check, so tuck those away in your carry-on where you stored your liquids bag; pull your liquids bag out and you're ready to get through security with less fumble.
Tip #5:  Make your flying attire security line-friendly:
Too often do we find ourselves standing in line behind the person wearing lace-up boots who have change in their pockets and don't realize at the last minute that they need to a.) take off their shoes  b.)  remove their jacket  c.) take out their liquids and their laptops. A few suggestions for security line friendly attire include:
Slip-on shoes – easy off for the security line, easy on when you exit
A buttoned or zippered jacket – take this off while you're waiting in line and drape it over your arm.  You'll be asked to remove your jacket for the metal detector and place it in the x-ray bins
No accessories – that includes belts, body piercings, jewelry, or anything that may set off the metal detector.  When it doubt, leave it out (or put it in your carry-on)
Tip #6: Know your airport terminals and gates in advance: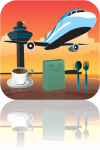 It's not just enough to know what airport terminal you should be dropped off at, or which gate to proceed to when you're boarding your flight.  You can check the airport screens for up-to-date information about your departure gate.  Yet, if you find yourself breezing through security and you're in the terminal for several hours before your flight, don't spend time aimlessly wandering around to find food, newspapers, or something to drink.
If you're traveling with an app-enabled device, consider getting Airport Maps Mobile App (good for iPhone and Android users!) – which has maps for every major airport in the United States and can direct you towards all the restaurants, newspaper stands, and lounge options.  You'll look like a travel pro, making your way through the airport like you own the place.
——
So there you have it!  Make the trip through the terminal hassle-free and enjoy your vacation even BEFORE you take-off!