St.Kilda – the land of saints, kilda's, football players at the Barkly on Sunday nights, the beach, watering holes, beer gardens, cyclists and fish & chips on the grassy knoll next to the vineyard. Summertime here, brings an influx of humans seeking beachside pastures to enjoy summer's glorious heat, happiness and sunshine.
Here is The Urban List's insider guide to the best local feeds under $10.
The Banff is a firm favourite among locals. Open every day for breakfast, lunch and dinner. A crisp tenner will leave even the largest stomachs sated, with a variety of in-house pizzas on offer for a meager $6 all day Monday & Tuesday and 12-5:30pm Wednesday to Friday. Full priced pizzas come in at $6-$8.90 on non-discounted days.
You'll also find 'paper pastas' (pasta served in paper) for a reasonably $9.90 and a variety of focaccias and salads for under $10. Be sure to try the saganaki rosemary potato and sea salt pizza.
The Banff  | 145 Fitzroy Street in St Kilda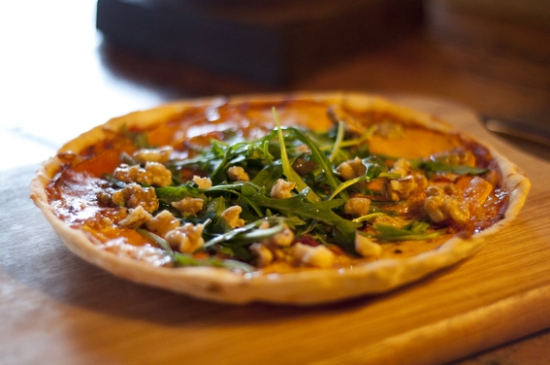 Image Credit: Banff.
Catering to Melbourne's latest obsession with all things froyo (frozen yoghurt), Yo-Chi is potentially the perfect place to take your crisp tenner as the summer months approach.
Positioned on Carlisle Street, Yo-Chi has taken the concept of create-your-own frozen yoghurt to a whole new level. Frozen yoghurt flavours include apple pie, mango, peanut butter, chai, hazelnut, salted butterscotch, coconut…the list goes on! The self-serve toppings station will make your eyes boggle with fresh and dried fruits, nuts, biscuits, sweet treats, chocolates etc! Do yourself a favour and enhance the quality of your life substantially by smothering your yoghurt of choice with the cinnamon crumble and hot banana caramel sauce…trust me.
Yo-Chi  | 292 Carlisle Street in Balaclava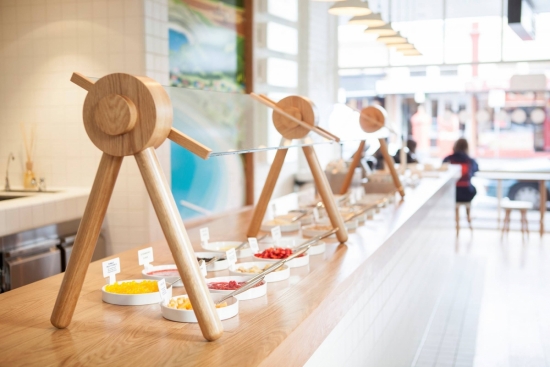 Image Credit: Yo-Chi Facebook.
GLICKS CAKES & BAGELS
It's a well-known fact that everyone loves bagels. That we can agree on. But far more ambiguous is the question – 'where does one find the ultimate bagel?' So we St Kildians can count ourselves lucky that we have one of the best purveyors at our doorsteps.
Your $10 will get you, and a few of your mates, some of the best bagels you'll find outside of the world's bagel capital, NYC. Glicks also has your bagels well accompanied with a variety of spreads and toppings (including egg, Mexican, eggplant and tuna dips, tabouli salad, coleslaw and, of course, cream cheese and smoked salmon).
Glicks Cakes & Bagels | 330 Carlisle Street in Balaclava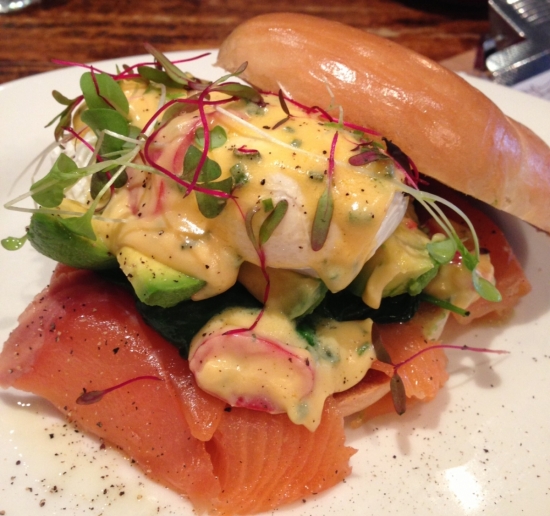 Image Credit: Eatmelb.
UNCLE
New kid on the block, Uncle, has hit the ground running in St Kilda and met the much-needed demand for Vietnamese cuisine on the south side. Previously starved of decent pho, St Kildians have been joyously celebrating since Uncle opened on Carlisle Street, providing authentic and delicious pho.
Mini bowls are available for only $6 bucks, and whilst the large serve comes in just over at $11, you'd spend more on petrol venturing to Victoria Street, so technically you're still being thrifty! With a fabulous décor and a rooftop dining area, Uncle is going to be a winner this summer in St Kilda.
Uncle | 188 Carlisle Street in Balaclava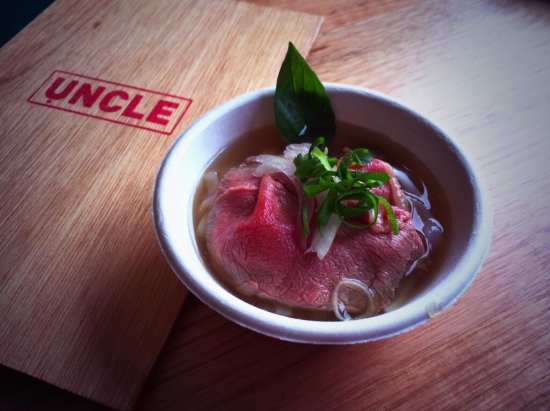 Image Credit: PBS.

LA CAFE ON NELSON
Is there anything better on this earth than dip? As the answer is obviously no, my pick for Melbourne's next craze is Middle Eastern style food.
If you're in agreeance with this irrefutable statement, then take my advice and head to La Café on Nelson to try the best hummus you will ever taste.
Tucked just away from the main drag of Carlisle Street, La Café on Nelson is a warm and friendly Israeli-run café where your $10 will yield you with said world's best hummus, served with homemade warm fluffy pita bread. You can also enjoy a range of falafels, pita pockets and wraps.
If that doesn't make you leap out of your chair, stop what you're doing, sprint to the nearest ATM and get down to St Kilda quick smart, you need to have a good long think about your priorities in life…
La Cafe on Nelson | 28 Nelson Street in Balaclava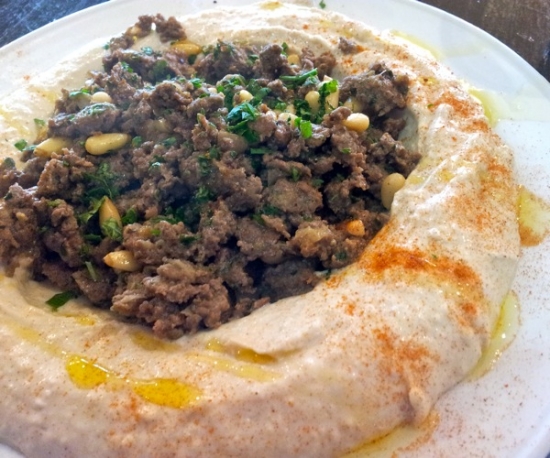 Image Credit: Fitzroyalty.
Want to see the full list of top 10? Click here! Original article written by Jessica Hackett from The Urban List