Carbs, meat, carbs and sweets - that pretty much sums up German food. It's a meat lover's heaven and provides some of the perfect winter meals. Don't be turned off if you are on a carb-free diet or are a vegetarian, there are plenty of choices for you. However if you've got a weakness for meats, potatoes, breads, pastries and cakes, the Germans certainly know how to fatten you up.
Currywurst
A street-food specialty starting around the end of the 1940's in Germany and in particular Berlin, the Currywurst has reined power over the tastebuds of Germans for quite some time now. It comes sliced and slathered, with a little bit of curry powder flavoured ketchup. It's hard to judge who makes the best around town but if you want to visit the oldest operating Currywurst stand, head to Konnopke's in Prezlauerberg in Berlin. They certainly know how tickle the taste buds.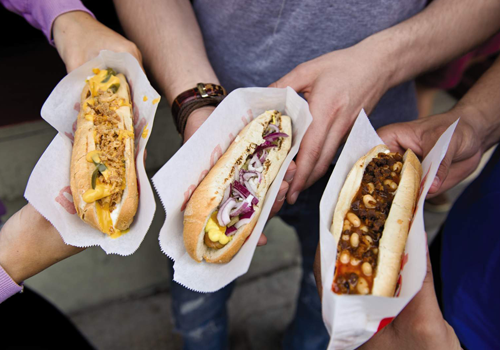 Weisswurst
Schnitzels, pretzels and apple strudels are some of the traditional dishes found in the Bavarian region. However the most worshipped in this region is none other than the Weisswurst. Picture this: finely minced veal with fresh pork back bacon flavoured with parsley, lemon, mace, onions, ginger and cardamom and you get the Weisswurst. It's a carnivores delight and a vegetarian's idea of hell (sorry vegetarians!). The Weisswurst plays an incredibly important part in Bavaria and because of this, a number of rules have been created around this sacred food:
1. The Weisswurst must never be eaten with a fork and knife, only with hands
2. It must be eaten only with a roll or pretzel and sweet mustard. No other side dishes are acceptable.
3. The Weisswurst can only be eaten after 12:00pm.
If you've travelled to Germany before, you'll realise it's best to stick to the rules.
Okay, so there is more to Germany than the Wurst! If sausages don't float your boat, here are a few other things you might like to try:
Schnitzel
Oh the beloved schnitzel! Traditionally a slab of tender flattened veal, dipped in flour, egg and breadcrumbs and cooked in oil or butter; if you don't recognize anything else on the menu, the schnitzel is your best option. Germany has many different kinds of schnitzel, so if you like one, why not try a few different types.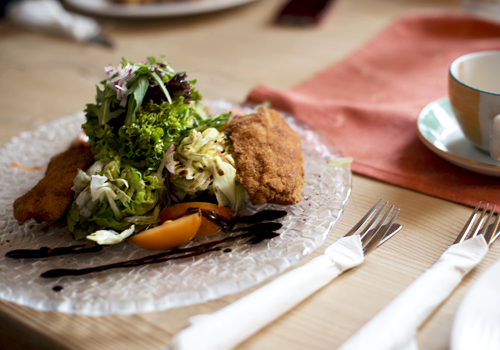 Pretzel/Brezel
It is unknown exactly where the pretzel originated, some say it was Italy while others claim Germany, but I think we can all agree that they are amazing. In the 16th century, pretzels were traditionally eaten during the dinner of Good Friday in Germany. They have since become an everyday treat and are commonly found in the southern parts of the country. There is nothing like a large salty pretzel straight from the oven to nibble on.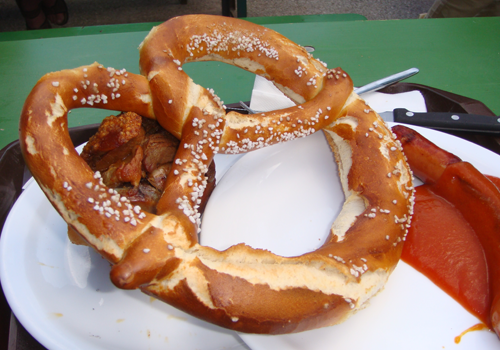 Schwarzwälder Kirschtorte(or put simply in English – Black Forest Cake)
Four mouth watering layers of chocolate sponge cake, fresh cherries and thick whipped cream make up the ultimate German cake. Originally a specialty from the Black Forest region, this delightful creation has become a favourite amongst Germans and foreigners over the years. A sliver is more than enough for the average person, as this cake is super rich and heavy!
Apfelstrudel
Although the apple strudel originated in Austria, it has been a popular desert in Germany too. It is a pastry with a sweet or savory filling rolled in thinly stretched light dough. The apple strudel is a specialty of the Bavarian region. Best served warm with vanilla ice cream, whipped cream or a vanilla sauce, this little desert is utterly delightful. 

And of course… the bier!
Beer is a major part of German culture and they've been brewing everything from ales to beer since as far back as 800BC. So it's no wonder they're good at it. Today you will find literally thousands of types on offer so you're bound to find something you'll enjoy sipping!