Need an introduction to finding the best skating spots in Australia's fine capital city? Of course you do, how else are you going to get around that public transport vortex? Put aside your imagined qualms with our idyllic seat of power and sidle up next to our man on four wheels, Contiki Insider Matthew Elson. We're kick pushing out the penultimate instalment in Matthew's Guide To Unearthing Australia's Best Skating Spots, following on from his guides to the best on offer in both Sydney and Melbourne with the following guide to acting a fool on the blissful bureaucratic bitumen of Australia's Capital Territory. [Ed. note: Haters to the left, there's more to Canberra than your primary school excursion lead you to believe.]
BELCONNEN SKATEPARK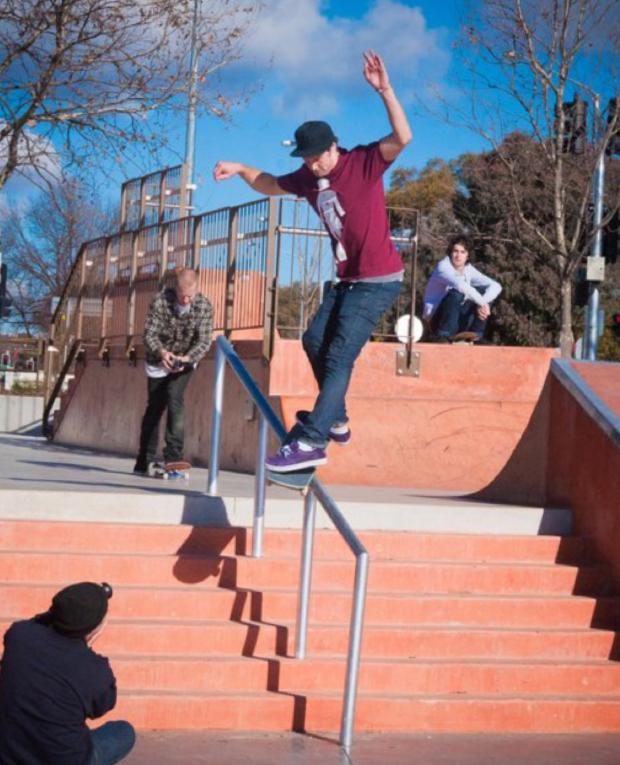 Photo: Tim Saunders
via Southern Man
'Generic, bland, uninspired and boring'. None of these words have ever been used to describe the abundance of well-structured concrete that is Belconnen Skatepark. Belconnen is one of the largest parks in Australia and is arguably the best. The first time I went to the new and improved 'Belco' skatepark I was overwhelmed. I felt like a 12-year-old kid in a Westfield food court armed with a ten dollar note and a burning desire for all things greasy; bombarded with choices, facing the impossible decision of choosing where to spend my parents' hard earned money. I foolishly opted to sit down and sip on a Slurpee and spent the whole ride back to Sydney dreaming of what could've been.
Quarterpipes, vert walls, stairs, hubbas, ledges of every variety, the iconic 'Belco Bowl', banks, stairs, rails and obstacles such as tacos and jersey barriers co-exist harmoniously to create the flawless fusion of organised fun that is Belconnen skatepark. The suburb of Belconnen is approximately fifteen minutes by car from the centre of Canberra and the park itself is located conveniently close to Belconnen mall and the local pub.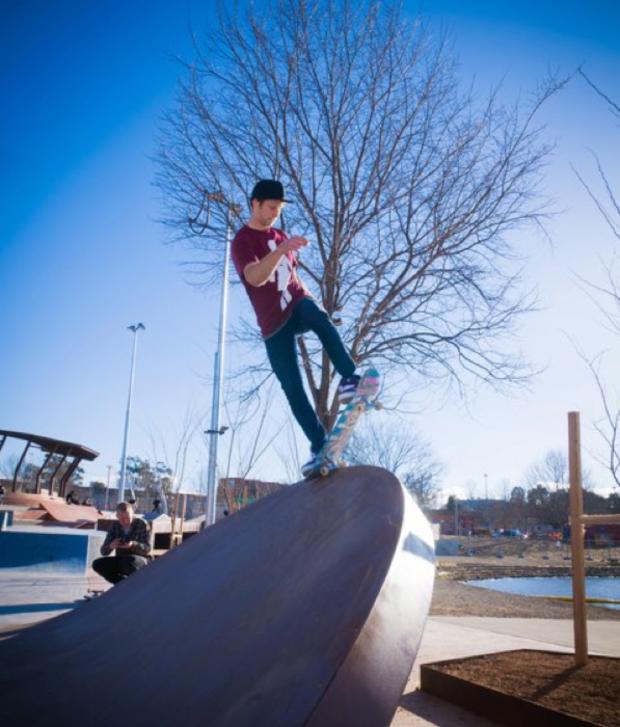 Photo: Tim Saunders via Southern Man
CANBERRA CBD/CIVIC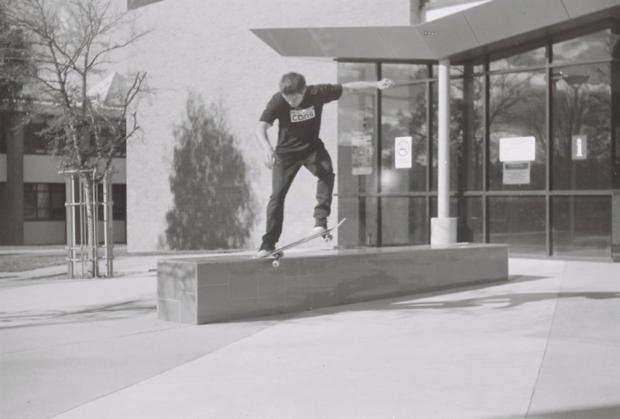 Photo: Sam Giles by Brett Randall via Tumblr
If the CBD of Canberra was a person they would be severely lacking in the 'swag' department. The sterile streets of downtown Canberra always seem to be eerily vacant, no matter what time of the day. Graffiti, colourful characters and endearing imperfections are all nowhere to be seen in the area, and the opiate-like mood of the city will leave you with a general taste of indifference in your mouth. Luckily Canberra compensates for the absence of urban charisma with a plethora of usually hassle free places to skate. Jump on your board and spend a few hours rolling around Civic and you're bound to stumble upon some highly-shreddable architecture.
Like most downtown areas, manual pads, gaps, stairs, ledges and obscure skatable statues are all there ready for you to discover and conquer. Civic is also home to Canberra's infamous white hubba. If you're in the market for a new board, shoes or that cute pair of pants you saw your favourite pro wearing, be sure to pop into Shifty's Skate Shop. Located in the heart of Canberra, Shifty's offer a wide selection of quality boards, shoes and apparel and the staff are more than happy to point you in the direction of any spots that Google Maps can't help you out with. After a strenuous day of exploring the cold hard streets of inner city Canberra, head to Civic skatepark with a beer for a leisurely wind down session.
Where: 16 Garema Pl, Canberra ACT 2601
When: Monday – Thursday 10:00am – 5:00pm; Friday 10:00am – 6:00pm; Saturday 10:00am – 4:00pm; Sundays/Public Holidays 11:00am – 3:00pm
Phone: (02) 6262 9162
Website: Shifty's Skateshop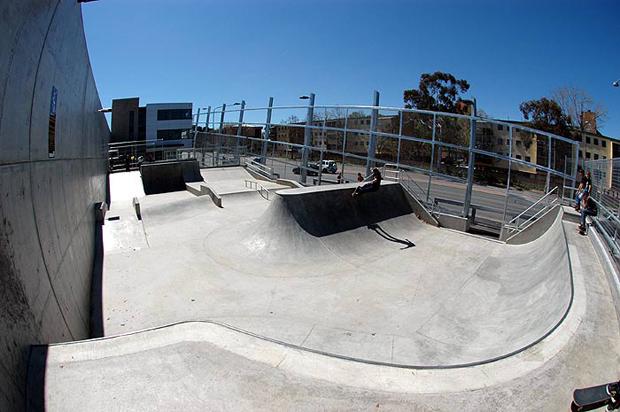 Photo via Skateboard Shop
THE WAVE AKA MAGIC CARPET
The closest beach to Canberra is 150 km away, but don't allow that to strip you of your God-given right to get pitted. This man-crafted crystal cylinder perpetually breaks in front of the car-park at the National Museum of Australia, just outside the CBD. After scoring an inland barrel bomb the hill and blast a trick off one of the concrete ripples or find simple joy in pumping the humps while taking in the pleasantries of the surrounding bushland. Trick your friends into thinking that you're a cultured individual on an eternal quest for knowledge by expressing your desire to go catch that interesting new exhibition at the nearby museum once the session is over.
Address: Lawson Crescent, Acton ACT 2601
Phone: (02) 6208 5000
Opening Hours: 9:00am - 5:00pm daily, closed Christmas Day
Website: NMA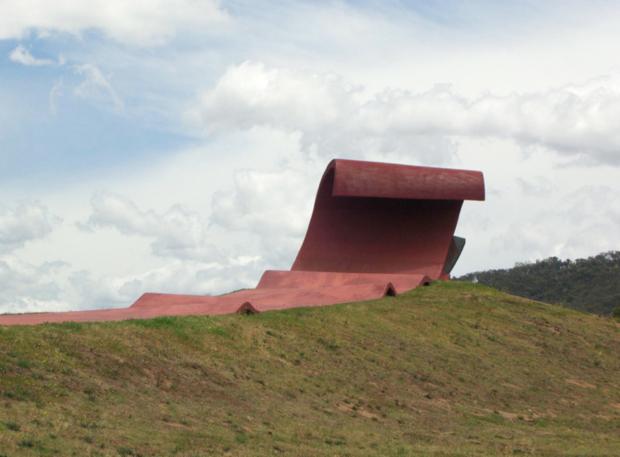 Photo by Alpha via Flickr
WODEN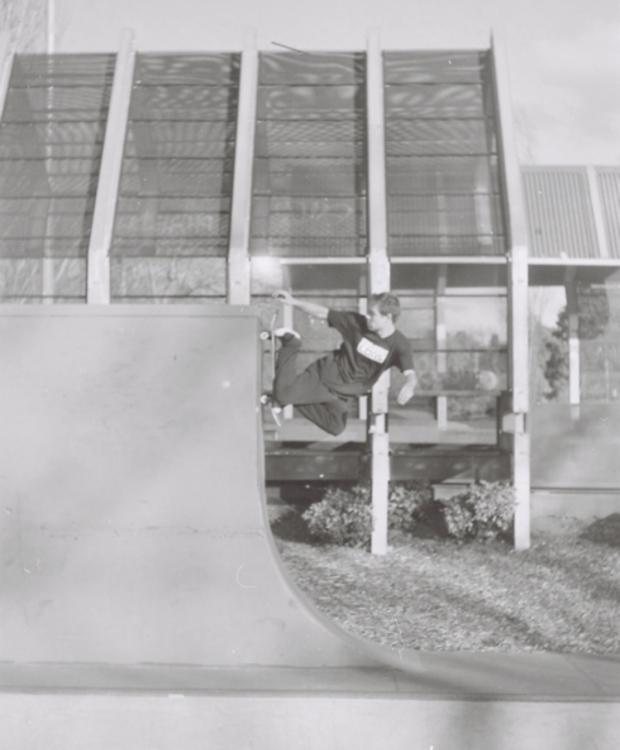 Photo by Sam Giles by Brett Randall via Tumblr
Woden is all about flow. The park has been designed in a manner that allows you to haphazardly haul arse around the place on auto-pilot as your sensibly long locks try to keep up with you. The park doesn't discriminate and it caters for skateboarders of all skill levels and tastes, with the park having an excellent transition to 'street' ratio. A combination of transitional treats such as bowls, a vert wall, quarter pipes, a jelly bean, bowled corners and simulated street style obstacles such as banks, jersey barriers, hubbas, rails, manual pads and stairs make Woden the ideal skatepark of choice for the all-terrain shredder. For post-skate food, drinks, movie or shopping extravaganza, cross the road and lose yourself in the soul-sucking, time-freezing vortex that is Westfield.