Day 3
With jetlag still lurking, we were determined not to miss the bus, waking early to meet the group and Jack our Tour Manager. Our group contained a number of people who had begun their trip a week earlier, as well as some newbies. We exchanged travel stories and begin to make friends.  From the desert we travel to
Bass Lake
in the Sierra Nevada Mountains to explore the outdoors.
Upon disembarking, we notice a slight temperature change… of 10 degrees! After sweating it up in the Nevada Desert, we were caught off guard and it was time to layer up.  Bass Lake is a hidden gem, elevated over 1,000 metres above sea level.  Thankfully our wooden chalets are heated. After two busy nights in Vegas, it was nice to wind down and relax at the lake. For dinner we ate delicious American pizza at
Ducey's
. Lake Bass is the complete opposite to Vegas; the evenings were chilled and silent.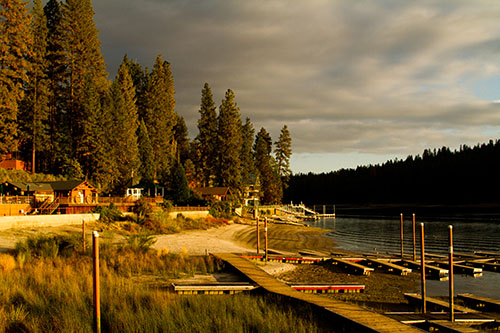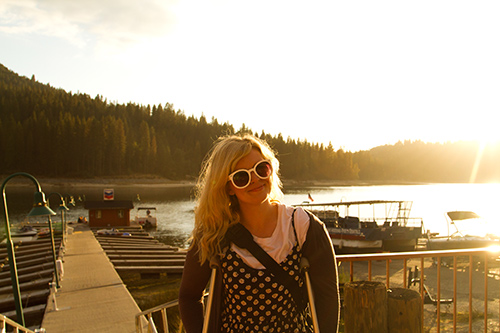 Day 4
After a restful sleep and a slow morning, we headed into the local town for some grocery shopping for a BBQ lunch. It was our Tour Driver's birthday today, so we celebrated with a big feast in one of the chalets. We all pitched to prepare the food. Alex marinated steaks and
S'mores
were made. The BBQ was delicious; it was the perfect lunch by the lake.
We left the group for the afternoon, deciding to go for a hike alongside Bass Lake. The fresh brisk air was beautiful and scenery was magnificent. It was a beautiful way to spend the afternoon. We spent sunset taking photos, chatting on the jetty and watching our fellow travellers try their luck with some fishing.
Another dinner at Ducey's, another night of tasty food and good company. After filling our bellies we hit the local karaoke bar for some laughs. The karaoke bar is exactly as you'd picture a classic American lake bar; a quaint wooden cabin with pool tables, sports broadcasted on every television screen and conversations and laughs exchanged by all. Alex and Gabby started the night with some Blink 182 and cheer on the others as they sung the night away. We called it a night fairly early as we had a big day of travel awaiting us.