The fourth largest country geographically in the world, home to almost 1.4 billion people, the People's Republic of China plays a huge part in world economy, trade and politics. But there is more to China. Plains and rivers sweep through the east while deserts and high mountains sprawl through the west, making it an incredibly diverse land to explore. It's rich history, longstanding traditions, multiple dialects and rugged terrain make it one of the most fascinating countries to travel through. Although China has been publicised as controversial at times, those that dive a little deeper to discover the beauty of this land usually fall in love with it.
TRAVELLING IN CHINA
China is incredibly intriguing - it's undeniable. With artifacts dating back well into the BC's, China's rich history of dynasties, various dialects and international trades has influenced the world we know today.

With the world at your fingertips and everything being so accessible these days, China presents one of the final frontiers when it comes to travel. Language barriers can be an issue, however with having a native English-speaking Tour Manager and English speaking local guides, we help minimise this issue making it as easy as possible to explore and learn about China.

Famous for its cheap goods, you'll find everything from t-shirts to suits, furniture to traditional artifacts. In the past, China was known for trading silk and jade to countries all over the world. Unfortunately in recent years, there's been a huge influx of fake goods sold throughout China. The trade of these goods is illegal and should not be supported.

The best advice you can have before travelling to China is go with an open mind and put your non-judgmental cap on. You will probably see things that you'll find confronting about Chinese culture, but this is what has been practiced for centuries. Everybody lives differently and that is what makes different culture so intriguing. In terms of weather, China is best to visit during Spring (March-May) and Autumn (September-November).
*Be sure to have a look at visa and vaccinations requirements before you leave.
FOOD

If you are adventurous with what you eat, China is the ultimate playground. Some of the more audacious dishes you can test your tastebuds with are jellyfish, Century Eggs, chicken feet, sea cucumber, beetle, scorpion and snake.
For those of you who prefer the less extravagant options, try some of the following:
Peking Duck - Now considered one of China's National Foods, can be found at restaurants all around China (not to mention, most Chinese restaurants!).
Chow Fun - A popular Cantonese staple consisting of thick rice noodles, an array of vegetables, your choice of seafood, sweet glazed pork or beef in a savoury sauce.
Dumplings – The Chinese sure have mastered the art of dumplings (with a history of over 1,800 years how couldn't they?).  These juicy parcels of goodness can be filled with all sorts of meats and vegetables. If you visit Beijing – try Mr. Shi's Dumplings.
Mapo Tofu – It's a zesty Sichuan dish of beautiful textures and flavours. Tofu is the main feature of the dish and it can be quite spppppicy.
You'll notice that the street food is very affordable, easy to find and incredibly tasty. Make sure you put Fangbang Lu in Shanghai on your list of places to visit. It's a foodie's heaven.
* If you do take up the street food option, head to the busier stalls as they usually have the best food turn over (and it's less likely meat has been sitting out for long), opt for the darker meats over chicken and fish and make sure the meat is cooked thoroughly.
MUST SEE'S
China is completely packed with things to see and do, making it so easy to become overwhelmed trying to fit everything in. Below is a list of places to see.
Great Wall of China
Probably China's most well-known historical sight, the Great Wall of China was built, rebuilt and maintained from 5th century BC to the 16th century - which is pretty hard to believe when you are standing on it!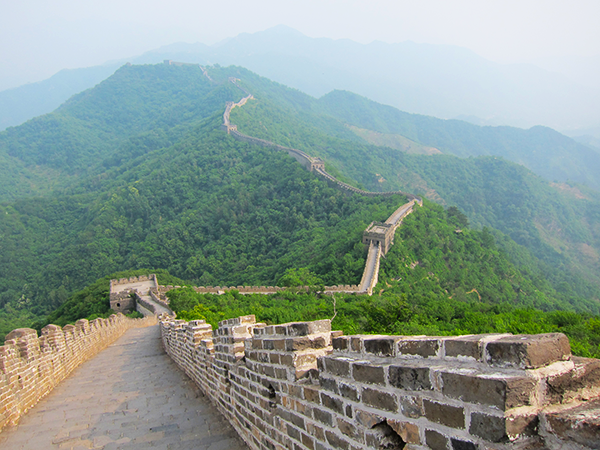 Beijing Summer Palace
Now a registered UNESCO World Heritage Site, the Beijing Summer Palace was once home to some of the most influential royals during the 1700 & 1800's. It is located in northwest Beijing City and occupies over 742 acres.
Forbidden City
Originally the home to over 20 Chinese emperors for just under 500 years, the Forbidden City is now a museum and open to the public. You'll find a great view of the Forbidden City from the top of Coal Hill in Jingshan Park.
Terracotta Army
Over 7,000 pottery soldiers, horses, chariots and weapons sit peacefully in rows in the city of Xi'an. These Terracotta Warriors and Horses were constructed between 246 and 209 BC under the commandment of Qin Shi Huang Di (the First Emperor of Qin).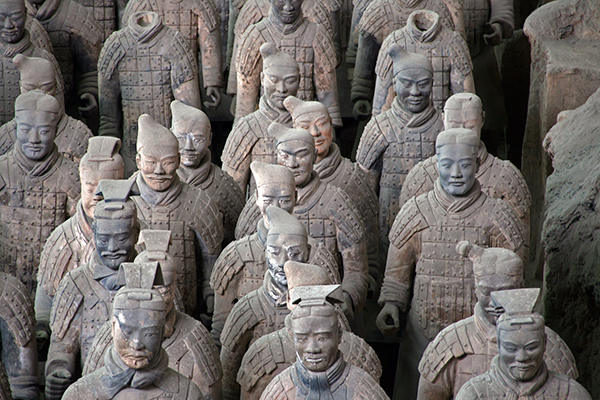 Chinese Tea House
You can't go to China without a visit to a traditional tea house… that'd be like going to Italy and not having a coffee! Try the Fu Bao Ge in Xi'an or MingCha tea house in Hong Kong.
City Skyline in Hong Kong
In 2010 it was ranked #1 in CNN's world's top 20 skylines, Hong Kong makes a beautiful skyline both in day and night. Every night at 8pm A Symphony of Lights illuminates the sky in a spectacular light, laser and sound show.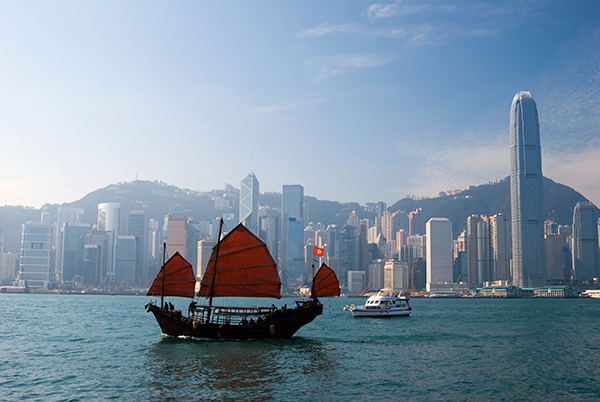 Temple of Heaven
The largest building for religious worship in China, the Temple of Heaven was constructed in 1420 and expands over an area of 270 acres.
Chinese New Years Celebrations
A 15-day celebration held all across the country between January and February marking the beginning of the lunar New Year.  Traditionally celebrated with fireworks, dragons, traditional foods, red envelopes of money and a thorough house spring clean.
The New Year celebrations begin on Friday the 31st of January this year as we welcome the Year of the Horse.

Happy Chinese New Year!