Megindoe from Laguna Beach, California
"This was my 6th Contiki!"
What's up in this pic?
This is me and my friend making a wish in front of the Trevi fountain in Rome. The fountain is rumoured to grant wishes to those who throw coins over their shoulders. We, of course, wished for some handsome Italian men to come whisk us away on a Vespa and take us out for some gelato!
#NoRegrets
It was a tough decision to go on the trip and save up for it, but like they say: YOLO. It was an amazing trip worth every penny and I'd do it again in a heartbeat. I have no regrets about the entire experience -- my favourite was bartering with the gypsies at the leather mart!
Jascoller_ from Sydney, Australia
LA to the Bay, January 11th-22nd, 2012

What's up in this pic?
This is me backflipping of the ledge at Mission Beach in San Diego; photo taken with a GoPro camera. This was such an awesome trip and I totally recommend it!
#NoRegrets
I definitely don't regret playing Blackjack in Vegas. We hit up 15 different casinos in one night and took home a $5 chip from each one.
Jpdegorter from Long Island, New York
European Horizon, August 23rd-September 4th, 2012
What's up in this pic?
It's myself and five of my tour mates are on the Grand Canal during the gondola excursion in Venice. My experience with Contiki was by far the best thing I have done in my life. My tour manager did a fantastic job enhancing the experience of visiting the cities by opening our eyes to how travelling with Contiki is just as much about the people you meet as much as the places you visit.
#NoRegrets
This trip in general opened my eyes to a whole different way of thinking and living life with no regrets. The experience of travelling to Jungfrau mountain and being on the highest point of Europe was by far my most memorable point of my tour.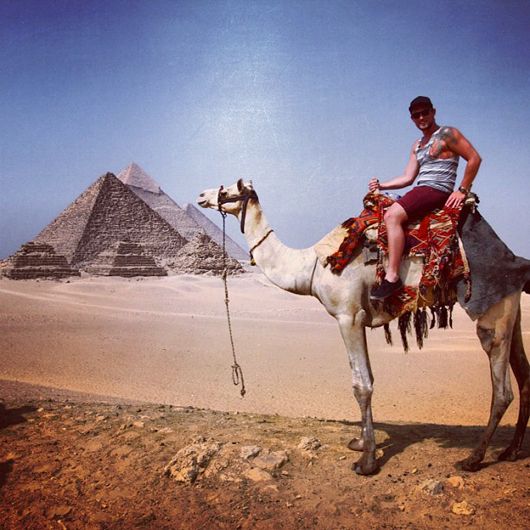 Biffy87 from Queensland, Australia
Ultimate European Adventure, June 10th - July 24th 2012
What's up in this pic?
This is me on the optional camel ride to the pyramids - a MUST DO on the Egypt option tour. Such an amazing experience to be up close to the camels and ancient pyramids. I remember thinking: "This is so surreal to be in EGYPT of all places in the world and to be riding a camel through the desert to the great pyramids of Giza." It's something I will cherish and remember for the rest of my life.
#NoRegrets
One thing I promised myself on tour was to never turn down an opportunity to try something new, whether that be new foods or one of the many awesome opportunities/experiences Contiki has to offer on this tour. Do all the optionals and never turn down the opportunity to try something new!
Aussiepikey from Sydney, Australia
Rock and Red tour, August 22nd 2012
What's up in this pic?
We were at Uluru (Ayers Rock) for sunrise on day 4 of our tour and we had just got engaged the night before during dinner. The tour was amazing and the people we travelled with we're great fun and the tour manager Jess and driver Youngy knew their stuff.
#NoRegrets
Wow, I find it really hard to name one thing! From the helicopter ride over Uluru to sleeping in a swag under the stars by the campfire, I had no regrets about joining this tour. but I guess the one thing that made the trip was sharing it with my now fiance - and having her say yes, of course!
---
Want your epic Contiki pics featured on The Exchange? Tag your Instagram photos with #ContikiExchange and you could be chosen for our weekly roundup!