Serena_noble from Port Douglas, Australia
European Adventure, June-July 2011
What's up in this pic?
We were in Dubrovnik on the optional Croatian island tour. I had the time of my life on my Contiki tour and this was one of the best days - it was so much fun just cruising past the islands and getting to jump off the boat!
#NoRegrets
I would have to say that actually going on this Contiki is what I look back at with no regrets. It was a massive thing for me to do because I went solo and it was my first time travelling alone. I couldn't have had a better time or made better friends; everyone was amazing and it really was one of the best and biggest adventures of my life! But if I had to pick one thing on the tour it would probably be paragliding. I was a bit nervous to do it but it ended up being one of the best things I've ever done, it was so much fun and so worth it!
Yasminelace from Australia
Best of the USA, August 2012

What's up in this pic?
This was taken taken in Vegas at the Grand Canyon. I felt so small sitting in one of the Seven Wonders of the World -- it's huge! I felt free, with no worries. There's so much in the world to see and this was just the first step.
#NoRegrets
I definitely don't regret meeting such amazing people, all of them who were on the same journey as me!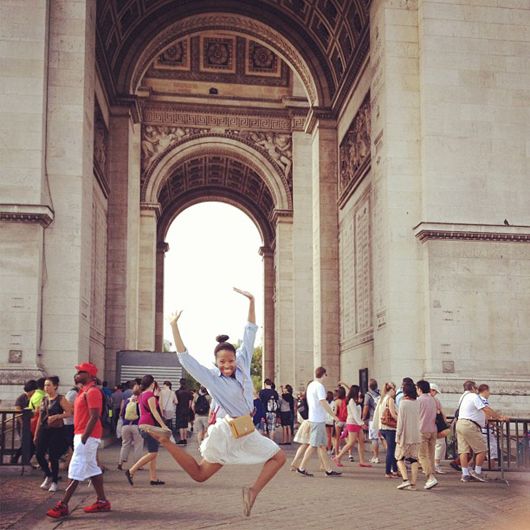 Kenyattapinata from Dallas, Texas
European Magic, August 17th-26th, 2012
What's up in this pic?
I was seeing the sights of Paris and walking down the Champs-Elysees. I'd just finished climbing the stairs of the Arc de Triomphe and wanted an epic picture to show how much fun I was having!
#NoRegrets
Singing a Spice Girls song at a Parisian karaoke bar across the street from Notre Dame cathedral definitely left me with no regrets!
Bellaaa01 from Sydney, Australia
Grand Southern, November 2011
What's up in this pic?
This photo was taken when I was hot air ballooning in Albuquerque, New Mexico. This was my first Contiki tour I'd taken and it was possibly the greatest 3 weeks of my life!
#NoRegrets
I have absolutely no regrets from this tour, from dancing on bar tops in Dallas, Texas to singing karaoke in a bar full of strangers. I met some amazing people who I now consider to be close friends. It was a fantastic experience and I can't wait to do it again!
Jayylewis from Prince George, BC, Canada
European Contrast, July-August 2012
What's up in this pic?
This photo was taken on one of the last days of our tour in Holland in front of the Cheese and Clog factory - we wanted to see how many of us we could squeeze into the big clog! I loved my Contiki tour - the people I travelled with were amazing and we experienced so much together. Words can't describe the memories I have! Couldn't have asked for a better tour manager and driver to take me on this wonderful journey either! Big thanks to Nick & Luke.
#NoRegrets
I wasn't supposed to go on this tour - I was actually saving up for school until plans fell through and I chose to go on this trip instead. Best decision of my life! I have no regrets on anything I did on my Contiki. It opened my eyes to the world and introduced me to so many amazing people. I'd do it all over again in a heartbeat!
---
Want your epic Contiki pics featured on The Exchange? Tag your Instagram photos with #ContikiExchange and you could be chosen for our weekly roundup!