Alice_brook from Melbourne, Australia
Aegean Classic, October 2012
What's up in this pic?
This photo was taken in Santorini in a small park where children were playing soccer. It was the perfect backdrop, so us girls all wanted our picture taken there. It was so amazing to see Santorini - it's exactly like how you see it in movies or on postcards. Absolutely picturesque and I felt this photo summed it up perfectly!
#NoRegrets
I put myself out there to meet new people and I have no regrets with that. I'm so glad I did, as I met an awesome group of girls who I hope to stay friends with for many years to come!
Forever_young_x2 from Nova Scotia, Canada
European Experience, Summer 2012

What's up in this pic?
I took this photo on top of Jungfrau mountain in Switzerland, feeling blessed and alive!
#NoRegrets
This was the most time I've spent away from home and thought it would be hard, but in the end was I so happy I took the time to experience Europe.
Samdossantos92 from Sydney, Australia
The Big Chill, July 2012
What's up in this pic?
This photo was taken in Corfu,Greece on an optional extra of George's Boat - definitely one of the most fun days of the trip. I loved my Contiki! It was 46 days camping around Europe with some great people. I wouldn't trade my experience for the world!
#NoRegrets
I look back at my entire Contiki experience and with no regrets. I grew as an individual and had some of the most amazing experiences of my life to date. I've also made lifelong friends - every day was filled with laughs, history and fun. If I had to pick one adventure during my Contiki that I look back on with no regrets, it's bungee jumping in the Corinth Canal in Greece. It was so scary but with the support of my fellow travellers and the Contiki team I confronted my fear of heights!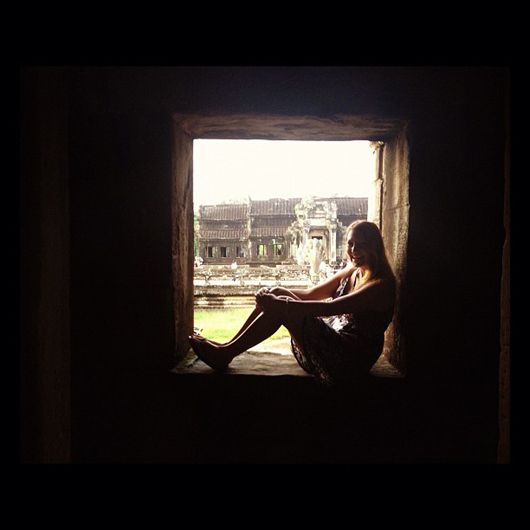 Jennilee1 from Toronto, Canada
Contiki Global Sales & Marketing Conference in Asia
What's up in this pic?
Here I am chilling in an extremely old window inside the Angkor Wat complex in Cambodia, constructed almost 1000 yrs ago! There's so much history and beauty to take in, sometimes you do need to take a break in a window ;). The fact that the surrounding grounds are so gorgeous really makes you feel like you are travelling back in time, like the nearest city is miles and miles away.
#NoRegrets
Earlier this same morning I woke up very early after an extremely fun night of market shopping, pool swimming and long island iced teas. The 4am wake-up call was so worth it, though, when I experienced the breathtaking view of the sun rising over Angkor Wat. Absolutely no regrets!
Chris_moski
Mediterranean Trail, June 2012
What's up in this pic?
At this point we were in Sorrento, Italy, where we caught a ferry to Capri. It was one of the best days on our tour - we all had so much fun jumping off the boat and drinking limoncello.
#NoRegrets
The whole experience was simply amazing! I don't regret anything at all. I went with 4 other friends from home and at first we were a bit hesitant to do a Contiki only because we thought we would be restricted with time, but it's so well organized and I'm glad we did it. I couldn't have had a better time with the people I met on tour; everyone was just so much fun. If I had to pick one thing on tour that I look back on with no regrets, it would probably when we were in Corfu, Greece on George's Boat, which was a massive party and the best day of the tour. My Contiki experience was honestly the biggest adventure of my life!
---
Want your epic Contiki pics featured on The Exchange? Tag your Instagram photos with #ContikiExchange and you could be chosen for our weekly roundup!