Our Prague-based Contiki Insider Martina Vackova returns for the final instalment in her introductory guide to the young, stylish denizens marching to their own sartorial beat on the cobblestoned streets of picturesque Prague. Martina, a 25 year old personal style and fashion blogger, cross-fit junkie, paleo devotee and leader of an envious life, snapped the following well-dressed Czechs around the Old Town precinct, which is not only the city's historical centre but also boasts a "fairytale like charm". It's also the city's biggest tourist attraction, a place where, Martina says, "the streets make no sense whatsoever and it is very easy to get lost around there. But lost or not it is always a pleasant to stroll around The Old Town."
You can catch up on Martina's first three street style diaries from the achingly hip Vinoradhy neighbourhood here to the touristic, cultural and shopping centre of Prague Wenceslas Square here, and finally around Martina's favourite Area Latna here; then peruse for the last time the sartorial talent on offer in Chicoslovakia below.
Equal parts nu rave fanatic and stoic woodland sprite, Lukas was spotted on his way to a photoshoot for Vice wearing all vintage everything, accessorised with a hood ornament necklace on extended loan from a Mercedes somewhere in Prague.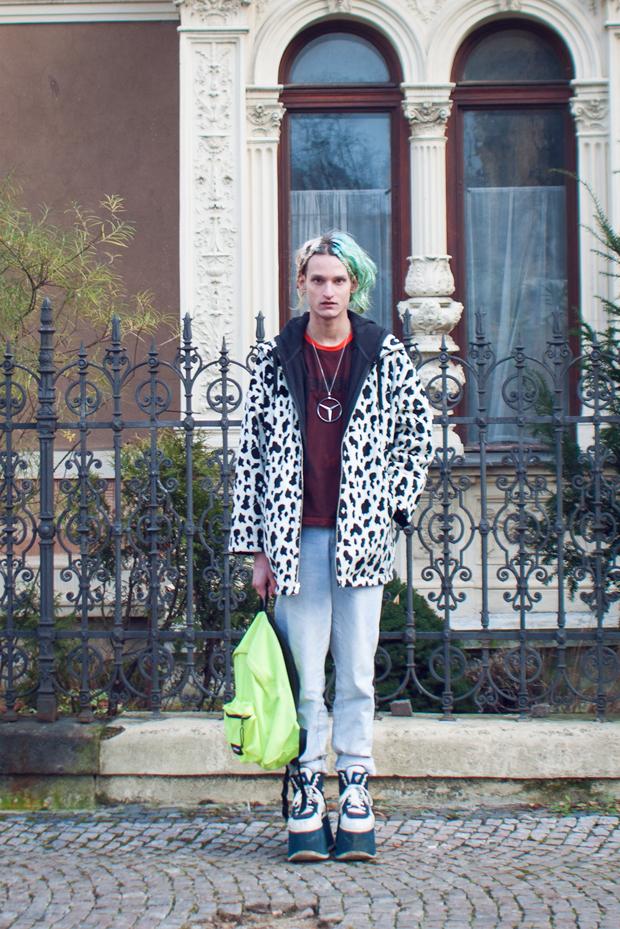 This serene sunset angel is Olga, and she's on her way home from work wearing leggings by Young Primitive, a DIY coat and sweater and shoes by CCC, which I assume stands for Chic in Cold Climates.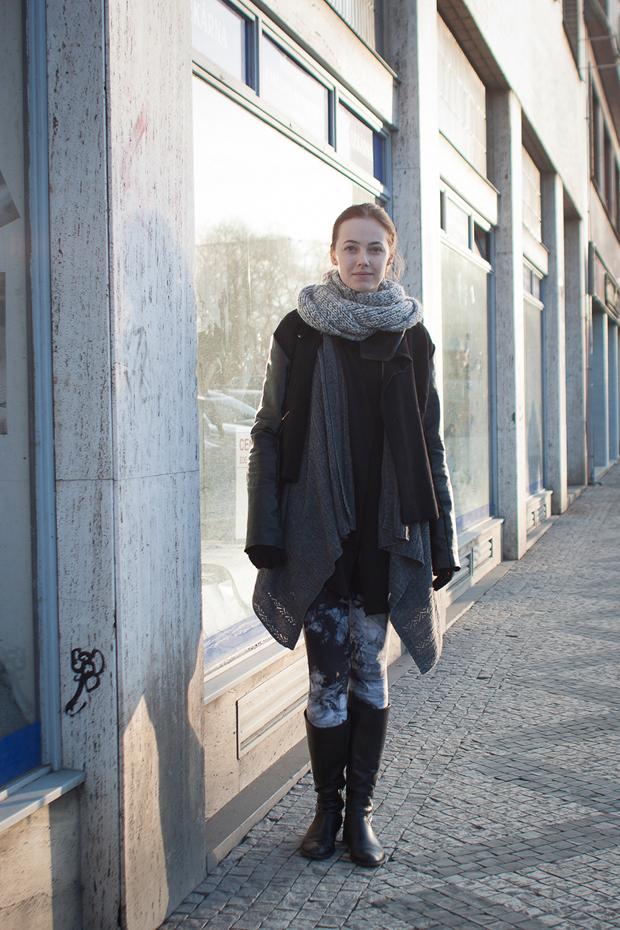 Looking perfectly dressed for the occasion, Milada was snapped on her way to the library wearing a vintage scarf and coat, toting her grandfather's bag and sporting matching Topshop shoes.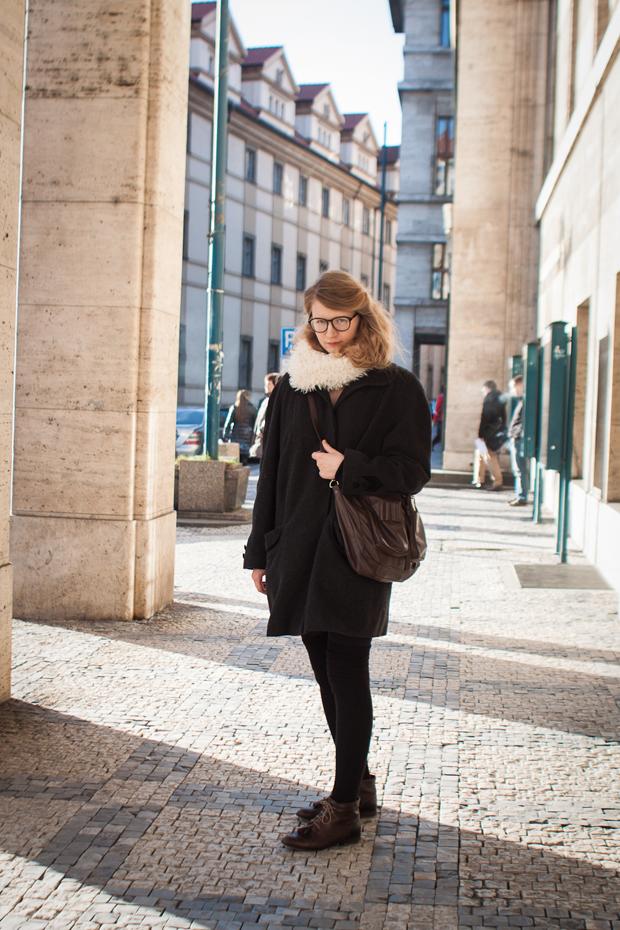 If Where In The World Is Carmen Sandiego was ever made into a Czech language movie adaptation, this is exactly what I imagine the show's titular character would look like. Terezia cuts a striking figure in a vintage cape coat, full-length cranberry leather gloves and killer boots by Anna Dello Russo for H&M. Naturally, she's dressed like this to go on a date with her boyfriend. Would be her friend.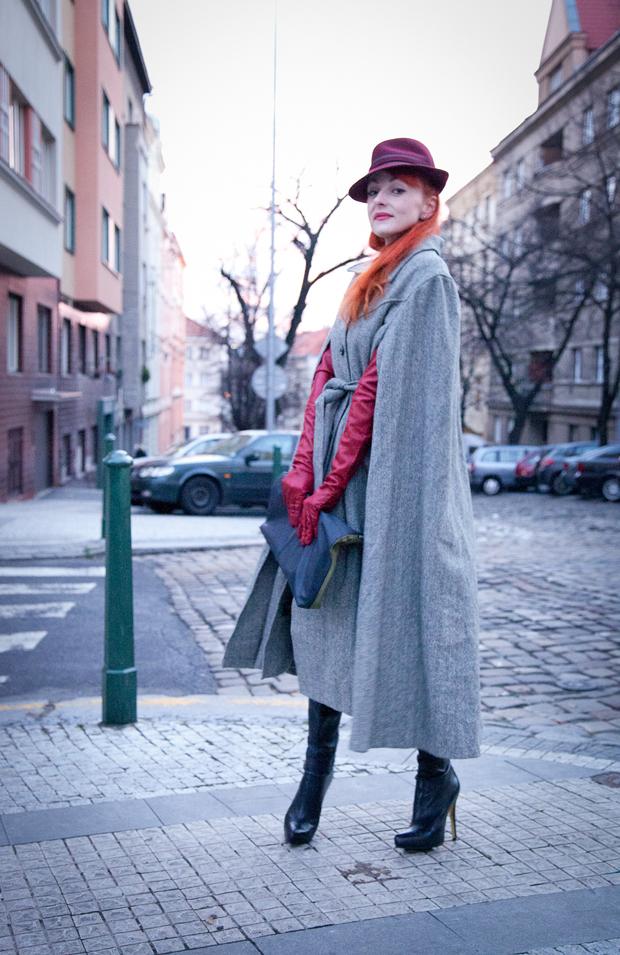 In a Hunter trench, pants by H&M, a Topshop shirt and great shoes by Office London, Bara makes last minute Christmas shopping looking like a pleasant pastime and not at all the mad rush maelstrom I manage to wind up in every year, without fail.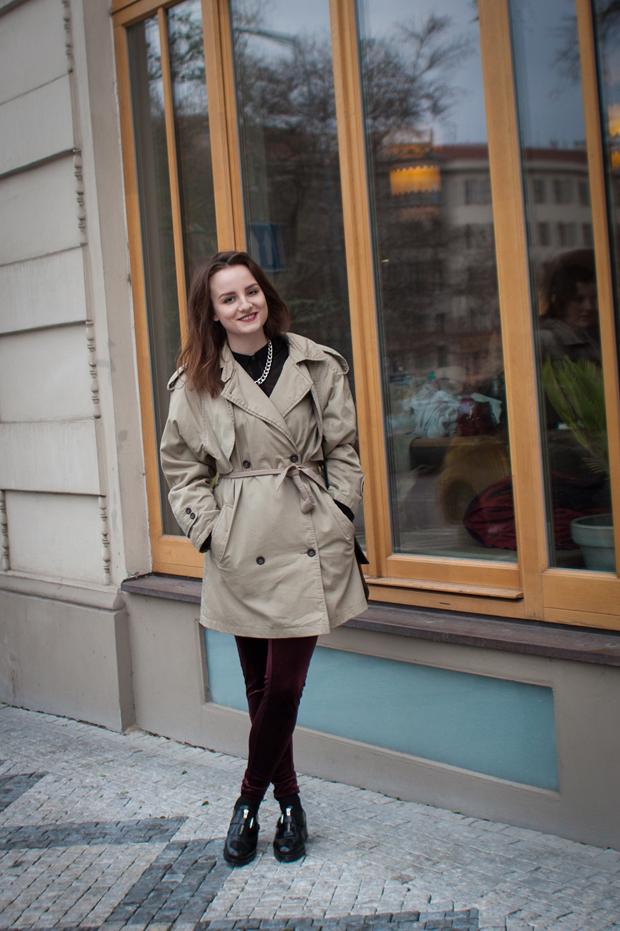 Obliging Martina with a brief portrait on his way to the studio, Ladislav wears all Zara, except for the pants, which are Trousers London; and the smouldering glare and ash blonde crop, which is all his own.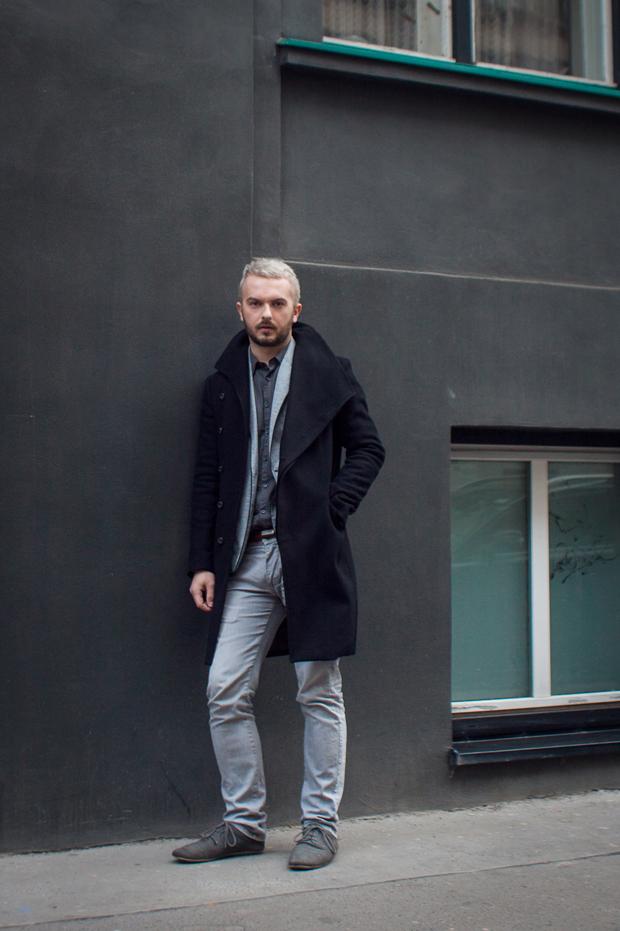 Well, this is a bit cute. Nika wears a vintage coat, sweater and skirt by H&M, shoes by Mango and she carries a bag by Alexander Wang while out on a walk with her family. Not sure what her Mum's wearing. Kidding. Nika is the mum.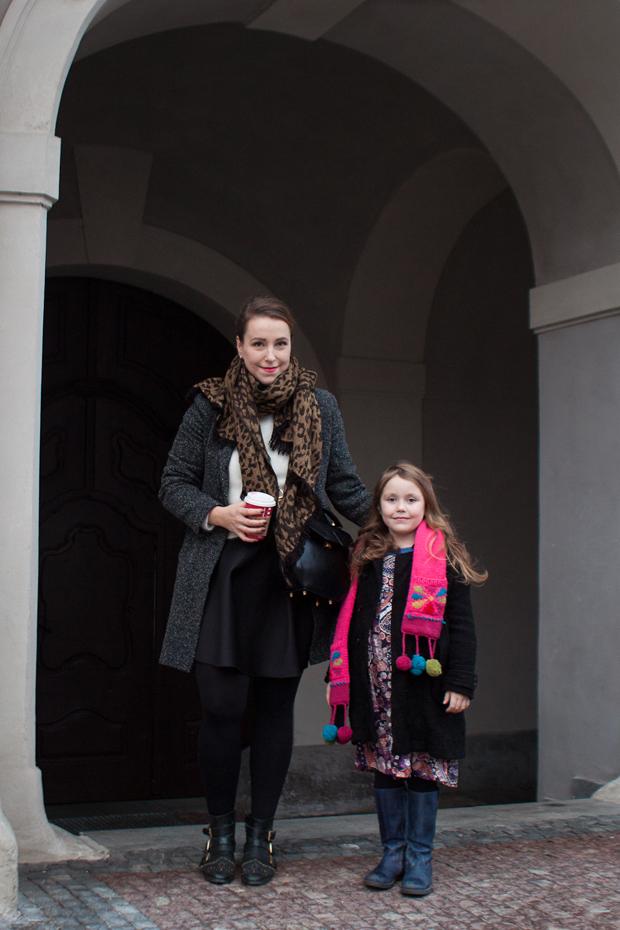 In a coat by Isabel Marant Pour H&M, ASOS pants and Zara double monks, Edie looks every bit the part as he heads toward a party via a lurid shirt store.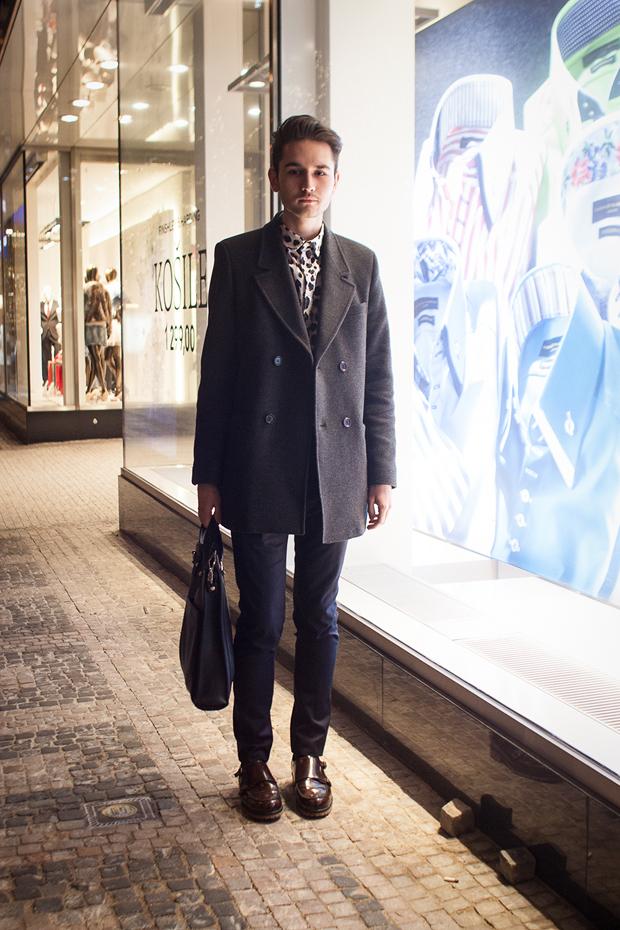 You might think it gets too cold in Prague around Christmas time to wear a midriff top, but you'd be wrong, evidently. Anezka wears a houndstooth-y Topshop top, American Apparel pants, a vintage coat and a winning smile.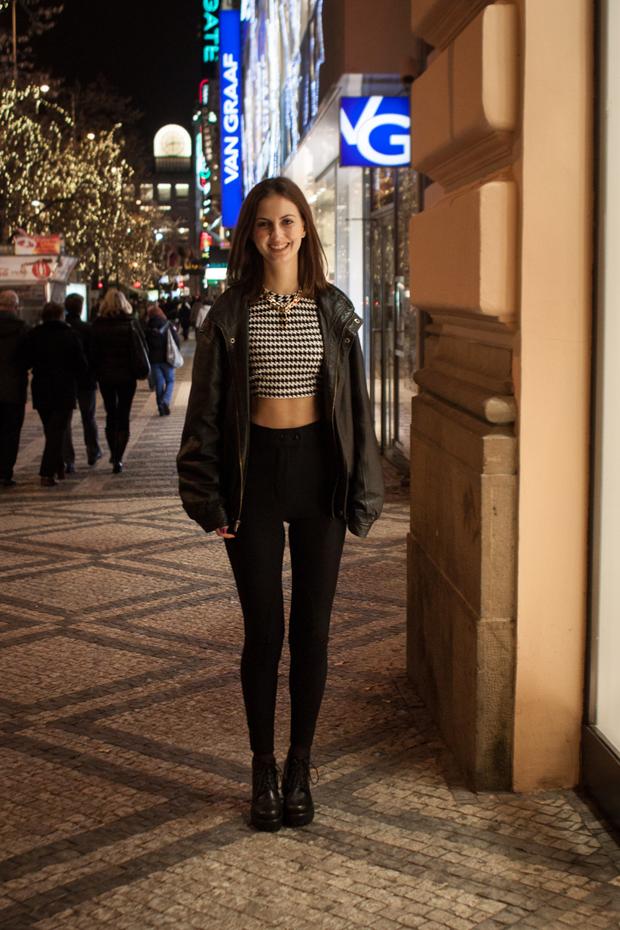 Tyler is wearing Uniqlo jeans, a Levi's jacket, classic winter Red Wing boots and some spectacular mustard gloves. As always, the best accessory is a man's best friend, especially a glossy, rotund Labrador.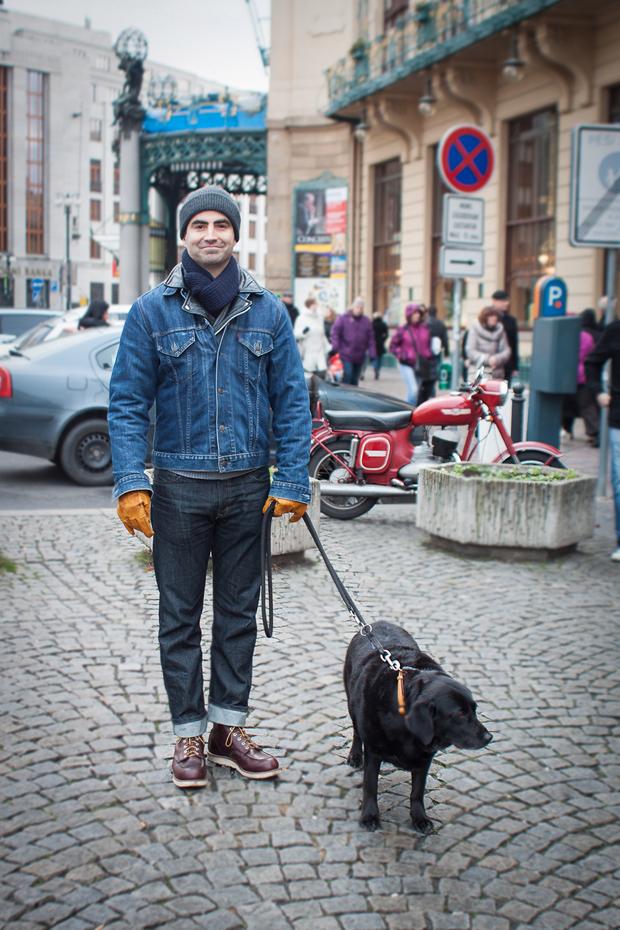 For past instalments, check out part 1, part 2 and part 3!
Article via Pedestrian.tv