The days are longer, the nights are warmer and the the patios are packed. It's officially summer, which can only mean one thing - festival season is upon us! That's right ladies and gents, the summer months are only made better by the number of music festivals popping up all over the world (check out our
Top 5 Favourite Festivals
) and Contiki has you covered with the fashion essentials that blend style with practicality (that clutch purse may be on point, but where are you going to stash a weekend's worth of sunscreen, water, lip balm and protein bars?). Read on for our line-up of fresh summer festival wear for guys and girls and let us know what you can't do without when taking on the festival circuit!

1 Sweet band tee
You really can't go wrong with a band tee at a music festival. That is, unless, it's a crappy old t-shirt of your OWN band from high school. Go for a classic band that you love or one from your fave act at the festival.
Guns 'n' Roses Roll-Sleeve T-shirt, $30 US; ASOS.
2 Sunnies
Most summer festivals seem to be held on the hottest and sunniest damn days of the year, so protect your eyes with a pair of sweet shades. Don't go all designer with these though - chances of losing them or being elbowed in the face are high when you're rocking out in a sea of people.
Grey Matte Rubber sunglasses, $28 US; Topman.
3 Hat
Keep the sweat in check with a cool cap that will also protect your face from the sun. We love this one with a backstrap from fresh Montreal label Raised by Wolves, a hot brand that's been making waves in the street style market in recent years.
Algonquin 5 Panel hat, $58 US; Raised by Wolves.
4 Classic kicks
Leave your squeaky clean kicks at home 'cause it's about to get dirty up in here. Festivals leave your feet muddy, dusty or wet, so pick a classic pair of shoes that won't break the bank.
Canvas Authentic, $45 US; Vans.
5 Backpack
Guys have the disadvantage of not having a purse to carry all of their stuff, so opt for a cool backpack like this pick from Herschel. Stash water bottles, sunscreen, snacks and a hoodie in case the temperature drops.
Heritage Backpack, $80 CAN; Herschel.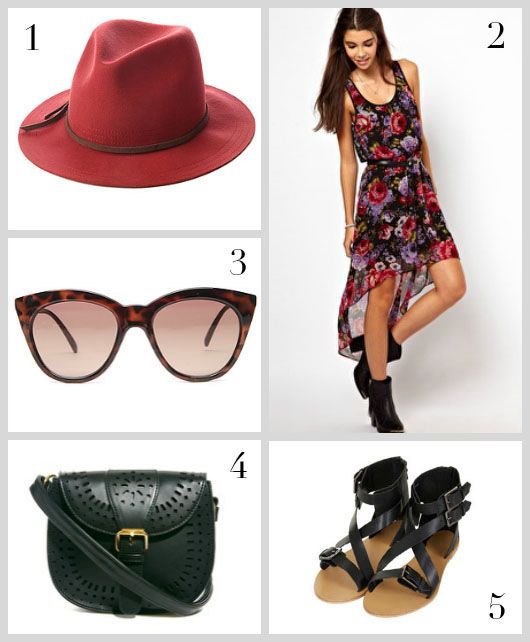 1 Wide-brimmed hat
Hanging outside all day and basking in the summer sun is part of the festival experience, but you'll want to avoid a face as red as a lobster and your head getting sunburned, too. A wide-brimmed hat like this is mega stylish and will protect your noggin from the sun's strong rays.
Brixton Nora hat, $42 US; Karmaloop.
2 Summer dress
Flowy summer dresses are the perfect way to look hot without feeling hot, and the high-low dress is all the rage this year (although we prefer the term 'mullet dress'). Keep cool in this flower child pick from ASOS.
Only Hi Lo dress with Floral Print, $50 US; ASOS.
3 Retro sunnies
When putting your festival look together, add in a pair of retro sunglasses for the perfect finishing touch and to protect your eyes in style.
Havana Cat-Eye sunglasses, $180 US; ASOS.
4 Cross-body bag
Keep all your daily essentials close by with a cross-body bag that's big enough to hold all of your goods. This versatile faux leather bag will store all of your gear and blend in seamlessly with your festival style.
Festival bag with cut-out detail, $30 US; ASOS.
5 Strappy sandals
Since you'll be on your feet all day, heels are a big no-no ladies -- instead, opt for a comfy pair of sandals that will let your feet breathe and look great with your summer dress.
Fancy Cuff cross-strap sandals, $76 US; Topshop.
-Lauren McPhillips