Anyone who has ever been to a summer music festival knows that it ain't for the princes and princesses of the world. Leave your heels at home, ladies. Forget about your brand new sneaks, boys. Festivals are all about grabbing a few beers, sweating your ass off, checking out some killer bands and leaving at the end of the day looking like you rolled out of a gutter.
Earlier this month, Contiki Canada's graphic designer Ashleigh (that hippie babe in the photo above) and I took the short flight from Toronto to Montreal to attend Osheaga, celebrating its 7th year as one of Canada's biggest music festivals. We were amped for 3 days of incredible acts and loud guitars as we and 120,000 other people headed to Jean Drapeau Parc for an epic weekend. Highlights of the festival for us included Justice, Black Keys, Zeds Dead, Brand New, Common, The Weeknd, Sigur Ros, Passion Pit, and a very rainy Bloc Party set, just to name a few.
Best part of the weekend though? When we hit up the after party and The Black Keys DJ'd Motown beats all night for 250 people. Don't worry -- I understand if you're jealous. It was pretty damn sweet.
Check out some of the snaps below of our pilgrimage to Osheaga, and if you're headed to Montreal next summer with Contiki, consider getting a one-day pass to get down and dirty with some of the hottest international acts.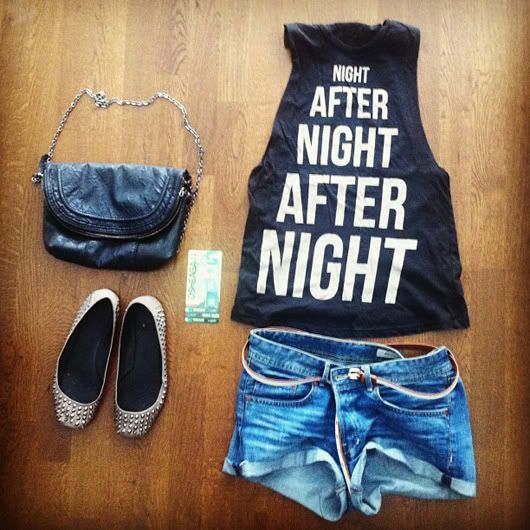 First things first: pick out a great festival ensemble. I went for the muscle tee (decent airflow), denim shorts, some badass flats and a cross-the-body bag for holding cash, sunscreen and energy bars.




We're smiling, but my-oh-my, our tootsies were not. Always take a break from working the crowds to take a seat, hydrate and chill before catching the next band.




Make sure you check out some acts that you've never heard of before. We wandered upon the Electronic stage and ended up not only finding food and beer tents that had no lineups, but joining a crazy fun dance party to Toronto DJ duo Zeds Dead as the sun was going down.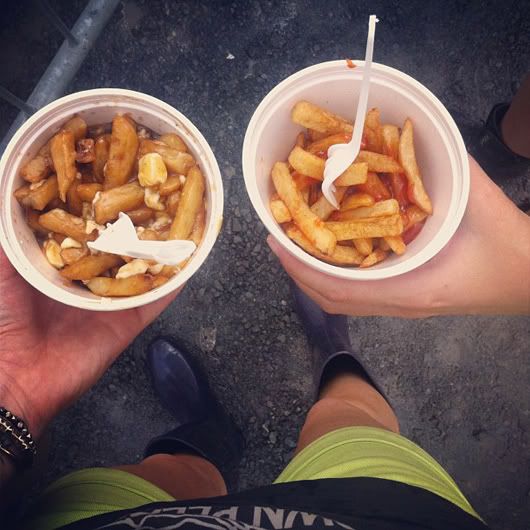 Festival food is not for vegetarians or anyone who prefers food that isn't doused in grease. In any case, when it comes to Montreal, poutine is always your best bet. Always.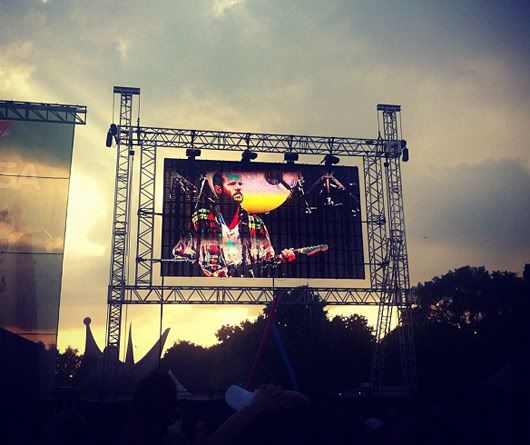 Sunset is always the best time to catch a band. The sun isn't causing you to sweat profusely, everyone's a little tipsy, the lighting is perfect, and the music just seems to flow through your body. We caught Brand New's set on the second day just as the sun was setting and I thought I'd died and gone to heaven (then a crowdsurfer kicked me in the head and I snapped back to reality).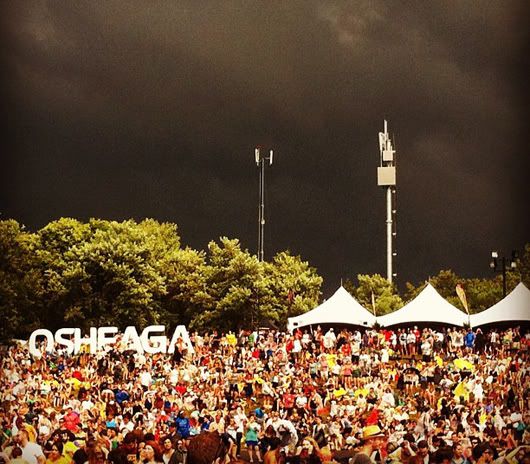 Make sure you plan for the worst when it comes to weather. Pack some wellies, a few ponchos and good sunscreen. When it wasn't sweltering at Osheaga, it was Armageddon. No filter on that sky, my friends... no filter.




...and then you'll realize your ponchos do nothing when the heavens open up and it's suddenly monsoon season in Montreal. At this point, we ditched the ponchos and enjoyed getting soaked and filthy as the crowd raged for one of the most epic sets of the weekend when Bloc Party took the stage.



---
Written by Lauren McPhillips
If you liked this post

you should check out:
20

days
from

US$3495

USA & Canada » New York, Connecticut, Rhode Island, Massachusetts, New Hampshire, Maine, Quebec, Ontario, British Columbia & Alberta