Grab your sneakers, throw on a pair of aviators and don your best festival attire. Here is our list of the top 10 hottest music festivals to hit the globe this year. So without further ado…
10. Outlook Festival
A fusion of Jamaican roots and contemporary music, Outlook Festival is a celebration of sounds and culture. Over 400 acts warm the hearts and souls of thousands of music lovers over 5 days each year in a scenic peninsular seaside location. The white sands and 150-year-old Fort Punta Christo make for a spectacular location. Why not wrap a music festival and summer holiday into one? Fancy a bit of Croatia Island Cruising to top it off?
When: September 3-7  |  Where: Puntizela, Croatia |  Website: http://www.outlookfestival.com
9. Austin City Limits Music Festival
A 46-acre playground of luscious greens, markets and delicious local food stores topped with over 130 music artists from across the globe, it's without a doubt the Austin City Limits Music Festival makes the list. In 2013 music fiends saw an array of acts including Kings of Leon, Lionel Richie, Phoenix, Kendrick Lamar and many more.
Make the most out of your visit to the US. Take a Grand Southern trip through the streets of music history making your way through the southern states including a visit to Elvis in Graceland (Memphis) the home of blues music and experience the rhythmic jazz melodies that emanate from Bourbon Street, New Orleans before heading to the pop culture hub of Los Angeles.
When: October 3-5 & 10-12  |  Where: Austin, USA |  Website: http://www.aclfestival.com/
8. Vans Warped Tour
This year is the 20th anniversary of the music and lifestyle festival, Vans Warped Tour. It's a music lover's playground featuring up-and-coming indie talent as well as showcasing major established artists. A month and a half of non-stop partying will begin in Salt Lake City, Utah on June 14. Take advantage of the warm weather and jump on the Grand Northern while you're there.
When: June 14 - August 3|  Where: Various Locations |  Website: http://vanswarpedtour.com/
Image Source: Vans Warped Tour Australia, photographer Rhys Batty.

7. Bilbao BBK Live
Join thousands of rock and pop music devotees at Bilbao BBK Live, one of Spain's most famous music festivals. With MGMT, Black Keys, Jack Johnson and Poliça set to hit the stage in 2014, the lineup won't disappoint! While you're there, tick off another item from your bucket list, the legendary Running of the Bulls held a few days before!
When: July 10-12  |  Where: Bilbao, Spain  |  Website: http://www.bilbaobbklive.com/2014/en/
6. Creamfields UK
Creamfields is a weekend for the headstrong. This dance music festival was created by a company with some serious music pedigree, Cream – formerly one of Britain's greatest clubbing institutions. Running since 1998 in its original location of Winchester, Creamfields attracts thousands of visitors each year.
Make the most of summer in the UK with a 16-day Great Britain & Ireland trip!
When: August 22-24  |  Where: Daresbury, England  |  Website: http://www.creamfields.com
5. Lollapalozza
A premier festival in the United States and one of the county's most successful, Lollapalooza is more than just your average music festival. During 2014, Lollapalooza will make its way through South America, starting in Chile, visiting Argentina and Brazil, before its final show in Grant Park, Chicago with a magical backdrop of city skyscrapers. While you're there, why not tag on an Argentina & Brazil Experience to remember? Here's a re-cap clip from 2013:
You know this festival must be good when The Simpsons create an episode depicting life at Lollapalozza. Season 7, Homerpalozza anyone?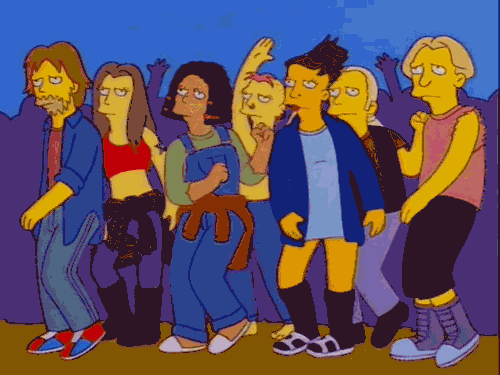 When: August 1-3  |  Where: Chicago, USA  |  Website: http://www.lollapalooza.com
4. Splendour in the Grass
Filling the winter void in the hearts of Australian festival-goers, the one-day gathering in 2001 has evolved into three days of incredible music from an eclectic mix of artists. The beautiful little seaside town of Byron Bay is transformed into a buzzing town of tepee's and bass for the weekend while music fanatics pogo to some sweet sweet sounds.
Continue the road up the east coast and add in a Great Barrier Reef snorkel or jump on a yacht in the Whitsundays to give your body (and ear drums) some well-deserved R&R. Reefs and Rainforests should do the trick!
When: TBA (usually held late July)  |  Where: Byron Bay, Australia  |  Website: http://splendourinthegrass.com/
3. Ultra Music Festival
Downtown Miami is the perfect backdrop for the annual electronic music festival, Ultra. Boasting some of the world's best DJ's, the festival is also streamed live through their YouTube channel to millions of people around the world.

Ultra Festival makes an annual visit to cities all over the world including Ibiza, Buenos Aires, Sao Paulo, Santiago, Seoul, Cape Town and Hvar. In February this year, Ultra will be making a special stopover in Bogota, Colombia for the very first time.
After your visit to Miami Ultra, discover the best of the Eastern Coast of America with the Eastern Discovery.
*Tip: Tickets to Ultra Miami are still available – but if you are looking at attending this one, get cracking because they won't be around for long!
When: March 28-30th  |  Where: Miami, USA  |  Website: http://www.ultramusicfestival.com/
2.  Tomorrowland
If you haven't heard of Tomorrowland, you've basically been living under a rock... The 2013 aftermovie has had over 42 million views! In otherwords, the whole population of Australia has watched the YouTube clip twice.
With its 10th birthday this year, Tomorrowland will be held over two weekends doubling the 180,000-attendance mark. Experience electronic music at its mind-blowing best.
*Tip: Pre-registration for Tomorrowland is being held from January 13 – February 15, 2014.  Worldwide official ticket sales start at 5pm CET on Saturday Feb 15th. Brace yourself for a record sell-out time.
When: July 18-20 & 25-27  |  Where: Boom, Belgium  |  Website: http://www.tomorrowland.com
1. Glastonbury Festival 2014
Approximately 120,000 Glastonbury Festival 2014 tickets were snapped up on October 6, in 1hour and 27 minutes. Its hard to believe it started as a tiny music festival of 1,500 people back in 1970, where the ticket price was £1 (this fee also included free milk from the farm where it was held). One of the World's largest music and art festivals with one helluva lineup, Glastonbury Festival is like walking into a whole other world.
The lineup: The Rolling Stones, The Hives, Tame Impala, Smashing Pumpkins, Bobby Womack, Bastille, Rita Ora, Haim, The XX and the list goes on and on.
Next stop: Paris. See the Best of Europe while your over there!
*Tip: There will be a resale of any cancelled tickets in spring 2014. Head to the website to register.
When: June 29-25th  |  Where: Pilton, UK  |  Website: http://www.glastonburyfestivals.co.uk/
Image Source: http://www.glastonburyfestivals.co.uk/
Have we missed your favourite? Let us know by commenting below!