Need an introduction to finding the best skating spots in Australia? Stop whatever work you're pretending to do and look no further than our man on the move and Contiki Insider Matthew Elson. We're kick pushing out the second of four instalments in Matthew's Guide To Unearthing Australia's Best Skating Spots, following up his guide to the best on offer in Sydney with the following guide to Smooth Surfaces in Melbourne: 101.
CITY PARK
Nestled in the middle of Alexandria Gardens is Melbourne's beloved City Park. The park is roughly a 5 minute skate from Flinders Street Station and its surroundings include the iconic Yarra River and rich Botanical Gardens. The canteen right next door is there to quench your thirst or satiate your hunger and nearby Swanson St offers endless options if slush puppies and burger rings aren't your style.
Since the upgrade a few years ago City Park is now comprised of blocks, hips, bowled corners, quarters, a flat bar, hubbas rails and more. The park handles crowds extremely well as it's set out in a way that allows multiple people to skate the park in unity.
Address: Alexandra Gardens, Boathouse Drive, Melbourne



Photos via Skatin It
FITZROY BOWLS
In a suburb populated by those who consider dreadlocks a viable option is Fitzroy Bowls. Surrounded by lush green grass, fauxhemian fire-twirlers and YOHO Diablo-ers, the bowls are a great place to meet people of the "I used to skate" persuasion. Grab a beer, sit down and revel in their reviving the alleged glory days.
Fitzroy Bowls also consists of two bowls of different heights, adjoined by a hump and a spine. The coping has taken a mild bashing over the years but it's nothing to text your mum about. "Fitzy" is an excellent place for a lazy afternoon ale and shralp. If, after consuming all those mid-session beers, you've developed a thirst for more, a world of malt, hops, yeast and water awaits you on Brunswick St., a people watching mecca.
Address: Edinburgh Gardens, Brunswick Street, Fitzroy


Photo via Skateboard Shop
LINCOLN SQUARE
Lincoln is Melbourne's answer to Philadelphia's Love Park and legendary Melbourne skateboarder Richard Flude is to Lincoln what Josh Kalis was to Love; 'Fludey' can be seen carelessly stringing poetic lines together on any given day. According to Richard, Lincoln is "amazing for manuals, stairs and slappies" and it "gets more skateboarders than most skateparks these days."
The Square is situated just of Swanson St in the same vicinity as RMIT uni and directly opposite a tram stop, which make it all too easy to get to. If you're partial to a good pizza, carbonara or tiramisu, Lygon St is a five minute tram ride away.
Address: Lincoln Square, Swanson Street, Carlton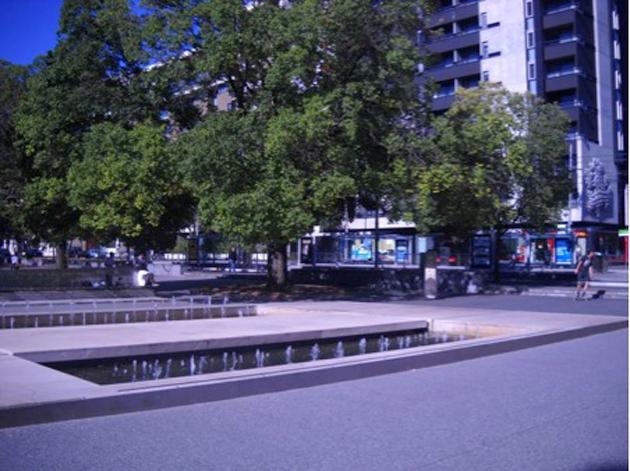 Photo from Lost On Campus




Photo via Green Firefly
THE LIBRARY
Use the free internet to check your Facebook, tweet Lara Bingle and update your blog with all those super edgy shots of you and your friends in Melbourne's ultra-urban, graffiti-riddled alleyways that you've surely taken by now, then go outside and stake your claim on Melbourne's illustrious library wall. Notable tricks executed on the library wall include Marc Johnson's back lip, Spanky's switch boardslide revert and Matthew Moopie's particularly stylish frontside tailslide.
Made famous in the cult classic "Tweakage" videos of the 90's, the State Library has been consistently covered by the four-wheeled paparazzi since and holds a staple spot on any self-respecting Melbourne skaters hit list due to its stairs, smooth ground, pleasant atmosphere and central location.
Address: 328 Swanston Street, Melbourne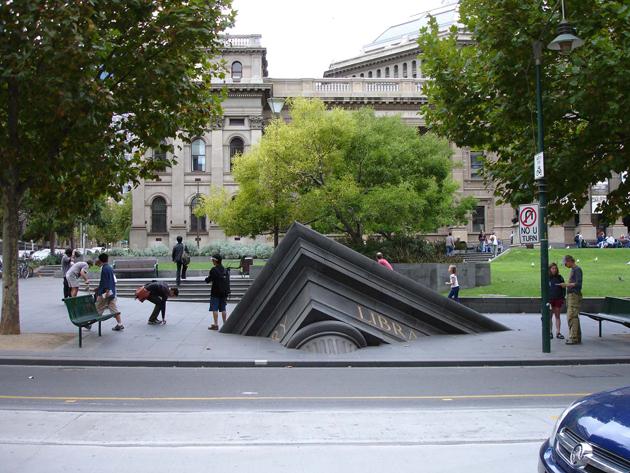 Photo via The Occasional Pamphlet