Living in the Southern Hemisphere with the weather reaching a scorching 46 degrees in Adelaide last month, droughts throughout Brazil and 2013 being New Zealand's 2nd hottest year on record, it's a little hard to think about winter. Nonetheless, we can't help but feel a little nostalgic seeing adverts of athletes glide through the powdery snow and twirl on the ice. If you are feeling a little nostalgic for the snow, here are our favourite winter playgrounds and the best times to go.
Hopfgarten - Austria
Explore 279km of ski runs at Austria's largest interconnected ski area. SkiWelt, located just outside of Hopfgarten, boasts a number of incredible ski and snowboard fun parks to practice your tricks and flips, a toboggan run 4.5km long, an igloo village, cross-country run, some epic hiking tracks and numerous restaurants and bars waiting for you. The area currently has 75cm of fresh powder and is hovering around the 1 degree Celsius mark. When's the best time to go? Now! You'll find snow here any time from late October to March, however the powder is best from December through to February.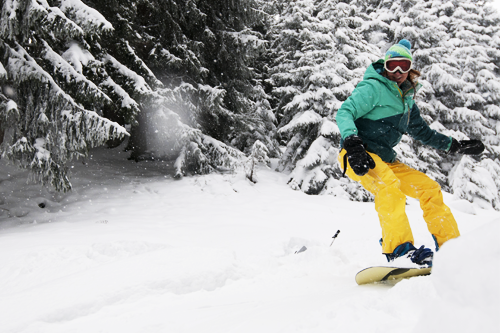 Lake Tahoe – USA
One of the most beautiful lakes in the USA, Lake Tahoe is also one of the best ski areas, straddling the states of California and Nevada. Spectacular scenery, a pristine mountain and a great social scene make it one of the best places for a ski trip. The average snowfall is around 10.67 metres throughout the season so beautiful snow conditions are the norm. The best part about this ski area is that if you're bored of one ski resort, there are half a dozen others to check out. Like most ski locations in the Northern Hemisphere, the best time to visit is from late November to February.
Whistler Blackcomb – Canada
Whistler and Blackcomb mountains are situated side-by-side, which offer over 8,000 acres of picturesque terrain and groomed slopes, 16 alpine bowls and three glaciers. Whistler Village is incredibly charming and friendly, with lots of cosy dining options, shopping boutiques and a surprisingly good nightlife. The temperature is currently hanging around the -10 degrees Celsius mark (not to mention -18 on the actual mountain!) but this is just what happens in winter. Once again, the best time to go skiing in Whistler is from late November to February.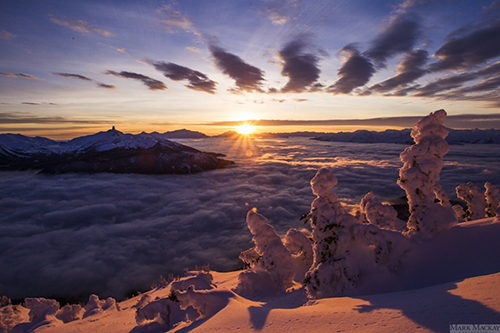 Image via whistlerblackcomb.com
Queenstown – New Zealand
New Zealand is an incredibly beautiful country all year round but there is something in the crisp, cool air that makes winter that little bit extra special. Close to the city of Queenstown lie four ski fields within easy reach. The slopes are almost treeless and the scenery is breathtaking. If you get bored of the slopes, hit the rink for some ice-skating, try snowshoeing or opt for the less strenuous option of a snowmobile ride. The ski season around Queenstown runs from early June to early October, giving you plenty of time to become a king of the slopes.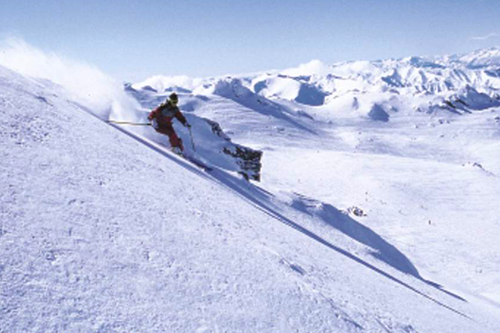 Image courtesy of queenstownnz.co.nz
Niseko – Japan
Niseko is made up by 5 different ski resorts, giving you plenty of variety if you get bored. Beautifully groomed slopes at the base of the mountain are perfect for beginner ski and snowboards, but if you want something a little more extreme, follow the signs and hike up to The Peak from the top of the lift for the ultimate powder fields. On top of the beautiful ski and snowboard conditions, you'll get your fix of Japanese culture. From authentic food to cultural activities, Niseko is the perfect mix of culture and extreme sports. The ski season operates from around December right through to May.
Think we've missed some? Comment below to tell us which is your favourite ski destination.