Name
Arianwen Morris
Age
30
Hometown
London, United Kingdom (but currently on a working holiday in Sydney, Australia)
Contiki trips taken
Outback Adventure (Darwin to Alice Springs) in the Northern Territory, Australia
Contiki 'day song'
'Big' by Sneaky Sound System. You can hear it here, along with a video of my trip!
Favourite country visited
I've only been on one Contiki tour so far (I'm a late bloomer), so by default, my favourite country I've been to with Contiki would have to be Australia! My favourite country I've ever been to would have to be Ecuador. It's so diverse, with its volcanoes, aquamarine lakes, crazy festivals and cities full of culture. The best part was the Galapagos Islands. There's no place on earth like them. I took an 8-day cruise on a catamaran, snorkelled with sea lions and turtles and hiked over volcanic landscape taking care not to trip over iguanas. The Contiki Galapagos and Ecuador tour takes in all of the highlights of that trip and I'd recommend it to anyone, no matter what their preference is for a holiday. There's something for everyone!
Favourite city visited
My favourite city would have to be Rio. I spent a month there last year during Carnival. With the World Cup being held there this year, it's set to be even more popular than ever, so book your tour fast! With Contiki, you can travel up from Buenos Aires (another fantastic city), taking in the magnificent Iguassu falls on your way up to Rio. If you're feeling brave, Contiki's Argentina and Brazil experience has the optional extra of hang gliding over the city - something I regret not doing.
Favourite part of the Contiki trip
There were too many great moments to pick just one. Uluru was so much more stunning than I imagined, and I loved getting up close on our walk around the base. Spending New Year's Eve by a campfire under a starry sky and sleeping in swags was a very unique experience. The bush tucker taster session saw us (well, not me, but other members of the group) munching on witchetty grubs and testing our boomerang skills.
Favourite photo from the trip
My favourite photo is of me and one of my best pals from the trip, Nicole, standing in front of Uluru. We'd just watched the rock go through a multitude of colours as the sun rose and it was a beautiful spectacle to witness, made even more special because I shared the moment with someone who in just one week had come to be a fantastic friend I'll stay in touch with for life.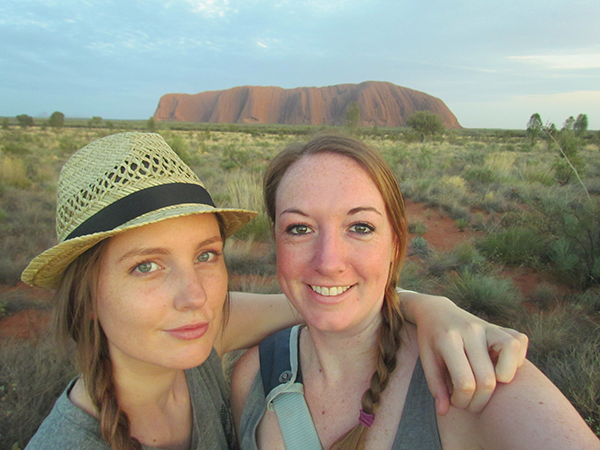 Next trip
While I'm still in Australia, I really hope I have the chance to go on the Beaches and Reefs tour up the coast from Sydney to the Great Barrier Reef in Cairns. I can't wait to get back in the water with my scuba diving gear.
#NoRegrets
I actually thought I'd find an organised tour a little too easy, and I was worried I might be too old. At 30, I thought everyone in my group would be closer to 18 and on their gap year, but there was a really wide range of ages and we all got on really well. I also enjoyed not having to plan every day. It was great to relax and let the tour guide do all the hard work.
Blog: Beyond Blighy | Facebook: https://www.facebook.com/BeyondBlighty?fref=ts | Twitter: https://twitter.com/BeyondBlighty | Instagram: http://instagram.com/beyondblighty