Visit all of Bridgerton's top locations on Contiki's new limited edition trip
Share
Bridgerton is delicious escapism the world needs right now. But what if we told you that you could actually escape to all the locations from this juicy, period drama?
We've devised an exclusive Bridgerton-inspired trip which features top locations from THE hottest (literally) Netflix show on screen. Fill in our quiz to find out which Bridgerton filming location you should visit IRL. Then why not make it happen? Come on – the Duke is calling!
Here's a day by day breakdown of everything you can expect to find on the four day mini-break, plus context to where those key scenes were filmed.
Day 1. Arrive in London and head to The Rubens at the Palace
You'll get your first taste of palatial luxury at The Rubens near Buckingham Palace, where the trip kicks off.  Then, you'll be taken on a tour of the city via coach where we'll introduce you to key Bridgerton filming locations such as Pall Mall & the Reform Club, the famed meeting place of Anthony Bridgerton and Simon Basset. The marble pillars and picturesque library in Episode 1 were filmed in this private members' club.  
Image source:The Rubens
Then onto Lancaster House at Green Park
This is the location where Lady Bridgerton arrives at the palace for tea with the Queen. The parlour, hallway and the luxurious bathroom of Queen Charlotte's residence were all filmed here. You'll also visit Grosvenor Square, home of the Bridgerton family. The majority of filming 'inside' both stately home and its surroundings took place in Bath but Grosvenor is the IRL London location which features multiple times throughout.
Image source:Lancaster House, Paul Ratigan
Round off with dinner and drinks at one of London's best-preserved pubs
Food sits at the heart of many social events in Bridgerton with banquets a-plenty throughout. You'll get chance to relive this in person with either dinner at one of London's oldest traditional restaurants or a visit to an authentic Victorian gin palace. The day ends with drinks at the Princess Louise in Holborn. Built in 1872, it's one of best-preserved Victorian pubs in London today.
Image source:Princess Louise pub
Day 2. Visit the Ranger's House in Greenwich aka the Bridgerton Residence
On day two, you'll be whisked away to glorious green Greenwich where you'll visit the Ranger's House at Chesterfield Walk. This Georgian villa is the very same wisteria draped Bridgerton Residence, home to Daphne Bridgerton and her seven siblings, along with their mother Lady Violet.  
Image source:The Ranger's House, Netflix
Followed by The Queen's House in Greenwich
The Somerset House location that features in Bridgerton is actually filmed at The Queen's House in Greenwich. This is where the on-screen debutantes flock around Prince Friedrich (who Friedrich's aunt, Queen Charlotte, introduces to Daphne as "the season's diamond"). You can also meander around the beautiful Greenwich Park Rose Garden where various Bridgerton scenes were filmed.
Image source:The Queen's House, Greenwich
Visit Hackney Empire aka the Bridgerton opera house
Next up, it wouldn't be a true Bridgerton experience without High Tea. You'll head back to The Ruben's at the Palace in central London, followed by a show at Hackney Empire – this location features as the interior of the opera house in Bridgerton. You'll then round off your last evening in the city with drinks at London's oldest wine bar, Gordon's.
Image source:Netflix
Day 3. Head to Bath via Hampton Court Palace
Farewell London, hello Bath! On your way out, you'll wind through London's Borough of Richmond to make a visit to Hampton Court Palace – otherwise known as Queen Charlotte's Residence. This first features in Episode 1 where Daphne and her family arrive at Queen Charlotte's house to be 'presented.'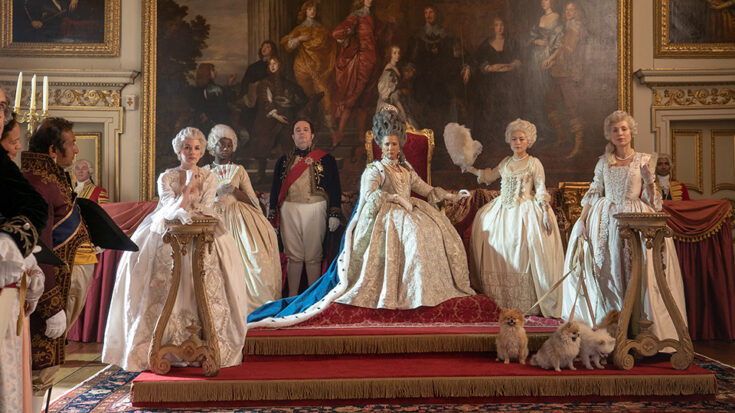 Image source:Hampton Court Palace
Then it's a Bath City Tour of the key film locations
Once you arrive in Bath Town, you'll meet a local guide for a tour on foot to visit the key Bridgerton filming locations. Bath is where the majority of filming took place and this city tour will include Bath Street, Alfred Street and Beauford Square; the latter being used to create those London Mayfair scenes. 
Image source:Bath Street
Check out Abbey Street and visit Madame Delacroix's famous dress shop
Abbey Street is home to Modiste, Madame Delacroix's famous dressmaking boutique in Bridgerton, which is the hottest spot in town to buy lux ball gowns during social season. You'll also visit Trim Street which is the exterior for Gunter's Tea Shop and the ultimate place to be seen on Bridgerton. 
Image source:Modiste on Abbey Street
Then head to Lady Danbury's house
The Bath Holburne Musuem of Art is the setting for Lady Danbury's house in Bridgerton.  This massive mansion belongs to rich widow Lady Danbury who is Simon Basset's unofficial godmother. You'll also get chance to visit the Rambury Ballroom where some of the dances and socialising took place.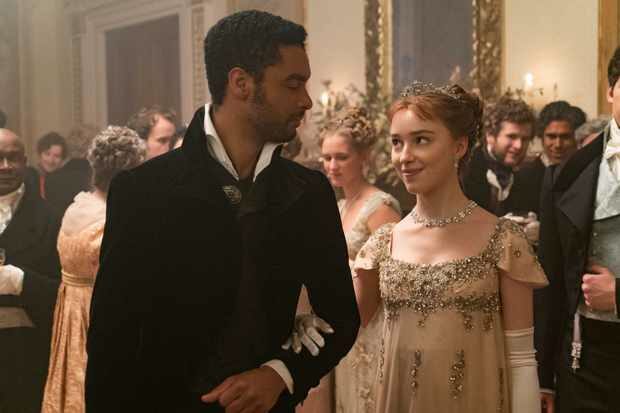 Image source:Lady Danbury's House, Netflix
And, of course, Bath's iconic Royal Crescent, the exterior for Featherington House
The stunning architecture of No. 1 Royal Crescent will transport you right back to Bridgerton era. The front doors of Featherington House and Siena's London flat are both filmed in this square. Check it out from above.
Image source:Royal Crescent
Immerse yourself in the Bath Assembly Rooms
This marks the scene of many real-life Georgian balls and was the setting for the Danbury House's ballroom in Bridgerton. 
Image source:Bath Assembly Rooms
Then off to Sally Lunn's for a bun
The Sally Lunn's Historic Eating House & Museum is Bath's oldest house and tearoom (c.1482) where you'll get chance for some refreshments and afternoon tea, Bridgerton style. The high life is hard work, we know. Don't worry, you'll get some down time before dinner in town and a historic pub visit later on.
Image source:Sally Lunn's in Bath
Day 4. Bath to London via Wilton House
Get ready for your final day! You'll be visiting Wilton House but with the option for a few Bridgerton-inspired activities along the way. The Jane Austen Centre & Regency Tea Room, Bath Fashion Museum or the Thermas Bath Spa are just some of these to round off your last few hours in Bridgerton's homeland.
Image source:Bath Fashion Museum
A visit to Wilton House – the Duke of Hastings' London residence
We'll drive to Wilton House, just outside Salisbury, where you'll visit the Duke of Hastings' London residence. Wilton House was used as a filming location for four different houses in the series, including the family seat of the Earl of Pembroke. It also acts as the exterior and interiors of the Duke's London residence, Hastings House.  You see the specatcular aerial shot of the house and its courtyard garden in the series finale.
Image source:Wilton House, Luxury London
Final stop at Painshill Park in Surrey aka The Promenade in Bridgerton
The final stop before heading back into London is Painshill Park, Cobham, in Surrey – aka The Promenade in Bridgerton. This location is used for scenes where London's high-society meet to picnic, promenade, gossip and observe.  The lake and both the Chinese and Five Arch bridges feature prominently, and it's definitely worthy of a photo or two!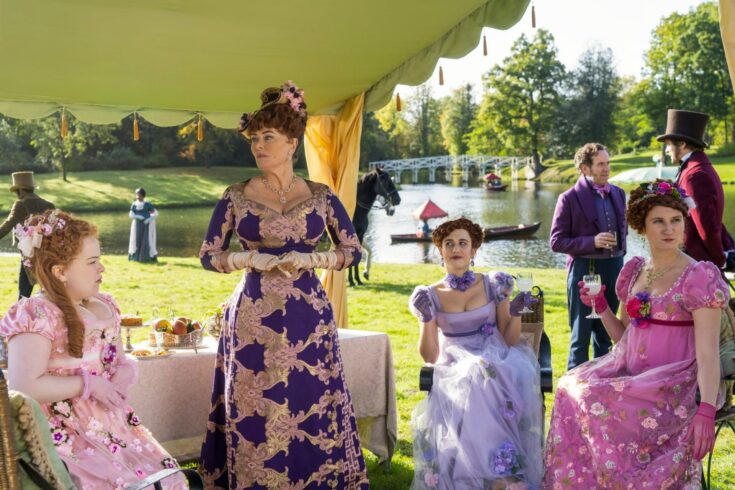 Image source:Painshill Park, Surrey