Lindsay Kale
[00:00:41] Now we pick a travel destination we often think about how close it is to local transport what the weather's going to be like and if the area we're staying in is safe. But how is that different for LGBTQ travelers. Does being LGBTQ restrict the number of destinations available to you make hell is an LGBTQ travel blogger and public speaker who together with her wife Lindsey run an LGBTQ travel blog dopes on the road. Hello guys how are we.
[00:01:09] Hi thanks for having us. Of course. Thank you for stopping by so we will start off with you make. When did you first kind of start traveling.
[00:01:16] Sure. So I have a little bit of an unconventional travel story. I was very long story short this is a very long story but my mom was a teenager when she had my brother and I and then was diagnosed with terminal brain cancer when I was eight years old. So we traveled for unconventional reasons. We traveled because I needed some to say my mom was sick having treatment. We had to go to meet family we had somewhere that we needed to go. And so by route of a tragic situation I got to see a lot of the United States travelling by car you get to see a lot more we did a lot of road trips and all of our relatives lived in different parts of the country. So we would zigzag across the country you know meeting with Grandma. Meeting with us and with this uncle and so on and so forth. But it fostered a lot of conversations that kind of taught me to ask questions and taught me to question when I was seeing and know how things are different from here from there within the United States. So obviously not as different as say two different countries but kind of fostered that thirst for otherness and seeing things around the world that I didn't actually take my international first international trip until I was in college. But I definitely think that was the foundation for me.

[00:02:25]
Yeah I mean I didn't even travel internationally until my last year of uni said yeah. Lindsey have you traveled much before you met Meg.
[00:02:31] I had traveled some my early life was mostly defined as an athlete. I spent most of my time playing basketball at my early travel days are mostly defined by bus trips with teammates and family. We had some you know family vacations sprinkled in here and there. But for me my like desire to travel I think really started as I became more confident in my own just more confident in myself. My you know I came out to my family cut my hair just kind of I grew into myself and then wanted to be introduced and meet more people like me. CCS seek out some of the queer community and when I did that I kind of felt like the whole world opened up because I'm from small town Pennsylvania and there's just really not a lot going on and everybody's kind of the same. And then as soon as I got out for the first time and it was like this incredible breath of fresh air like there are people like me in the world and it just made me want to seek it out like 100 times more. How did you two meet the Internet.
[00:03:29] Yeah I like what it's like on with the Internet. Yeah.
[00:03:36] Now we met on a dating site and I was living in York City from Brooklyn. So I was there and Lenz was in Pennsylvania. And now like in retrospect it's really funny to think about like those early first meetings because we're just from completely different backgrounds and you know they were like small things like the first time I went to Pennsylvania.
[00:03:55] I was completely overwhelmed by the grocery store too many choices to make choices. Yeah yeah.
[00:04:01] Well before making your greatest trip as an LGBTQ couple. Were you guys nervous. Like what were your thoughts going to head when this was something you guys decided to do.
[00:04:11] Well I knew she was the one when I decided to move to South Korea. I got a job about eight months into us dating and I said So I think I'm moving to Korea. And she said Awesome can I come visit. And I was like you know we like OK like Well we'll figure this out. And it was crazy because she'd never traveled internationally and didn't know anything about Korea and was just kind of like we'll figure it out.
[00:04:35] And at this point you were so in Pennsylvania. Yes. Oh yeah yeah. I hadn't done the the four big international trip yet. Yeah. So Korea was my first.
[00:04:42] And so we I went for the first couple of months started my job and then she came out for a few months and then we used Korea as a base to kind of travel a lot of different places in Asia. And yeah we kind of never stopped since then and since then you had the travel bug and you're like let's never stop.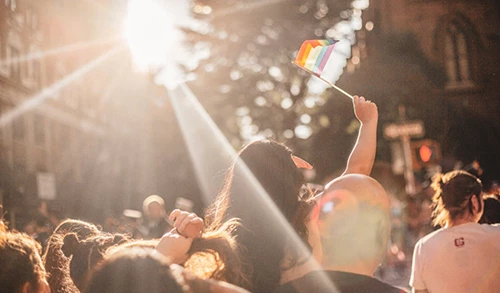 [00:05:00] Yeah absolutely. Well does anywhere stand out as being a place you're particularly concerned about visiting as a LGBTQ couple.
[00:05:08] Well there's still 70 destinations where it's illegal to be LGBT and it varies widely depending on the destination.
[00:05:16] So all the way from 14 countries where it's punishable by death through countries where they have light prison sentences and I say that and just because of course it's ridiculous to have a prison sentence but there there's a humongous difference. But then on the opposite side of the spectrum there's still destinations that are politically really great for LGBT people but Brazil is a great example. They have tons of great and collusive policies in Brazil but then they also have the you know the highest rate of transgender murders. So it's more we talk about anti LGBT destinations a lot but it's more nuanced than just like oh good and bad.
[00:05:51] Know there's a big gray area there. It's just like like you said like the the the the punishment or you know just the way. Yeah it's just very gray area and how what happens LGBTQ people as they go traveling into the country right. Yes. But you guys traveled to Egypt. Yes. Yes. What was it that made you want to go to Egypt.
[00:06:12] Well I really had kind of a schoolgirl crush on Egypt.
[00:06:16] I mean I still do. I still haven't I haven't gone and I just I don't go to like to like see I like the tombs and everything Ahmed's. I think there's diamonds under the Sphinx. Not really. But you never know. You never know. You never know.

[00:06:28]
Every bit as incredible as that. Like you're making that your head. It really is.
[00:06:31] Yeah but it's like you know you're like in school and you see like five pictures of the world and one of them is always the pyramids. And I was like I just I want to see this and and Linda and I were like talking about which destinations should we go to and we kind of just agreed like Egypt was like that magical travel destination you know like hard travel when you guys landed in Egypt what was going through your head.
[00:06:53] Lindsey what was going through your head as you landed.
[00:06:55] I think even more before we landed I think the biggest moment for us was before we just a couple days leading up to the trip there had been 50 people arrested for flying a pack a flag at a concert. And so they had been arrested like gay. Yes and gay in Egypt was like a hot button issue. And I remember we were boarding the flight and we sat down and we kind of made eye contact and we were like holding hands. And I remember asking her the question like What do I do if I get arrested. And that was the first time we had really had that moment but like we're doing something incredible. But there it's not without risk. And I think that for us for both of us was the moment that we were like This is a big big change in the way we travel.

[00:07:42] And that's probably the moment that all like remember about like the start of the trip. I think that moment for both of us was a really really powerful.

[00:07:50] So when you guys got there were you guys already kind of like crap.
[00:07:54] We have to act differently. Like how are you gay. How are you guys as a couple. You gay super affectionate already. Or was it kind of like not a thing when you guys landed in Egypt that you had to worry too much on that.
[00:08:04] I think we were when we first started dating but because true love is still there still that travel has become such a huge part of our life. We're more conscious like our actions and the things that we're doing. So we lived in South Korea where as a culture they're just not OK with PDA like gay straight doesn't matter. It's just part of the culture and what we were living there we really tried to respect that. You know it's just part of being an expat you know. But as the years have gone by we definitely are more or less affectionate depending on where we are. We try to be you know always first respectful of the destination.