Max Homer
[00:10:54] Today we're talking about everything to do in Peru that isn't Machu Picchu with film student and content creator Max Homer. How's it going Max. Welcome to the podcast. Thank you for having me. So when did you visit Peru.
[00:11:06] I literally just arrived back from my trip on Monday.
[00:11:09] Oh are you fresh off the boat. Yeah. Most people when they think about Peru think Machu Picchu. Why do you think that is.
[00:11:17] I'm guilty of thinking that it's it's a wonder of the world like it's much a picture. It's unreal to witness and there's so much like history behind it.
[00:11:25] You're going to educate us about the rest approve because Peru is much more than just Machu Picchu. So where should we start to start it off.
[00:11:32] There's a traditional drink called Pisco. It's there national like a drink it's like a brandy type a drink. It's probably best to try it in the city of Lima Lima is the capital of Peru. And it's framed by a coastline and drive it rugged cliff edge which is pretty unreal to see. And it's a very old city with a touch of like modernization Saleem has made up a whole different number of districts and there's a district called Branco which is considered like the bohemian district. It's probably I would say the most gorgeous colorful part of town when you go to slaine. Can't miss it.

[00:12:05]
OK. So pisco sour in Lima. What would you say is your second point to deal with that isn't much appeal to you at a few second guesses about it but it's to try guinea pig guinea pigs you know I have two guinea pigs that's aligner I have one guinea pig now Frodo AQA to give you a Frodo.
[00:12:22] Well this one was named Peter so it actually had a name on that and I said it was Peter and we were like Oh. And how was it. It was actually really nice. Say guinea pigs are considered like a delicacy over there. It was weird having it but it's like a mix between like a chicken and a beef. So it was quite tasty but it wasn't as like tender as chicken but did do it. Like what. Like on a skewer or. Yes it can be gurgled or roasted. And it came out in the shape of a guinea pig.
[00:12:56] Oh no I can't. I don't have to type out on that. I don't eat crustaceans for this exact reason. All right. Is a third thing to do.
[00:13:06] Third thing to do would and is a definite months would be like visit the ancient ruins of the Incas throughout Peru and mostly in Cusco. OK. There's like heaps of different ancient ruins that come from like the Inca period.
[00:13:20] So what's the feeling when you're like when it is like ancient ruins there's parts of it.
[00:13:24] You go to and there's not many people around it's that big.
[00:13:27] Mm hmm.
[00:13:29] So it gives you that moment to I guess imagine what it was like back in those times and what they used it for.
[00:13:38] All right. So what would you say is your fourth tip things to do.
[00:13:43] Visit the Amazon. So Amazon apparently produces 20 percent of the world's oxygen if you have upfront adventure and you think you're pretty adventurous it's definitely must do. It took about where we stayed in the Kentucky special stay.
[00:13:58] It took about an hour of hiking through the mud in the pitch black to get to the hotel.
[00:14:03] And it took about four canoes by Yeah there was hate to life and nature and wildlife around. Like we spent one of the days on the lakes in canoes looking for wildlife. We saw that keeps the monkeys and alligators and giant otters in groups eating fish which was pretty cool to see. All right. So what would be your fifth tip. You're in Peru and there's a lot of culture there. So you probably want to get amongst the culture and see some traditional stuff. So visiting the shed right waving center in Cusco is definitely a thing to do if you're up for culture and whatnot and you'll see a lot of alpacas and llamas along the way. We watched a few very talented locals who were wearing traditional dress waving items from the alpaca and llama.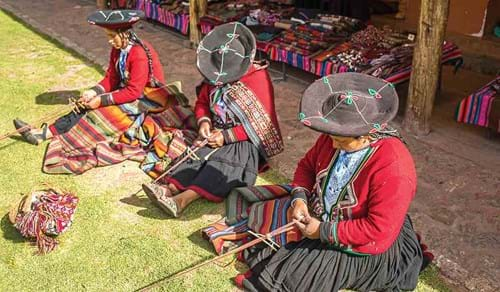 [00:14:47] You just sit there and watch them do their work and it looks very complicated because they've told us that some of these items which would be like gloves beanies alpaca jumpers alpaca ponchos and and like rugs and towels and stuff like some of these items to take up to three months of waiting just the one item.
[00:15:07] So what would be your number moving back to the capital city of Lima one of the famous landmarks in Lima is the bridge's site. Guys. So the bridge's size in the eighteen hundreds was that was when it was built. It was a place for writers and poets as well as lovers to meet and still today remains as a symbol of love. OK so that's in the District of Franco and legends say that those who can hold their breath the whole way walking across the whole bridge they will see their wishes come true.
[00:15:38] So we were told to walk across the bridge make a Make a wish and not breathe. And apparently it to come true. Is it a long walk or can you like run it. At.
[00:15:47] Night. And it's not long at all. No I guess it's not impossible did it. It's like no no no no it's not it's not risky at. All.
[00:15:56] Awesome. Well then what would be your final thing to do in Peru. That is a much a picture that you're like you have to do when you go. This was my highlight of the trip.
[00:16:06] Is hiking the Rainbow Mountain.
[00:16:08] I actually did not know what a Rainbow Mountain was improved until I looked it up in the earth. So tell us what's the Rainbow Mountain the rainbow now Mountain.
[00:16:16] It's a few hours drive out of Cusco. There's a group of mountains around it and it's literally just like rainbow colored mountains like stripes of different colors. Something I'd never seen before with my own eyes. And it's about 14000 feet in the sky. So about 5200 meters above sea level. So it's quite a high altitude hike. I found it to be the best Hike I've ever done in my whole entire life so far. The moment you reached the top and see the remote mountain for the first time is such an amazing and amazing accomplishment and something you'll definitely remember forever because Tatas did not give it justice at all.
[00:17:00] Yeah. I was actually like looking like so many of the photos and I was just like oh I got to just even be there to see that in person has to be just like a completely different experience for sure.

[00:17:08]
It's completely different. And so much better to say things with your own eyes.
[00:17:12]Well thank you very much Mr. Max for coming onto our episode of travel port and letting us know the things to do in Peru.