Budapest has everything: fairytale architecture, cheap drinks, a terrifying history and an admirable love of paprika. As one of the most rapidly developing cities in Europe, it's a charming and sometimes confusing mix of opulence, Soviet-style austerity and hipster cool. Immensely affordable, safe, and easy to get around, there is no reason not to see this marvellous city at least once in your lifetime.

But before you go, here are some of the top things to know about Budapest:

1. It's Boo-da-pesht, not Boo-da-pest.
As one of trickiest places in the world to pronounce, foreigners have been ruining the name of Budapest for years. Once you've mastered the pesht, it's also worth learning some basic words and phrases before heading over – just try to ignore Hungarian's reputation as one of the hardest languages in the world to master. Remember: it's gulyás not goulash. Egészségedre!
2. Swimsuits are essential
Hungary is like a slice of fairy bread where all the hundreds and thousands are little bubbling hot springs and baths. In Barcelona, aka. the City of Baths, there are 118 of these mineral pools, so packing your swimmers is a must. Széchenyi Thermal Bath is Budapest's largest, grandest, busiest and very first thermal bath. Surrounded by ornate neo-baroque architecture in City Park, swimming in this place is like bathing in a palace. See those water jets? They're not just sweet decoration: they're neck massagers. Prefer a dip in the nude? Budapest also has segregated Turkish baths for the more adventurous.
3. Don't clink your beer glass
Apparently in 1848, after Hungary's revolution was quashed by the Habsburgs, Austrians celebrated their victory in Vienna by toasting and clinking beer everywhere. In defiance, Hungary vowed never to toast with a beer glass for 150 years. While technically 167 years have passed, no one is keen to give up the tradition just yet. You can still clink any other drink you like, but just make sure to lock eyes with your fellow clinker after toasting.
4. Buda and Pest were once separate cities
Back in the day, Buda and Pest were two distinct cities sliced down the middle by the river Danube. Buda, traditional home of royalty, castles and Elven-style fortresses, sits on the hilly west; while Pest, a commercial hub now bustling with city slickers, hotels and hip ruin bars (more on these later), is on the east. The two cities merged in 1873, along with the old town Óbuda, to create the beautiful blend of Eastern European fairytale and urban cool that Budapest is known for.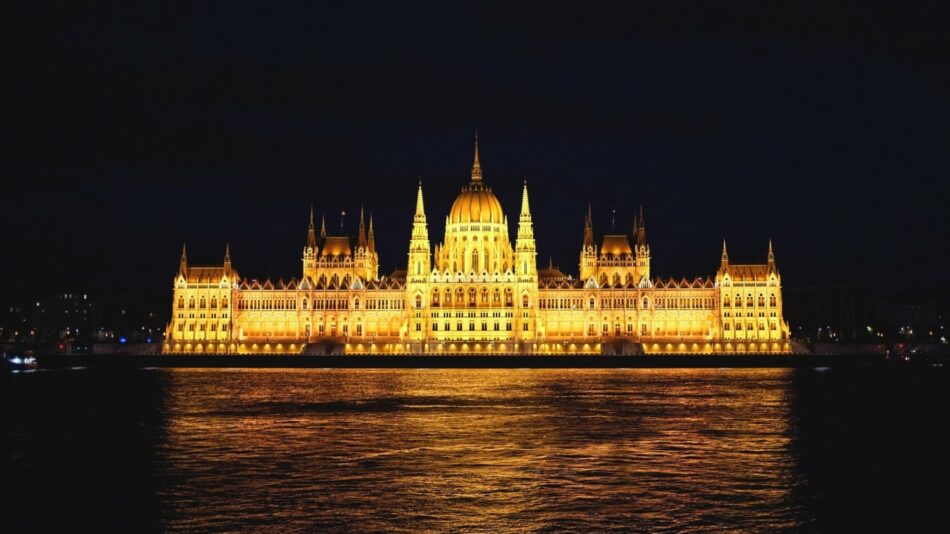 5. Ditch your Euros
While Hungary is a member state of the European Union, it hasn't adopted the Euro as currency. While you can try your luck at the tourist traps, you'll probably receive your (scant) change in the national currency, Forints. Not all restaurants take card, so make sure to hit up the many ATMs spotted around the city. Check with your bank what fees you may or may not incur.
6. Ruin bars are a thing and they are awesome
Basically pop-up bars in the ruins of apartments, shops and rooftops in the derelict Jewish quarter, Budapest's ruin bars are the perfect mix between warehouse party, pub and speakeasy. Dirt cheap prices, inventive art installations, dance parties, delicious snacks and a growing supply of craft beers are also big reasons why the seventh district will be the only place you want to visit after nightfall. (Or even while the sun is up: the beer gardens are phenomenal.) A ruin bar can host everything from flea markets to makeshift art galleries and wild DJ parties. The first-ever ruin bar, Szimpla Kert, popped up in 2001, and you can still dance (now mostly with other tourists) under its moody brick ceilings or drink cocktails in a Trabant. You won't find the next big ruin bar on Tripadvisor, however, so make sure to hit up the locals for advice once you're in town.
7. Public transport is affordable and adorable
Happily, public transport in Budapest is cheap, with a single ticket costing roughly AUD$1.68. Your best and simplest bet is to buy a packet of ten tickets from the station or newspaper kiosks, which works out at around AUD$1.40 per ticket. It's important to validate these in one of the orange boxes before hopping on board, or else suffer the wrath of scary ticket inspectors.
And while Budapest is actually a very walkable city, the vintage state of many of its trains and trams makes catching public transport more than just a convenience. The M1 line is the second-oldest underground railway in the world, and is probably the cutest little subway you'll ever see. It's been in constant operation since 1894, and is even listed as a UNESCO World Heritage Site. Bored of trains and trams? You can take a chairlift through the Buda Hills for some epic views of the city, or an antique funicular (cable railway) up the steep slope to Buda Castle. Is it just me, or does it make total sense that funicular contains the word fun? Lame wordplay aside, this isn't even the most adorable part of Budapest's public transport, which brings us to our next point…
8. There is a train run by children
Did you know Budapest has a train that's been running since 1948 by children? Schoolchildren between 10 to 14 complete a four-month training course to become train conductors, workers and inspectors on the 11 kilometre railway. Originally a kind of training ground for communist kids under the Soviet Union, the modernised version of the Children's Railway is definitely more Enid Blyton than 1984. The train takes about 40 minutes to get to the top of the Buda Hills, with some excellent scenic spots and children to salute you on your way. Don't worry, the children are actually supervised, and the driver is a grown-up.
9. Learn to spot signs of history
During World War II, Budapest was almost completely demolished, with over 600,000 Hungarian Jews murdered in the Holocaust after the invasion of Nazi-led Germany. Even before the invasion, Jews were targeted by growing anti-Semitic measures and violence enforced by the fascist Arrow Cross party. There are memorials throughout the city, including the Frank Gehry-designed Holocaust Memorial Center, but one of the most moving is a sculpture by film director Can Togay and sculptor Gyula Pauer of 60 pairs of iron shoes sitting quietly on the edge of the Danube. Often covered with flowers and wreaths, the memorial is dedicated to Jews who were shot into the Danube by the Arrow Cross military – only after being ordered to remove their shoes.