Asia travel guide
Gleaming white temples. Turquoise seas. Blood-orange sky lanterns or digital adverts painting the night sky. Oh, Asia. It teems with colour. It teems with life. From the urban jungle to the actual jungle. Here's a continent with every travel experience you could wish for: island coastlines, historical monuments, world-beating tech, snow-capped mountains, diverse wildlife, and a set of cuisines that you just can't beat.  
But out of 48 countries, where do you start? There's South East Asia, where you'll take tuk tuk rides from temple to temple. Start with the royal palaces of Northern Thailand and work your way towards cinema-suave tropical beaches, before hitting up Laos, Vietnam and Cambodia? Excellent choice. Or how about Japan, where you'll zoom on high-speed bullet trains and see other world class tech—including a cafe staffed by robots? Or India, a cornucopia of culture, colours and cuisine.
And then there's China, Indonesia, Singapore, Jordan. The flavours. The smells. The sounds and the sunshine. Wherever you go in Asia, one thing's for sure: you'll open your mind, heart and soul to a whole new world. This Asia travel guide will help you pinpoint your ideal destination.
In this article
Introduction
Best time to visit:
Monsoon season runs from July to October across most of Asia — but not everywhere. For reliable weather, you may want to visit throughout the rest of the year (unless you're doing a Mary Poppins and plan to travel with an umbrella tucked under your arm the whole time, in which case go right ahead, but bring spares. Those rains are HEAVY).
Dry season is generally from November to April, but it varies from country to country. The Maldives are most idyllic between December and March, while the Philippines get the bulk of their beach weather in May-June. Best advice? Get specific. Know where you want to go and why? Great, now have a look at the best times to visit your destination of choice.
Aside from the weather, it's all about the events. Japanese Cherry Blossoms? The colourful Holi Festival in India, or the STUNNING Ice and Snow sculpture festival in China, plus myriad New Year celebrations across the continent? Most of Asia's iconic festivals run between November and April. Again, it depends what's happening (and when) so get researching.
Things to do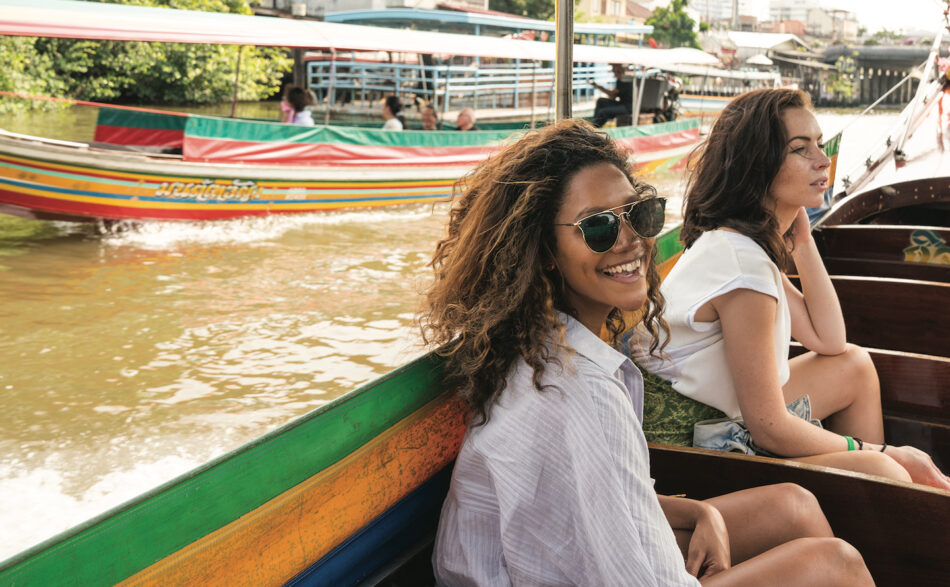 Relax in an Onsen
Tokyo
Bathe like you've never bathed before. If you can prize yourself away from Tokyo's arcades, shops and sushi bars, that is. The things we do for culture…
See bays from your fave movies
Thailand
Thailand is home to Maya Bay from 'The Beach' and Phang Nga Bay from 'The Man With The Golden Gun'. Have your DiCaprio and Bond impressions ready in advance.
Visit the Taj Mahal
Agra, India
One of Asia's standout attractions, this magical marble mausoleum on the bank of the river Yamuna is dead cert to make you cry. Prepare to be amazed.
Admire skyscrapers from Victoria Peak
Honk Kong, China
Fancy a pristine view of Hong Kong's world-beating skyline? Climbing this 554-metre peak is worth it for the peace and fresh air at Victoria Peak Garden.
Explore Chitwan National Park
Terai, Nepal
Love your wildlife? Get off the beaten path to these luscious jungles, sandwiched between two Himalayan river valleys. Rhinos, elephants, tigers and leopards await.
Discover ancient architecture
Petra, Jordan
Ancient history buffs, don't miss the 'Rose City' in Jordan's desert. One of the natural wonders of the world right here. And is it any wonder?
Play with pandas
Chendu, China
Learn the ins and outs of Panda life, plus how to feed and tend to them. Warning: not suitable for those prone to extreme cuteness overload…
See Buddhist temples
Angkor Wat, Cambodia
The world's largest religious monument. And Cambodia's most renowned. Just you wait till the sun reflects off Angkor Wat's surrounding water.
Top 5 festivals in Asia: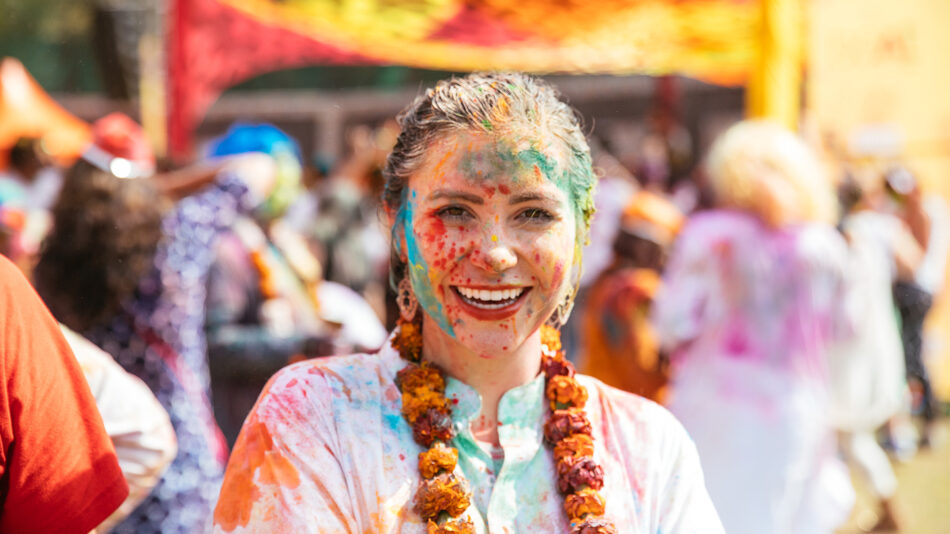 Holi Festival
India
Bathe in colour and drown in luurv at this epic Hindu celebration of Spring. The Gods are looking away today, so grab your water pistols and have at it!
Singapore Food Festival
Singapore
Modern infusions? Yup. Street food classics? You bet. This culinary explosion celebrates Singapore's cultural diversity in truly excellent taste.
Loi Krathon Lantern Festival
Thailand
The Chiang Mai sky lights up with 10,000 lanterns. Lily-shaped rafts float along the water. It's hard not to be mesmerised by this truly picturesque festival.
Ice and snow sculpture festival
Harbin, China
Fireworks exploding. A backdrop of giant snow sculptures. Now that's imagery. It gets cold here, but the dance and magic shows are sure to keep you warm.
Epizode
Phu Quoc, Vietnam
Big beats on Vietnam's biggest island. Here's a New Year celebration jumping with world-renowned DJs, sensory vibes and sizzling style.
Read more:8 Incredible Must-See Festivals in Asia
Top 5 museums in Asia
The national museum of China
Beijing, China
One of the world's biggest museums, showcasing all things China. Try not to get lost as you meander through artefacts from the imperial days right through to modern times.
Phuket Trick Eye Museum
Phuket, Thailand
It's normal to be confused in a museum, right? Well, it is here. But that's okay. You'll let your mind out of its box in this world of interactive and immersive 3D paintings.
Tuol Sleng Genocide Museum
Phnom Penh, Cambodia
A former Phnom Penh prison, chronicling the Cambodian genocide of the 1970s. It's heavy. It's sobering, but it's an experience that seems necessary, somehow.
Mori Art Museum
Tokyo, Japan
Gaze out onto Tokyo from the apex of its creative scene. Here's an ever-changing collection of works from contemporary art's biggest hitters.
War Remnants Museum
Ho Chi Minh, Vietnam
Nothing puts the cherry on your travel-cake quite like the war crimes of old. A must-see for military historians (or anyone interested in major global events).
Read more: 15 Unmissable Things To Do in Japan
Read more: Here Are The Most Beautiful Destinations in Thailand
What to pack:
Whether you're visiting big cities or tropical islands, you'll have a way better time with the right stuff. Here's some you might not think of on your first go:
1. Hydration tablets
Not as lip-smackingly satisfying as fresh water. Or Fanta. But certainly easier to carry.
2. A portable fan
We're big fans of small fans. Don't offer up your soul for a cooling breeze — take one with you instead.
3. A sweat rag
Not the most glamorous but, hey, better on the rag than running down your forehead. Especially on the subway. While your crush is looking.
4. Good socks
Moisture-wickers and blister-stoppers will not go amiss. Bring light, loose-fitted clothes in general. Plus a raincoat.
5. Insect repellant
Nothing ruins backpacking Southeast Asia like a big juicy mosquito bite on the small of your back.
6. Travel adaptors
What use is free WiFi if you can't plug in your phone?
7. Tote/laundry bag
Good for separating your clean and dirty undies. Also good for surprise travel sickness, or saké spillages.
Read more: The 8 Europe summer travel essentials no one tells you about
Read more: What to pack during COVID-19: the ultimate travel checklist
Read more: Considering Asia travel? Here are 6 expert packing hacks you need to know
What to eat: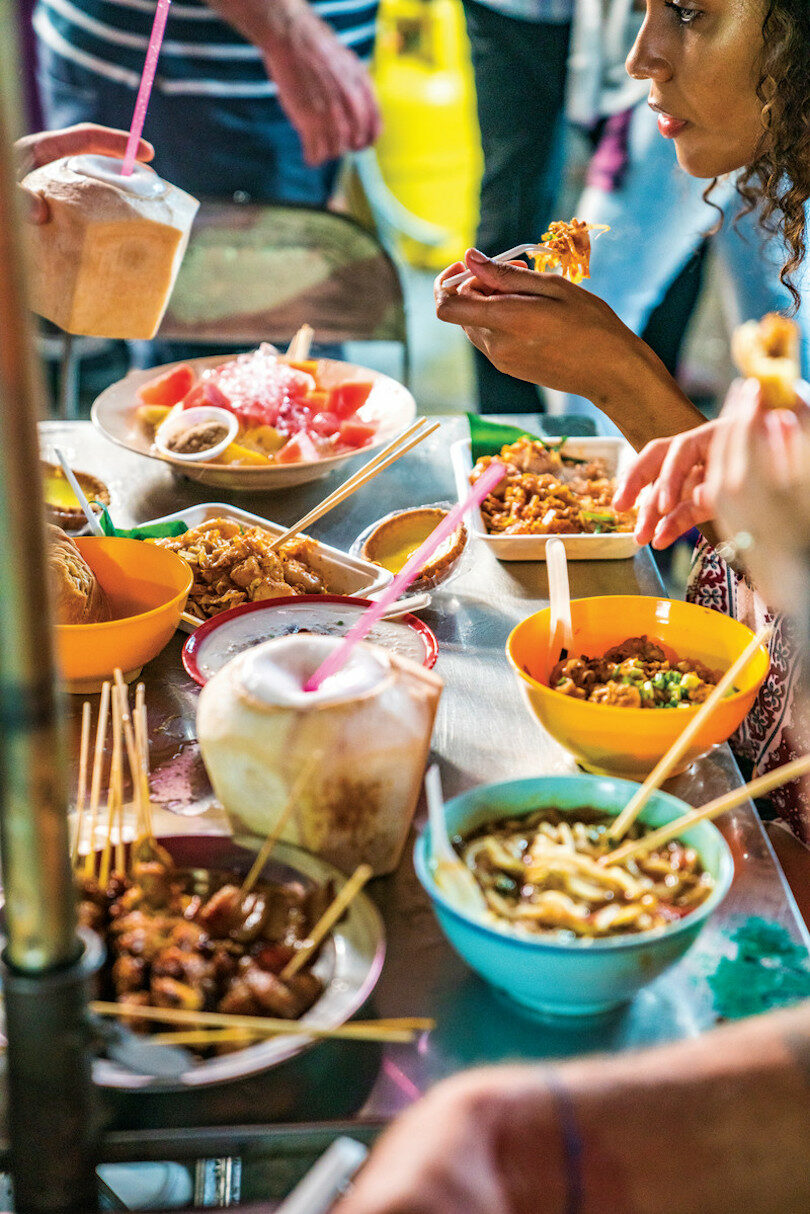 Big portions, bigger flavours. Fresh crunchy veg. On yer bike, microwave meals. It's time for the real deal…
1. Sushi
Ja
It's tasty. It's pretty. It's delivered by conveyor belt at the tap of a screen. It's sushi, folks! A Japanese staple that demands your attention when you visit its native country.
2. Pho
Vietnam
Comfort food, plus extreme flavour. Plus beef, plus rice noodles, plus broth. Usually served for breakfast. That's a dish worth getting excited pho.
3. Pad Thai
Thailand
A street food classic, served across Thailand with region-specific ingredients. Prawns, eggs, noods. Only the freshest will do. Get your Oliver cap on because you WILL be asking for more.
4. Amok Trey
Cambodia
Spicy steamed fish, topped with coconut milk and served on fresh banana leaves. It's a simple yet sumptuous Cambodian classic.
Dumplings
China
Jiaozi dumplings take some serious skill to make, so don't be fooled by their humble exterior. Meaty and spicy, these token Chinese treats are best enjoyed… anywhere, really.
Read more: Thai food: 10 weirdly wonderful dishes you need to try