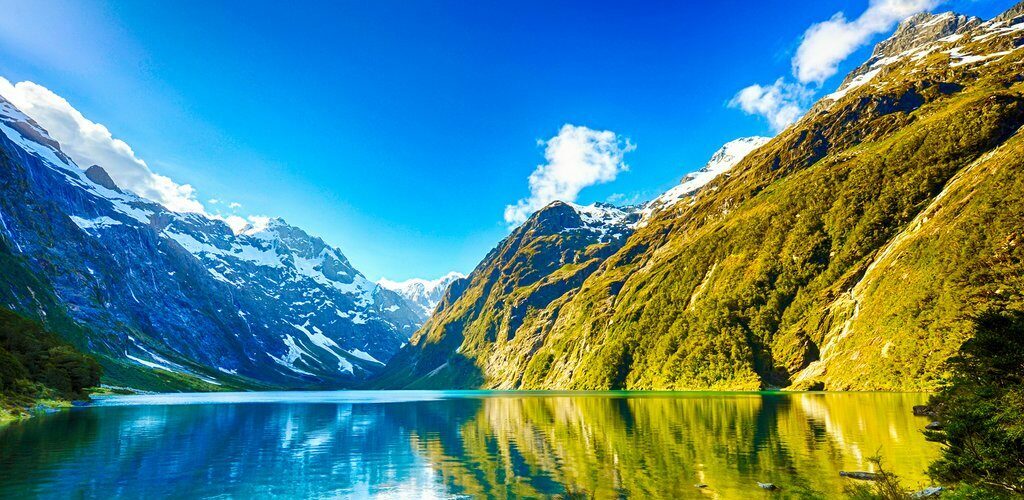 New Zealand travel guide
New Zealand: humble in size but boastful in beauty. Is there anywhere else on the planet that makes you go 'holy sh*t' like this spellbinding island? Packed with vivid vistas. Possessing endless outdoor adventures. Dotted with hip cities. This place has it all. So whether you're looking for a trip that's action-packed or easy going, our New Zealand travel guide will help you navigate Aotearoa like a seasoned pro.
FAST FACTS
Language: English
Currency: New Zealand Dollar
Electricity: 230/240V
Visas: Click here to see if you need a visa to enter New Zealand
Dialing Code: +64
Time Zone: GMT +12:00
In this article
Introduction
Best time to visit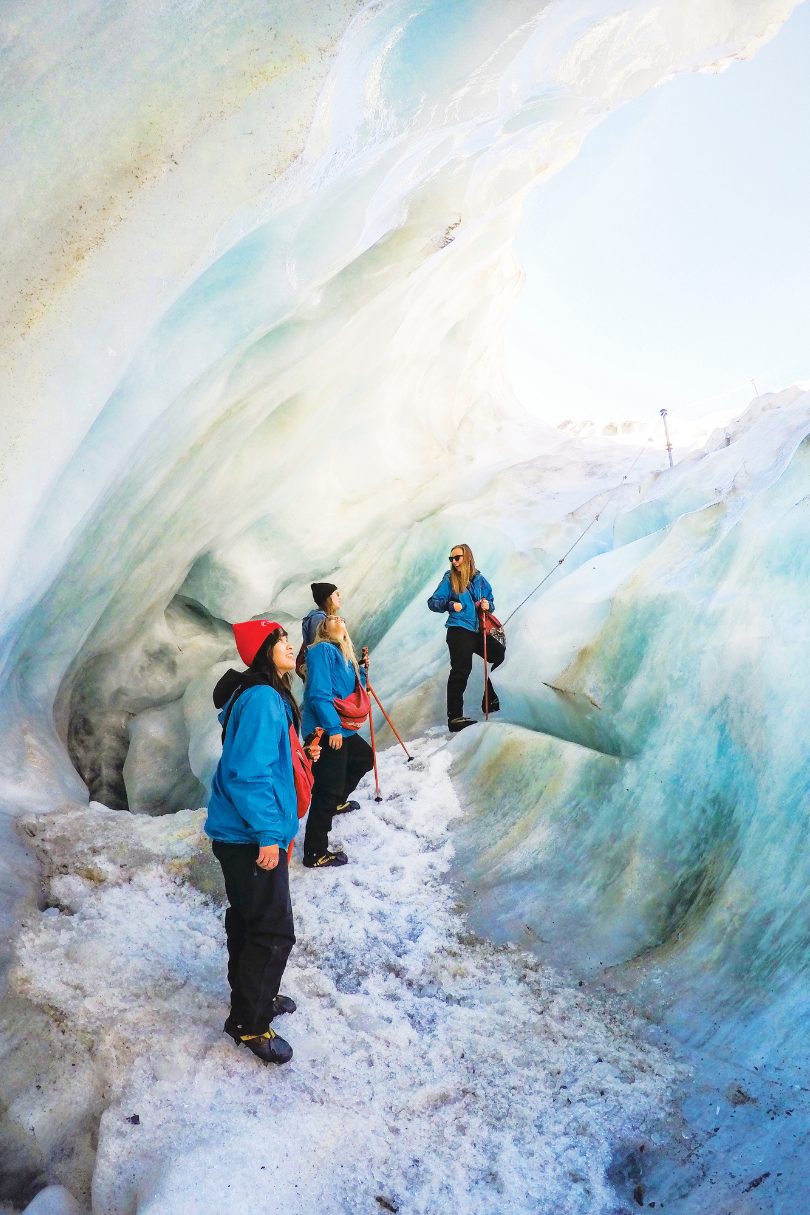 When's the best time to visit New Zealand? It's a pretty open question that entirely depends on what you're looking for. Visit in the summer months (that's December – March for you Northern Hemisphere inhabitants) for sun-drenched days exploring National Parks, hiking trails, lagoons, lakes, rainforests…the list goes on.
And in winter? (June – September). Plenty of NZ gets significant snowfall, and that can mean only one thing: ski season baby. Thanks to its stunning mountain terrains (and v. developed tourism industry), New Zealand has some of the best ski spots in the world. From Mt Ruapehu to Queenstown, there's plenty for piste pros and board beginners to find something to suit their skill levels. So, really, there is no best time to visit New Zealand. It just depends what sort of vibe you're after.
Things to do
Climb the Auckland Harbour Bridge
Auckland
Got a head for heights? Scale the Harbour Bridge and experience awe-inspiring Auckland from a novel angle.
Immerse yourself in vintage markets, galleries and shops
Wellington
Wellington is New Zealand's hipster haven. If you're looking for the best flat white in Oceania, as well as heaps of art galleries and diverse museums, you're in the right place.
Get the adrenaline pumping with white water rafting
Rotorua
The cascading Kaituna river is one of the best places in New Zealand for white water rafting (for all skill levels). Get ready for a pulse-pounding adventure as you try to admire the lush charms of Rotorua alongside trying to not fall out of the raft.
Freefall on either New Zealand's oldest (Kawarau Bridge) or tallest (Nevis) bungee
Queenstown
Another one for the adrenaline junkies. If you like your bungee to come with a slice of history, then Kawarau bridge is the FIRST commercial bungee site in the world, and is a Category 1 historic place in New Zealand. But if you're after pure, knuckle-biting terror, then opt for the Nevis.
Visit Bilbo and Frodo on the Hobbiton Movie set tour
Matamata
Who doesn't want to take a trip to the greenest place in Middle Earth? Enjoy exploring the shire (all those vegetable patches are very real) and finish up with a flagon at the Green Dragon. Pure bliss for fans of Peter Jackson's classic trilogy.
Take a day trip to Milford Sound
Te Anau
Undoubtedly one of the most beautiful places in the world. Milford sound is a treasure trove of waterfalls, wildlife and jaw-dropping vistas. Well worth a day-trip (or multi-day cruise).
Watch out for dolphins and whales
Bay of Islands
The South Island doesn't hog all the natural beauty. Head to this incredible enclave of some 140 subtropical islands and try to spot one of 9 native dolphin species (and plenty of whales, too).
Read more: Top activities and things to do in South Island, New Zealand
Read more: Top activities and things to do in North Island, New Zealand
Read more: 13 best things to do in Queenstown, New Zealand
Read more: 10 fun and interesting things to do in Rotorua this year
Top 5 festivals in New Zealand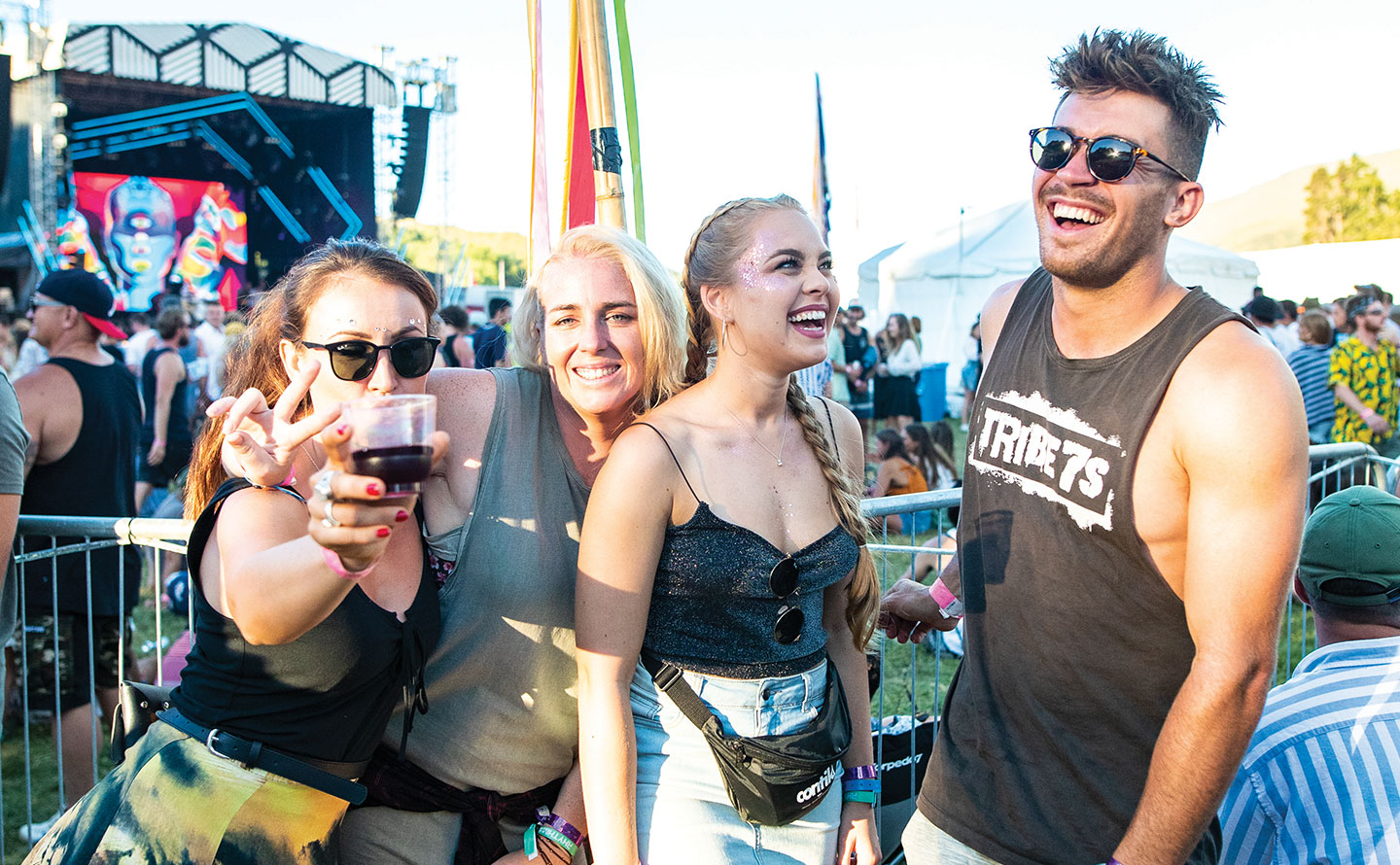 Marlborough Wine & Food Festival
Blenheim
The longest running wine and food festival in New Zealand is held in the legendary Marlborough wine region. Festival goers can expect to wine and dine their way around some world-class wines and local cuisines all amongst a very photographic vineyard.
Beervana
Wellington
If you're all about the frothy stuff, Beervana in Wellington is where it's at every August. New Zealand's biggest and most popular beer festival really is all things beer. We're talking brewery displays, colourful beer cocktails and even silent discos.
Rhythm And Alps
Wanaka
This music/camping festival runs for 3-nights from 29th Dec – 1st Jan. Situated in the Southern Alps, festival venues really don't get much better than this. Check outContiki's VIP tripif you want to do the festival like a pro with a group of party-lovers.
Queenstown Winter Festival
Queenstown
Throwing shade on those winter blues, Queenstown Winter Festival is all about having one big party in New Zealand's own backyard. Annually marking the start of winter, this music and comedy extravaganza has become quite the event!
Russell Birdman Festival
Russel
Unique, fun-filled festivals don't get much better than this one. This crazy 4-day festival involves everything from jumping of decks dressed as birds to boatbuilding and drag races. Who said tours to New Zealand weren't fun?
Top 5 museums in New Zealand
Auckland war memorial museum
Auckland
New Zealand's first ever museum is a must-visit. The museum isn't only a war memorial holding the history of Auckland, it also holds one of New Zealand's top three heritage libraries. With everything from major social and military history collections to decorative arts collections, you'll quite literally be walking through Auckland's history.
Art Gallery Te Puna O Waiwhetu
Christchurch
This Christchurch based art gallery is quite the architectural building, treasuring the history of the city and Maori culture through exhibitions, images and arts. The largest art institution in the South Island won't disappoint, so get ready to be inspired.
The Great War Exhibition
Wellington
If you're a history enthusiast, be sure to stop by at a museum which commemorates the role played by New Zealand in the First World War. The Great War Exhibition features an array of movie-like sets to depict the war, along with artefacts and hundreds of photographs that all bring the last 100 years to life.
The International Antarctic Centre
Christchurch
If you're after something a little more lighthearted, this authentic, interactive experience will be right up your street. A trip to this Christchurch based museum will in fact have you visiting the Antarctic to learn about modern day Antarctica and spend some down time with the Penguins!
The Weta Cave
Wellington
Saving the best till last, it's time to immerse into some incredible film making experiences, think Lord of the Rings and Avatar. Get to grips with the making of props, costumes, models and learn all about the history of how these films came to life. Middle Earth awaits!
What to pack
A good pair of hiking boots
Come rain or shine, you'll want some trusty, comfy, quality shoes to navigate all of those jaw-dropping landscapes.
Backpack with detachable daypack
Trust us: you won't wanna be lugging a suitcase around the South Island. Invest in a decent backpack with a detachable daypack for when you want to go on a lil' excursion.
Shades
You want to soak up all that scenery without squinting, right?
Microfibre towel
These things are lifesavers if you're hitting the beach or swimming in a lake somewhere. Dry quickly. Dry you even quicker. Pack light and last a long time, too.
Waterproof
You shouldn't visit NZ without paying a visit to the otherworldly Milford Sound. But make sure you bring a rainjacket; it's one of the wettest places in the world, with the heavens opening on average 182 days a year!
Read more: What to pack during COVID-19: the ultimate travel checklist
Read more: Stressed about holiday packing? You need the Contiki Pack My Bags Alexa skill
Read more: What to pack for two weeks of New Zealand travel
What to eat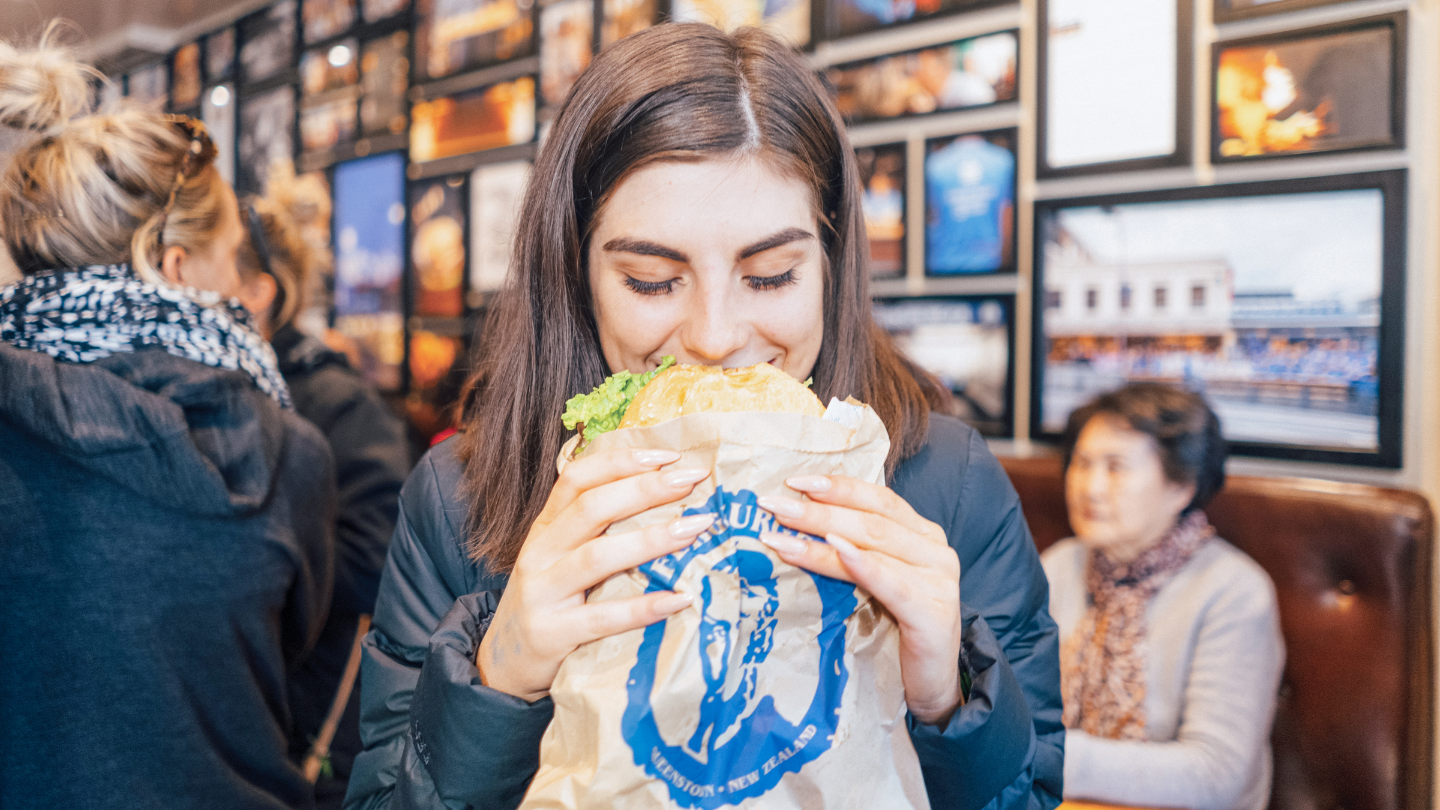 Crayfish
Yup the fish is good but the crayfish is even better! Kaikoura, also known as the crayfish / lobster capital of New Zealand is for sure the best place to try this. And the best was to cook it is on the BBQ of course, beachside shack snack complete!
Mince & Cheese Pie
This English heritage inspired dish is a feel good home comfort which combines beef with vegetables, cheese and seasonings, all kept together in a puff pastry pie.
Ferg Burger
A Queenstown icon; great for soaking up any misadventures from the night before, or if you need to fill up before embarking on a long hike.
Lemon & Paeroa
Take off the heat with this refreshing soft drink. The lemon goodness is a classic refreshing NZ go-to drink, complete with a yellow label and a sweet, fizzy taste.
Afghans
Despite the name, these tasty treats are in fact from New Zealand. This creamy, nutty, chocolatey, crunchy is a little ball of heaven which has been around for over 80 years! The biscuit of all biscuits is a perfect snack when you're on the road.
Read more: The best food spots to hit up in Queenstown, New Zealand
Read more: Is New Zealand's famous burger joint Fergburger actually worth the hype?