10 epic childhood dreams you can now fulfill as a traveller
Share
Remember the good ol' days when your imagination ran free? When your favourite Disney films filled your life with colour and had you yearning for the wildest adventures? Adulthood brings with it a reality check for most of us, but we'd rather die trying than give up on living out our dreams of endless adventures around the world.

Whether it's on the cards for next year or plotted as an addition to your 10 year plan, we challenge everyone to re-visit their childhood dreams and find a way to make them reality. You might just discover that it's not as difficult as you once thought…
Sit on top of the world
Climb every mountain Julie Andrews style and swap exhaust fumes for real clouds. Everything is just so much more magical when you're up in the sky, especially when the scenery takes your breath away.
Our recommendation: Machu Picchu, Peru
Chill Under the Sea
Mermaid tails are available for purchase, and although seashell bras are actually pretty uncomfortable, you can definitely work around that and embrace your inner Ariel. Scuba diving and snorkeling are our favourite ways to let our inner water god/ goddess out, and there are lots of places with great coral and wildlife to occupy hours of swim time.
Our recommendation: The Great Barrier Reef, Australia
Have 5 minutes of fame as a popstar
Have you ever wanted to go for it onstage? Like, really go for it? It's a lot easier than you might think to sing your heart out, try out those Adele runs and perform the secret choreography you've kept in your back pocket when you're in a room full of strangers.
Karaoke is a liberating experience in general, but when you really go for it you get a lil taste of that adrenaline rush that pulls your favourite popstars on stage night after night, and it's an amazing feeling that everyone should have at least once.
Our recommendation: Japan – for some of the best karaoke bars in the world
Run/ swing through the Rainforest
We don't recommend a loin cloth as proper attire for this activity, but canyoning is a real thing and it's all encompassing for your forest frolicking dreams. Get a lil wet and propel down waterfalls, take a leap and try cliff jumping, and practise your Tarzan yell on a zip line.
Our recommendation: Costa Rica
Save the world
That may be a big ask for one person, but doing your part to make the world a better place is definitely attainable. Volunteering your time and skills when on vacation is a great way to give back, and can make your travels a more rewarding and memorable experience.
Packing a few much-needed items for the locals, or even just spending money at local businesses makes a huge difference for some communities who rely so heavily on tourism. It may amaze you how far your dollar can stretch in different countries, so just imagine the difference you can make by supporting others when you can.
Our recommendation: Anywhere and everywhere
Play Pirate for a day or two
You shouldn't aim to go full pirate, but all of the fun parts like sailing the open seas, battening down the hatches and walking the plank can definitely be replicated on a sailing trip. Bust out your hoop earrings and striped shirts for an extra authentic experience.
Our recommendation: Croatia, Greece or Turkey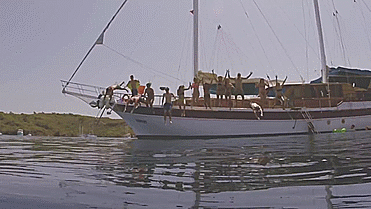 Hang out with the dinosaurs
OK, so you might not hang out with T-Rex and his buddy the velociraptor, but there's some pretty cool wildlife out there that'll bring out your childhood "woah". Think komodo dragons, giant tortoises, iguanas, sharks and more of the awe-inspiring and ancient species that have roamed the planet for millions of years.  Also considering that some of these are close to extinction means that, just like the dinosaurs, seeing them won't be possible in the not-so-near future.
Our recommendation: Galapagos
Live the rock star life
It may not always be the most glamorous experience, and it's hard to picture Beyoncé sleeping in a tent, but festivals are the best way to let your inner rock star loose for a weekend. Losing our minds to our favourite bands in a field full of like minded people is one of our favourite pastimes – add in camping under the stars, crowd surfing and all of the other festival shenanigans and you've got one euphoric experience for the record books.
Our recommendation: Coachella, Glastonbury, Sziget, Primavera Sound, Burning Man, Lovebox, Benicàssim… our list goes on and on
Meet your heroes
We know what they say about never meeting your heroes, but we would rather meet our childhood idols when we can actually appreciate them, rather than when we're whimpering and cowering behind our parents at age 5. Those giant-headed costumes can be terrifying when you're 3 feet tall…
Maybe you longed for your own mouse ears as a child. Perhaps you wanted to be a Disney princess in a hoop skirt and bouffant. Or quite possibly you wished for spidey senses as you practiced web-slinging in your room. Whoever your hero was, you can probably still meet them (or a pretty convincing version of them) and capture a pretty epic profile-pic as a souvenir.
Our recommendation: Times Square in NYC, any Disney theme park or Las Vegas, Nevada
Live like Peter Pan
Sick of your adult responsibilities? Is your mind full of trip ideas? Wanna forget about exams, work emails, rent cheques and all the rest of that fun adult stuff? If you never wanna grow up, travelling in general is a great way to get your Peter Pan on. Who cares what time it is? Have a blast, eat ice cream for breakfast, dance all night long if you want to. Live the life you've always dreamed of, even if it's only for a week or two at a time…
Our recommendation: Travel anywhere with #NOREGRETS