10 party tips essential to smashing the full moon party
Share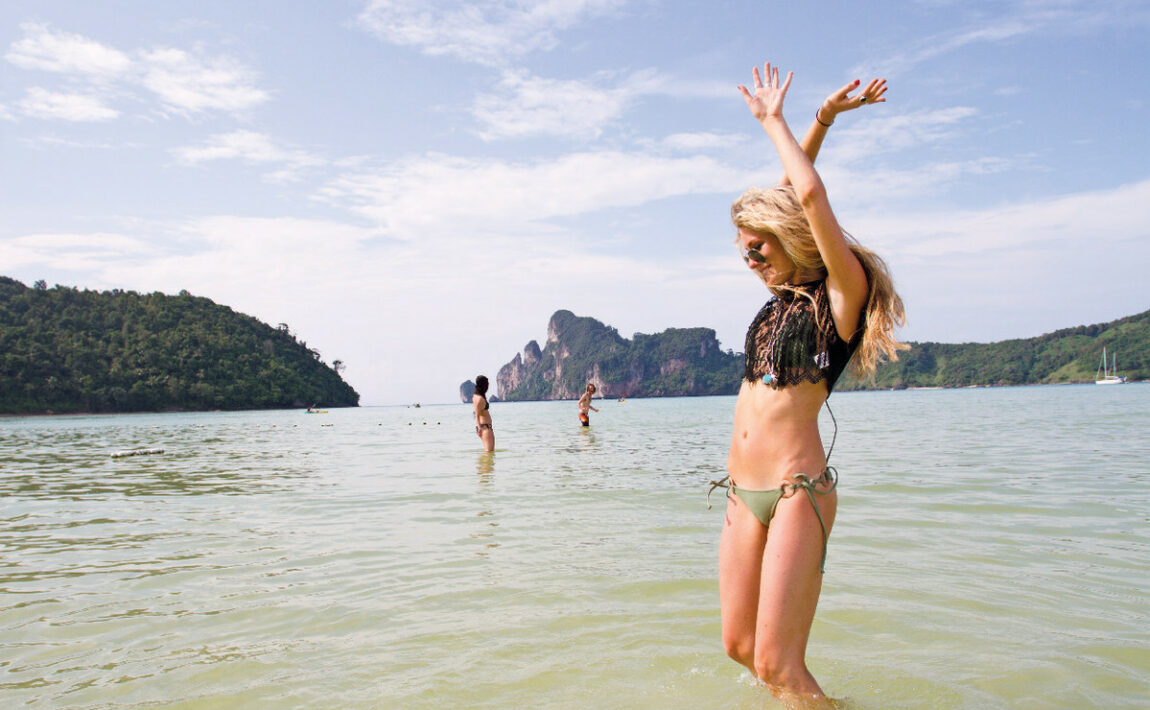 After deciding to attend the Full Moon Party in Thailand I simply couldn't wrap my head around the fact that I was attending the biggest and longest beach party in the world. About 20,000-30,000 people attend each month, and it gets rowdy AF.

I was determined to survive a full 13 hours of partying with complete strangers. In order to make it through the night, here's what you need to know before attending the Full Moon Party:
Make sure you're close to the beach
Stay at accommodation no further than 400 feet from the beach. You need a place close to the action so that you can walk back to the room for bathroom breaks/AC breaks/wifi breaks/check your sanity whist partying.
Be wary of your money
Locals will try to convince you that you need a ticket to the Full Moon Party…you don't. So don't buy anything but drinks and some highlighter paint!
Be comfortable
Wear sneakers. Unfortunately, the beach gets trashed and it's mostly glass bottles. At one point, I was in a dance circle with a bunch of Spaniards that was formed around a huge pile of trash! #classy.
Be fashionably late
Don't show up right at 5:00 pm. It will be poppin', but not enough. Pace yourself. Go to dinner, work on your outfit, do a little pre-game in your air conditioned room, and then start to make moves when the sun is down.
RELATED: 15 ADVENTURE ACTIVITIES IN THAILAND THAT YOU'LL REMEMBER FOREVER
Stay organised
Figure out a meeting point with your friends, because there's no wifi on the beach and it's inevitable that you will get separated. I recommend making a meeting point before you head off, and make sure you stick to it!
Stay away from the water
Try not to venture into the water. I know it's tempting because it's like over 100 degrees outside, but it's dangerous to splash about whilst drunk. My friend had to save a guy who was passed out, face down in the water…Best to avoid this.
RELATED: THAILAND, THE LAND OF SMILES, PAD THAI AND LIMITLESS ADVENTURE 
Just don't get too drunk
On that note, don't pass out on the beach (I tripped over a few bodies…my bad). The Full Moon Party has designated napping areas which are fenced off areas of sand so that no one will step on you if you need a little cat nap (which you will!).
You'll see some characters…
Say hi to Captain Jack Sparrow if you see him stumbling around the beach parties. He won't make it once the rum is gone!
You'll make new friends, but won't hear them
Be prepared to meet a lot of people from all over the world and not be able to understand one word that they say because the music is so loud. Just grab their Snapchat info, bar hop, drink, dance, repeat!
Don't be a quitter
Stay at the party until sunrise. You'll have to talk yourself out of going to bed at 4:00 am when people start dropping like flies. The Full Moon Party is quite literally survival of the fittest, so prove your strength and keep going. It's 110% worth it!
Have you partied till dawn on a recent trip? Got any party tips to share? Share you stories with us here and you could see your work published on six-two…