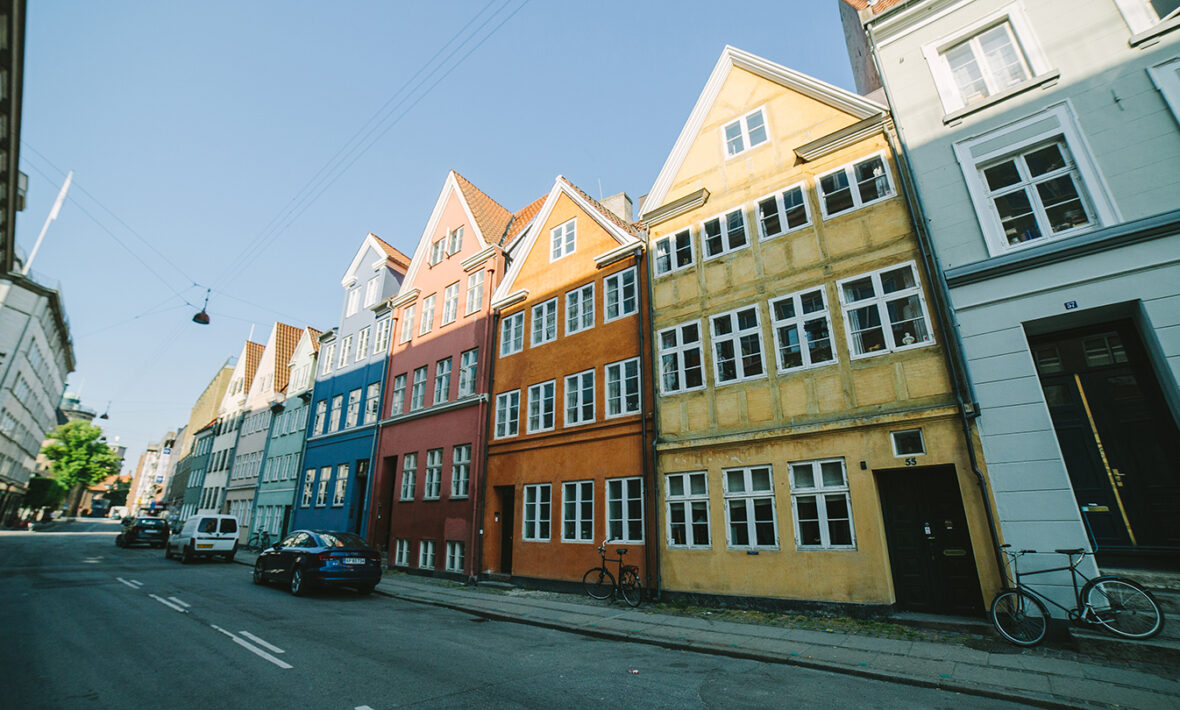 Denmark is one of the most beautiful countries I have ever been to. There is so much to see so going for a weekend requires using your time wisely. On a budget too? Just follow this itinerary…
Walking saves you a ton of money on transportation. You can also opt for a bike, which is the way most of the locals get around. Copenhagen actually has more bicycles than cars! I didn't feel as comfortable riding a bike because I've never actually rode a bike with car traffic –  but if you feel confident, I'd definitely recommend getting a bike as well.
Now we've covered the basics, here's how to spend 2 days in Copenhagen!
RELATED: 5 THINGS TO DO ON A LONG WEEKEND IN STOCKHOLM
Day #1
First stop: check out the train station. There's a ton of food stalls and shops inside and it's always busy! The train is also very easy to get on and navigate. Once you make your way out into the city, you can see all of the beautiful architecture. Some of the most beautiful buildings I have ever seen were here in Copenhagen. Make sure you stop by Christiansborg Palace. Christiansborg Palace is a palace and a government building. You can find the Danish parliament here.
A definite must when visiting Copenhagen is Nyhavn Canal. It was built in the 17th Century, where it was originally a busy commercial port where ships would dock. This picturesque Canal is perfect for getting some great photos for your Instagram! Very Instagram worthy! Along the canal, there are a ton of restaurants, cafes, ice cream shops, etc. Beautiful area to grab lunch or dinner, and also very romantic.
I saw this next place on the Amazing Race and immediately put it on my list of things to see. If you're afraid of heights, this may not be for you – but I also suggest getting over your fear for just a moment so that you can see the incredible view from the top! Called Church of Our Saviour, Copenhagen, you will find the most amazing views of the city here. Getting to the top is a bit of a work out though. The small, narrow staircases are a bit tough to climb but again, once you reach the top, the view is absolutely worth it.
Finally, make your way to the waterside promenade to walk along the water and you can get a glimpse of the Copenhagen Opera House. Keep walking along the water and you will soon reach the famous Little Mermaid Statue. Beware though, there will be a lot of tourists trying to get photos with the statue. If that doesn't bother you then you can visit at anytime… otherwise, I would suggest going very early in the morning.
Day #2
It sounds crazy to spend a whole day in one place, but I suggest you do so at this next stop. A quick train ride will get you to the small town of Hillerød. It's about a 10 minute walk from the train station to Frederiksborg Castle. I am absolutely obsessed with castles. I love visiting castles. The beautiful architecture, the history, the stories behind them. I just love it. This is one of the biggest castles I have been to so far. Thus, why I suggest spending a whole day here. I spent about an hour just outside in the garden alone.
Once you get inside, there are 3 levels, technically four, since the ground level is where you can begin the tour. Once you begin the tour of the castle and museum, there are about 80 rooms that you can visit! Yes, 80! Now you understand why I suggested you plan a whole day for this! Make sure you grab the museum brochure which is labeled by each room and has a description for them. Every room is beautifully decorated with the most amazing furniture and paintings. I wanted to get a photo of everything but that would probably take all day and probably all night.
RELATED: TRAVELLING AROUND SCANDINAVIA SOLO MADE ME WHO I AM
That's your 48 hours in vibrant Copenhagen done and dusted! Where to next?
Do you have any insider guides for a recent city break? Share your stories with us here and you could see your work published on six-two…