Every well educated traveller knows of Queenstown, the adventure capital of the world. They've probably read about whale watching in Kaikoura, the beauty of Milford Sound, and maybe even the mysterious Moeraki Boulders. But what about the other must dos of New Zealand, that the locals like to keep under wraps? Speaking as an insider, here are some MUSTS for anyone venturing over to the South Island…
Pies on-route from Christchurch to Lake Tekapo
If you are travelling in-between Christchurch and Lake Tekapo (which is an ultimate must see in NZ), I am extremely jealous of you because my favourite bakery is along the way. In the small town of Fairlie lies the Fairie BakeHouse, locally known for their beautiful pies. Not only is the the pastry buttery and delicious but they load up their pies full of deliciousness. They also have a great range of flavours that they update regularly, so even if you're not a pie fan they have heaps of other delicious treats that you can try out!
Fairlie is not the only place to get an awesome pie from (to be honest there are so many great bakeries in New Zealand it would be hard to list them all). The famous Jimmy's Pies in Roxburgh, Central Otago are a classic Southerners snack, where you can try out the classic Mince and Cheese or, if you're feeling more adventurous, venison.
Summer fruits & skating in Roxburgh
While you are in Roxburgh, you need to check out some orchards. Central Otago is famous for their stone fruit – peaches, plums, nectarines and cherries all come into season during summer and it is something you can't miss. Of course, you can get all these fruits at the supermarket, but why would you do that when you can go to the orchard and get them for cheap, or even pick them yourself? If you miss the summer season there are always great photo opportunities in the orchards with the trees beautiful shades of red, yellow and orange in the autumn, covered in snow or frost in the winter, or the bright blossoms in the Spring.
Have you ever been ice skating on a lake? The Manorburn Dam is another awesome place to visit in Central Otago in the winter. Join the locals out on the ice and learn how to curl, or just bring along some skates.
Beaches in Farewell Spit
If you would prefer to spend your time on the beach rather than on the ice, then head to the top of the South Island. Of course there's all the beaches around Nelson, but there is also Farewell Spit which is actually the largest sandbar in the world. Farewell Spit is the perfect place to go if you want a beach day, but don't want to be surrounded by crowds of people. You will always be able to find your own spot away from the touristy hot-spots. If you don't mind getting sandy it's also quite fun to run up and down the dunes.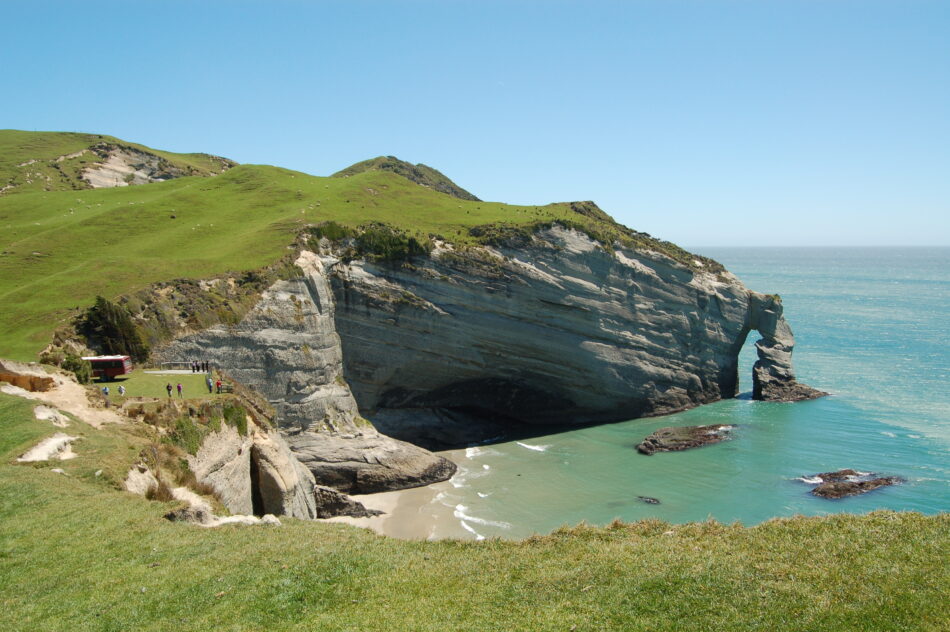 Spring Hot Pools in Hanmer
Hanmer Springs is another favourite getaway of mine. About an hour and a half north of Christchurch, it's one of the worlds most relaxing places AND you can go any time of the year. There is nothing better than sitting in the hot pools whilst it snows all around you with the steam rising in the air, or even in the summer racing down the slides. Even if you don't want to go to the hot pools it is such a beautiful town to just spend some time, with cute little shops and some great restaurants, too. Remember on your way back to Christchurch keep a look out for Frog Rock standing tall on the roadside.
Wild Food Festival in Hokitika
I'm (not so secretly) a food lover so I feel obliged to talk about another must do for all you fellow foodies – the Wild Food Festival in Hokitika. Some of the food is not for the faint hearted – try huhu grubs, mountain oysters (these are not what you might think, I warned you) or horse protein shots, or stick to safer options like whitebait fritters and beer. Its not just all about the food though. Each year they have different entertainment and please note, everyone loves to dress up!
Climbing in Catlins
Last but definitely not least I have to tell you about the Catlins, one of my favourite places to go camping. The Catlins are great no matter what you want to do, whether you want to check out some walking tracks, go for a surf, explore caves or watch wildlife, its all here. I have had many great weekends camping by the beach down here and will for sure be going back many more times.
Have a story you'd like to share and want to become a contributor for six-two? Find out how here.