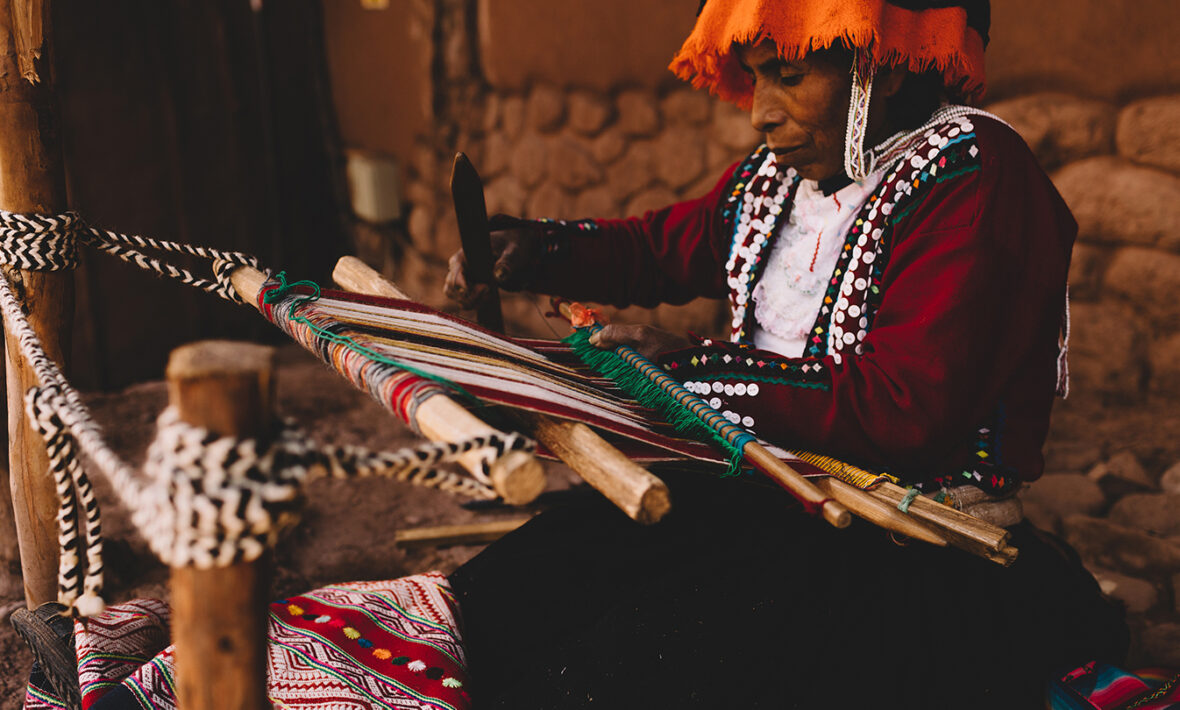 When you think of Peru, what springs to mind? Machu Picchu? Gastronomic Lima? Sure these are all major draw cards for the much travelled South American favourite, but dig a little deeper into the history and culture of Peru, and what you'll find is a country rich in indigenous history, much of which is kept alive today through ancient crafts and traditions.
Case in point, the Centro de Textiles Tradicionales del Cusco (CTTC), located in the little town of Chinchero within the Cusco region. Walking into the Centro is like entering an Aladdin's cave as multicoloured textiles and creations of impossible detail fill your world with colour (plus there are baby alpacas roaming around which, you know, is never a bad thing). Over 500 men and women from ten different Cusco based weaving communities use the Centro as a base to display the Andean weaving techniques that have been passed down for over 10,000 years. For these communities weaving isn't just a job, it's a part of their cultural identity. The textiles they produce are utterly unique to the Andean region, featuring patterns that have been meticulously taught and recreated from generation to generation.
View this post on Instagram
The Centro is a space where traditions are kept alive and indigenous communities are given the opportunity to support themselves through their work, but it hasn't always been this way. Change is inevitable, however much you fight against it, and throughout the years the impact of globalisation had taken its toll on the town of Chinchero. Languages have been lost, ritual practices were been forgotten and key elements of traditional cultures, weaving included, have become increasingly redundant. As each new generation entered the world, the town found itself edging further and further away from its cultural cornerstones.
Which makes the success of the Centro all the more remarkable. Founded in 1996 by Nilda Callanuapa, a woman who was determined to maintain her own cultural heritage whilst also finding employment opportunities for the people of her region, the Centro has slowly but surely ensured that these ancient traditions are no longer forgotten relics of history, but are instead an integral part of life in Chinchero. As well as providing a space for indigenous communities to sell their products, the Centro is also helping to support and teach a new generation of weavers, with children from the local communities gathering here every weekend to learn the art from their elders. With skills and knowledge passed down from old to young, the Centro is ensuring that the weaving methods that are synonymous with traditional Andean culture will not be forgotten.
View this post on Instagram
And the best part of it all? You can play your part. Contiki Cares and TreadRight are proud partners of the CTTC, with all trips to Peru visiting the Centro as an included activity. Stopping by here you'll get the chance to see the weavers at work, learn about the ancient production methods and support the local communities by buying one of a kind woven goods. And did you mention the baby alpacas? We reckon that's something of a deal clincher, don't you?