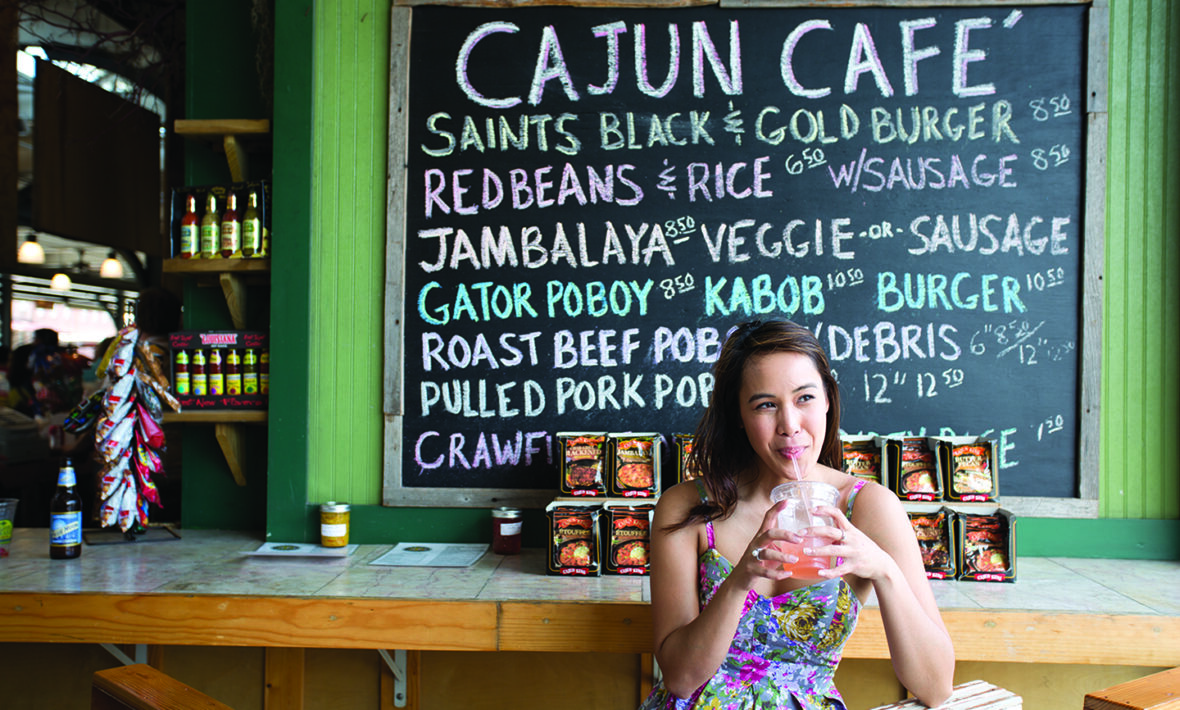 Prepare to wipe that drool from your face, because this post is going to pack a food-worthy punch. The United States boasts some of the most creative (and sometimes most decadent) dishes that the world has ever seen – think overstuffed burritos, spicy stews, and sinfully sweet desserts. Take your taste buds on a road trip and eat your way around the United States with these 10 can't-miss American dishes for your foodie bucket list.
California Burrito (California)
What makes a California burrito different from its counterparts? The California burrito hails from San Diego, California, and is stuffed full of carne asada (beef), cheese, sour cream, and French fries – yes, you read that right, as well as a healthy dose of guacamole – ingredients you won't find in any ol' burrito. While you'll find variations of burritos throughout the world, Southern California has elevated this on-the-go Mexican dish and infused with a hit of Americana flavor. If you're not big on burritos, check out the runner-up in Southern California – the beer-battered fish taco.
Sourdough Bread Bowl Clam Chowder (San Francisco)
California boasts amazing sunshine year-round, but Northern California gets some cooler temps from the San Francisco Bay – so what better way to combat the chill than with a pipin' hot bowl of clam chowder served in a freshly-baked bread bowl? The sourdough bread has been an institution in San Francisco since 1849 with the same sourdough recipe still being used to this day. The center of the bread bowl is carefully cut out, leaving a perfectly sturdy bowl for soups and even salads. We consider this an eco-friendly dish because you can eat the bowl as well! Dig in!
Jambalaya (New Orleans)
"Jambalaya and crawfish pie and fillet gumbo…" If you want to "laissez les bons temps roulers" (aka "let the good times roll"), don't pass through New Orleans without getting your hands on this Cajun-spiced delicacy, chock full of chicken, Andouille sausage and shrimp. This dish will have you dancing on Bourbon Street, whether or not it's Mardi Gras, adding a little spice to your life. You can even try your hand at making this staple dish of Louisiana at the New Orleans School of Cooking – and don't forget to wash it down with a Hurricane while you're at it.
Lobster Roll (New England)
Travel to the lobster-filled shores of New England and get your hands on a toasty lobster roll – a toasted bun or roll filled to the brim with fresh lobster meat that has been soaked in butter. You'll find many variations of this seafood-gasm-in-your-mouth when you travel through New England. Some regions serve their lobster rolls cold while others prefer to add mayonnaise and diced celery or scallion. New Englanders balance the soft chewy lobster roll with a side of crispy potato chips or French fries – a gut bomb waiting to happen.
Cannoli (Boston)
There's a reason why you should always "leave the gun and take the cannoli." With a crisp pastry shell and a creamy interior, the Cannoli is an Italian pastry that has become the focal point of Boston and comes with so many flavors you won't know what to do with yourself. There is a heated debate over which Boston institution carries the best cannoli (Mike's Pastry vs. Modern Pastry Shop), but we think you should make the decision for yourself!
Pro tip: If you're a fan of ricotta and Marscapone, give Mike's Pastry a whirl but if you like your cannoli texture a bit on the creamy side, head over to Modern. Either way, your taste buds will thank you.
Philly Cheesesteaks (Philadelphia)
If there's one food you need to try when you're in Philadelphia, it's the Philly Cheesesteak. It's often imitated through the entirety of the U.S. but you'll need to put on your stretchy pants and prepare to make a food baby with this sandwich. Made on a long, crusty bread roll filled with thinly sliced ribeye beef and melted cheese, the Philly cheesesteak is dripping with flavor – LITERALLY. Top it off with fried onions, sautéed mushrooms, or hot or sweet peppers and you're in with an iconic U.S. delight – There's no need for utensils or sit-down service, this bad boy is ready to hit the road, just like you. Look ma, I only need to hold it with one hand!
Juicy Lucy (Minnesota)
If you love cheeseburgers, the Juicy Lucy is a must-try when you're traveling in the United States. In this burger, the cheese is INSIDE the meat patty – meaning one bite of this juicy lucy will result in an explosion of cheesy proportions, like lava flowing out of a volcano. A word to the wise – the cheese will be hot so eat with caution so you don't scorch your mouth! Then you'll wonder where the Juicy Lucy has been all your life.
Texas Pit BBQ (Austin)
Texas and barbecue are almost synonymous, so you can't head Deep in the Heart of Texas without getting your hands on their delicious brisket, BBQ ribs, or spice-rubbed chicken. We're especially keen on the barbecue at Franklin's BBQ and The Salt Lick, both in Austin, Texas, but be prepared for long waits, especially at Franklin's (featured in the movie "Chef" with Jon Favreau). Guests are known to line up for hours in advance and the BBQ establishment serves food until it runs out – no exceptions. The Salt Lick is a bit of a trek from the city center, but once you see them fire up that circular BBQ pit, you'll know it's worth every finger-lickin' good bite.
Key Lime Pie (Florida)
The Sunshine State invites you to taste a quintessentially American dessert – made simply with the juice of key limes (found in the Florida Keys), egg yolks, and sweetened condensed milk in a pie crust.   You'll usually find it with a decadent but light and fluffy meringue topping. One taste of key lime pie and you're transported to the sandy shores of Florida, soaking up the sun and getting the right balance of sweet with a little zing of tartness – the perfect balance and a must-try dessert.
Chicken Fried Steak (Southern US)
What's better than steak or fried chicken? Chicken-Fried steak, that's what. Imagine the juicy beef flavor that you love from a sizzling steak but covered with the crispy and savory texture of fried chicken (yes, we're talking deep-frying that bad boy) and you have a very American dish wrapped up in one. Pro tip: This dish varies throughout the country but you may see it listed as "country fried steak". Make sure there is plenty of gravy on the side!