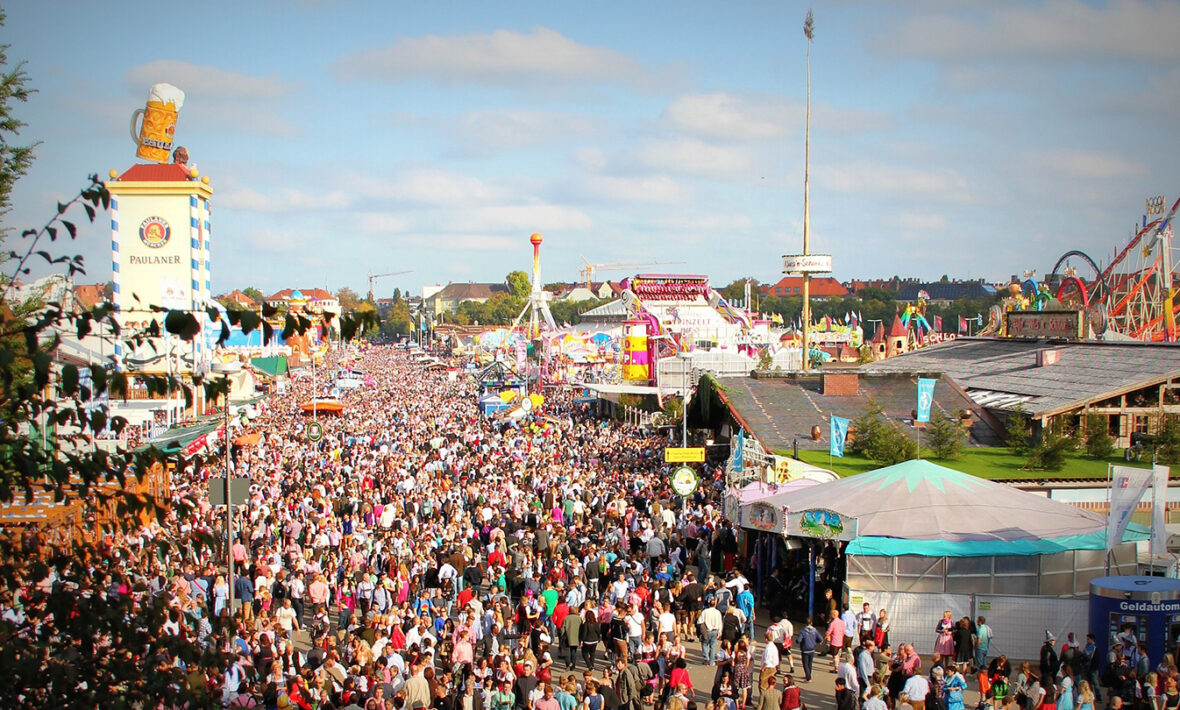 Article courtesy of Contiki's resident beer expert/connoisseur/all round fan of Oktoberfest beers, Pauli Mykkänen.
The middle of September is almost upon us and this means just one thing for all beer lovers around the world – Oktoberfest has finally arrived.
For some this may mean taking a trip to the heart of Bavaria to oompah, prost, and table dance with 6 million fellow Oktoberfest goers, whilst for others it may just be an excuse to dust off your Maß beer mug, stockpile on sausages, shanks and sauerkraut and enjoy all the traditional brews of Bavaria.
RELATED: A FIRST TIMERS GUIDE TO OKTOBERFEST
However you're celebrating one thing's for sure – beer will most definitely be involved. All Oktoberfest beer is brewed locally in Munich, so with this in mind we've cherry picked our beer choices from the big six Munich breweries.
Beer: Maximator
Type: Doppelbock
Strength: 7.5%
Brewery: Augustiner
Augustiner is the oldest Munich brewery of them all, founded in 1328 from the Munich Augustiner monastery (yup, the monks loved a beer). Unlike most of the breweries in Germany, Augustiner is loyal to its roots, so much so they haven't changed their beer labels in decades and have been serving beer at Oktoberfest since the 1860s. They also still serve their beers from wooden barrels at the festival, the last brewery to do so.
We've gone with the Maximator as our pick from the Augustiner brewery. This was the beer that was brewed by monks to replace their bread consumption during fasting, giving "liquid bread" a whole new meaning. With its dark ruby colours, rich malty flavours and 7.5% strength, this is the perfect go to beer to keep you warm on a cold winters night.
Beer: Dunkle Weisse
Type: Dunkelweizen
Strength: 5.3%
Brewery: Hacker-Pschorr
Oktoberfest would not be the same without beers from the Hacker-Pschorr brewery (after all, Josef Pschorr was one of several brew masters tasked with brewing special beers for the first royal festivities in 1810 by Crown Prince Ludwig, the Godfather of Oktoberfest himself).
Our beer of choice from this brewery is the Dunkle Weisse, a darker and stronger version of the common German wheat beer. Expect a smooth velvety texture, apricot and clove malt aromas and hints of caramel flavours to hit you after your first sip. Perfect to go with your hearty game dishes.
https://www.instagram.com/p/BGNBcRCgN7S/?tagged=hackerpschorrdunkleweisse
Beer: Münchner Weisse
Type: Hefeweizen
Strength: 5.1%
Brewery: Hofbräu
Founded by the Duke of Bavaria, Wilhelm V in 1589, Hofbräu was created due to the royal household's dislike of the dark and heavy beers Munich was favouring at the time. Wilhelm & Co preferred the lighter tastes of traditional German wheat beer, and so everyone's favourite Hofbräu brewery was born.
The Münchner Weisse is our pick for this one. Light and fruity on the taste, this beer is perfect for all occasions as it depicts the very best of what a wheat beer has to offer. If the beer alone is not enough, then visiting the Hofbräuhaus am Platzl, the brewery's main beer hall in Munich holding up to 5,000 guests, should be the deal breaker. This beer hall is not only the largest attraction in Munich after Oktoberfest, but it also boasts a rich history and a diverse list of famous visitors, Wolfgang Amadeus Mozart, Louise Armstrong and John F. Kennedy amongst them.
RELATED: THE BEST OF THE WURST: GERMANY'S TOP EATS
https://www.instagram.com/p/BY0RpzMnLn0/?taken-at=215035382
Beer: Löwenbräu Original
Type: Lager – Helles
Strength: 5.2%
Brewery: Löwenbräu
If you're not as big on beer and prefer to stick to your lagers, we recommend you go for a Maß of Löwenbräu's Original, which is your standard German helles lager. Not only is Löwenbräu one of the original breweries commissioned by Ludwig I for the 1810 royal festivities, but you can be assured that as with the rest of the breweries in Munich, Löwenbräu brews its beers in line with the strict Bavarian purity requirements so you know your lager is of the highest standard.
https://www.instagram.com/p/BYYJOUGg86-/?tagged=l%C3%B6wenbr%C3%A4u
Beer: Spaten Dunkel
Type: Dunkel
Strength: 5.2%
Brewery: Spaten
Like your lagers, but feeling more adventurous? Go with the Spaten Dunkel, a traditional German dark lager brewed by the Spaten brewery, who have been brewing since 1397. Unlike their helles counterparts, dunkels are dark in colour and typically have a more distinct malty flavour.
What makes this type of beer different from all the others? Well, it was one of the most popular beer types in Munich during the introduction of Reinheitsgebot (the German beer purity law) back in 1516, so technically it's the first fully codified and regulated beer in Bavaria.
https://www.instagram.com/p/-66wPcBsVz/?tagged=spatendunkel
Beer: Oktoberfest Märzen
Type: Märzen
Strength: 5.8%
Brewery: Paulaner
Finally, the Oktoberfest Märzen by the Paulaner brewery, because no Oktoberfest beer list is complete without a beer brewed specifically for Oktoberfest!
Established in 1634, Paulaner has had the honour of brewing the special Oktoberfest beer since 1818. You will initially experience a mild easy to drink sweet taste of malt followed by a stronger note of hops afterwards to add a little kick at the end. Think of this beer as a slightly stronger version of a lager, however because of the higher grade of fermentation that takes place during the March brewing period for the festival, this makes the beer particularly easy to drink, despite being on the strong side. Rumour has it though, that you won't get a hangover drinking this type of beer at Oktoberfest.
Time to put the theory to the test…
https://www.instagram.com/p/BYedgWWhYlB/?tagged=oktoberfestmarzen