15 best places to visit in egypt
Share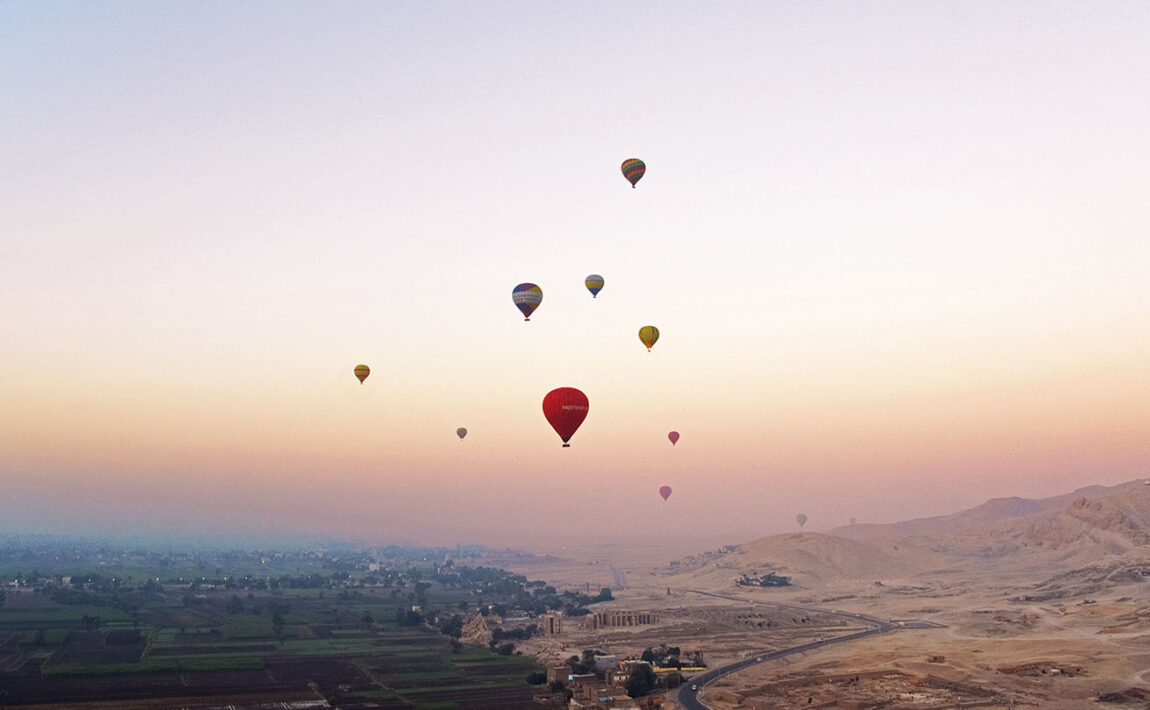 Why has Egypt been so popular with travellers in the past 10 years? It's unlike anywhere else you'll visit, that's for sure. Pyramids, sphinxes, towering obelisks, The Nile, camels, you name it. Egypt's got it. Not to mention the surfing beaches, scuba spots, and bubbling natural springs in the country's many water sources. Check out the best places to visit in Egypt. You'll never guess which city takes our top spot…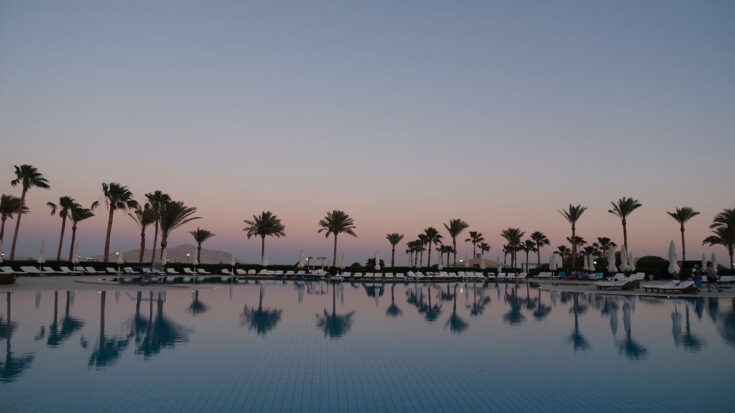 1. Alexandria
We have it on good authority that Alexander the Great thought this city was the best place to visit in Egypt, why else would he have named it after himself? 
Alexandria certainly feels like a city, it's got a tough coat after surviving invasions from the Romans and earthquakes that destroyed some of the most iconic landmarks. The Library of Alexandria, burnt to ash by Julius Caesar. In the hundreds of years that followed, an onslaught of earthquakes crumbled the world's first lighthouse, one of the Seven Ancient Wonders of the World, into the Mediterranean Sea. 
There were plans to rebuild the lighthouse, though work hasn't begun yet. Stones from the original ruins can still be found via scuba. You can, however, visit the epic Bibliotheca Alexandrina, a contemporary powerhouse serving as the city's new multilingual library and cultural centre. 
With over 4-million books, a range of museums and a planetarium, a day trip to this Egypt landmark is almost guaranteed to make you 10x smarter. Or at very least, awestruck.
Elsewhere, there are Roman ruins (including an amphitheatre) to visit and the cute cafes that run along the harbour, where you can sip sugarcane juice and try some traditional Egyptian food. If you're feeling adventurous, order kebda eskandarany – a super-popular sandwich in Alexandria, filled with fried liver, peppers, onions and spices.
2. Valley of the Kings, Luxor
Pharaohs in ancient Egypt were buried by tradition within magnificent tombs, glittering with gold and their most valuable possessions. All this was to keep the souls of those fearsome leaders safe in the afterlife.
There are over 60 tombs like these in the Valley of the Kings, dug deep into rock. It's the most regal graveyard you'll ever visit. Hieroglyphic inscriptions on the walls carry a galaxy of stories, of Ramses, Tutankhamen, and the other big bosses of ancient Egypt. Outside, hot air balloons float above the sandy rock caves. 
Seeing the Valley of Kings from a bird's eye view is thrilling and one of the best places you can visit in Egypt, so you'll definitely want to think about taking a hot air balloon ride while you're out there. But the opportunity to step inside these mysterious caves, of more than a thousand years old? Now, that's time travel my friend.
3. Siwa Oasis
Hundreds of miles from Egypt's major urban centres lies Siwa Oasis, a peaceful escape from your long day of travels. There are springs of fresh water on the Siwa terrain, perfect to swim in and drink up. Olive groves are aplenty and warm saline pools sit in places, so salty you can float and watch the sun set.
Horseback riding is probably the best way to see Siwa, though sandboarding on the Great Sand Sea will suit more adventurous sorts. Locals here in Siwa speak their own language and have their own traditions, while the landscape is so striking. It really does feel a world apart from other cities in Egypt, anywhere else we've been for that matter. Real life paradise? Think we found it.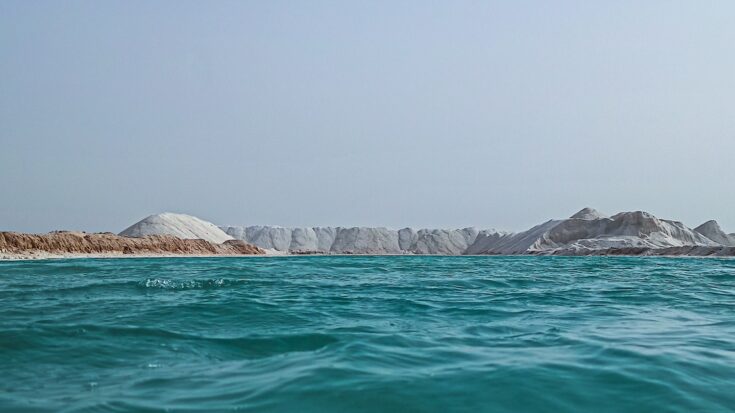 4. Saqqara
It was only last year that archaeologists uncovered ancient mass tombs in Saqqara, making it a huge point of interest for travellers and history hacks today. Ancient Egyptians aimed to preserve the bodies of their leaders (and cats) in salt underground, but it's the pyramids that have stood to tell the test of time. 
There are absolutely loads of museums, sphinxes, pyramids and all your favourite Egypt photo-ops in Saqqara. Camel rides might be bumpy, but totally worth it here to see the magnificence of the pyramids from a height.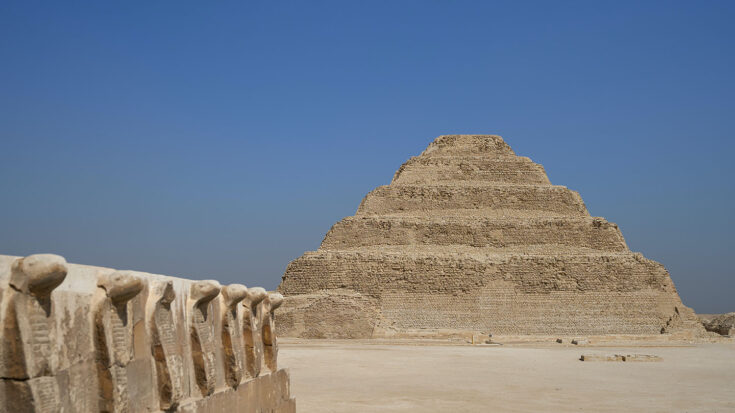 5. Sharm El-Sheikh
Nestled on the Sinai Peninsula, Sharm el-Sheikh is a sanctuary for surfers, snorkelers, and scuba divers alike. The warm Red Sea provides plenty of waves, while the coral reefs and abundance of fish and spinner dolphins mean you won't want to close your eyes underwater for a second. 10% of sea life here isn't found elsewhere in the world, so get a good pair of goggles, yeah? 
Mount Sinai is also in the area, the place where Moses was given the Ten Commandments, according to three of the monotheistic faiths. A climb in the early hours of the morning will treat you to a sunrise reflecting off of Mt Sinai's orange rocks.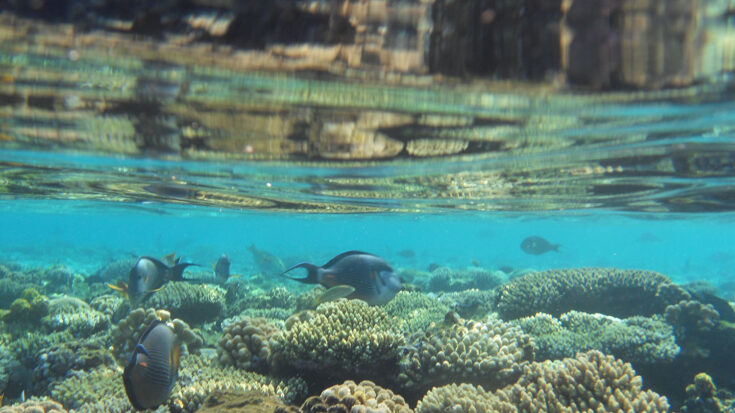 6. Dashur
Dashur is the site of some of the oldest and most distinctive pyramids. The Black Pyramid of Amenemhat  III was built with the wrong measurements, causing it to go rather pear-shaped – though the fact it still stands to this day is impressive. 
Most of them, you can go inside and breathe in that musty necropolis air, and the Pyramids of Giza are only 50 minutes away, perfect if you want to see the main contenders all in one day. 
7. The Nile River
Is it the longest river in the world, or is that in the Amazon? Scientists can't seem to agree, but we reckon at 6,695km long and stretching through 11 countries, The Nile has done pretty well for itself. This is a river that's been a source of food and water for people throughout history, so people get pretty happy about the Nile in Egypt. 
There's even a festival every year – Wafaa-en-Nil – to celebrate the August Nile floods, which would help farmers grow their crops even on the driest desert banks. A Nile cruise is probably the best way to watch this country change and see the influence the river had on civilization.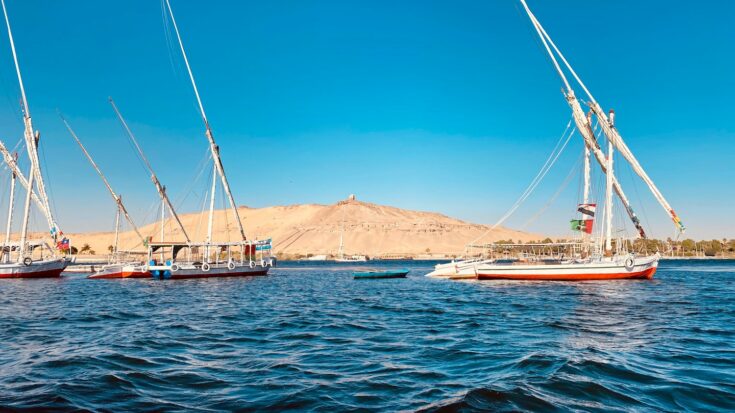 8. Islamic Cairo
Cairo isn't everyone's cuppa tea. It's not an exaggeration to say it's massive, busy, hot, and loud – but as with any capital city, there are areas you've just got to visit when in Egypt. One of those is Islamic Cairo, the historic area of the city, where the art and architecture, monuments and mosques, have been preserved for thousands of years. 
There are hundreds of important sites you could visit here, so it pays to take a group trip of Islamic Cairo with a local guide. That way, you won't miss the 14th century souk with golden walls, or the Al Azhar Mosque, one of the oldest in the world. When you're all tuckered out, end the day at Azhar Park, 74-acres of lush green space and the perfect places to watch the sun set.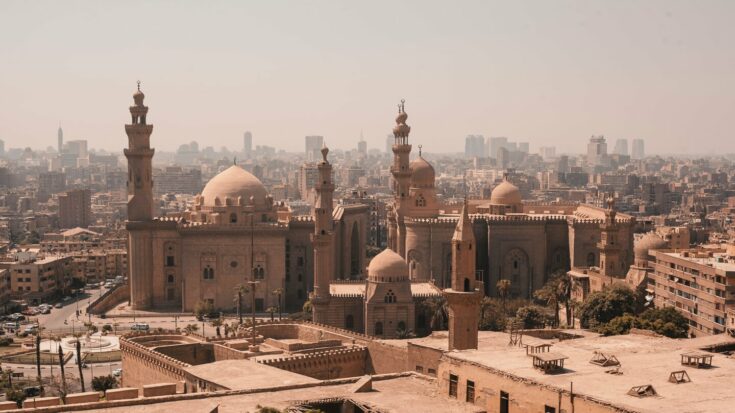 9. Pyramids of Giza
If these aren't on your Egypt bucketlist, you need to rectify that ASAP. These are the pyramids you will have seen in movies: the three gigantic, perfectly symmetrical structures, built for three different pharaohs. 
This includes the Great Pyramid,  the largest of the three, built for pharaoh Khufu. Also on your Egypt checklist should be the Great Sphinx (the one with the broken nose), and The Solar Boat Museum, which houses one of the oldest ever ships in history.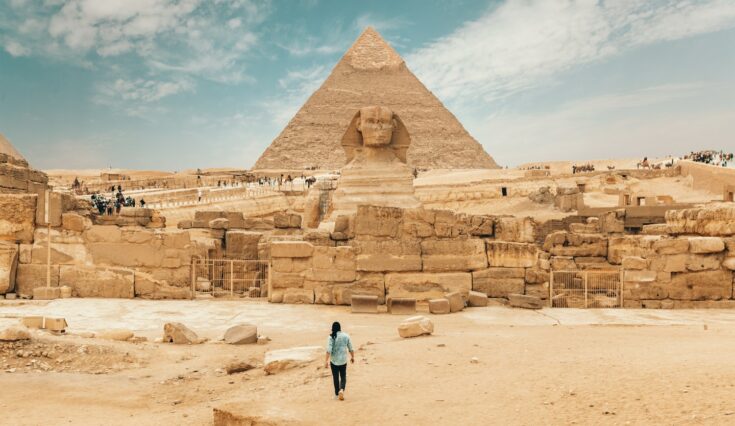 10. Tanis
Eagle-eyed Indiana Jones' fans will remember Tanis from Raiders of the Lost Ark, imagined as the hiding place of the lost covenant. In real life, Tanis is even more interesting. 
In 1939, three royal burial chambers were found almost perfectly intact by archaeologist Pierre Montet. Amulets, statues, necklaces, silverware, pretty much everything valuable and expensive was found in these ruins – making Tanis a must-visit Egypt destination for decades to come.
11. Luxor Temple
Luxor Temple is one of the only surviving monuments of the ancient city of Phebes – known as the City of a Hundred Gates and the capital of Egypt, back in the day. The temple was built originally to serve Egyptian gods, before it was converted to a church by the Romans, then a mosque. All this changing of hands meant the church has been an active site of religious worship for over 3,400 years! 
Whether you practise a religion or not, Luxor Temple is no doubt an unforgettable experience, tracing the floors tred by Romans and Ancient Egyptian rulers alike. Entry is only a small fee, though you'll save money (and time) by investing in a group trip that includes all the major Egypt landmarks, including the nearby Karnak Temple.
12. Aswan
If you're looking for a scenic retreat away from the bigger cities, this has to be the best place to visit in Egypt. Aswan, a mixture of mainland and islands on the East Bank of the Nile is super peaceful, with felucca sails and greenery casting pretty reflections on the water. 
Catch a felucca, those traditional Egyptian sailboats, Elephantine Island, where there are ancient ruins, temples, and museums to explore. For a sweet transition from the past to the living, take a rowboat to El Nabatat Island (also known as Kitchener's Island). This beautiful island homes a botanical garden holding some of the world's rarest biodiversity, including the royal and sable palm tree. Ever seen one? Well, now's your chance!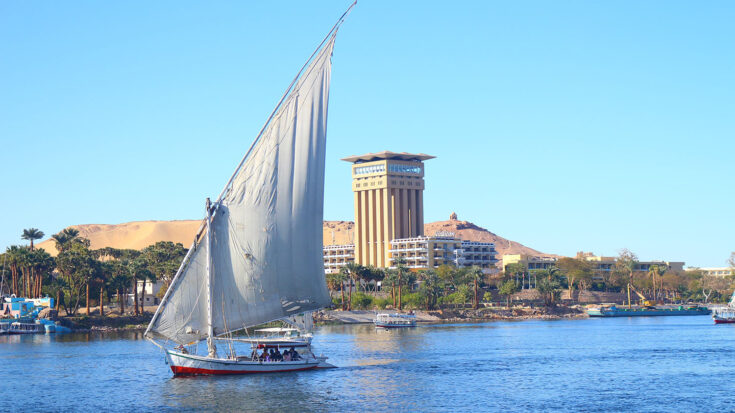 13. The Egyptian Museum, Cairo
You won't find a larger archeological museum in the whole of the Middle East. Basically, all the best Egyptian burial stuff is here, that wasn't stolen by grave robbers. Mummy masks, busts, statues, you name it. 
The Egyptian Museum in Cairo is the only place you can see King Tutanmenkanen's golden grave mask, one of the most famous pieces of art in the world. Preserved so perfectly, you'd be surprised to know it was created thousands of years ago. Even more surprised to see how beautifully the artists recreated their king's likeness into 11kg of solid gold. 
14. The Rock Temples of Abu Simbel
Fancy staying in a rock temple? We're sure it's more comfy that it sounds – it was fit for Ramesses the Great, after all. You can't actually sleep in the grand temples of Abu Simbel, but there are eco lodges in the village. 
Loads of travellers stay close enough to experience the daily light and sound shows thrown from the temples. It's weird to think these temples were lost for thousands of years before diggers found them in the 19th century.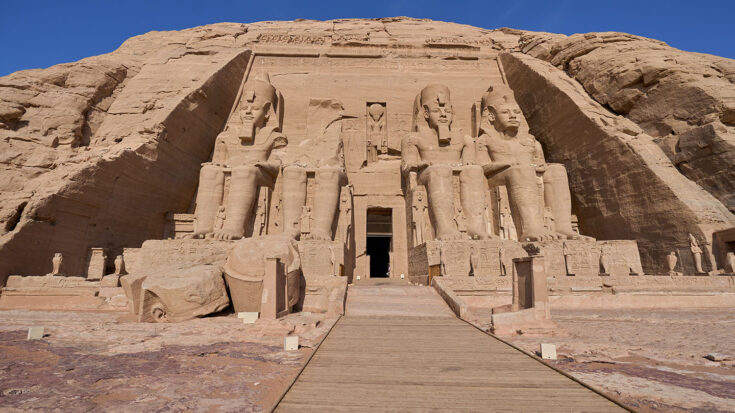 15. Fayoum Oasis
Maybe because it's near to the Pyramids of Giza, Fayoum Oasis is somewhat underappreciated – but believe us, it's a hidden paradise. Waterfalls, bubbling brooks, lakes, and canals will soothe those tight muscles from walking around the best places in Egypt. Go to Wadi El Rayan, Fayoum's prized national park for all the picture-perfect moments your camera roll can handle. 
But, if you fancy a more grizzly end to your Egypt experience, head to the Valley of Whales. This is where you can see fossils of the earliest whales before they evolved, which are said to have walked on land. The massive whale skeleton on view will make you glad you never had to run away from one with legs! 
We always think Egypt is best explored as a group – it makes stepping into those awesome monuments and natural treasures all the more exciting. Check out our Egypt adventure trip today!