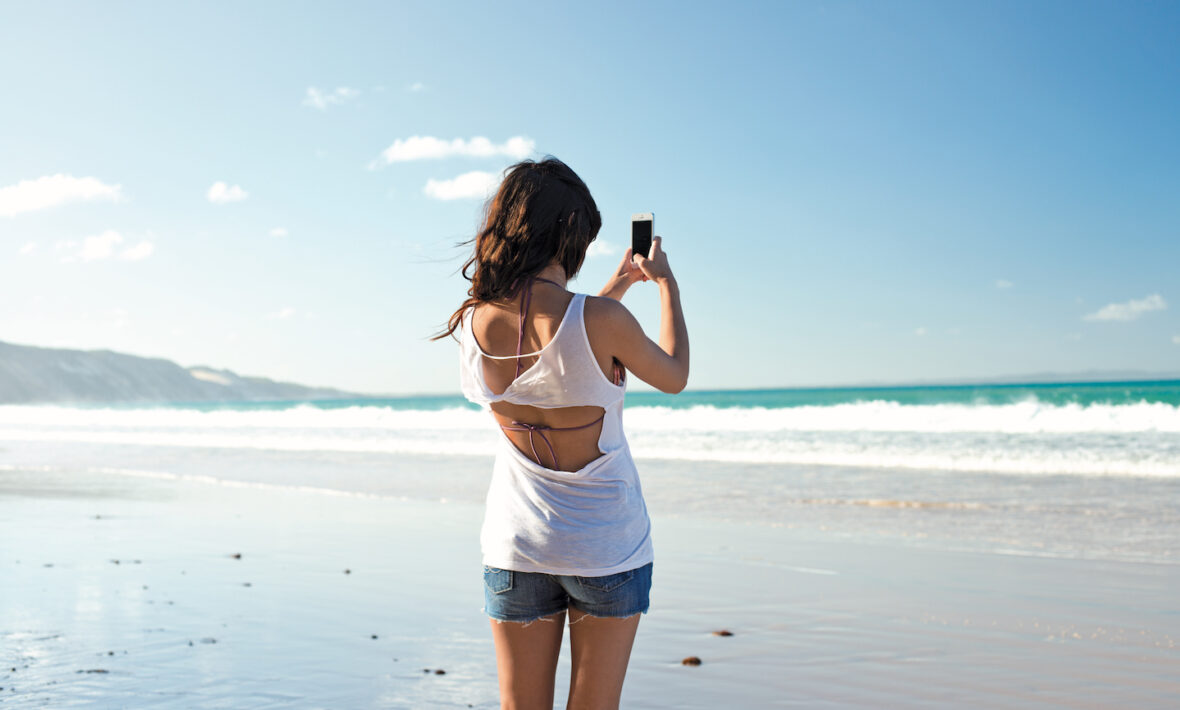 Fraser Island is a World Heritage-listed site, located on Australia's eastern Queensland coast with stretching pure-white sands. At over 123km in length and 22km at its widest point, it's currently the largest sand island in the world! So, how can you get there? The closest town to Fraser Island is Hervey Bay (37km away), and from here you can easily take a one-day Fraser Island tour and explore the area. 
Although if you have more time, we'd suggest taking at least three days to discover all its magic, as there are so many sights and experiences to try that 24-hours simply isn't enough. To make your trip planning run a little smoother, here's our pick of the top attractions and the best things to do on Fraser Island…
1. Lake Mckenzie
One of the best things you can do on your Fraser Island trip is go for a swim in Lake Mckenzie. Located in the Great Sandy National Park, this is one of the most famous freshwater lakes in Australia, with crystal clear water and pure white silica sand all around.
Fun fact: Due to its high levels of acidity, the water in Lake Mckenzie makes it impossible to sustain any type of natural life, be it plant or fish. 
All in all, it's a beautiful spot for a swim and for a bit of sunbathing, surrounded by heart-shaped trees.
2. Whale watching
Loads of humpback whales can be spotted in the calm waters of Fraser Island between August – October, on their way from Antarctica to warmer northern waters.
There are around 7,000 humpbacks that visit this island each winter, so there's a good chance you'll spot one during your vacation, making this one of the coolest Fraser Island attractions you can think of. One of the best spots for whale watching is Platypus Bay, which is on the western side of the island, where you'll get an up close and personal encounter with these giant, playful mammals. 
View this post on Instagram
3. Fraser Island Central Station
If you have time, visit the Central Station to learn more about the island's development and its incredible ecosystem. Due to the large number of Australian loggers who settled there between 1920-1950, the area used to feature a number of houses and schools for the residents, which sadly are no longer there.
There is, however, a picnic area with a boardwalk through the rainforest, as well as a number of camping facilities for those who want to spend more time admiring the pine tree plantations and the amazing flora.
4. Beach fishing
If you're passionate about fishing, the Seventy Five Mile Beach is one of the best places you can go for this sort of activity. Because of the excellent angling conditions, you'll always be able to catch something, all the while having a spectacular view in front of you.
During the warmer months you can expect to catch brim, dart, whiting, and mackerel, whereas flathead, tuna, trevally and swallowtail abound all year round.
Image source:Frankie Dixon on Unsplash
5. Champagne Pools
This swimming spot is one of the main tourist attractions of Fraser Island and for good reason. Their name comes from the bubbling water that forms when waves crash over the volcanic rocks. It's a unique natural display, creating a jacuzzi-like sensation. 
The Champagne Pools are located between Waddy Point and Indian Head, on the eastern side of the island. In order to get there, you will need to drive around 2km north of the Indian Head along the beach and then walk for a few minutes to get down to the pools.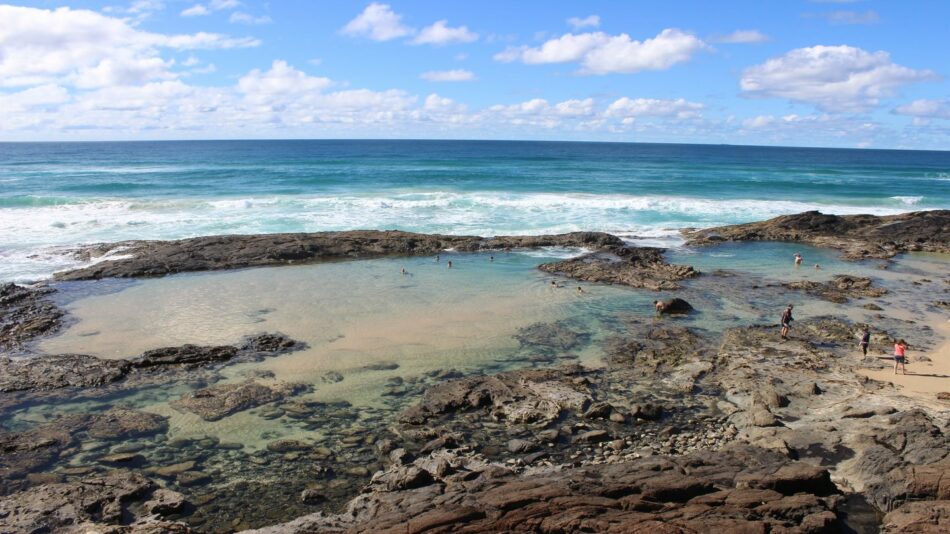 Image source:Elijah Parry on Unsplash
6. SS Maheno Shipwreck
Take a break from sunbathing to check out this unique landmark, which was essentially a WWI hospital ship that got swept away by a cyclone and dragged to Fraser Island, where it remains to this day.
Initially serving as an ocean liner sailing back and forth across the Tasman Sea, it was converted into a hospital ship in 1915, transporting casualties between Sydney and Melbourne.
In 1935 the ship was sold to an Osaka shipbreaker, but due to a severe storm, she would never reach her destination, but would instead be found beached on the shores of Fraser Island, along with her crew. The surreal history of the ship, along with the great photo opportunity that it provides, makes this visit one of the best things to do on Fraser Island.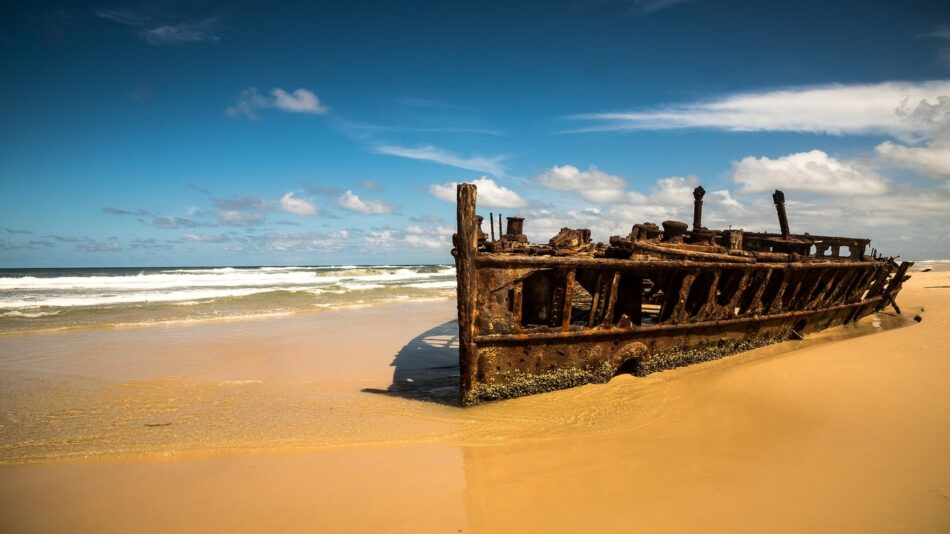 Image source:Matt Lamers on Unsplash
7. Wanggoolba Creek
While not as popular as the other Fraser Island attractions, this fresh water creak is well worth a visit due to the amazing landscape that creates as the crystal clear water flows over the white sand through the rainforest valley.

Getting there is quite easy, as it's just a 15 minute stroll from the Central Station, however make sure to protect yourself from bug bites by wearing suitable clothing and using insect repellent.
8. Indian Head Lookout
The Indian Head is the most eastern point on Fraser Island and offers a unique panoramic view of the sea and the chance to spot wildlife such as dolphins, turtles, and whales.
The lookout point sits along 75 Mile Beach and can be accessed by 4WD, followed by a short walk to the top. The name is said to have come from Captain James Cook in reference to the local population, as he spotted the aboriginals standing on the lookout point in the year 1770.
9. Waddy Point
This popular camping area on the north-east coast of Fraser Island is known for its great fishing gutters, with thousands of visitors flocking here each year to catch not just some flathead and bream, but also the spectacular view. 
The area is also great for strolling along the sand dunes or some more adrenaline-fuelled activities, like kayaking or stand-up paddle boarding.
View this post on Instagram
10. Eli Creek
Eli Creek is the largest creek on the eastern coast of Fraser Island, pouring up to 4 million litres of fresh water into the ocean every hour. Fun fact: the water is actually drinkable!
It's a great place to have a picnic or go for a swim in a bid to escape the summer heat.
The Eli Creek boardwalk is located 15 km off the coast of Hervey Bay, on the Eastern Beach scenic drive. For more detailed information on how to get there, check out this helpful guide from the Queensland government, which details all the various routes and means of transportation you can take.
11. Drive the Seventy-Five Mile Beach
4 wheel driving on the Seventy-Five Mile beach is one of the most exciting Fraser Island activities you can do. It has been voted as one of the best coastal drives in the world, due to its unbeatable scenery and numerous highlights that you'll find along the way, such as the Champagne Pools, the Maheno Shipwreck or the Indian Head Lookout. 
It's important, however, to do proper research before embarking on this drive, because a large part of its accessibility is determined by tides. At certain times, the highway becomes completely engulfed in water and sometimes there are hidden bumps, dips and washouts that can be difficult to see while on the road.
12. Take a scenic air tour of Fraser Island
One of the best things you can do is take a scenic air tour of Fraser Island, for a bird's eye view of Lake Mckenzie, the Maheno shipwreck and many more landmarks. It's a brilliant experience if you're an adrenaline-seeker and gives you an opportunity to discover the area from a totally different perspective. 
Scenic flights usually last 15 minutes and cost around $80.
13. Watch the sunset
One of the best free things you can do on Fraser Island, especially after a long day of activities, is to unwind on the beach at sunset with a beer in your hand, watching the waves crash and the myriad of pastel colours forming in the sky. We're not quite sure what makes the sunset in Fraser Island so spectacular, whether it's the sun reflecting in the ocean or perhaps the humidity, but you'll want to experience it at least once in your life and you'll definitely want to bring a camera for it.
14. Visit Sandy Cape Lighthouse
Sandy Cape Lighthouse is located at the northernmost point of Fraser Island. This heritage-listed lighthouse was built in 1870 and it is accessible either by a four-wheel drive or by hiking. 
Should you choose the latter, you will need to start at the northern end of the Eastern Beach scenic drive and allow for approximately 2 hours walking time. For more detailed information, check out this helpful guide from the Queensland Government.
15. Discover Fraser Island's native flora and fauna
One of the best things you can do on Fraser Island is take the time to discover all it has to offer in terms of flora and fauna. With so many different habitats (lakes, oceans, rainforests), it's no wonder that the wildlife is so incredibly diverse here. 
Some of the most popular animals here are dingoes, which contrary to their appearance, should not be confused with dogs and are in fact quite dangerous if confronted.
Whales are also quite frequent on the Fraser Island landscape, particularly the humpback whales, which stop by during their yearly trek from Antarctica to Northern Australia.
The island is also home to 79 species of reptiles, the most common ones being the Sand Monitor and the Lace Monitor.
16. Visit Lake Boomanjin
Lake Boomanjin is the largest perched lake in the world and is open all year round. What's great about this spot is that it tends to draw fewer tourists than Lake Mckenzie or Lake Wabby, which means that you'll get to enjoy the red-stained water and the sandy beach without too many distractions.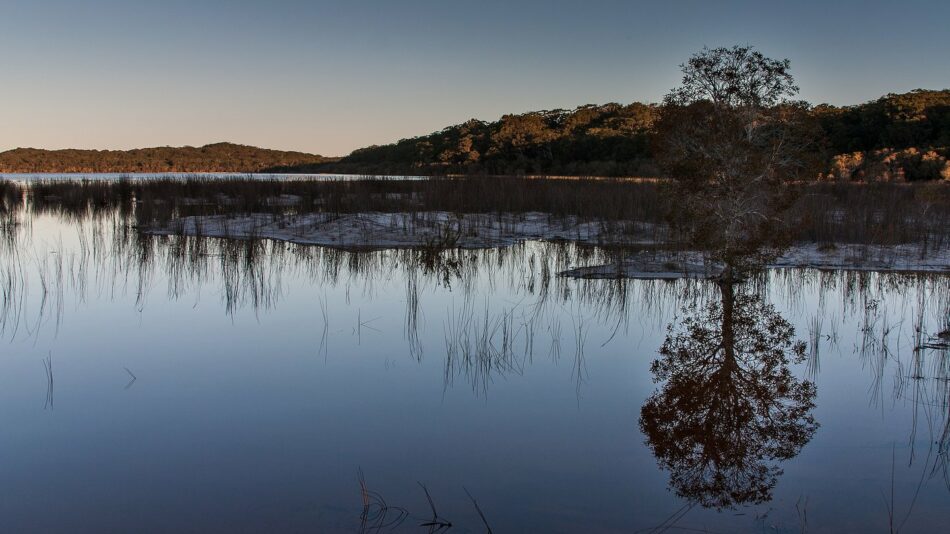 Image source:Wikimedia
How many days do you need in Fraser Island?
While it is possible to take a one day tour of Fraser Island, this won't be enough to experience all it has offer. We recommend spending at least 3-4 days to get a chance to visit all the landmarks, swim, relax and explore the surroundings.