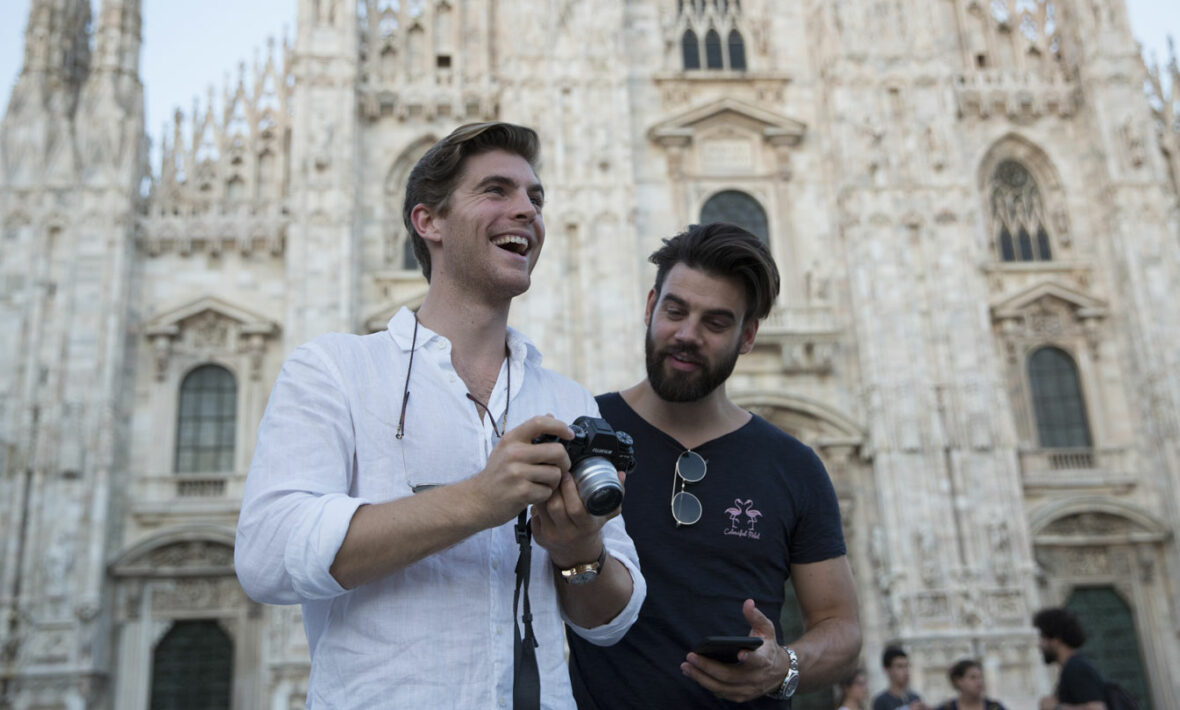 Celebrities, they're just like us. Well, they're like us in the sense that they too enjoy a holiday (or seven) every year. Not all of them are hiding out on private islands though and many want to experience bucket list destinations like Rome and New York just like us.
Naturally, that means our Contiki travellers have come face to face with some big names on their travels over the years and we are so here for it. Here are the best stories of celeb spotting on tour—that don't involve anyone breaking down George Clooney's door at Lake Como.
"We met our country music hero in Nashville"
We ran into my boyfriend's favourite country music singer, Kip Moore, in Nashville on the Boot Scoot N Blues trip. We had actually been to his concert in Sydney the week before and then we were just strolling along the street of Nashville during our free time when my boyfriend suddenly got very excited. So, he always wears a tank top and a backwards cap and we walked past a restaurant and my boyfriend Stuey actually stopped in his tracks and said "that looks like Kip Moore!". He was facing the opposite direction but Stuey even noticed it was him despite that! I was like "please, that can't be him".
We decided to walk past the window again it was Kip! We awkwardly waved and I was like, "we have to go in there and say hello". Stuey couldn't believe it as I dragged him in there and we chatted about his concert in Sydney that we'd been to. He was meeting up with his producer for his next album so we felt like we got the inside scoop. It was very exciting for both of us. We felt so buzzed after that and Nashville will forever be our favourite city—we even want to name our kid Nash after it!
– Courtney B.
https://www.instagram.com/p/Bnh9c6WHNr-/
"I had a cameo in Glee"
I'd just finished my Eastern Discovery tour in NYC and was so excited for a white Christmas. I was also a young 18-year-old obsessed with a preppy Dalton Academy school boy in the fictional Glee world. Darren Criss, star of the show and love of my life at the time didn't know I existed, but he was most definitely on my radar and I "sensed he might be in New York". I knew the stars would align.
My first night in New York we went to Time Square around 10pm and see the city of lights. We stopped by Bryant Park even though I was practically running to Time Square and didn't want to wait a second longer. I was annoyed they wanted to stop for hot chocolate. The man serving us at one of the markets asked whether we were watching Glee that night? I scoffed, knowing it aired on Thursdays in the USA, and this man was obviously confused… then he told us they were filming right behind us.
I was shook. I ran, I didn't know where, but I just started to run. I ran up to the man at the market and asked him to repeat what he was saying.
The Glee cast, Darren Criss and Chris Colfer were filming their Christmas episode only metres away from us at the Bryant Park ice rink. Time Square was now off the cards, and this was prime time to get in the background of an episode of Glee. I sweet talked the security guards to let us in, telling them how much I loved the cast and I promised not to be a nuisance. My friends thought I was crazy, but I got to exclusively view a rendition of White Christmas months before fans did—I was pretty damn proud of myself. You can spot me in the background wearing a white beanie in season four: life goal achieved.
– Gaby M.
https://www.instagram.com/p/47SZp5D1LY/
"We partied with Niall Horan"
When I was a trip manager for the Thai Island Hopper West trips, Niall Horan (post One Direction) stayed at the same resort as we did on Koh Phi Phi. The group recognised him before I did and a few of them managed to party with him and his friends. One night we even caught them skinny dipping on the beach the resort is on. I don't know how happy he'd be if he knew that we'd seen!! He even followed us (close enough) to Krabi and partied with some of the group there too!
– Rosalind M.
https://www.instagram.com/p/BC3CeQOMyG4/
"I met Justin Trudeau"
While on Canada & the Rockies trip (with Calgary Stampede) this July, I met Justin Trudeau. I was walking down the games alley of the Calgary Stampede when my sister noticed a bunch of security guards, and in that little circle was the prime minister. I walked over to him, had a quick chat and got a selfie!
– Sarah A.
https://www.instagram.com/p/BmKGhmZBy7n/
"I saw Lady Gaga at a ~ show~ in Amsterdam"
When I was a Europe Trip Manager (TM) I saw Lady Gaga at a ~ show~ in Amsterdam (she was only watching, not performing, obviously). Normally on the Contiki trips, the travellers all sit in the theatre downstairs for the show and TM's head upstairs to the bar area. Upstairs also has more seating and the "VIP" area. Normally TM's count as VIP and can sit in these seats if available. On this trip, I went to take a seat upstairs but was stopped by a large bodyguard (who didn't actually tell me why I couldn't go any further, just gave me a stern look).
Then the bar manager excitedly told me that Lady Gaga was there. I looked into the VIP section and there she was in the front row surrounded by her entourage. About 30 minutes later, she got up from her seat and came towards the bar. She stopped right beside me to talk to her bodyguard (we're talking literally 30cm away from me). She said she was going downstairs for a smoke and asked if any of her team wanted to come, then she left.
I wanted to ask for a photo (so that my group would believe me) but I didn't really think it was the most appropriate spot to do so. She was SO much shorter than I imagined. Afterwards, when I saw my group, they didn't believe me. I had to get the staff to confirm my story (as they were brave enough to ask for a photo and autograph!)
– Taryn W.
https://www.instagram.com/p/BeelHbRgLBy/
"I ran head first into Mark Wahlberg"
I was in Rome on a Contiki trip and had just spent an hour running around Rome searching for metro tickets and was a sweaty mess and BOOM! Ran straight into Mark Wahlberg.
– Karin R.
https://www.instagram.com/p/BWGTM7-AtC-/
"I accidentally crashed APEC 2017"
During the Vietnam Experience trip in November 2017, the unofficial Contiki dinner was at a restaurant in Hoi An. This coincided with APEC 2017 in nearby Đa Nang. We found out that in the restaurant directly across the street, Vietnam President Trần Đại Quang and Japanese Prime Minister Shinzo Abe were having dinner. The Hoi An markets were also flooded with diplomats from numerous nations. We did not spot a certain reality TV star turned leader of a nation though.
– Mark B.
https://www.instagram.com/p/BbX_JhfHtqm/
"I followed a total (famous) dreamboat around Pisa"
We were at the Leaning Tower of Pisa on our Contiki trip, getting the money shot (you know the one), when I noticed a bunch of giggling teenaged girls following a guy around. I was done taking my pictures and my spidey sense was tingling so I followed them a little bit (at a distance, I was cool guys) and recognised who they were unsubtly following – Jesse Metcalfe! For those who don't remember he was the hot gardener in Desperate Housewives and was in John Tucker Must Die. It had been a few years since he'd been mainstream but he was still a total dreamboat, let me tell you.
– Alex D.
https://www.instagram.com/p/BnGLpd_h7Lq/
"We (basically, kind of) met everyone's favourite royals"
We spotted everyone's favourite royals, Meghan and Harry, during their Australia honeymoon (that's what it was right?) this year. We were driving past Hyde Park in Sydney on our city tour as part of the Beaches and Reefs trip and there was a big motorcade going past and we were like what is all this?! Then we saw them. I was sooooo excited.
– Chloe L.
https://www.instagram.com/p/BpMGRi8nDWx/
Note: these stories have been edited for length and clarity.