Tell us about yourself…
Kia Ora. My name is Parris Quinn. I am a 31-year-old woman of Maori, English and Irish descent and I was born and raised in Wellington, NZ. My schooling took place in Auckland from late primary to the end of secondary. I have two siblings – an older sister and a younger brother.
I have always felt passionate about homelessness from a young age believing that more can be done to fight it. I think it is important for people who have ended up on the street to have a second chance. Meals are not always attainable or guaranteed but if I can make a difference one plate at a time, then I am committed to making that change.
In 2012 my parents and I moved back to Wellington, living in Porirua since. We work collectively at our takeaway restaurant, FILO NZ.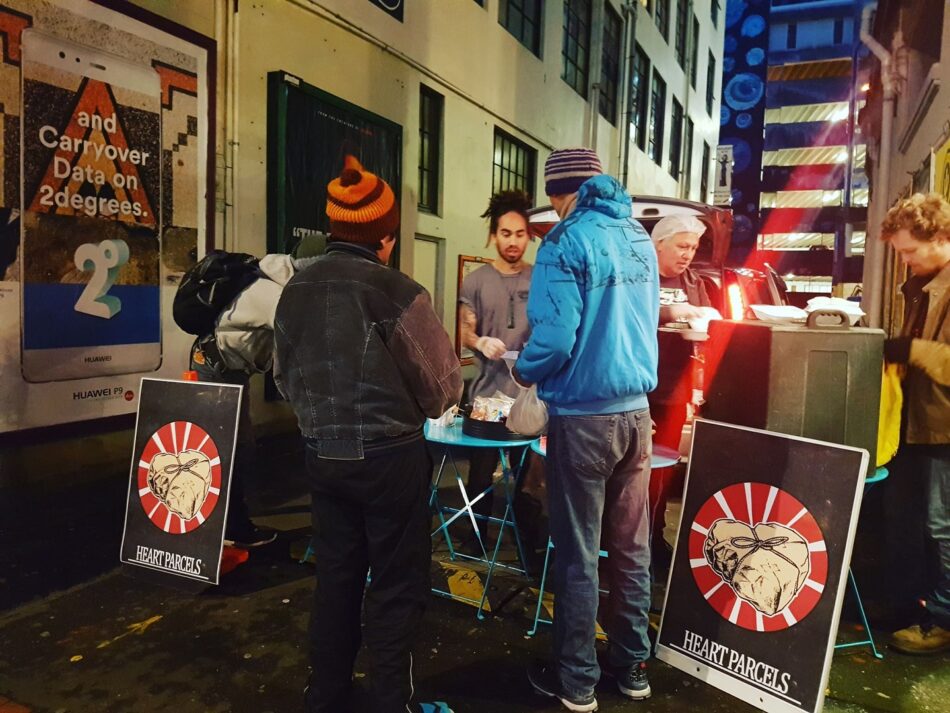 What is Heart Parcels?
Heart Parcels started in June 2016 as a home-based Wellington Charity, whose goal was to provide a healthy, hot meal for the homeless each week, funded by myself out of my weekly income.
Three years on, Heart Parcels are cooked fresh in our local takeaway restaurant, FILO NZ. Contributions from sales of our brownie product, go toward the cost of our Heart Parcel meals enabling us to gift food.
The name was gifted to us by a homeless neighbour meaning "we are giving food parcels from the heart". We were often mistaken on the streets as servants of God… perhaps we are in a sense!
The logo was designed by another homeless neighbour which he drew on a piece of cardboard. That piece of cardboard is the beginning of the history of Heart Parcels.
Heart Parcels is a non-profit organisation who provides a nourishing, hot meal and tasty dessert to the homeless community living on the streets in Wellington, New Zealand, every Thursday evening. Alongside the meals, we also provide our homeless friends with warm clothing, blankets and toiletries so generously gifted from the community.
Heart Parcels yummy food
What made you start the organisation?
The idea came about after seeing the cruel realities of homelessness during my time working in the CBD. After a bit of brainstorming, I came up with a plan to sell food to gift food! And so Heart Parcels was born.
What's your vision for Heart Parcels?
"Poverty is the worst form of violence and no one should have to worry about whether they will have food on their plate." – Mahatma Gandhi
My vision for Heart Parcels is to expand globally, starting with cities all over New Zealand. Other restaurant and café owners across the country could donate their unwanted inventory to the homeless or at least donate a cooked meal a week under the Heart Parcels campaign, making this plight easily achievable. Let's Feed the World!
What are you most excited about working on with Contiki now you're their new Changemaker?
I'm most excited about sharing my story, the knowledge I have gained along the way and the experience I have had on this venture. By sharing it with others, and I thank Contiki for this amazing opportunity to do so, we can achieve greater things on a larger scale.
See our 2019 35 Under 35 people who are changing the game in the areas we care most passionately about – People, Planet, Wildlife.