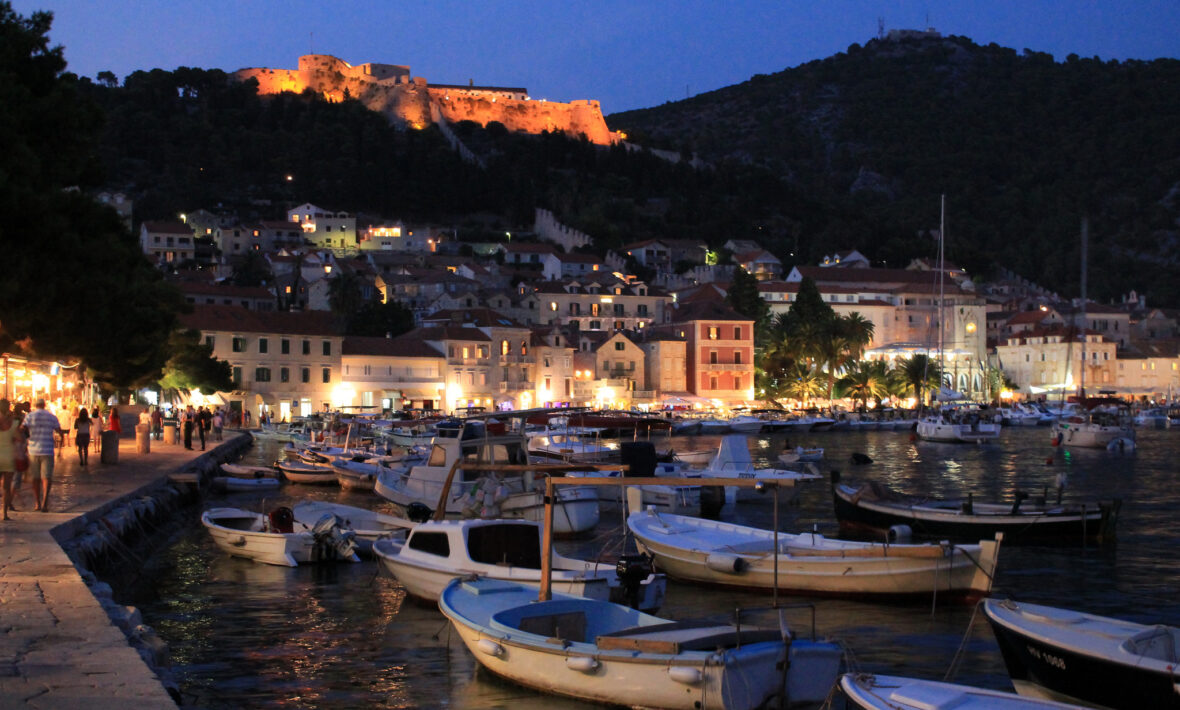 For some tropical paradises, watching Old Yellow (ie. the Sun) sink into the sea is the death knell of your day. But in Hvar, Croatia, sunset is just the appetiser for a long night ahead. The dreamy island floating just over an hour away from the port of Split has been dubbed 'new Ibiza', and while there's plenty of hard partying to be done in Hvar, there's also a bunch of chill food places and seaside cocktails waiting for you, too.

Not sure what to do once the sun tucks itself in for the night? We've got you covered — from the best restaurants, bars, and clubs, here's a list of things to get up to in Hvar after dark.

Where To Eat
While the turquoise water of Hvar is dazzling, and there are plenty of restaurants boasting world-class ocean views to reel you in, don't be so easy to catch. Down a cobbled road you will find one of the best places to eat in Hvar – Dalmatino Steak and Fish House.
The seafood here is so fresh it's still flipping, and the staff treat you like you're a member of their own family, so be ready to eat your body-weight in chateaubriand and talk shit on your Aunt Katja late into the night.
Where: Sveti Marak 1, 21450, Hvar
Now to contradict myself: while in Hvar, you must capitalise on the incredible water view dining options. Artichoke not only has jaw-dropping views of the deep blue as it fades to night, it's also known for its Croatian wine selection.
They also feature some of the best authentic local cuisine in town — the kind of fresh seafood that will make you intolerable to eating calamari anywhere else for the rest of your life.
Where: Obala Cire Gamulina, Jelsa, Hvar Island 
Fun fact: If you give birth on a Jadrolinija ferry from Hvar, your child will get free travel on the ferry for life. So, if you happen to be expecting, you might want to take a ferry over to Palmizana, an island just offshore, to dine at Laganini Lounge Bar and Fish House.
While you'll have to leave the cocktails to your fellow diners, you can still enjoy this super-secluded bar and its incredible menu full of whimsically named dishes like 'Sea story under the bell', 'Assorted shells' and 'Tuna steak with grape and rosemary chutney'. Fingers-crossed, you're future offspring might be on their way to scoring a lifetime supply of ferry rides before the night's through.
Where:  Palmižana 33, 21450, Hvar
If someone had me close my eyes and imagine my ideal Saturday night aloud, it would definitely go something like devouring a truffle lamb burger and chasing it with a sip of light, bubbly, fruity champagne. They would then roll their eyes, because there's nowhere on Earth that sells both burgers and champagne.
Only there is. The answer, my friends, is blowing in Hvar, and it's called 50 Hvar Burger and Champagne Bar. Everything is made in house: they even make champagne cocktails, and — wait for it — it's open till 2am. I want to live there.
Where: 10 Sveti Marak (next to Dalmantino's and down the alley from Kiva Bar)
Where To Drink And Get Merry
Be warned: terrible dad jokes ahead.
If there's one thing I love about Divino it's that it lives up to its name: di vino sure does flow (told you they were terrible). Enjoy a glass, bottle, or dirty dozen of the best wines in the area including the Croat favourite, Pjenušci — a light, locally produced sparkling wine. Get festive on the darling rooftop terrace with (you guessed it) killer views. There's incredible authentic tapas style nosh here too, if you're looking to line your stomach before you move on.
Where: Put križa 1, 21450, Hvar
Which brings us to the Euro-party section of the guide; let's be honest, the only reason you're still reading…
Despite rumour of dilution in their drinks, if you want to party in Hvar, you go to Carpe Diem. The place goes off all day and night, and is situated right on the water, so location-wise it's the cream of the crop. You can dance the night away at the main bar, but your best bet is to take the boat over to Carpe Diem Island where the real party is.
Warning: it gets pretty wild out there, so make sure you've strapped on your big-boy boots and are ready for things to get a little out of hand. Also, the party ends around 5am, so it's more like carpe noctem.
Where: Obala Riva 32, Hvar
Situated on a seaside path between two hotels about a 15-minute walk west of the town centre, you'll find Hula Hula. The wooden beach bar has a chill vibe to it, but don't be fooled: those cool and collected cocktails will have you saltier than the Hvarian seas quicker than you can say "Možeš li pričati sporije".
If you don't speak Croatian, that means "please speak more slowly," which wouldn't help even if they obliged, because you don't speak Croatian. Prepare yourself for the sandiest dance floor you've ever graced, and get ready to have a real good time.
Where: Petricevo Setaliste 10, 21450 Hvar
Feel like partying island-style with a little more sophistication and a little less sweat? Ka'Lavanda bar is tucked into a cobblestone alleyway that'll make you feel très European. The walls are stone, the drinks are delicious, and the hangover is worth every kuna.
While this place is a little low key, it's still a nice alternative from the debauchery that the aforementioned clubs permit, but if you're feeling up for a big night, just order some liquid appetisers here and head to Carpe Diem for the main course.
Where: Ul Mate Miličića 9, Hvar
This article was originally posted on Junkee.
Feature image by Antonio Castagna