Exploring Australia: SpotXSurf Camp
Share
Want to get an in-depth look at SpotXSurf Camp in Australia? Look no further as Rachel Clare, a Contiki Sales Consultant, gives you the insider guide to catching the waves and making new friends.
When I picture Australia, I think of surfers, koalas, and shelves stocked with Vegemite. Luckily, a trip down Australia's east coast covers all of that and more! I'll pass on the Vegemite though.
When traveling through Australia with Contiki, there are a few different options depending on how many days you'd like to travel and whether you'd like to visit the beaches of the east coast or the red rock country of the Outback. My must visit location for the coast is Coffs Harbour, located between Sydney and Byron Bay. Many trip departures include a special stay here at Spot X Surf Camp.
Sure, you have the chance to tan out on the beach in Noosa or snorkel the Great Barrier Reef in Cairns or the Whitsundays, but there's something about surfing in Australia that just can't be beat. We had a midday arrival into the Surf Camp, before launching into a surfing introduction from the dudes and dudettes of the MojoSurf crew.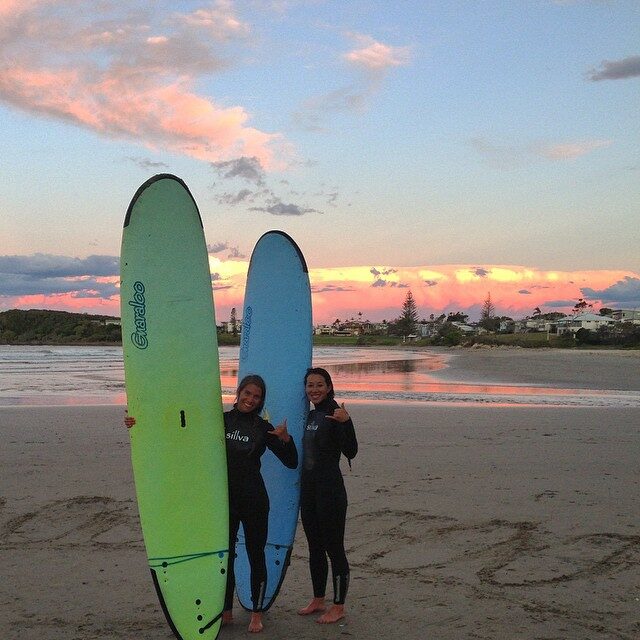 The surf camp is definitely one of the most unique accommodations along the way. The eco-friendly rooms are created from converting shipping containers and the Surf Village itself is surrounded by a marine reserve. After showering up and changing into warm clothes, it was time for a hot dinner prepped right on site.
Our Trip Manager Trys called us back down to the beach after dinner to check out a lightning storm in the distance. The coastal storm was traveling up from the south, but was far enough off shore that we could enjoy the lightning clouds on the horizon. I left my camera in my room for this one, but there was something absolutely magical about watching the clouds light up over the ocean.
The beach chilled our fingers and toes, but Spot X includes an awesome bonfire pit surrounded by benches created from surfboards. Others were already roasting marshmallows by the time we grabbed some spots by the fire. Along with our Contiki group, there were also other young travelers who were just spending a few days at the surf camp on their own. We explained the concept of s'mores to a group from Scotland and I made friends with a girl from Wisconsin who had recently moved to Australia. You never know who you'll cross paths with on your travels!
Needless to say, after an afternoon amidst the waves and an evening in front of the fire, it was the best night's sleep of the trip. And that's just what we needed before heading off to our final destination of Sydney.