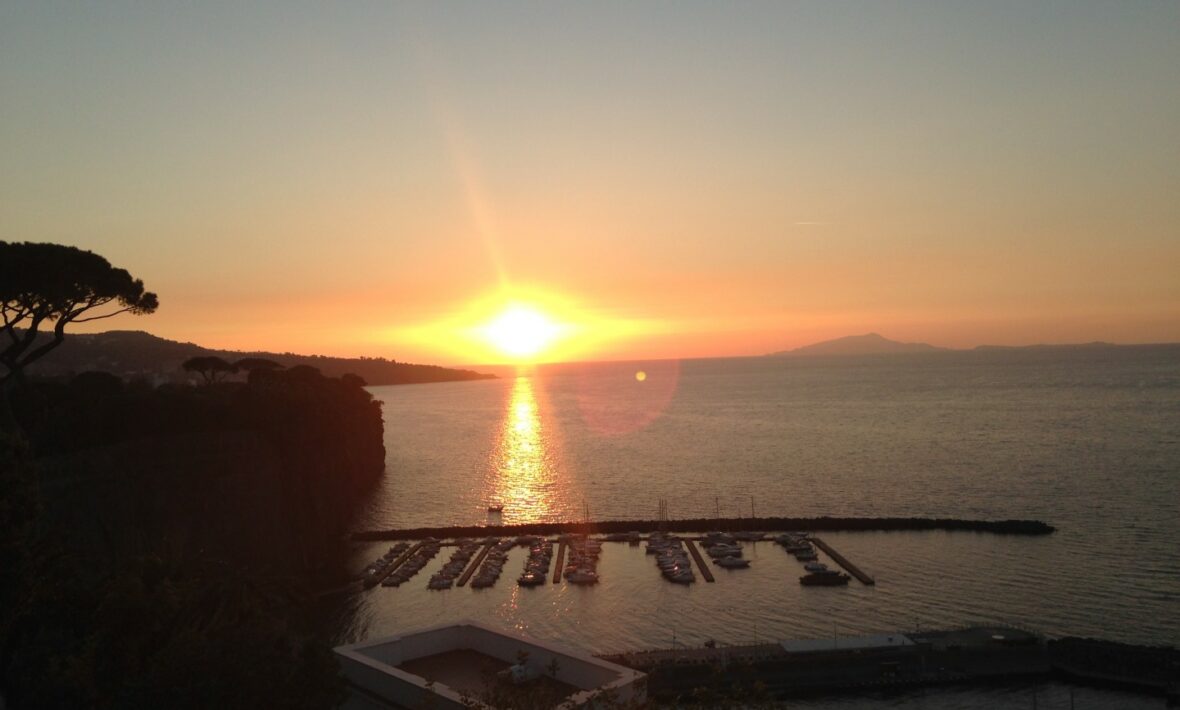 A few weeks ago, guest blogger Johnny Newnes returned from his Simply Italy adventure and he wrote down his first initial thoughts about two destinations, Sorrento & Capri. Check out his beautiful photos and recap of his Contiki trip!
Guest Post by Johnny Newnes, Contiki traveler
Ciao Contiki Readers! This is Johnny Newnes here again! I have returned from my Simply Italy Contiki Tour which I embarked on September 28th to October 9th. And as promised, I am blogging about some of my experiences on this Contiki trip starting with this post!
As I sit here back in my own room in Huntington Beach, CA, fighting off a major case of jetlag, it is hard to believe that just a week ago I was venturing around Italy with a group of new, yet dear friends. It is difficult to summarize the journey I have just returned from, but the best I can say is that it really was the best time I have ever had. So many images and stories swim through my mind from the two weeks I spent roaming around the magnificent country that is Italy. Since there is absolutely no way I can detail every step of the journey for you, unless you'd like a novel-sized blog post, I thought I'd start by highlighting one of my favorite parts of the tour: our time in Sorrento and Capri.
Sorrento
On a brilliantly sunny Monday afternoon, our coach turned a corner along the breathtaking Amalfi Coast, giving us a view of the coastal city of Sorrento. Sorrento is known for its production of lemons and lemon products, including Limoncello, and for its stunning views of the Mediterranean. We were all in awe of the beauty of this land and charm of this bright city, and we were more thrilled to go explore within it.
After a quick dip in the Mediterranean at the little beach underneath our hotel, we had drinks and appetizers at a little restaurant in the center of town, and then gathered for a Pizza Party at Miccio Trattoria & Pizzeria. We had salad, we had wine, and then we had pizza…lots and lots of pizza, and it was complete perfection. The energy in the restaurant was on fire with the owner and the waiters coming out to chat and joke with us. We even got to go back in the kitchen and see how they made the pizza in the stone oven. It was just a wonderful, happy evening that seemed to reassure all of us that the journey we were on was a special one. Many of us had met up ahead of the tour and strong friendships had already started to form regardless of the short time we'd been together, the entire group as a whole was already feeling like a big family, and we were already having copious amounts of fun and we still had almost 2 weeks left on the tour. All these factors were creating a promise of a truly memorable journey, and that is exactly what it was.
Capri
The next morning, we hopped on a boat to the island of Capri, one of the most beautiful islands in the Mediterranean, and probably the world. If you haven't heard of Capri, you are probably familiar with some of its trademarks: Caprese Salad, Capri pants…you've got some connection to it. For me, Capri has always been high on my list of places to go. I've seen it tens of times on Travel Channel and Food Network, and it just looked like paradise to me. Well, it in fact did turn out to be paradise.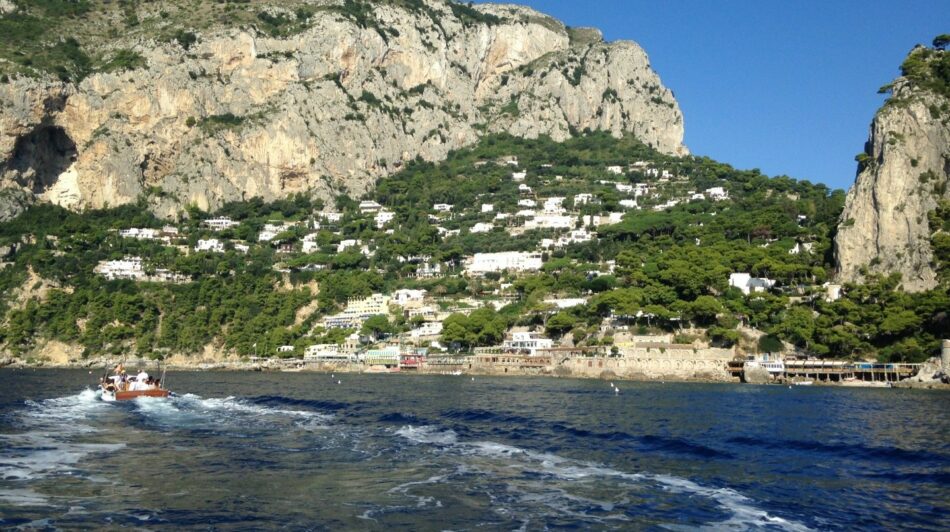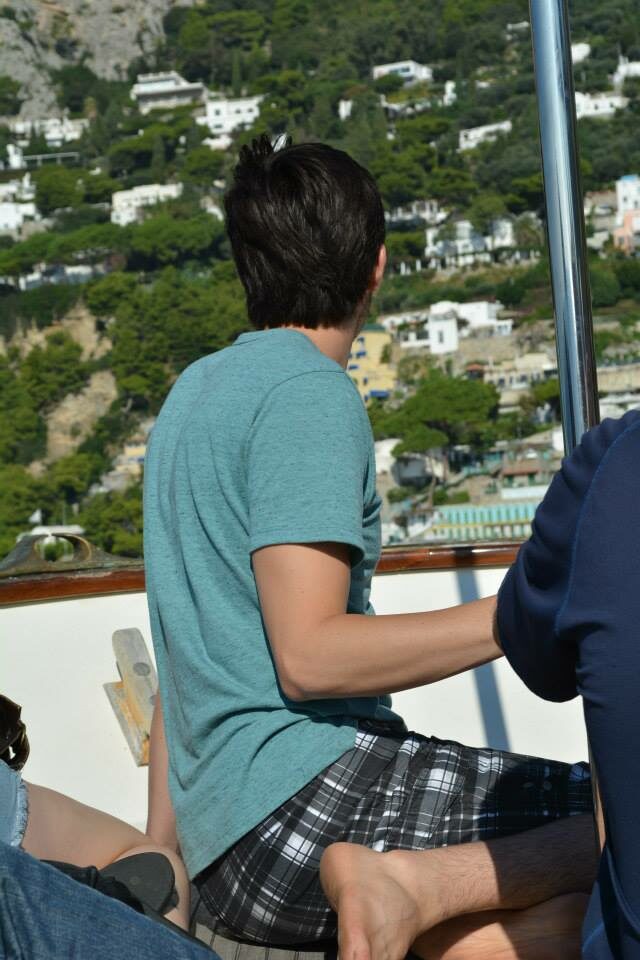 Once we got to the main port, and stopped to take pictures of the bright and colorful town that rolls up the hills, we immediately got onto another boat for our private boat cruise around the entire island. As we got away from the boat traffic, the insane beauty of the island really began to hit me. The rocky cliffs at the water's edge grow into dramatic hills that are lush with greens and flowers. The sky around the island seems to be brighter and clearer than anywhere else. And don't even get me started on the water; I have never ever seen such blue water in my life. In the deep parts, the water is the purest blue there is and in the shallows, the brightest and clearest turquoise that you can see right through to the bottom. All of this with the warm sun and a gentle sea breeze, it is really easy to believe that you have left Earth and gone to some mythical, paradisiac land. It was awe-inspiring to see and feel.
After passing under the famous lover's arch, we stopped in at a small town on the Mediterranean facing side of the island. Most of us took this as an opportunity to get into that ridiculously turquoise water. I threw my backpack and shirt down on the rocky shore and ran to the water's edge. I had to take a moment before getting in. I was about to swim in the Mediterranean. As I said in my previous blog post, my mother's family is Italian and they come from a coastal town in the South of Italy, less than 200 miles South of where we were that day. The Mediterranean fed my direct ancestors, it's fed some of the greatest civilizations known to man, and it is the site of many legends and myths. And so, for me, it holds a lot of magic and importance. After a moment of reflection, I jumped in. The water was warm and welcoming, and as I submerged myself, I was so happy to return to sea that allowed my family who once lived in Italy to thrive. It was quite the personal moment.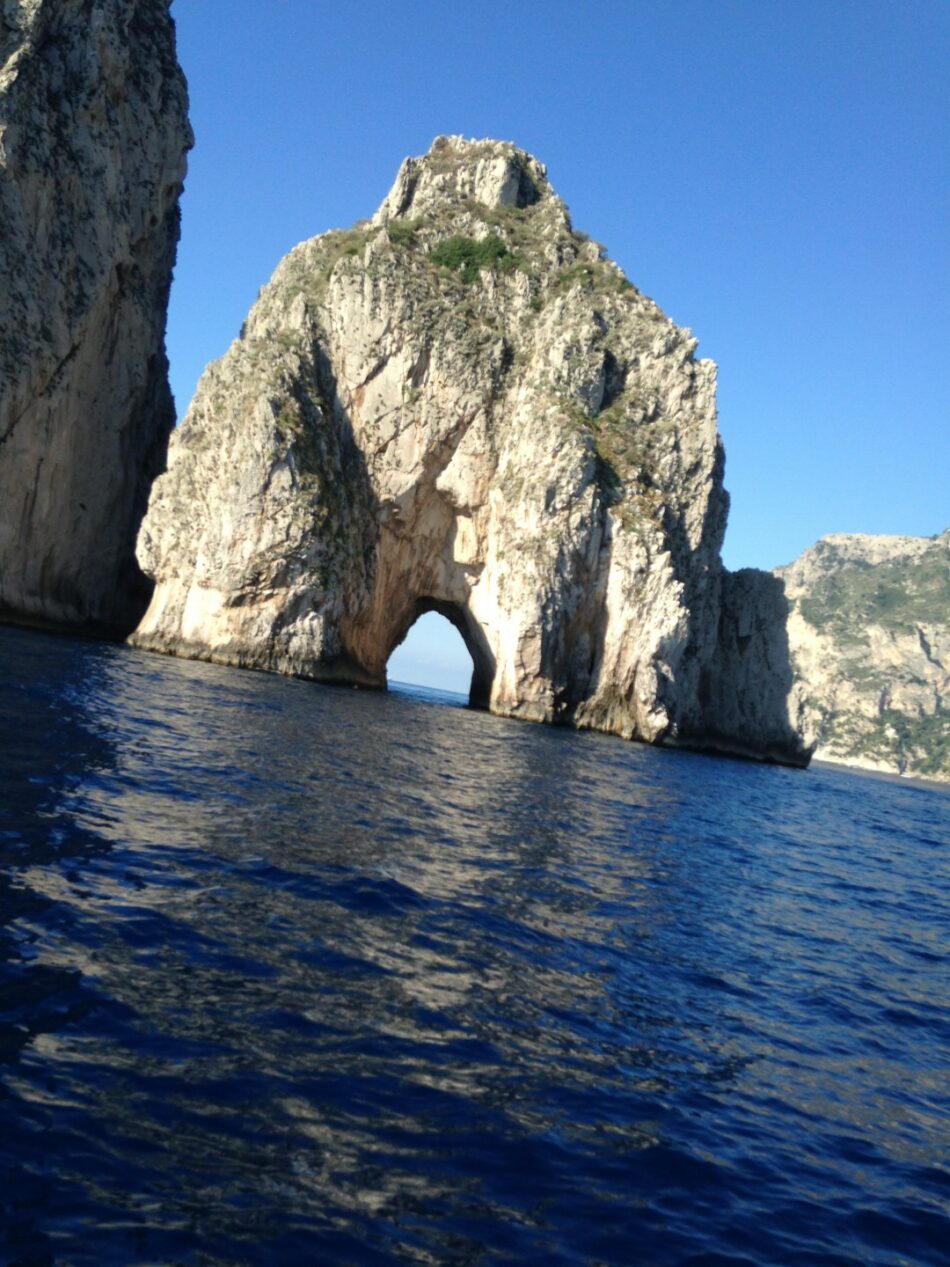 Once we'd swam around the amazing mermaid-posing-worthy rock structures at this beach, we hopped back in the boat for the remainder of our cruise. Our captains took us to a very special place, "The Green Grotto". The Green Grotto is essentially a sea cave with a high rock ceiling, allowing a human to swim from one side and one cove to the other side and another cove. The way the light hits the turquoise water makes the area glow with a hypnotic sea-green color. Now, the area where you can find the Green Grotto is often too choppy to allow you to jump in and swim through the grotto, but not the day we were there! It was perfectly smooth and with great enthusiasm, our captain urged us to dive in and go for it. My buddy Dion and I were out of our shirts, off the front of the boat, and into the water in no time once we were given the go. Everyone else, including our incredible tour manager, Elisa, followed suite very quickly. We swam into the cave and marveled and it's natural beauty. You looked down and saw right to the sandy ocean floor, you looked up and saw the rippling green light dance across the rocky ceiling. A few of us took this opportunity to sing "Part of Your World" from the Little Mermaid because really, the Grotto was all too similar to Ariel's. Every single person in that water had an ear-to-ear smile because swimming in that Grotto was such a unique and beautiful experience. The moment was really…fantastical- yes; I think that is the only way I can sum that up.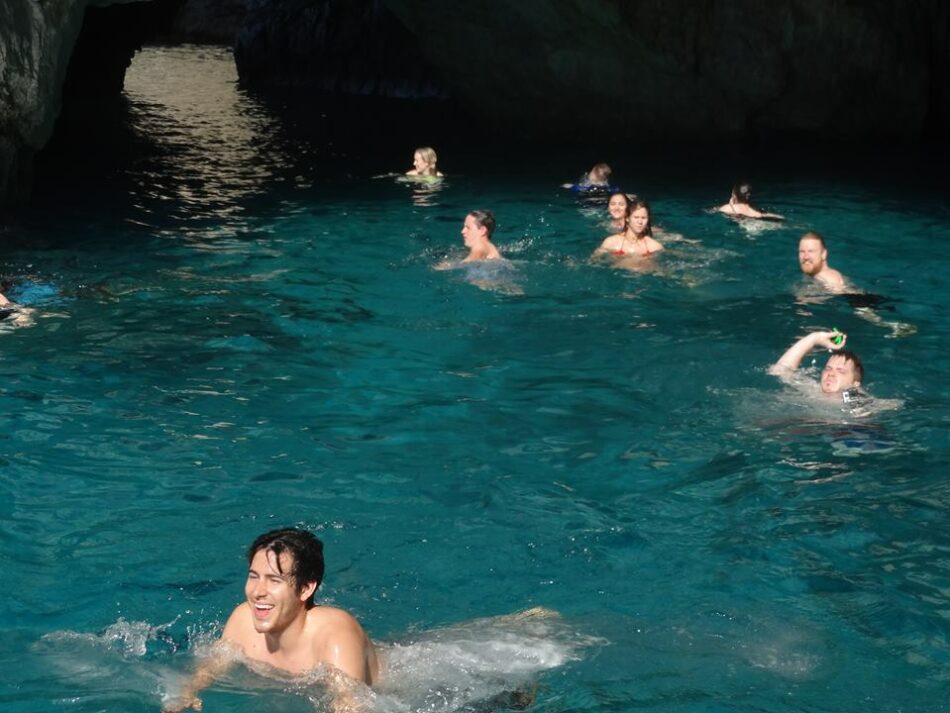 We spent the rest of the day eating cream of limoncellos, caprese paninis, and exploring the island and its spectacular views. I highly recommend trekking it up to the Gardens of Augustus, the gardens Caesar Augustus had built when he took up residency on the island, for the most picturesque views of the Mediterranean side of the island. There is really nothing like it. I have been to some beautiful places in the world, some of my best friends live on the big island of Hawaii and even that paled in comparison to the magnificence of Capri and the Mediterranean. I mean, I was close to tears, it was that beautiful.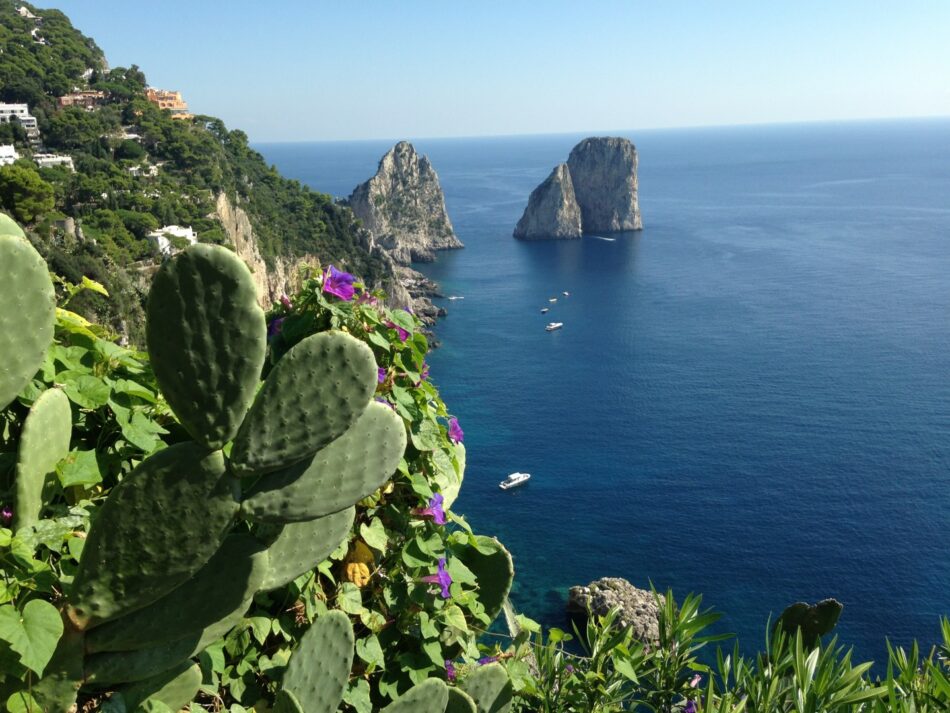 In short, Capri was an absolute and utter dream. I went back to this Monday, and there were a few times where I needed to pause and go to my "happy place" before I went nuttzo; and when I closed my eyes to go to the happy place, it was in fact Capri. Does that give a good impression of how much I loved it?
We returned to Sorrento in the late afternoon and got all dressed up for our Bay of Naples Feast, but first, we enjoyed an Amalfi Coast sunset that was really a divine painting in disguise. We arrived at the restaurant after dark, but the bay was still absolutely stunning with the lights of the surrounding cities and the moon. I sat at a table with my new friends Dion, Charlene, and Rachel, and we ate, drank, and laughed the night away. As we enjoyed ourselves, I couldn't help but be elated with the events of the day and the trip thus far. I was filled with such joy; I was really living the dream; traveling to a place I'd always desired to go to, feasting without a care, and forming friendships with new and amazing people. I've never felt so light and so free.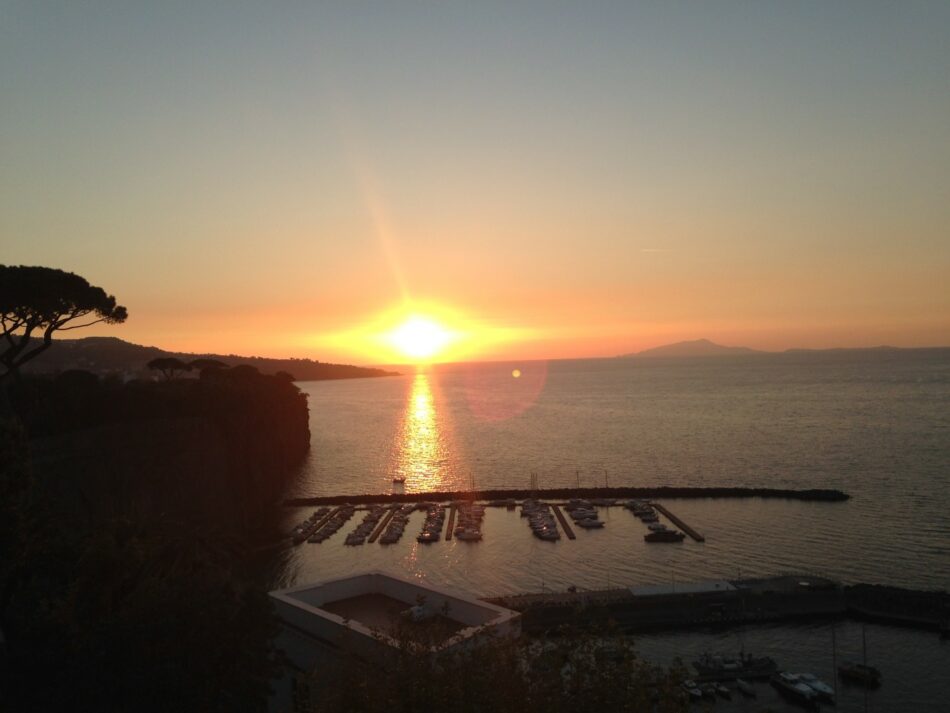 Those two days in Sorrento and Capri in Southern Italy are days that I will not only remember, but I will cherish forever. Of course, many more incredible days unfolded on this tour. In fact, every day was an incredible, memorable day that I will always cherish, but Sorrento and Capri were just the precursors to the countless good times ahead.
#NoRegrets? That's the biggest understatement I have ever heard.