Have you ever felt like a piece of your soul belongs to a place that you have never even visited, and you can't figure out why? Portugal was that place for me. I would dream of the golden sunsets, architecture, wine, beaches and Mediterranean diet – my favourite way to eat. This year my dream finally came true – and not only did I visit my dream destination, I did it with my dream man! Here's why Portugal was everything I expected and more…
As we crossed the Portuguese border my heart skipped a beat. We journeyed straight to the terracotta washed city of Porto and headed to our coastal feast. I had picked my most vibrant outfit and it was time to get the party started!
We sipped sangria with our new 'Fiestas & Siestas' Contiki friends and drank and laughed the night away whilst watching the most spectacular sunset I have ever seen. As I looked up from the giant seafood platter in front of me, I realised I had never seen anything as awe-inspiring as this sunset over the ocean.
Next, it was time to head to the famous Dom Luís Bridge. It was an unusual meal for us, but francesinha was on the menu – a rich breakfast of pure meaty deliciousness. I don't think there could ever be enough time in the world to explore this beautiful city.
We caught the cable car to the top of the bridge to save some precious time – and boy was that a good decision.
The view was spectacular, the most picturesque selfie I've ever taken! As my man and I got to the top of the bridge we walked out into the middle and just stood there, spellbound like lovers from Titanic. We were awestruck for what felt like hours.
https://www.instagram.com/p/Bl7pfxEnMmO/?hl=en&taken-by=tegan.martin
I've always been fortunate to travel the world with my job and don't get me wrong, I've loved travelling solo; but there have been many moments that I wished I could have shared with a loved one. This was my moment – standing at the top of the Porto bridge with my love, looking out over the beautiful city, such a pretty old town, with sweeping views of tiny, technicolour houses for miles either side of the river. Just wow.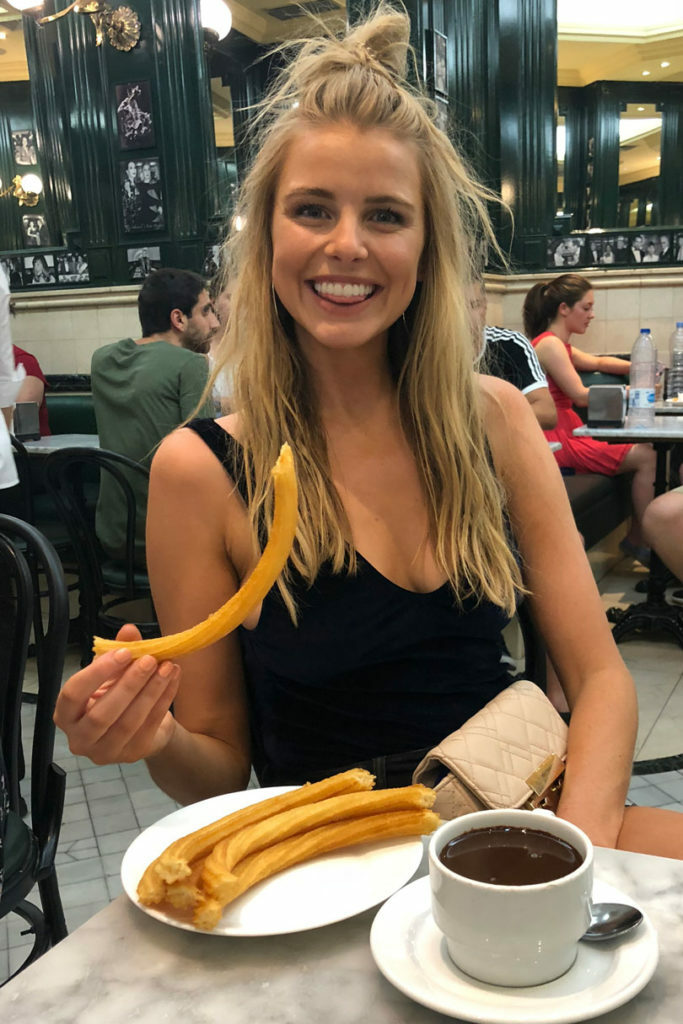 When we arrived to the town of Sintra I immediately turned to Blake and said, "this is the most incredible little town I have seen in my entire life". The hilltop town was a display of elegant palaces, castles and fortresses, just like a fairy tale. We spent the afternoon exploring the tight little windy streets and had the time of our lives cafe-hopping, trying the various port wines in tiny chocolate cups and of course the famous local pastry a 'travessiero'- ( a delicious sugary puff pastry filled with an egg and almond cream).
I didn't know how I was going to fit into my jeans back in Aus, but I didn't care, I could die a happy woman now!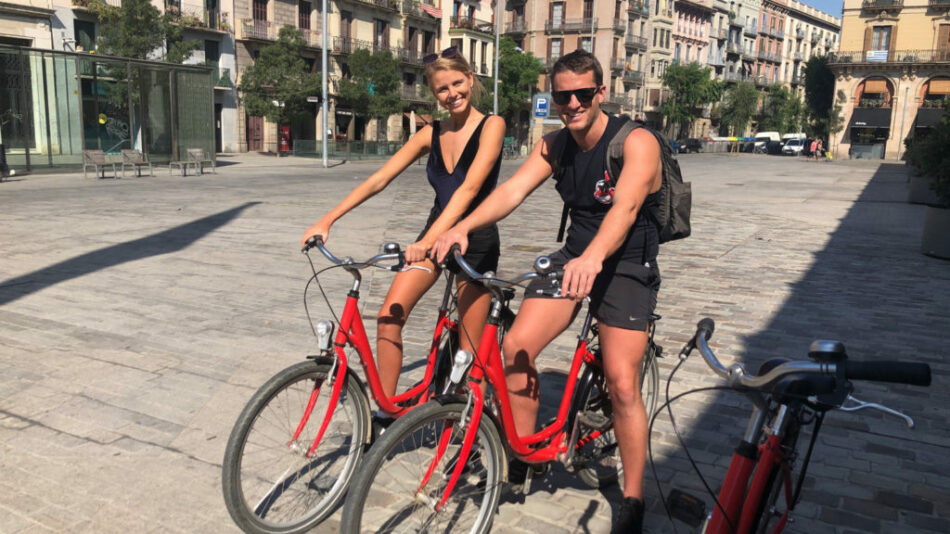 After a few days of exploring the magical cities and architecture, the Aussie blood in me was calling for the sands and sea. It was time to hit up the famous Cascais beach and work on getting a holiday glow before returning home.
When we arrived in Cascais we walked around the coastline and were surprised to find busy beach after beach all bursting with good vibes. Hot sand, great tunes playing and warm and welcoming people everywhere – we were in our element! It was the first day I stopped and really reflected on the trip thus far, realising how many incredible friends for life I had made on this Contiki, and I felt eternally grateful.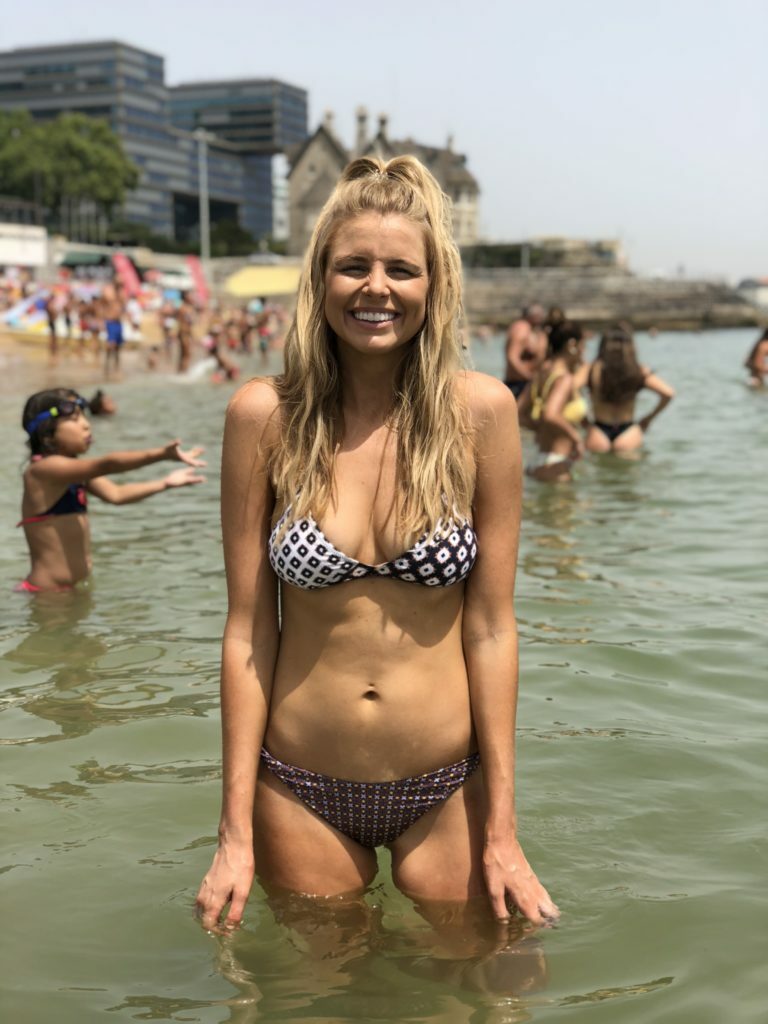 The sunny afternoon involved hours of cooling off in the ocean throwing a ball to one another and laughing and chatting, whilst the sun set behind us. I was getting to know the depth of these incredible people and I couldn't believe I hadn't known them only 10 days. After the most magical social afternoon our two new besties invited us up to a rooftop overlooking the entire beach and we sipped on PIMMS as we swapped stories about our trip.
Portugal seemed to be the common theme of discussion and we all discussed our plans to come back the following year. It was clear that this country was not one to be visited once in a lifetime!
As we neared the end of our trip it was time to hit up Lisbon, the capital city of this beautiful nation – one of the most vibrant cities in Europe! The first site on my list was the Jerónimos Monastery, a designated UNESCO World Heritage site and the first time I'd seen the architectural style known as Manueline or Late Portuguese Gothic style. This town was a magical blend of traditional heritage and striking modernism – so incredibly beautiful.
Feeling content after a day of exploring, I was ready to hit the night-life. I had heard so much about the famous King Street and couldn't wait to check it out. Blessed with the most beautiful night temp, the air was so warm that it reminded me of being 18, hitting the Australian clubs in summer. I threw on a cocktail dress and met our crew in the lobby ready to tackle the night. The bars were packed and once we stumbled upon our favourite one, we danced the night away as if it was our last night in Portugal! I will cherish this night forever.
I will never forget my first Portugal trip. It was everything I imagined and more. To those who have it on their bucket list, from me to you, move it to the top and make it happen! Life is too short to miss out on experiencing this beautiful country.
Tegan travelled to Portugal in partnership with The Travel Project, and Visit Portugal
In partnership with Visit Portugal