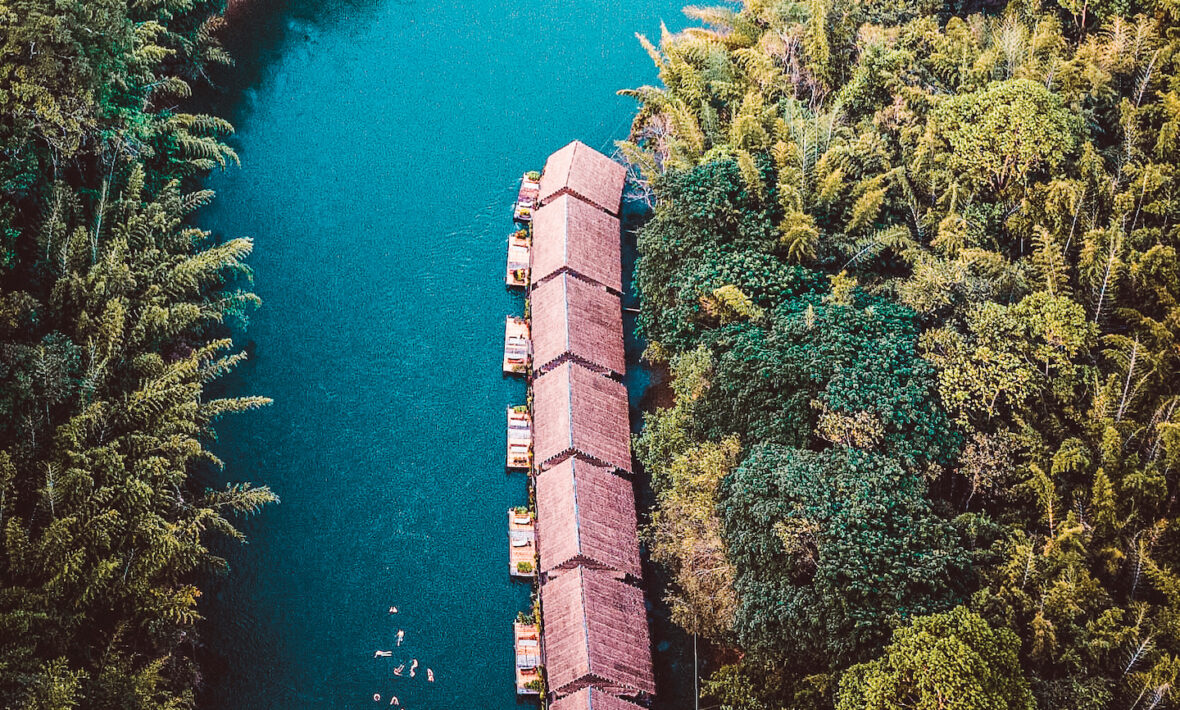 Home to haunting WWII monuments and the stunning River Kwae, Kanchanaburi is one of our favourite towns in Thailand. And when Contiki travel here, we travel in style. Not content with any old accommodation, Contiki travellers rest their heads at a floating raft hotel – the Jungle Raft Hotel. And it's unlike anywhere you've ever stayed before…
You'll get all the chill vibes
Been partying hard on the boisterous southern islands? The Jungle Raft Hotel is the perfect place to unwind. Disconnect from WiFi and enjoy the serene, candlelit rooms – woven from local bamboo – as the rushing river hushes you to sleep. This isn't time for smartphones, this is time to live in the moment; so pull the brakes, chill out and breathe it all in.
It's a true eco hideaway
The floating raft hotel has a fully sustainable philosophy. The rafts are only ever constructed from trees that have already fallen, and a septic tank sits under each floating room to prevent waste being dumped into the river. But this commitment to an entirely eco friendly existence also means absolutely no electricity or internet throughout the floating hotel. This may intimidate all you social media obsessives out there, but when you first encounter your room, presented in the romantic hue of kerosene lamps that peacefully illuminate the river flowing by, you may find you don't miss being plugged in one bit.
The hotel's philosophy also extends to the local culture. This means giving to the surrounding Mon community – a minority group from Myanmar – by building a Mon temple, a school and playground, whilst offering jobs and education to the locals.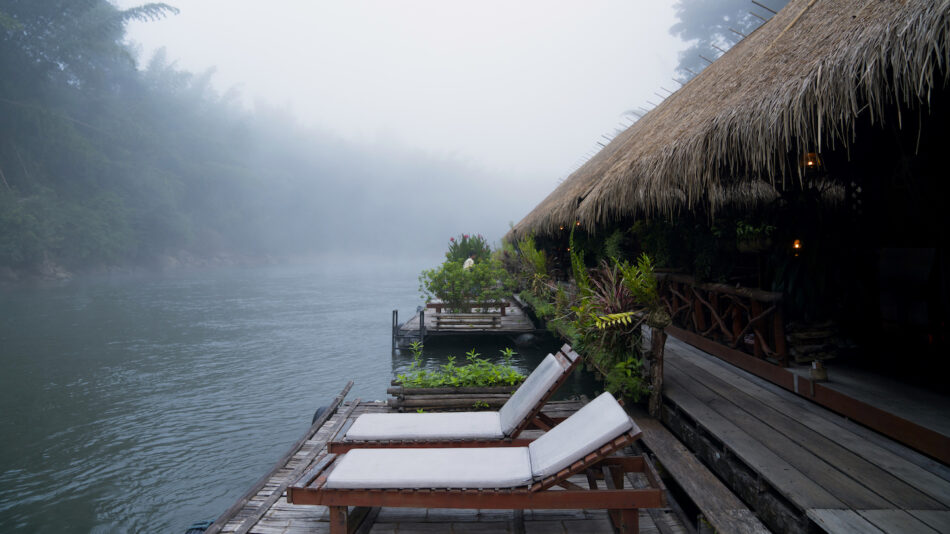 You can take a dip whenever you like
Fancy a swim? You couldn't be better situated. Throw caution to the wind and jump straight from your balcony into the fast flowing river below (but don't forget your lifejacket).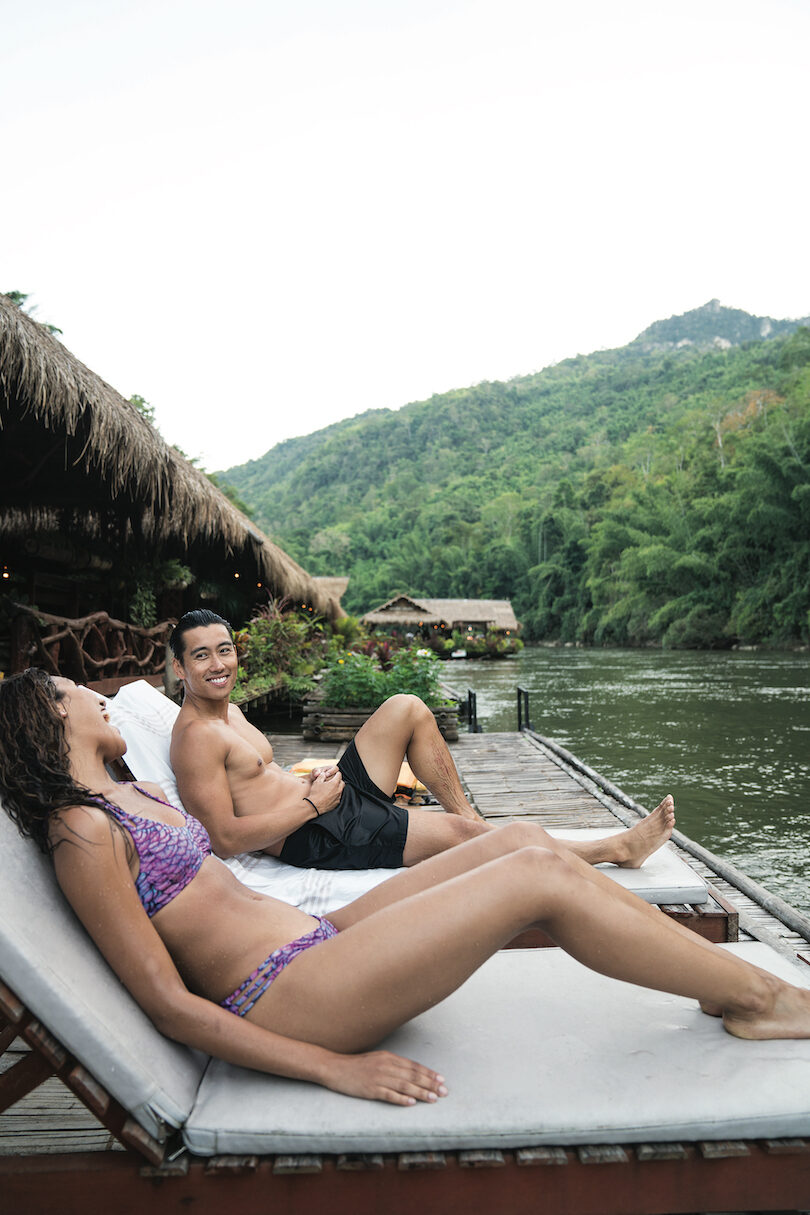 You can tuck into family-style meals
What to do when you're offline? Spend some quality time with your Contiki family, of course. The hotel serves up a gorgeous candlelit dinner, with heaps of drinks and local delicacies to enjoy as the sun sets upon the water. Pull out a pack of cards and trade tales, just like the good ol' days. This is the perfect way to get to know your fellow travellers better, and enjoy some rare time away from blaring phone notifications. Bliss.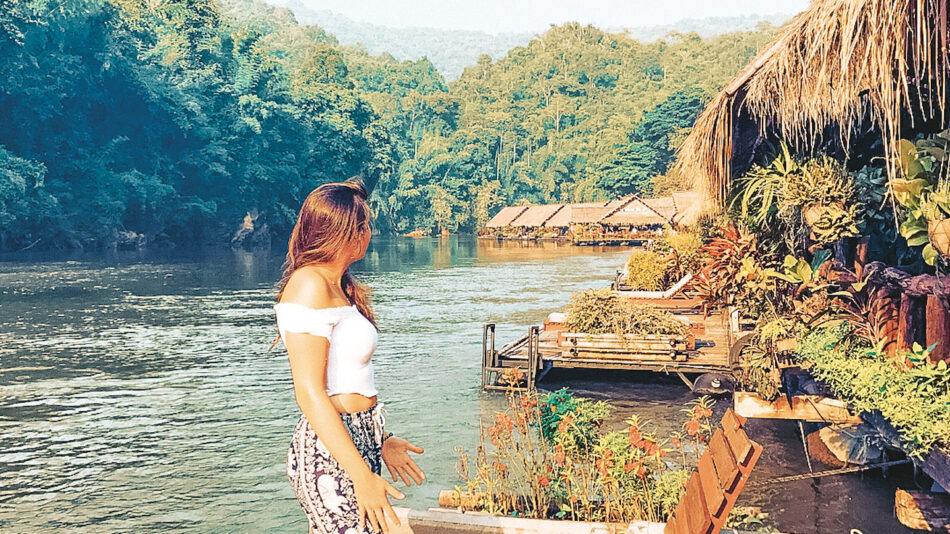 And live with a few luxuries too!
You may not have electricity, but that doesn't mean you'll be without all the essentials. In Kanchanaburi, the essentials are ensuite bathrooms, balconies and hammocks. Who needs anything else? Get the perfect Insta hammock shot to show off when you get back online!
This floating raft hotel isn't the only spellbinding secret Thailand has up its sleeve. Check out the very best of this sensational country on our Northern Thai Highlights trip.