The river less travelled: A guide to the Mekong Delta slow boat
Share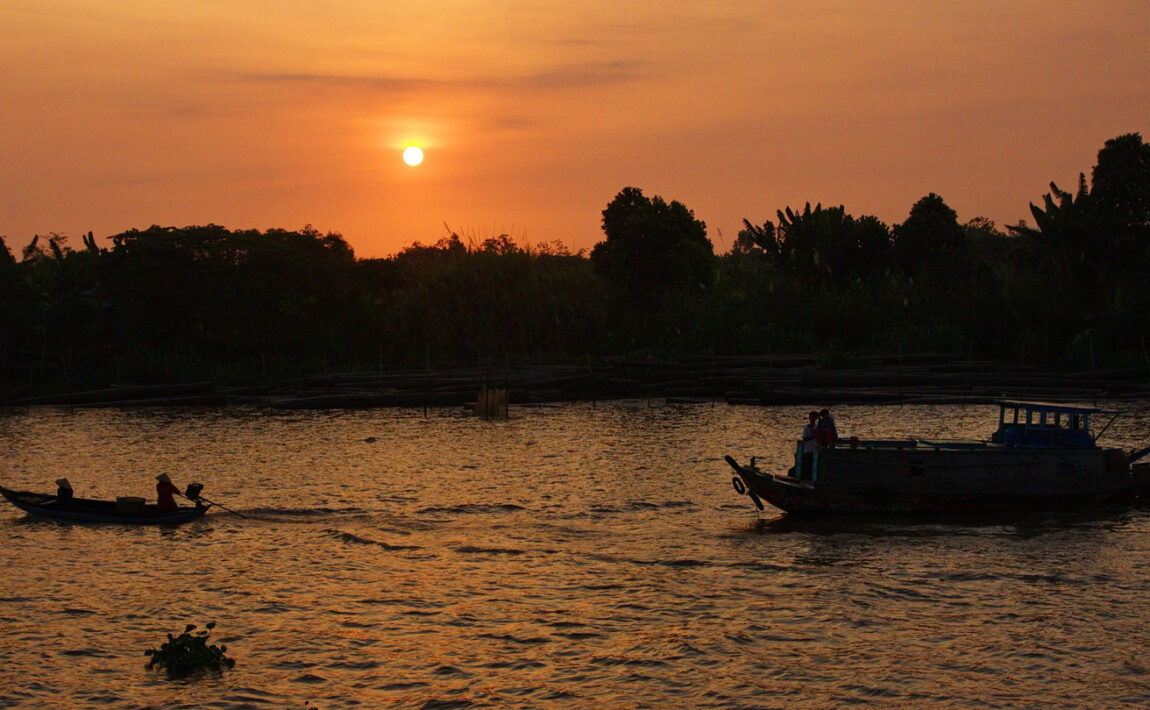 It's a bit of a cliche, but the journey really can be as good as the destination – especially when you're travelling down the Mekong River. Sometimes referred to as the River of Time, this sprawling, storied region is best explored as though time is an abstract concept. So, when I heard you could cross the border from Thailand into Laos by taking a slow boat down the river, I figured it would be worth the additional couple of days.
Given how popular an idea this seemed, I assumed it would be easy to find information on how to take the Mekong Delta slowboat like a local – that is, without booking onto any pre-arranged tours. There were conflicting reports about how easy it was to do spontaneously, but most people I spoke to assured me the journey was more than doable. So, in what could be seen as either a show of courage or pig-headedness, I decided to wing it.
Despite inconsistent information, one thing was clear. It was best to spend the night in Chiang Khong and get a tuk-tuk or taxi to border control in the morning. The town itself has a few nice, cheap rooms, and like much of Thailand boasts an excellent selection of well-priced restaurants scattered throughout. It's not exactly a tourism hotspot, though, and I spent the evening repacking my bag and going over my game-plan for the next morning.
The key to a smooth, slow boat journey (metaphorically, anyway) is an early start. Although it doesn't take long for the day to heat up in this part of the world, this might be one of the few times you're chilly in Thailand, as the combination of the young morning, whipping river wind, and a tuk-tuk ride can be bracing – so don't pack your jacket in your bag!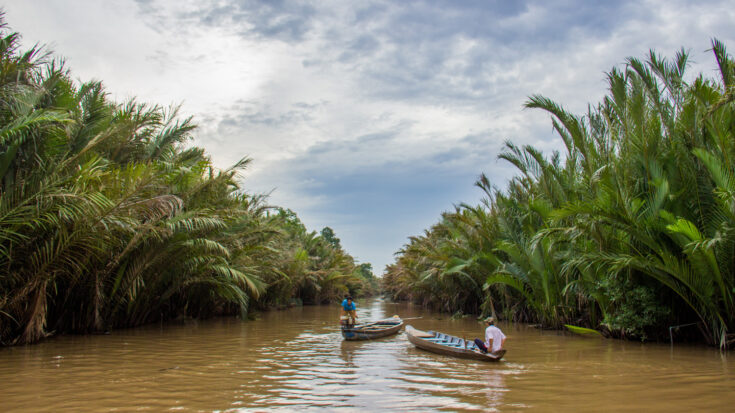 When I arrived at the border control, sellers were trying to flog the overpriced package deals I'd been warned against. Most involved transfers and a Mekong Delta slow boat ticket, with some even including accommodation and food, but these were twice or even three times more expensive than if I'd booked everything directly. If you're not bothered by that, it definitely won't hinder your experience – everyone gets on the same boat, after all. But if you're penny pinching, then it's best to be bold.
The Thai border crossing was relatively uneventful compared to some others (although it usually is easier leaving a place than getting into one). Once past security, I only had to wait a few moments to board a bus that would take me across the Thai-Laos Friendship Bridge. The ticket for this cost roughly the same price as the cheapest items in McDonalds. Buses are fairly regular, although they don't tend to stick to the timetable, so don't fret if it doesn't turn up when it says it will.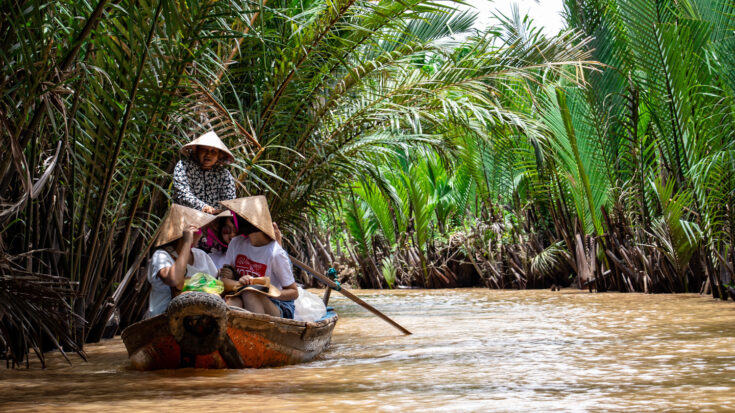 "If you're penny pinching, it's best to be bold."
Crossing the Laos side of the border was a little more harried, but I was prepared with a pen and my visa fee in cash, and I was spat out into the new country within half an hour. The fee varies depending on where you're from, but there's an ATM that dispenses multiple currencies right at the entrance, so even if you forgot to bring cash you'll be fine – you just might have to wait a little longer.
My first view of Laos was a charming town called Huay Xai. What it lacks for in fame, it makes up for in good food and lots of tuk tuk drivers, who happily drove me down to the pier for a song. Those that had lost their nerve and paid for package deals were made to wait until the rest of the people on their company's ticket were rounded up. When they got to the pier I realised they'd taken tuk tuks driven by members of the same collective that my driver had come from. Winging it: one, buying ahead: nil.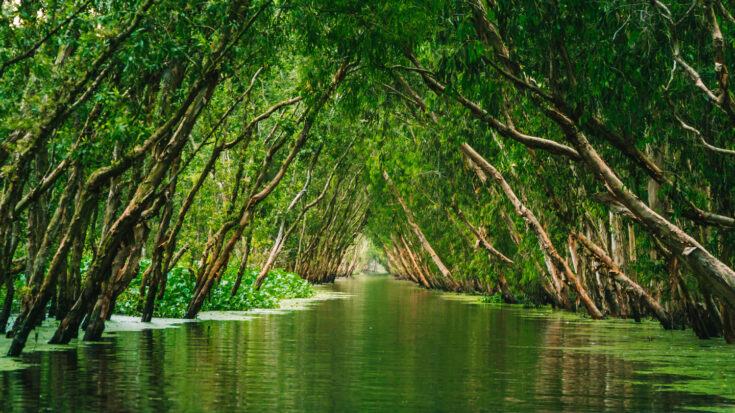 The Mekong Delta slowboat ticket office was at the top of the pier, and it was a pretty simple transaction – all I needed was my passport and the fee in cash. I was assigned a seat number, although in practice these are arbitrary. Here there was a bit of waiting, but I used the chance to laden myself with snacks at the nearby stall – something I'd highly recommend, as there aren't exactly shops on the river. I also introduced myself to a few of my fellow passengers, some of whom were on organised group tours and some solo-travelling.
The boat left around eleven, but it's better to board a little earlier. You want to be near the front or middle, as the engines are at the back and are deafening enough to turn this idyllic journey into something altogether more stressful. Some boats have fairly uncomfortable wooden pew-type seats, whereas some have chairs repurposed from coaches, so a travel pillow can be very useful. Mine was the former, and it did mean a lot of shifting from cheek to cheek, but for the price it was more than cosy enough. Although the actual ride down the river is fairly smooth, the boat rocks fairly substantially during passenger boarding and cargo loading, so if you're a bit nervous about sailing you might want to prepare yourself.
Although it had only been a few short hours since I'd woken up, I felt like I'd already packed in multiple days' worth of travelling. But now I knew I could sit back, relax, and take in the river scenery. The nature of the boat means shade and a constant breeze to battle the pulsing Southeast Asian sun, so it was a pleasant journey from the getgo. While my surroundings were a delight, the views were fairly consistent throughout the first day, so I got through a few pages of my book. However, I also had a deck of cards, possibly the most useful item any traveller can have if they want to socialise. The cards quickly made me popular among other passengers looking for something to do, and soon there were a few different groups of us all getting to know each other.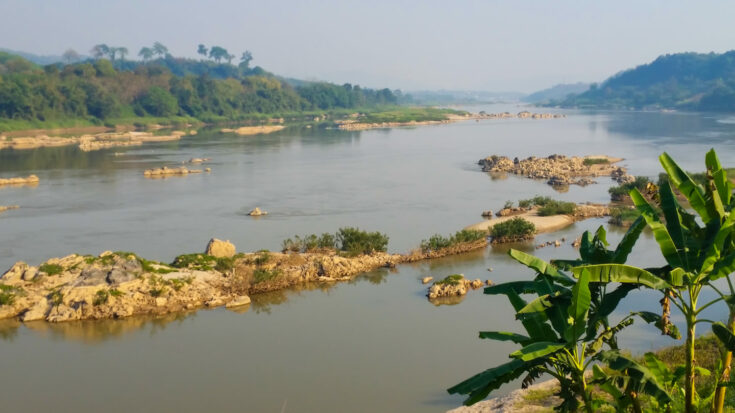 After a few hours of sailing we arrived at Pakbeng. This tiny, hilly village is roughly halfway between Huay Xai and Luang Prabang, which is why the boat stops here for the night. Some people on packages had their accommodation pre-booked, but most of us didn't. It was incredibly easy to find rooms as nobody other than slow boat riders and locals usually travel here. More often than not there'll be guesthouse owners standing by the shore advertising their rooms, which are usually of a decent quality and not too expensive considering it's a captive market. The dinner options are also plentiful and high quality. I and a few others found a charming restaurant with a dramatic riverside view, where I went to town on some of the best sticky rice I've ever had. It was all washed down with a local rice-whisky concoction known as Laolao, which is an ideal, albeit strong tasting, digestif.
After the exertions of the previous afternoon (and the drinks in the evening), I wasn't quite so fresh the next morning. However, my guesthouse overlooked an elephant sanctuary, so I got the chance to see the majestic creatures bathing in the river, which was a real treat. The boat was leaving around 9am to make it to Luang Prabang before sunset, so I was sure to be early. The atmosphere was a little more subdued than the previous afternoon, as not everybody had the chance to perk themselves up with the unforgettable elephant show, but soon the cards were out again. The journey itself was as relaxing as the day before, even though the scenery mostly stayed the same – until we began the approach to Luang Prubang. As we drifted closer to the ancient capital, jagged limestone karsts began rising dramatically from the water. Before I knew it, we'd docked in Luang Prabang.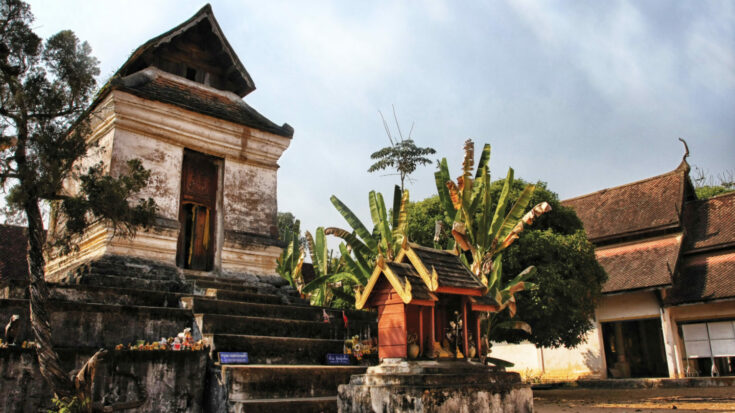 The pier is miles out of the city centre, so a tuk-tuk was necessary to reach my accommodation. There's an official stand at the pier which provides transport at a bit of a premium, and after two days of travel and counting my pennies I decided it wasn't the worst idea to treat myself to guaranteed wheels. However, if you're really looking to save, you can usually walk for around 10-15 minutes down the road and flag a tuk-tuk down, although under the baking heat this might feel a lot longer than a quarter of an hour.
While the experience itself made the slow boat trip worth it, there's also something to be said for taking travel a little more slowly. You worry a little less about ticking things off the itinerary. You gradually learn to appreciate what's in front of you, and if you can bring that lesson home with you, then taking the scenic route offers something even more valuable than eye-widening vistas. And there's no doubt that Luang Prabang, with its unique architecture, fragrant food, and sparkling culture, was well worth the wait.