The world is full of magical places that will take your breath away. For me, Milford Sound is at the top of the list. Amongst the many incredible travel experiences I've had, visiting New Zealand's famous fiord was truly unforgettable, it was a day that still makes me smile every time I think about it. What makes it so special? Milford Sound should be on everyone's travel bucket list for a few reasons.
It feels like you've been transported back in time
Milford Sound is utterly pristine. Besides the boat you'll be cruising around in, it truly feels like you've stepped into a place outside of time (expect Jurassic Park levels of untouched beauty). There's limited phone coverage here too, which means you'll be forced to sit back and take in the energy of the place.
Legend has it the fiord was created by the great god Tu-te-raki-whanoa, whose job it was to shape the coasts of New Zealand's South Island. Using his axe, he hacked away at the coast, getting better and better each time, before completing his job at Milford Sound. The legend says this, his final fiord, was his best. We don't disagree.
Milford Sound is wall-to-wall beautiful views
The views are what people flock to Milford Sound for. Towering waterfalls, lush jungle and sheer cliffs that fall into deep, dark water are all par for the course here – it's heaven for photographers and nature-lovers alike. We couldn't possibly choose a favourite view, but there's a really special moment as you're heading towards the mouth of the fiord and you're treated to an uninterrupted scene with a rock face on each side and endless ocean that absolutely takes your breath away. With little pollution, Milford Sound feels like an untouched paradise and that's exactly what makes this spot so special.
The friendly faces are unforgettable
Once you're done soaking up the views, prepare to be entertained by the locals. With colonies of gorgeous fur seals and pods of playful dolphins, you'll want to stay and watch them all day long. One of my all-time favourite travel moments happened at Milford Sound where I, a dolphin obsessed youngster (I'm talking about a themed bedroom packed with stuffed dolphin toys level obsessed) and I just happened to be filming a pod of dolphins at the back of the boat when one jumped up and did a spin. Incredible.
You'll want to go back
You'll never forget Milford Sound and that's why you'll want to go back. Besides the boat cruise, there is so much to do around in the surrounding area. If you love the sound of a multi-day hike, then head for the Milford Track which will lead you through the entire area and will give you the closest look at the forests and views. You can also go diving in the mysterious, super-deep, dark water! If water and walking aren't your things, book a set on a flight tour over Milford Sound to take in the whole majestic scene from above.
Either way, Milford Sound will steal your heart and you'll long to return from the moment you leave.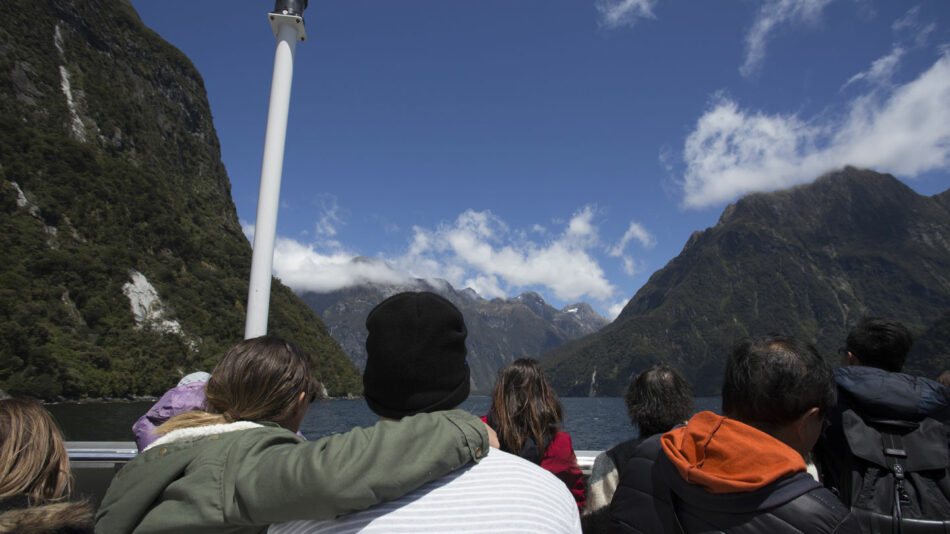 Image source:Contiki