This is what happens when you have the best NYE of your life with Contiki
Share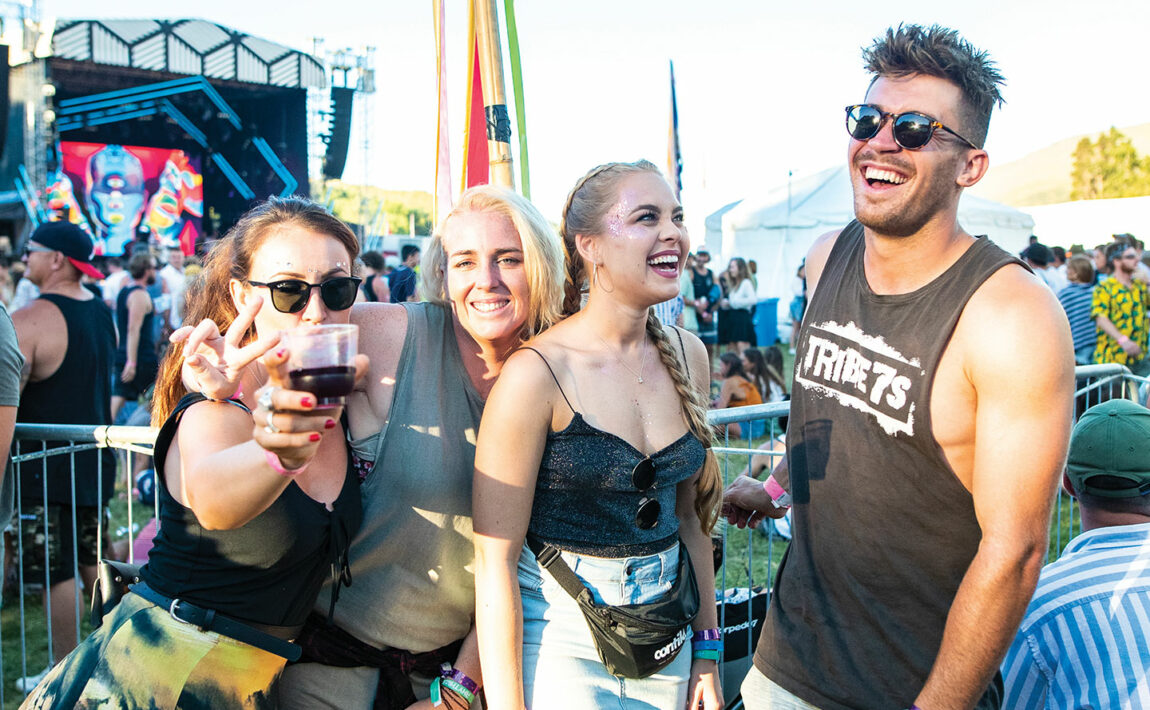 What's one question everyone is asked after returning from a trip? That's right, "what is the best place you've ever been to?". Honestly, it's an impossible question to answer because there is so much to consider. The people, the landscapes, the food—but for me, New Zealand is one that always springs to mind. It has me utterly captivated with its ridiculous beauty around every corner and leaves an impression on me that no matter how much I explore while I'm there, I just want to go back again (and again) to see more.
That's why I decided the absolute best way to ring in the New Year was to jump on board the Contiki Rhythm and Alps trip because, in case you haven't heard of it, Rhythm and Alps is a huge three-day camping music festival that happens over New Year's Eve every year and it's a guaranteed good time.
Day 1
On day one of the trip, I arrived in beautiful Queenstown to meet the team I'd be spending the next seven days with adventuring, partying and laughing with. After a quick meeting and introduction, everyone jumps on the bus and you make your way to Wanaka. At the bottom of the Cardrona ski fields lies thousands of people setting up for an epic three days of good music and good vibes.
This is where the fun really starts. We made your way through the chaos of everyone setting up their tents only to be greeted at the glamorous VIP camping area where our beds were already made up for us so all we had to do is drop off our stuff and try not to look too smug about it. That night we were treated to an amazing dinner down the road at the Cardrona Hotel and then it was back to enjoy night one of the festival.
Day 2
Swimming in the crystal waters, soaking up the warm sunshine, and wondering how the hell the mountains around you still have snow on them while you're just busy getting a tan. After an amazing couple of hours spent sinking cold ones and avoiding a killer sunburn, you make your way back to the second night of the festival and continue where you left off only a short time ago. You know the drill—more good times, laughs and a few drinks with new friends.
Day two of the festival kicks off with jumping on a boat at Lake Wanaka and cruising out to Rugby Island. Here, you'll indulge in New Zealand's true beauty.
Day 3
If you're feeling a bit rough after an epic night out, the start of day three is the perfect way to get you revved back up for New Year's Eve. Mountain carting, where in winter skiers and snowboards shred the slopes you'll be here in summer when the skis and snowboards are replaced by three-wheeled carts and mountain bikes as thrill seekers find alternative ways to keep the adrenaline pumping. Mountain carting is fun, there's not really any other ways to put it. Yeah, if you really go for it, you might stack it a couple of times but that's all part of the experience!
After a morning full of laughs, we were more than ready for the big dance at the main night of Rhythm and Alps with our new crew. It's hard to properly describe the sense of freedom you get on New Year's Eve at Rhythm and Alps. The good friends, good music, good vibes all round; there's not much in this world that can top it. You're surrounded by breath taking mountain views, indulging in awesome food and drink and being treated to likes of Matt Corby and the Black Seeds while doing it. It's a day you'll wish would never end.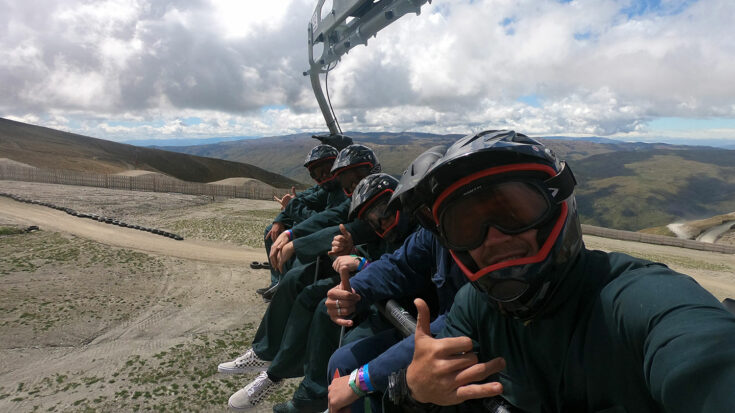 Day 4
The next morning, I woke up and even though it was New Year's Day, the festival was over, and I had officially reached the half way point of the trip, it felt like it was just getting started. We made our way back to Queenstown, an action and adventure-packed town that sits on the shores of South Islands Lake Wakatipu.
But before we descended on the town, there was just one little stop to make along the way— bungy jumping at the Kawarau Bridge. This place is as beautiful as it is scary, but I figured there was no better way to kick start the New Year than by leaping off a bridge and free falling 43m! It was unreal. Then, just when I thought the day couldn't get better, it did, as we hopped aboard the TSS Earnslaw, the only remaining commercial passenger-carrying coal-fired steamship in the southern hemisphere. Cap it off with a trip to the Walter Peak Station for an all you can eat dinner and if you fancy it, learning the tricks of the trade on this working farm.
Day 5
I woke up on day five to find out how I spent this day was entirely up to me—wine tasting, sky diving, a walk up Queenstown hill, frisbee golf in the park, or if I was feeling really keen, another round of bungy jumping! The day and Queenstown was my oyster. I chose to go canyoning through crystal clear pools and exploring the quintessentially beautiful New Zealand landscapes where you can truly get amongst the wilderness. Regardless of what you decide to do you though, you can't really go wrong in Queenstown.
That night we met back up with the group to head to Ice Bar, a bar where (you guessed it) literally made out of ice from the glasses you drink from to the seats you sit on; it's all ice. After bar hopping around Queenstown all night, stumbling into Fat Badgers Pizza Bar on the way back to your accommodation is the only logical choice as it doesn't close until 4am (because they too understand that pizza is always a good idea).
Day 6
Much like day five, day six is a free day and I took it as my chance to tick off a few more activities that I hadn't had the chance to yet. Plus, it was my personal mission to head to the infamous Fergburger. It had to be done and let me tell you, it's just as good as people say. Cap it all off one final dinner at Winnies Bar with your Contiki crew, followed by another night bar hopping around Queenstown and you'll probably ending up rolling back into Fat Badgers for a cheeky slice before going to bed.
From the moment you start you're R&A journey it feels like someone's holding down the fast forward button. You're just constantly having the time of your life and wishing it will never end, but inevitably, all good things must come to an end. So, after a few final Facebook exchanges and maybe even a few tears, everyone goes on their way and all you're left with are memories you'll remember forever.