We're calling it – this is the UK's best music festival
Share
…and it goes by the name of Reading Festival.
The home of all things rock, indie, alt, electro and everything in-between, Reading is back this year for its 58th year running. Bring on the dancing, the mayhem and most of all, the incredible music – Reading, we're ready for you!
It's the world's oldest festival
That's right, Reading Festival has certainly seen a lot in its time, having hosted every type of genre including rock, alternative, indie and punk. We just can't get enough of Reading's feel-good vibes and every year just seems to get bigger and better. All the way from its 1961 jazz debut to 2017's grime and indie scenes, the diverse acts just keep on coming.
It's staged some of the greatest musicians of all time
Reading Festival ALWAYS nails the line-up. Some of the biggest names in music have performed here with The Red Hot Chilli Peppers, Oasis, the Foo Fighters, The Arctic Monkeys and Eminem all headlining over the years. Boasting 8 stages including the Alternative Stage, the BBC 1 Dance Stage and the Main Stage, you're sure to find something that ticks your musical box.
It's the best way to spend the UK bank holiday
The festival always falls over the UK August bank holiday which means there's no need to stress about taking time off work if you live in the UK. Yasssssssss. And if you don't? Well, what better place to spend a weekend in England then partying it up at one of the biggest parties of the summer.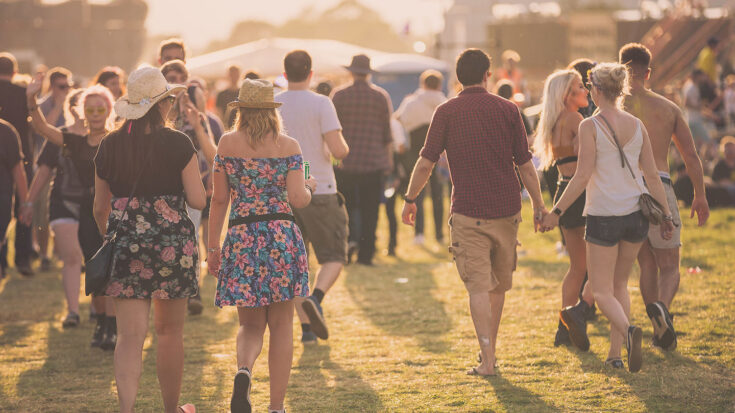 It's on London's doorstep
Did we mention it's on the doorstep of London? Yup, just catch a 30-minute train from London St. Pancras and you'll find yourself smack bang in the middle of Reading town centre. From there it's a 15-minute walk to the festival where you'll find one of the most insane field parties of all time ready and waiting for you. Of course, instead of dealing with lugging your tent/supplies/kitchen sink from platform to train to walk to the festival, you could instead just rock up VIP style in a Contiki coach and casually make yourself feel at home in your pre-erected tent…within the glamping zone no less.
It's even charitable
Thinking this all sounds pretty sweet and wondering what the catch is? In all honestly, there really isn't one. As well as having one of the most memorable weekends of your life, you'll even unknowingly do your part for charity. Post-festival, a major clean-up operation is put into place which involves retrieving thousands of abandoned tents and sleeping bags which are then sent to refugees around the world.
Fancy hitting up the UK's hottest festival for yourself?
We're super excited to announce the second year of Contiki Sounds, a seven-day trip built specifically around the UK arts and culture scene, both past and present. Visiting the likes of Bath, Oxford, Bristol, and Windsor, you'll take a walk down the UK's diverse and legendary past (this Roman baths and Banksy walking tours) before partying like it's 2019 at Reading Festival for three glorious days. This trip will not only see you travelling around all the best bits of Britain but meeting like-minded humans who will quickly become your new besties. You'll all roll up to the festival and by now you know, this is THE way to do Reading 2019.