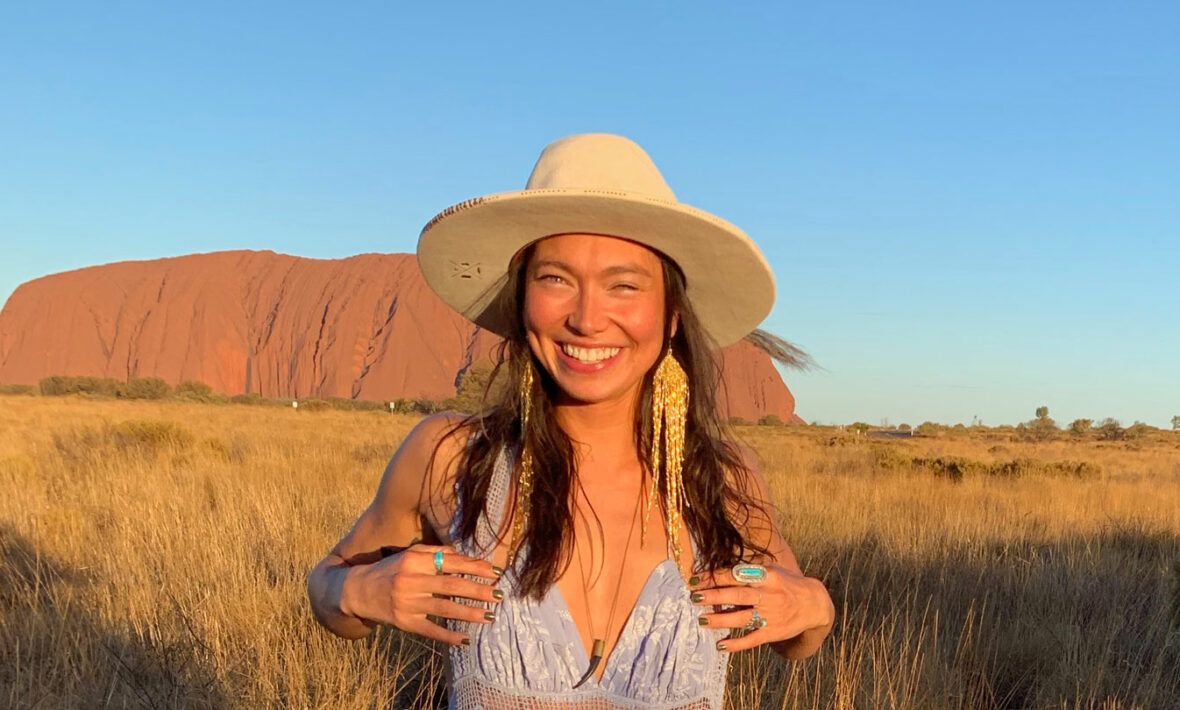 To travel is to share your culture. No one knows the power of this better than Sarain Fox, an Indigenous Canadian woman who is an activist, artist, TV presenter and TreadRight partner. She also happens to be one of the kindest, warmest people in the world.
Her mission is to educate and connect with others about what it means to be First Nations (the name given to the groups of Indigenous peoples of Canada) in a modern world. She is also encouraging explorers everywhere to travel with more respect and humility.
You may already recognise Sarain. In 2016 she invited Canadian Prime Minister, Justin Trudeau, on a tour of Canada for a Vice documentary (now a VR experience). She shed light on the issues Indigenous populations face, in some of the most cut-off parts of the country. It was a powerful and moving look into a community still so overlooked. Sarain is spearheading the next generation of Indigenous people who are hungry for change.
"I was raised by a single mother within a matriarchal society. I have always understood the unique responsibility and power of women."
There is no better time for change than now. Canada and Australia have similar colonial histories when it comes to the treatment of Indigenous peoples. While reconciliation is what governments strive for, Sarain encourages a purposeful and knowledge-seeking approach she's dubbed, 'reconciliACTION.'
So, how can you get involved? Well, according to Sarain, we can all play a role in 'reconciliACTION' by honouring and acknowledging Indigenous populations.
"When you travel, ask yourself: where am I going, who are the original caretakers of the land, how can I support them and see their homelands through their eyes?" she says.
"The best way to travel is with humility. You aren't the expert on someone else's homeland. If you approach each travel experience with a sense of respect, wonder and curiosity, you'll receive so much."
Sarain recently joined TreadRight and Contiki Cares in Australia to connect with Australia's First Nations people. She is sharing stories, traditions and discovering how the Canadian First Nations and Indigenous Australian people can amplify their voice and reclaim their past in modern times.
Her work in Canada with the Manitobah Mukluks Storyboot School (where indigenous people lead arts classes, teaching traditional 'mukluk' and moccasin-making) and on Australian soil, shows the power of local immersive indigenous experiences. This kind of initiative finally helps others understand and appreciate the communities that have existed in the land that we now call Australia for at least 50,000 years. 
These experiences aren't just for travellers or those outside the community either. Indigenous young people can also benefit from cultural sharing. Sarain says the outcome for the Indigenous community is incredible; "The repatriation of indigenous knowledge is leading our youth back to their cultures, the arts and their languages".
Sarain met with the KARI Foundation, an organisation that offers local Aboriginal and non-indigenous communities the opportunity to work together. The initiatives are designed to close the gap and support indigenous advancement. The unforgettable experiences include a smoking ceremony with the Muggeras Dancers, an exchange of Storyboots and meeting with elders. All of this leads to impactful conversations about the issues facing indigenous people around the world.
It is Sarain's inspiring work that has driven the TreadRight Foundation and Contiki Cares to establish a partnership with the foundation. Travellers on the Contiki Australia trips will now have the chance to learn about Indigenous world views while keeping traditional arts alive. There's the unique opportunity to be taught by Indigenous artists, take part in dot-painting boomerang classes, and to learn about the symbolism involved in aboriginal culture.
The project supports Sydney's aboriginal community by offering them an opportunity for economic self-determination whereby TreadRight's grant will provide employment for KARI staff and artisans.
Using the power of indigenous art and crafts, we're bringing travellers closer to unique and authentic experiences. 
"Contiki is literally creating a space for travellers to learn, that's reconcili-action. It might sound like a small thing but it's a massive step in changing the narrative."
Sarain's trip to Australia is a reminder that we're more similar than we are different, and a shared heritage is a powerful and inspiring thing. "There are many similarities between Canadian and Aboriginal cultures," she explains. For instance, the Aboriginal people deal with death in the community in a very similar way to her own.
"For us, we wait one year after someone passes to speak their name. You also don't look at their photos or have any of their stuff around.  This is so that they can make their way to the spirit world."
"I believe we all have more work to do to see other cultures and accept our differences (in values and world views)," says Sarain. "We have been taught to melt our differences in favour of cultural unity. Unity is great, when we're protecting each other and the planet. But I don't want to be melted down into a cultural smorgasbord. I want to see vibrant, multi-faceted communities who thrive using their own unique gifts and stories. I'd like to see more cultural respect as we walk forward together."