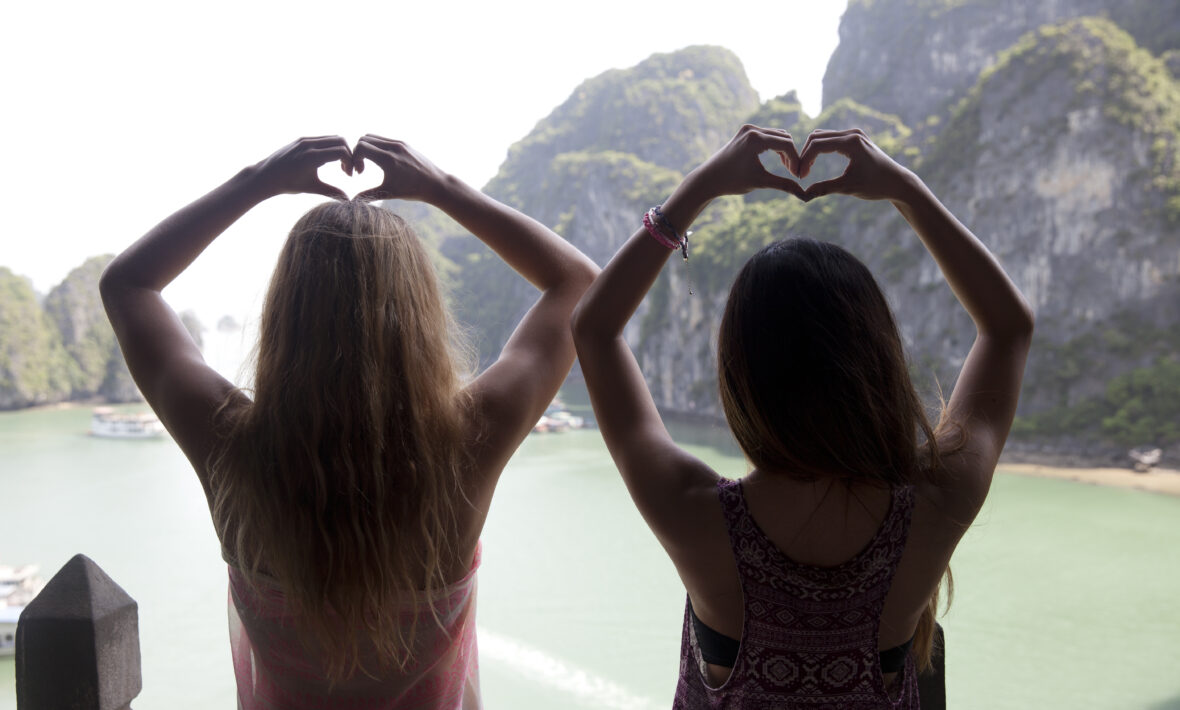 For all those times you get the swipe right finger itch whilst travelling…
North America
The dating app game is strong in North America, and it may be the trickiest market to find a definite winner in.
Based on downloads, Tinder is king, and while a lot of people are using Tinder, there are few that are using it exclusively. Bumble is becoming increasingly popular in North America, and is hot on Tinder's heels in terms of popularity in the USA and Canada.
Happn is also on the up in Canada, Mexico and the USA, but you can find a lot of daters using other apps like Match, PoF, Hinge, OK Cupid, Coffee Meets Bagel etc.
South America
Tinder and Happn are popular in South America as well, while other apps such as Badoo, Yellow, and Down Dating are also popular in the bigger countries. While Badoo may claim to have the highest download stats, users seem to be actively using and finding success on Tinder and Happn predominantly.
Asia
The top dating apps tend to vary most in Asia, as each country is seeing a rise in popularity of their own Country-specific apps.
Although there are some trends, it's probably a good idea to check out these smaller apps if you're serious about dating in that country. For example, China's go-to dating apps are Momo and TanTan, while Japan favours Tinder, Ok Cupid and Pairs. India is seeing the most success with Tinder, Truly Madly and Woo, while Thailand's go-to's are Tinder, Ok Cupid, Just Say Hi and Mingle.
Clearly Tinder is once again a solid go-to in Asia in general, but won't get you very far in places like China.
Australia and New Zealand
Similar to the Americas, Tinder is the big dog in both Australia and New Zealand.
Dating apps are pretty popular in the South Pacific – Yellow, Happn and Bumble are on the rise in both countries, but lots of people are also spread out over many other apps as well, such as Ok Cupid, Coffee Meets Bagel and Match.
RSVP is an Australian exclusive which is also quite popular, while Hinge sees some success in New Zealand.
Europe
Although there are some definite trends in European dating apps, unsurprisingly, success rates tend to vary when comparing Eastern and Western European countries.
Western Europe has jumped on the Tinder bandwagon with gusto (along with the rest of the world), and the high tourism rates and concentrations of bigger towns and cities tend to make it a more successful venture in general. Yet Tinder has seen a slower uptake in Eastern Europe, with many people complaining of a lack of selection, and unbalanced gender participation leading to a lack of matches in certain countries.
Badoo is quite popular in many Eastern European countries, and Lovoo is a good choice in German speaking countries as well. The classics like Match and Ok Cupid, and new favourite Bumble are solid choices if you're not seeing success on other apps in Europe.
With so many cultures and languages in such a small space, you need to be flexible and try out a few options depending on what part of Europe you're currently in.  This variety in the dating app market has led many people to rely on social networks like Facebook and Instagram in their search for love, and many people swear by this method, forging apps entirely. After all, a good Insta-lurking session is pretty fun on any day, whether you're single or not.
Africa
Similarly to Europe, social networks are big for online dating hopefuls in Africa.
Facebook and Instagram DMs are a solid way to connect, and since the dating app scene hasn't blown up yet in Africa – and pretty much everyone is on Facebook or Instagram – the potential dating pool on social sites has no lack of volume.
Tinder and Badoo are gaining popularity in Africa in general, however there are a lot of smaller apps that are in use in specific countries as well. For example, just a visit to the lifestyle app charts will show you Yellow in Kenya, Mingle2 in Ghana, FirstMet Dating in South Africa and Happn in Malawi.
Worldwide
If you're looking for the best dating app to use worldwide, Tinder is currently probably your best bet. Coffee Meets Bagel and Bumble seem to be on the rise as well, but in terms of sheer volume, Tinder, PoF, Match and Badoo seem like the biggest players in the current dating app game.
Good luck and happy swiping friends!