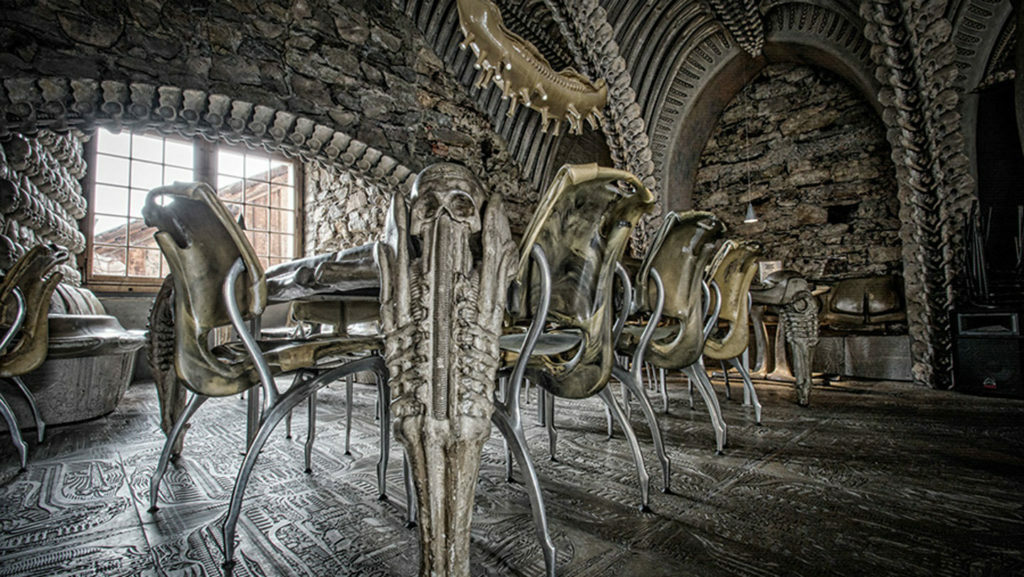 Halloween decoration game strong? Do you like to get creative at this time of year – carving menacing pumpkins, hanging artificial cobwebs and generally making everything a gaudy orange?

Well, if you pay a visit to the H.R Giger museum in Gruyères, Switzerland, you may find your talents for the macabre have been put to shame. It's all good and well drinking punch while plastic spiders dangle from the ceiling, but how about sinking a cold one inside the belly of a fossilised, prehistoric beast – a beast that listens to death metal and feasts upon human children?

Yep, no matter how much you specialise in all things spooky, this place is sure to have you beat…


H.R Giger was a Swiss painter who crafted a unique, 'bio-mechanical' style that was hugely influential in heaps of different artistic mediums. He's most known globally for his influence upon Ridley Scott's infamous Alien movies, where he was part of the special effects team that won an Academy Award. The spine-tingling chills of Alien are hugely reliant on Giger's 'body-horror' style (THAT chestbuster scene sticks in the mind).
https://www.instagram.com/p/BWPzCB7loi0/?hl=en&taken-by=hr_giger_official
His style is distinctively spooky, as he crafts surreal, sinister dreamscapes like a Doom-Metal Dali. It's the uncanny way he merges organic and mechanical forms that makes his work so damn CREEPY.
Everywhere you look in this waterhole of horrors you'll find unsettling examples of Giger's dystopian aesthetic – from the thrones of bones to the haunting wall of crying children's faces. But when you can tear your eyes away from the arching, spiny ceiling you'll be able to enjoy some pretty good local food and drinks, too.
https://www.instagram.com/p/Bng6j9zn5Bl/?hl=en&taken-at=265564362
Gruyères is a haven for all things cheese, so it'd be rude not to try a gooey fonduette. Or why not try the 'Alien Coffee' platter, with a double cream meringue for desert, all washed down with a few shots of Grande Gruyères, a warming local spirit?
https://www.instagram.com/p/BUoEuxfjmQ5/?tagged=aliencoffee
Look through the windows of the museum and you'll see the rolling hills of the Gruyères countryside, framed by picturesque mountains. The juxtaposition of these fairytale views alongside Giger's twisted aesthetic is seriously compelling.
https://www.instagram.com/p/BTdrRtUl5Co/?tagged=gruy%C3%A8res
Cheese, creepy cocktails and endless insta-worthy horrors. This has to be the ultimate halloween hotspot!
https://www.instagram.com/p/BnwmaoKlUVS/?tagged=gigerbar
Looking for your own slice of natural beauty and cheesy goodness? Check out our Switzerland travel guide…