Toronto has become a MAJOR tourist destination, attracting visitors from across Canada and the world. With iconic tourist attractions such as the CN Tower and celebrities like Shawn Mendes, Justin Bieber and Drake talking about the 6ix, Toronto has been put on our maps. Whether you live in the Greater Toronto Area, or are just passing through, Toronto's diverse background makes it a city that's easy to discover something new. During your down time if you're looking for a staycation in Toronto, we've gathered a few ideas for you to make the most of your time off – all without leaving the city.
Places to stay
After spending so much time in our homes, opt for a change of scenery. There are some great hotel options in Toronto that capture the culture and vibe of the city. These boutique hotels have tons of amenities to make sure you have the best staycation in Toronto.
The Drake Hotel
Among Toronto hotels, The Drake Hotel has become a popular spot for staycations. Located on Queen Street West in the city's Art District, this hotel taps into artists' local vibe. You'll find unique pieces from Toronto artists that fill the guest rooms and common areas. At night, the Drake Underground basement features live entertainment from local musicians. If you're just looking forward to just kicking back, their rooftop patio is a great spot in the city to sip some drinks and soak in the sun.
The Broadview Hotel
Not only is this one of the coolest places to stay in Toronto right now, the laid-back vibe at The Broadview Hotel makes it a great place to chill. There's always something to do here, making it an ideal spot for a Toronto staycation. Grab a bite to eat for brunch with a few friends or head for a night out on the town at their rooftop patio bar. The  views are one of the best spots in the city of the Toronto skyline and the CN Tower.
View this post on Instagram
The Beverly Hotel
If you're looking for cheap hotels in Toronto, The Beverly Hotel is one of the most affordable options you can find. This boutique hotel is centrally located in the heart of Toronto's Queen West neighbourhood. It's within walking distance to some of the main downtown areas such as Nathan Phillips Square, City Hall, Chinatown and Kensington Market. Just steps away, you'll find lots of shopping options and a ton of great places to eat. The hotel itself also has a retail front and a rooftop patio available to its guests to enjoy after a long day exploring the city.
Bond Place Hotel
Stay among the city lights at the Bond Place Hotel because this hotel's location is absolutely everything! Just steps away from Yonge & Dundas Square, lots of restaurants and the main shopping mall, the Toronto Eaton Centre, this is a great spot to make the most of your staycation in Toronto. It's one of the reasons why Contiki stays here on their trips through the big city of Toronto.
Things to do
If you're looking for things to do in the city, Toronto is a city that WILL NOT disappoint. Catch a live performance or a sports game. Spend a few hours shopping or exploring the museums. Aside from the main tourist attractions, here are a few Toronto staycation ideas that are sure to keep you busy.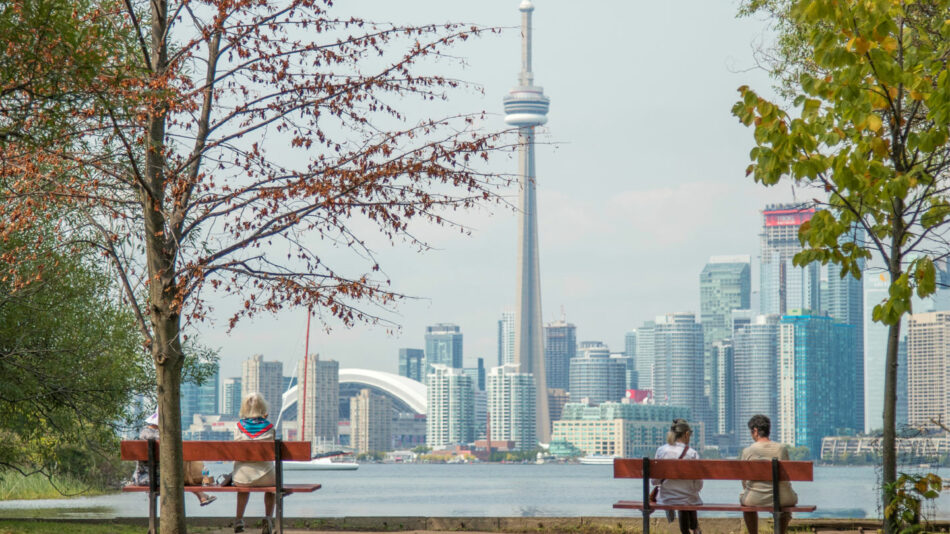 Image source:Photo: Sandro Schuh / Unsplash
Outdoor activities
A fun activity to do during a staycation in Toronto is a trip over to Centre Island. Just a 15-minute ferry ride across from Toronto Lakeshore area, Centre Island is a great way to have escape the city while staying close to home. Explore all the island has to offer by bringing or renting a bike. On the island, you'll find amusement parks, sandy beaches and picnic areas, allowing you to spend some quiet time across Lake Ontario. You'll even get to see some of the best views of the Toronto skyline from a distance. If you want to do something adventurous outdoors, try walking along the outside of the CN Tower on their EdgeWalk. You'll be sure to experience Toronto from new heights. Just remember to book ahead because space and tickets are limited.
Sports activities
If you're a sports fan, Toronto is home to some of the greatest sports teams in the world, including the Raptors, Maple Leafs and Blue Jays — just to name a few. If you're in Toronto during the summer, one of the best ways to enjoy the city is by catching a Blue Jays game at the Rogers Centre. Pack your sunscreen because on sunny days the roof will likely be open, unveiling a direct view of the CN Tower above. If baseball isn't your thing, grab a game at Scotiabank Arena to see the Raptors or the Maple Leafs. You can also head over to the home of the Stanley Cup at the Hockey Hall of Fame. Here you'll find some of the greatest hockey artefacts in the world from legends like Gordie Howe and Wayne Gretzky.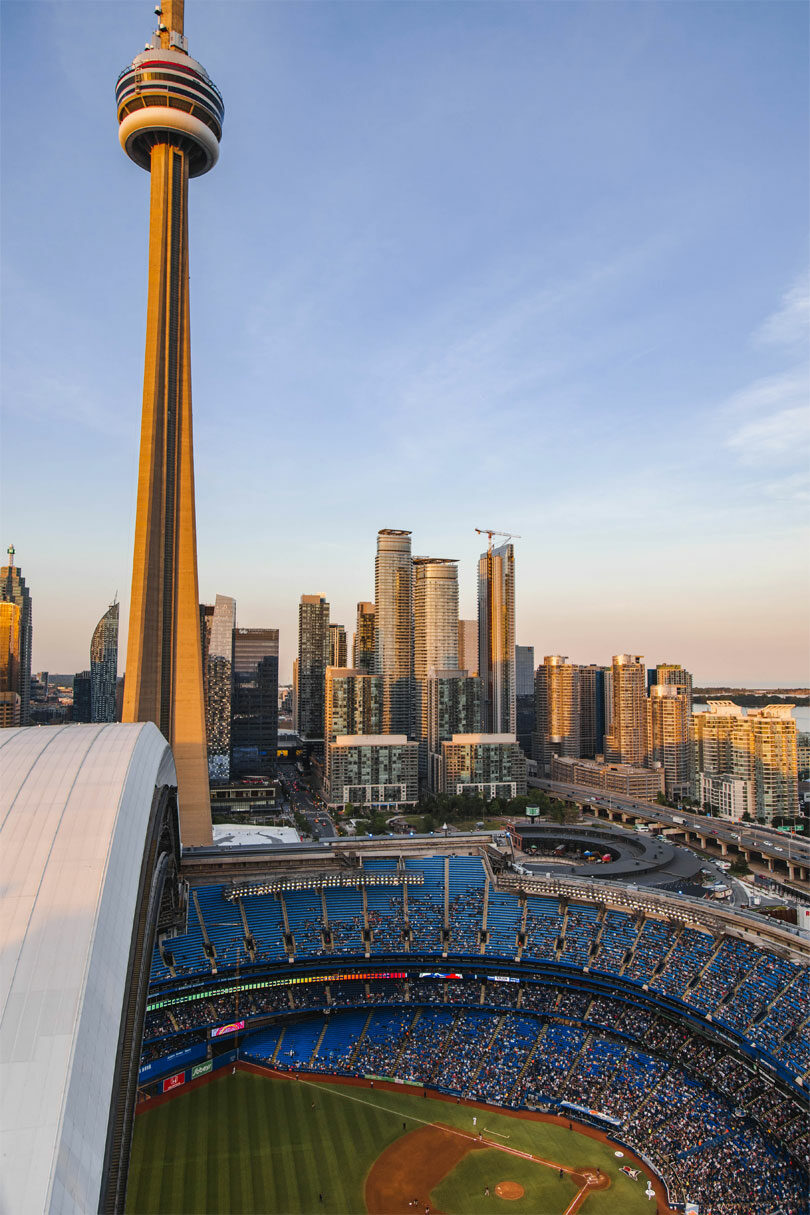 Image source:Photo: Christy Au-Yeung / Unsplash
Museums & galleries
As one of the biggest cities in Canada, Toronto has a lot to offer for history and culture. Ranging from dinosaurs to arts and culture, experience a wide-range of history at the Royal Ontario Museum. You can also immerse yourself in art at the Art Gallery of Ontario. One of the most notable exhibits is Yayoi Kusama's infinity mirrored room. For a unique museum experience, learn about the history through shoes at the Bata Shoe Museum. One notable experience at the Bata Shoe Museum is learning how Canadian mukluks are made at their Storyboot School. In partnership with Manitoba Mukluks and the TreadRight Foundation, it's a truly Canadian experience that helps to keep the art of mukluk and moccasin-making alive and accessible for generations to come.
Girls night ideas
Looking for the best ladies night Toronto has to offer? If you're planning a fun girl's night out, Toronto has tons of places for you to grab some quality time with your closest girlfriends. Head to Her Majesty's Pleasure for an evening of manis and pedis with bubbly. It's a perfect way to relax and get pampered, while on a staycation in Toronto. If you're looking for something livelier, head to Rock 'n' Horse Saloon for the line dancing and the full country western experience.
View this post on Instagram
Group activities
If you're spending your staycation with a group of friends, finding a fun activity to do together can be everything. Not only is it a great way to catch up, it adds in some friendly competition. Some spots in Toronto include The Rec Room, SPiN, Duke's Refresher + Bar and Tilt Arcade Bar. If you're looking a little more low-key, Snakes & Lattes offers some board game fun. During the winter months, why not go ice skating? Head over to City Hall and Nathan Phillips Square for some ice skating near the city's iconic Toronto sign or to The Bentway Skate Trail under the Gardiner Expressway in Fort York.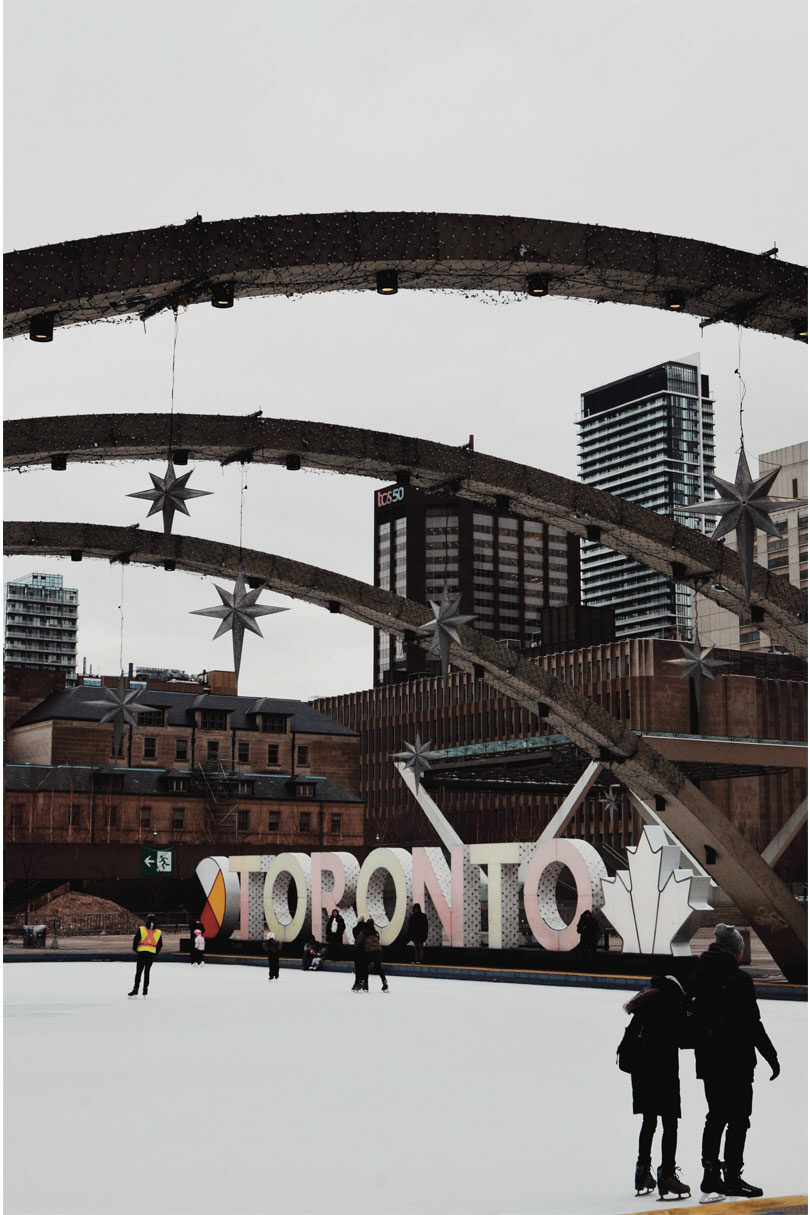 Image source:Photo: Joshua Chua / Unsplash
Places to eat & drink
A staycation in Toronto isn't complete without amazing food and drink. Toronto's multicultural food scene makes it easy to spend time eating your way through the city. Because of the city's diverse background, you'll find amazing food from all over the world.
Assembly Chef's Hall
This food hall brings together some of Toronto's best eats from top restaurants across the city. It's a great place to grab a bite to eat because there's something for everyone. You'll find Thai, ramen, BBQ, vegan and much more! The laidback vibe and energy in the space has created a unique dining experience that has quickly become a favourite among locals.
St. Lawrence Market
Not only is St. Lawrence Market a tourist destination, it's also a great spot for locals to shop for fresh produce, bread and meats. While grocery shopping, don't forget to bring some extra cash and grab a bite to eat. You'll find tons of Canadian favourites that are made fresh to order such as peameal bacon sandwiches, Montreal bagels and lobster rolls inspired by the East Coast of Canada.
View this post on Instagram
Amsterdam BrewHouse
If it's a nice day outside, head over to Amsterdam BrewHouse. This lakeside brewery it a great way to enjoy the lakeshore views with a pint of craft beer in hand. It's patio has quickly become one of the best spots in the city. Lined with Muskoka chairs along Lake Ontario, this patio will give you true Canadian cottage vibes, all from the heart of the city.
Neighbourhoods to explore
Because of Toronto's diverse background, there are some neighbourhoods that you just cannot miss! Travelling through these neighbourhoods you'll find unique foods, shops and styles. It's a great way to be transported around the world, all in one city.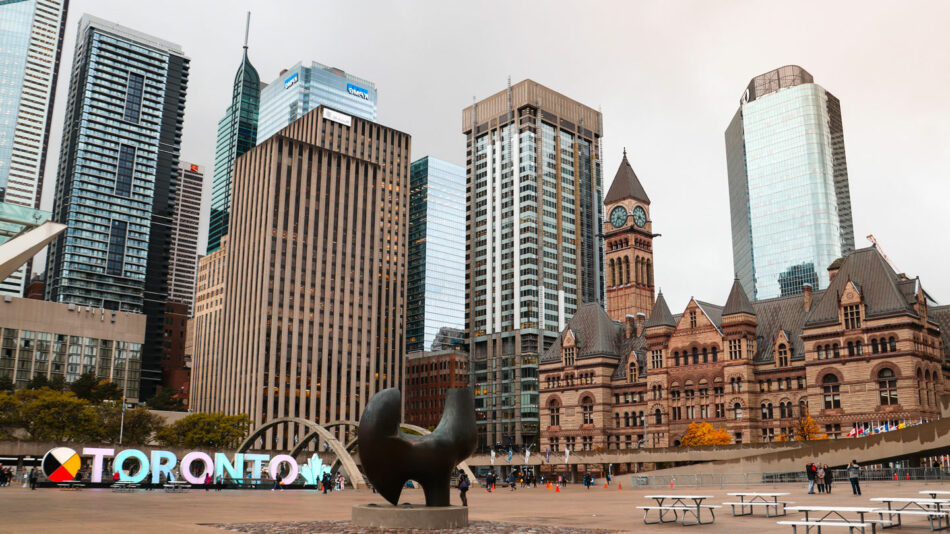 Image source:Photo: Rachael Annabelle / Unsplash
Church and Wellesley
As known as "The Village", the Church and Wellesley area is home to Toronto's LGBTQ+ community. It's a little pocket in the city with some great food, bars and clubs, but this neighbourhood is known for throwing some of the city's largest celebrations such as Pride Toronto. Halloween is also a big celebration street celebration, revealing some of the scariest and amazing costumes.
The Distillery District
This neighbourhood is one of the most historic spots in the city, and no staycation would be complete without feeling like you're transported to Europe. The endless red brick and cobblestone streets in the Distillery District are like no other place in the city. During December, the Distillery District turns into one of the largest Christmas market in Canada. You'll find traditional Bavarian treats and mulled wine mixed with Canadian favourites like poutine and bacon.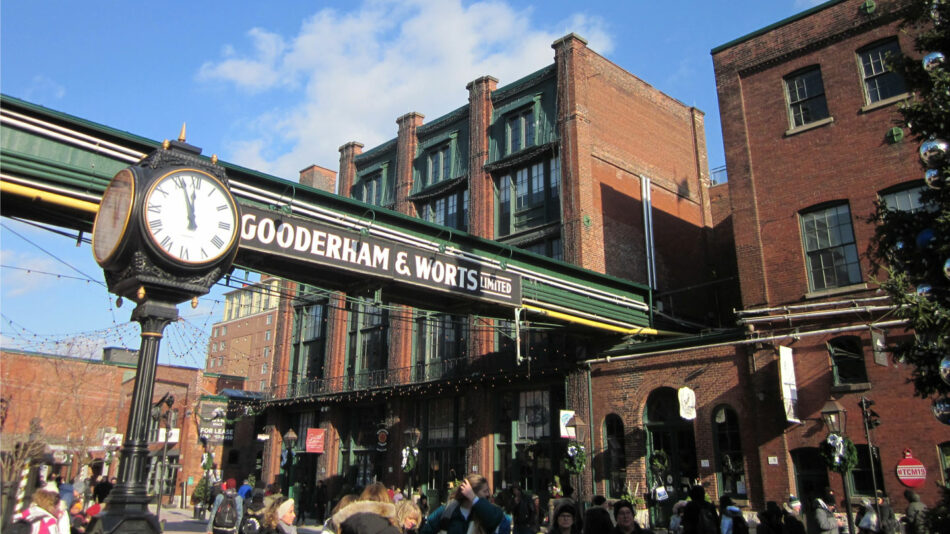 Image source:Photo: Michael Kristensen / Unsplash
Kensington Market
One of the most cultural areas in the city is Kensington Market. This walkable bohemian neighbourhood is the perfect spot to find indie shops and vintage clothes. There's also tons of places for you to grab groceries or a bite to eat at trendy bars, cafes and restaurants. The food in this area ranges from vegan to poke bowls and fusion flavours, such as the Jamaican Italian takeout spot, Rasta Pasta.
Queen Street West
If you're looking to experience Toronto on foot, one of the best ways to enjoy the city is spending some time wandering the streets. Queen Street West is an area that easy to explore. You'll uncover Toronto's local art scene in areas such as Graffiti Alley. If you're looking for a breath of fresh air, head over to one of Toronto's largest public green space areas at Trinity Bellwoods park.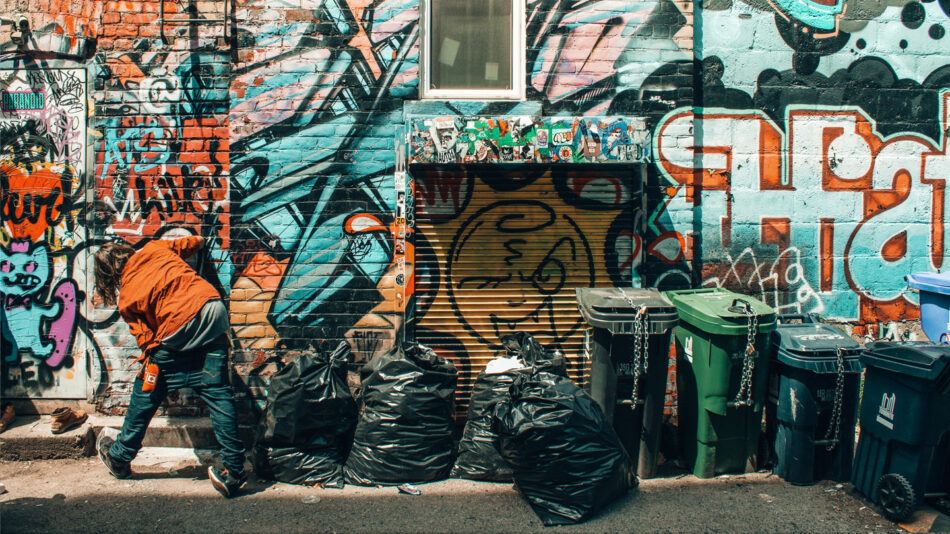 Image source:Photo: DESIGNECOLOGIST / Unsplash
The Danforth
Known as the city's Greektown, The Danforth has become a popular spot to find all things Greek. The street signs in the area are even written in Greek! In this neighbourhood, you'll find Greek tavernas, pastry shops and some of the best souvlaki in the city. Enjoy live entertainment at Danforth Music Hall or come for a street party during Taste of the Danforth for the full Greek experience.
These are just a few ways you can spend a staycation in Toronto. If that wasn't enough, head to our Toronto Guides page for more ideas. Your time off is what you make it, so head out and hit the city. Spend time exploring the neighbourhoods, foods and colours of Toronto. By the end of it, you'll find a new appreciation for the big city.