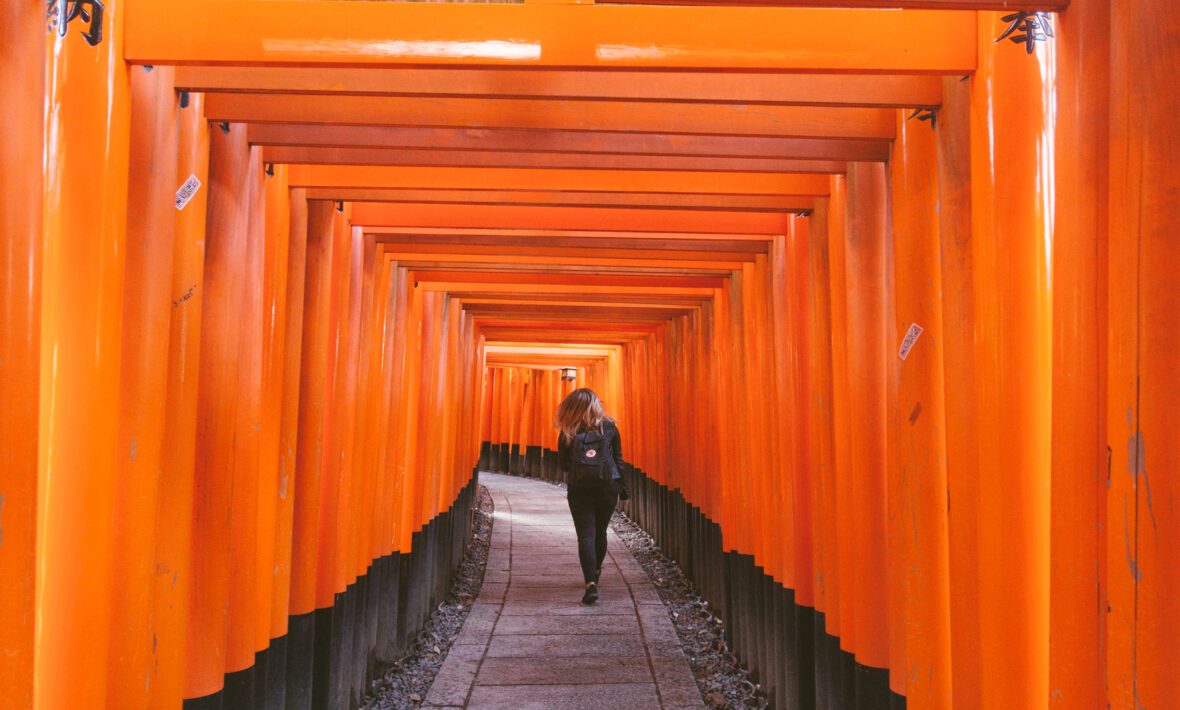 My name is Mirae Campbell and I am a self-taught travel and adventure-lifestyle photographer from Whistler, BC. This January, The Travel Project assigned me a mission; to truly live in the moment, appreciate and connect with my surroundings, and be completely aware of adventures as they happen, whilst I travel on the City to Slopes trip in Japan.
As a photographer, I am often most concerned about freezing a moment and looking through my viewfinder, rather than through my own eyes. So although I am on this this trip to produce images the way I see them – I will also be making a conscious effort to stay tuned into what inspires me to get the photos that I take, as well as those around me who play a part in capturing the images that I do. This is important to me in the sense that I am constantly having to remind myself that sometimes it's okay to laugh with your friends first, before taking 'the shot', because the unexpected moments that come as a result are always the best.
OSAKA: OUR FIRST DAY…
This was taken on the first day of our trip. I have been to Japan every year to visit my family since I was born, so my first day in the sights was something familiar, and it felt nice to be back in an environment that was easy to navigate through.
The first day we had in Osaka turned into torrential downpour, but the wet weather seemed to make the dull sparkle. We had all bought these colourful umbrellas at a souvenir shop in front of Osaka Castle and spent the afternoon laughing at each other because we bought them without realising that water on the umbrella makes different shapes appear on the fabric. The majority of the crowd had translucent umbrellas for when the wind blows so you can hold the umbrella in front of your face and still see where you're going – we learned the hard way when we realised that our dragon and kitty cat patterned umbrellas weren't see-through.
EN- ROUTE TO KYOTO FROM OSAKA
We were packed with a full day of sights and this was our first stop on our commute as a team. The vibrancy and symmetry of the historical sights have always been something that I adore about Japan.
For me, the stops we made that day were some areas that I have visited in the past, but it was different this time around, as I got to watch the group take it in and as a result, it inspired a good handful of the photos I took that day. Things are always ten times more enjoyable with a good group of buddies.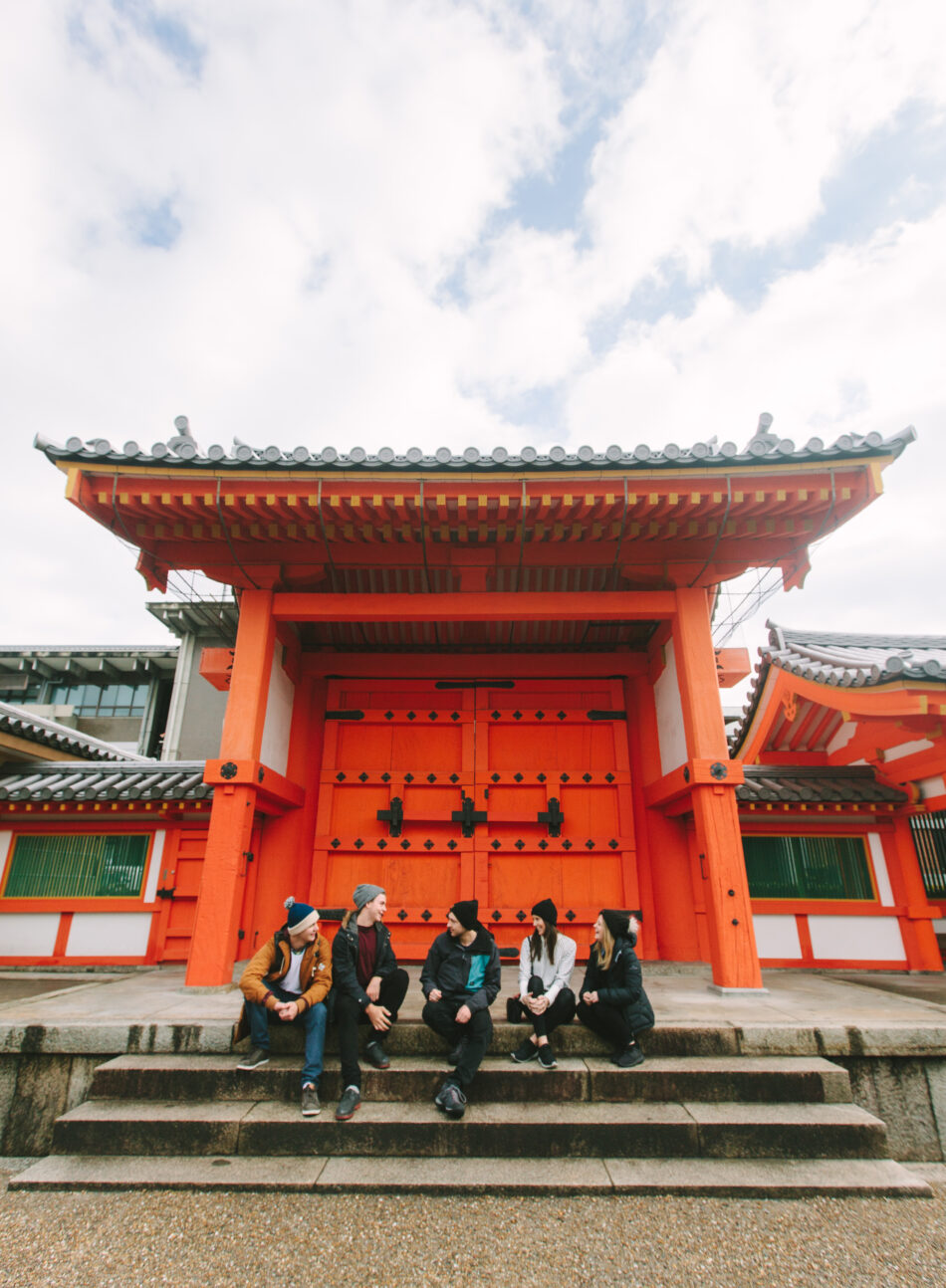 KYOTO: FUSHIMI-INARI SHRINES FELT JUST LIKE CHRISTMAS MORNING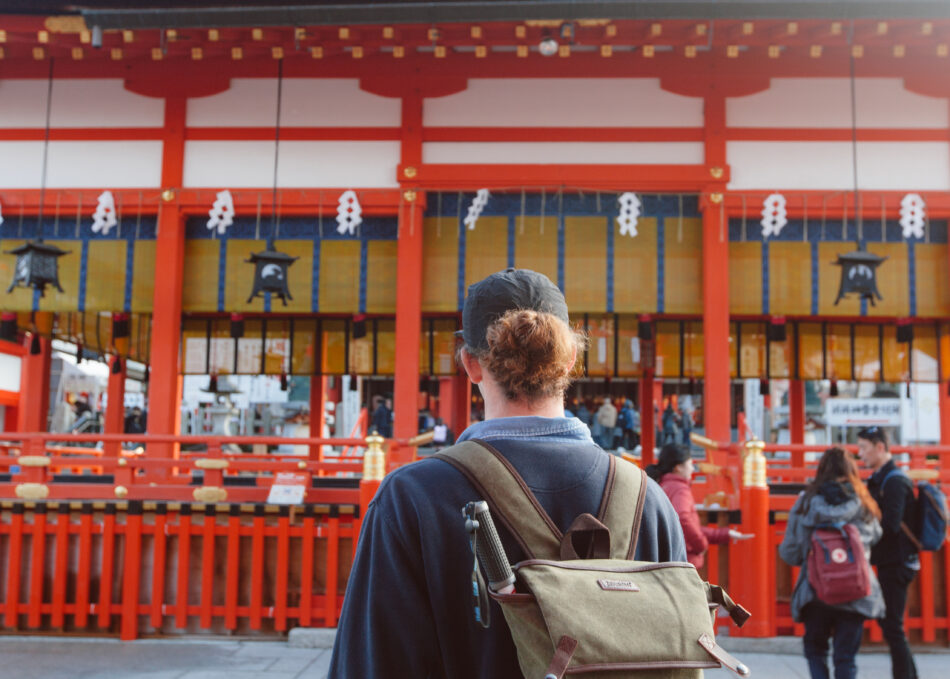 Vermillion could be my new favourite colour? I had never been to Fushimi-Inari Shrines before and I had a full-FULL excitement attack as soon as we arrived. I have no words to describe the stun I felt when I saw each shrine lined up against each other in such perfect composition, not to mention that a THOUSAND shrines were tirelessly constructed up the mountain of Mt. Inari. I have a thing for symmetry & mountains, so when the two come together effortlessly, it felt just like Christmas morning. We had been bogged with a couple days of rain and this was our first day with sunshine on the trip. Each beam of light bounced ever so perfectly between the trees and the gaps between the bright vermillion posts of the shrines, landing on everyone's hair and faces, giving each a sparkly glow as they took everything in.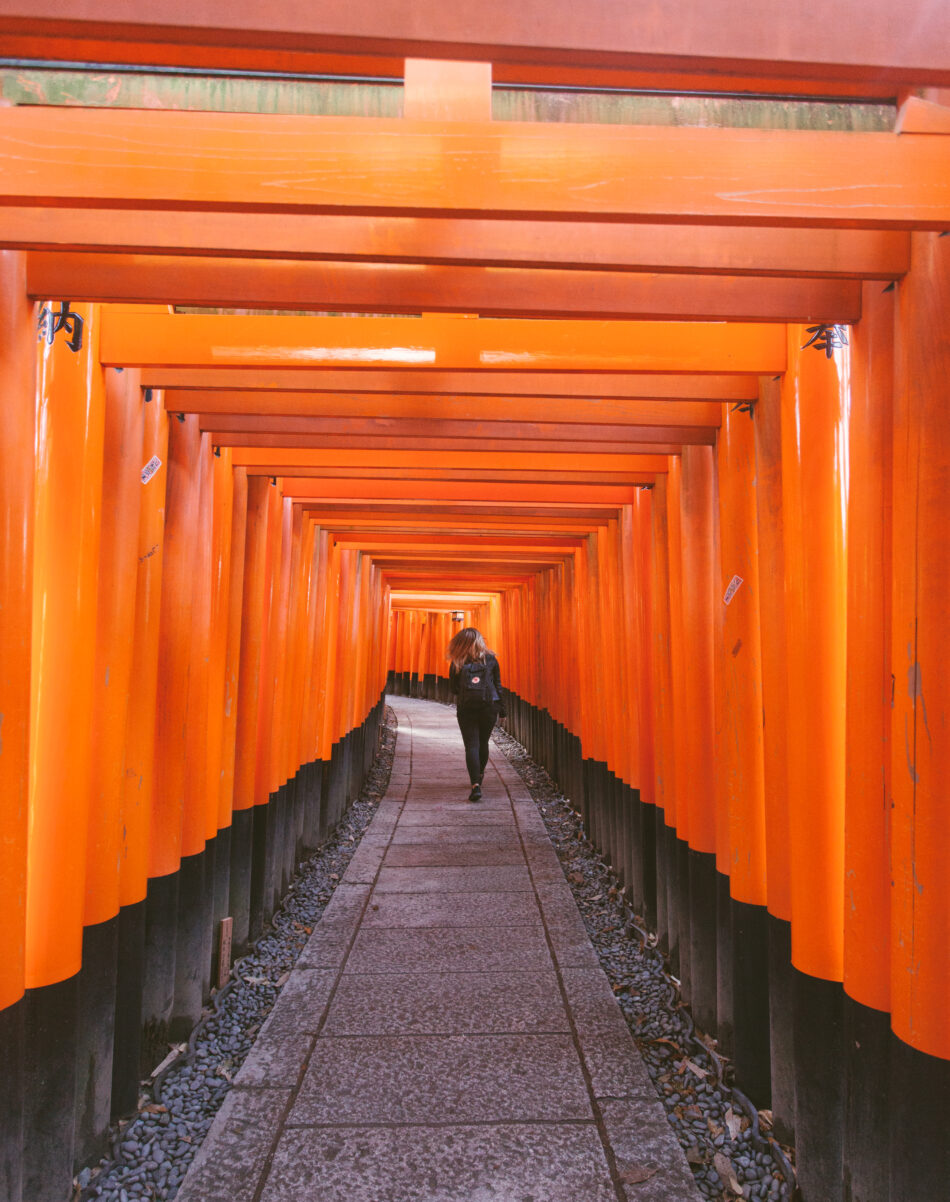 KYOTO: GOLDEN TEMPLES
This was probably the most heavily congested destination we went to during our time in Kyoto. For obvious reasons, the temple is covered in gold-leaf and makes for a simply stunning, mouth-dropping scene. The Grey Heron in this photo is a pretty typical and iconic bird found in Japan, and there are tons that hang out by the stream at my Grandparents house, so it always makes me feel at home when I see one. Perhaps the temple isn't the point of focus in this image and I was more-so thinking selfishly in the sense that the bird made me nostalgic of my childhood summers spent at my Grandparents house. In harmony with the water, and the gold back drop, he looked like he had nowhere important to be other than in my photo, so it was one of those, 'whoa this is sick' moments. While I was bouncing around the patch trying to avoid the mass of people coming and going, I stumbled on an angle from the back of the trail that allowed me to quickly freeze this moment before a dozen people swarmed in front of my lens for the same shot.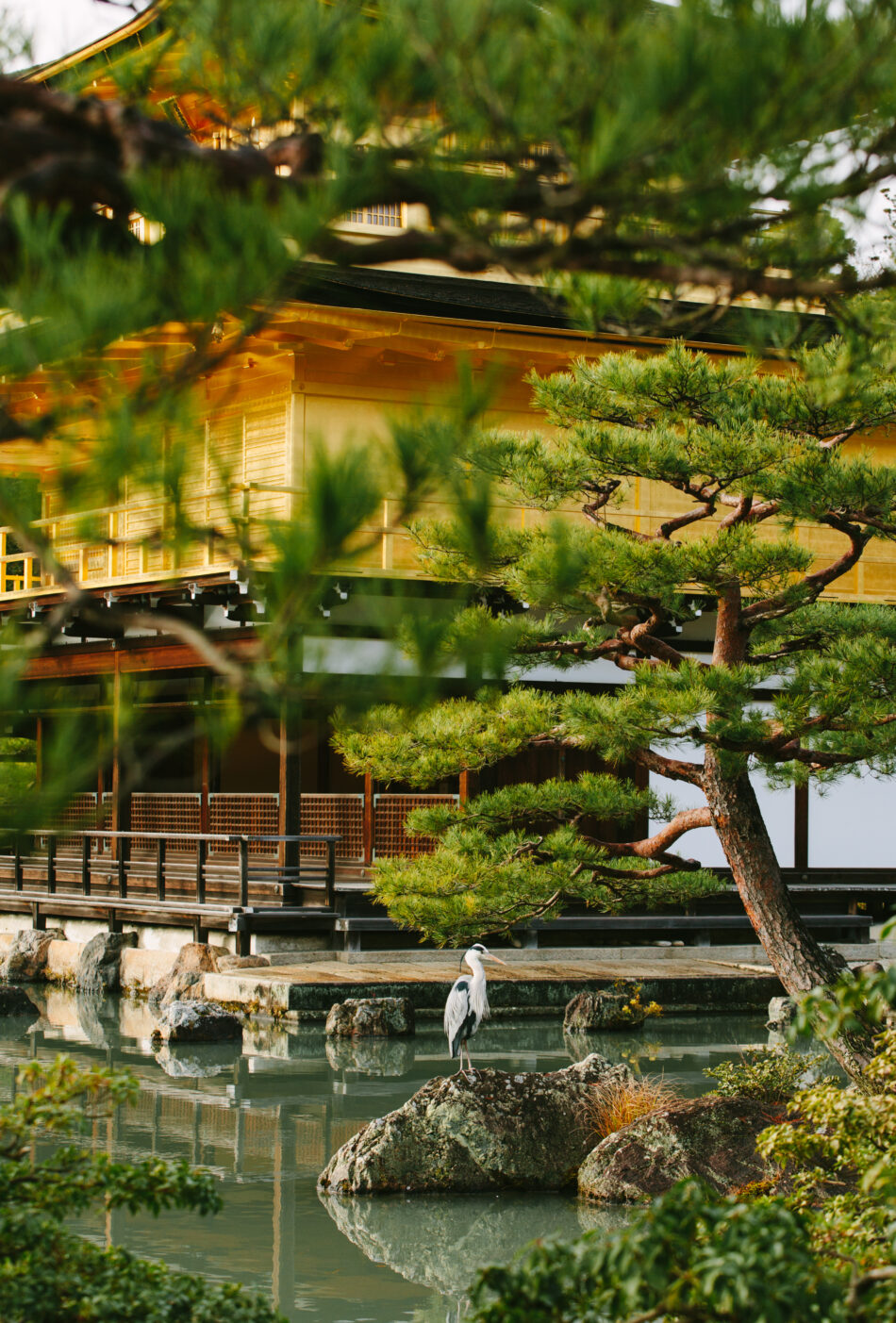 FREE DAY IN KYOTO, SO WHAT DO YOU DO? BAMBOO WALK, OF COURSE.
We had a free day in Kyoto and this might make me a huge suck…but I had seen photos of this Bamboo Walk on Instagram and once I figured out it was only a 45-minute train ride away, I managed to convince all of my new found friends to tag along and make the trek with me. It was a pretty comedic moment when we arrived at the entrance to the forest, and it looked nothing like the photos we had seen on Google, so we were all briefly left feeling a little defeated… until we realised we had to go for a walk first and would end up in the thick of the bamboo shoots after a short ten minute stroll.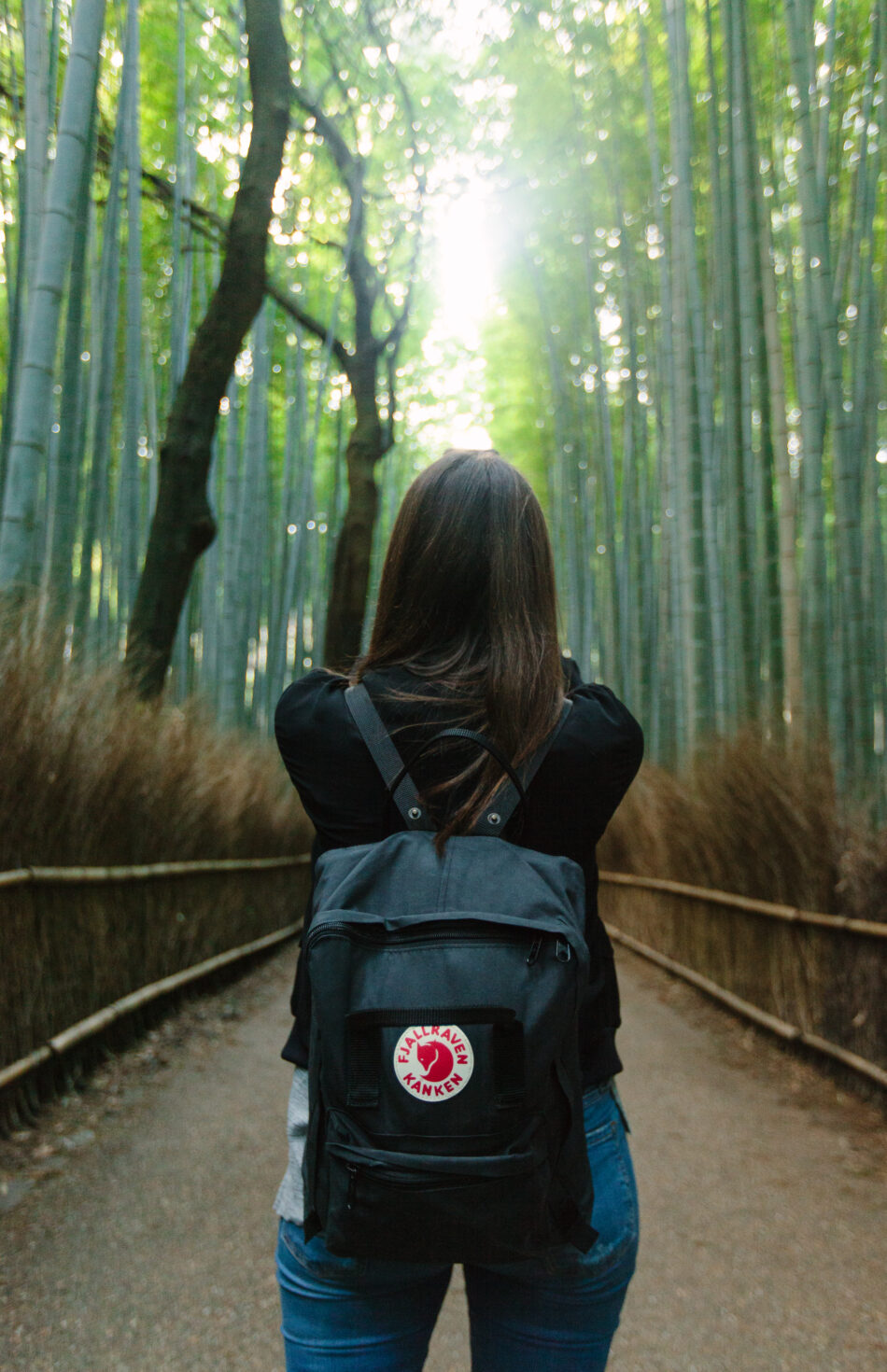 Needless to say, the sun was again in our favour and it was everything I had imaged it to be with the bright greens and tall narrow shoots sprouting into the sky. Even with the regular traffic of people milling through the path, the silence and the wind clattering through the tops of the branches were something that made us all feel at peace and made the venture out worth it.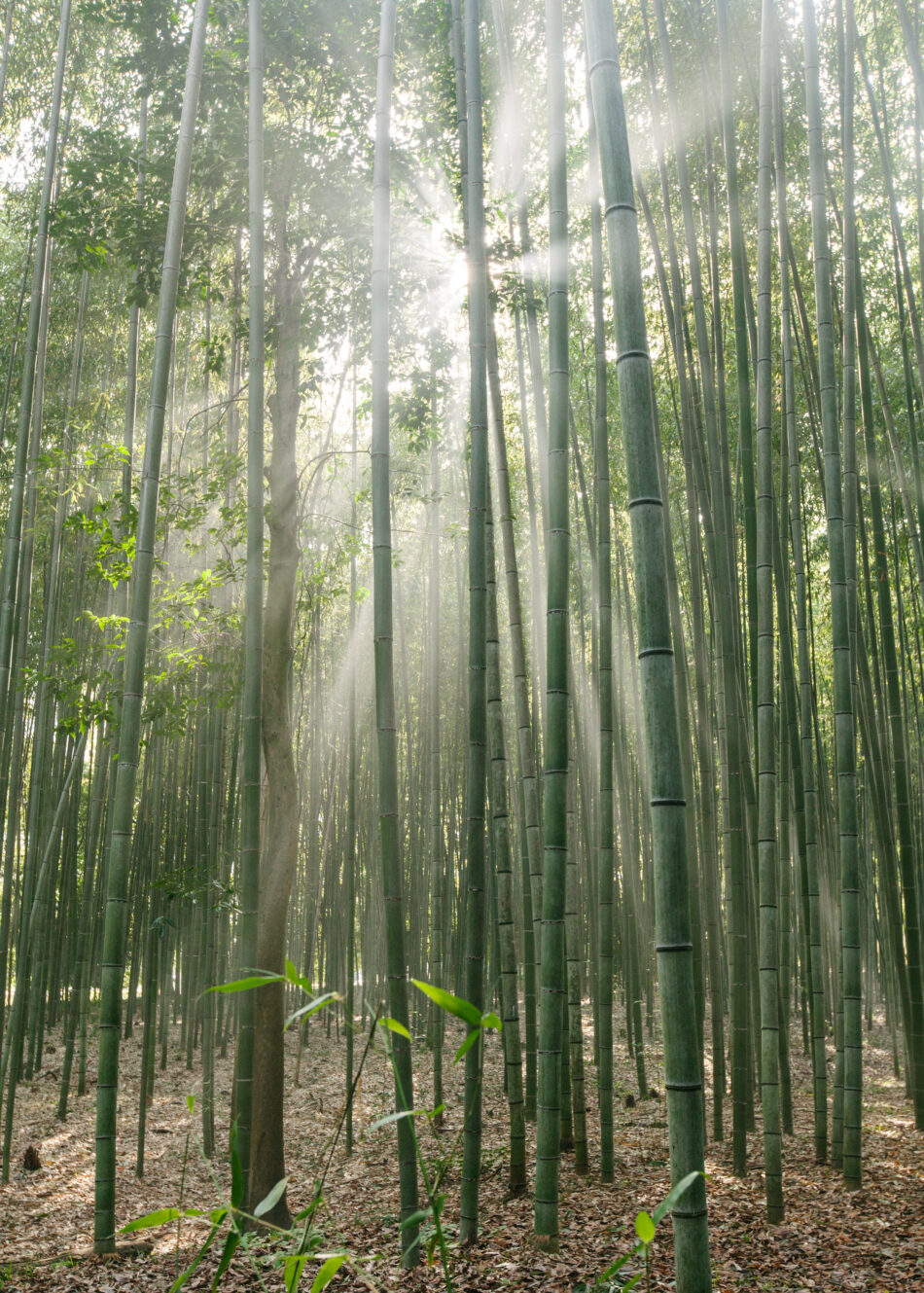 KYOTO MONKEYS
I'm not even sure I need to say more beyond looking at this picture, but there was a Monkey Sanctuary close to the Bamboo Forest in Kyoto, and since we were in the area, we wobbled (can't say power hiked because our feet were SO sore) our way up a mountain to go take a peek at them. Literally, we had a hundred monkeys running free and they put humans in a cage to feed them bananas. Baby monkeys, mumma monkeys, daddy monkeys, teenage monkeys, so many cute faces poking out of the bushes and running around. It was heaven.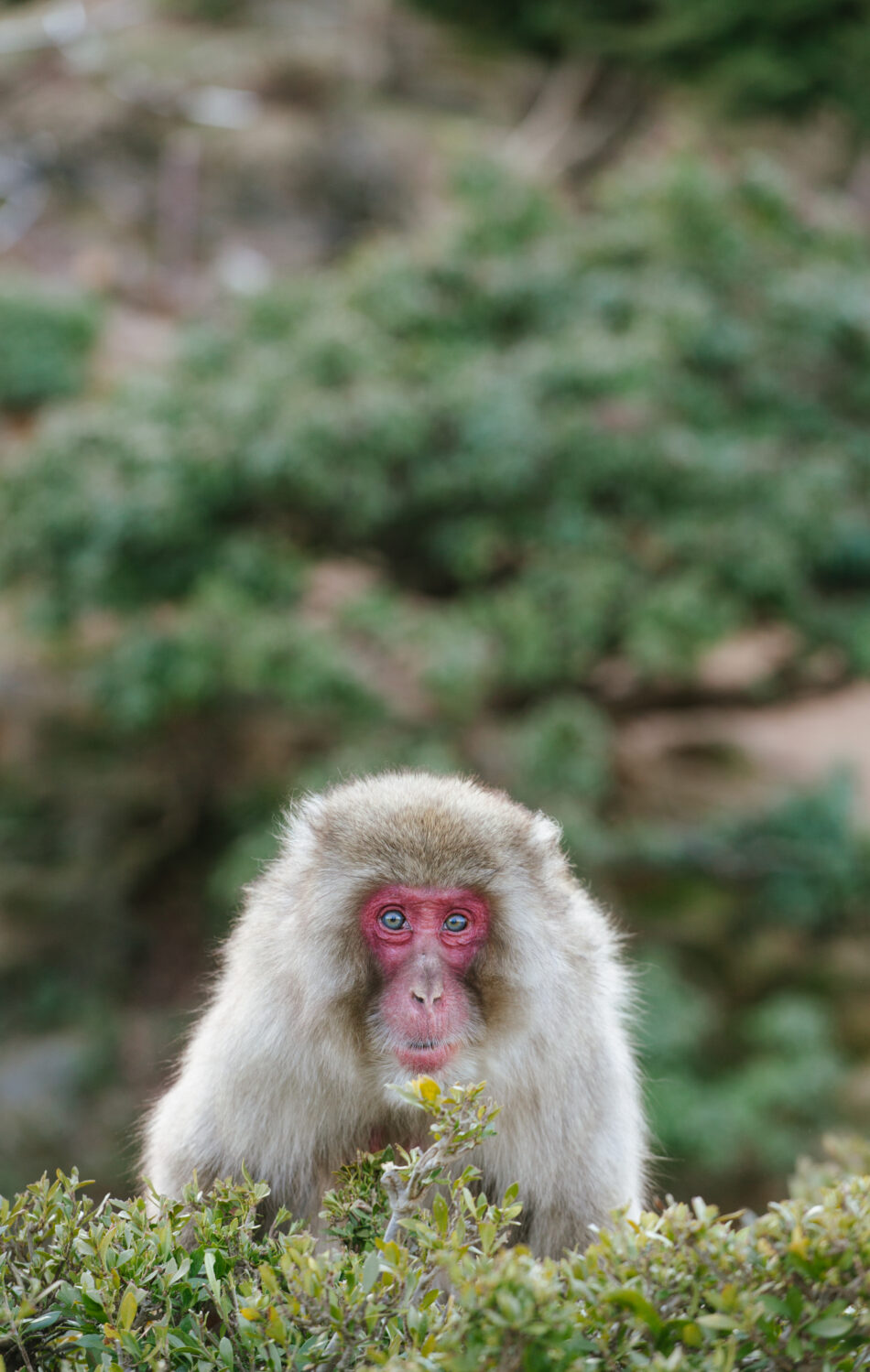 TOKYO REALLY IS THE BIG SMOKE
Feeling a little overwhelmed in the Big Smoke, our first free day in Tokyo, we started with a safe and easy tourist destination at the Tokyo Government Building to check out the observatory. It left us feeling that we needed to make a trip back so we could spend a day trekking out to Mt. Fuji. Giving us a 360 Degree view of Tokyo we really had our work cut out for us to hit the ground running and see everything.
SAKE BARRELS REALLY DO EXIST
The team had a really hectic night near the beginning of the trip where too much Sake may have been enjoyed, so when we arrived at the Meiji Jingu Shrine, with it's wall of colourfully decorated Sake barrels, the number of jokes bouncing around the group were endless. Certainly a highlight of the sight tour to the shrine, it was easy to take a photo while everyone was laughing at each other's expense while recounting their stories from their wild night out.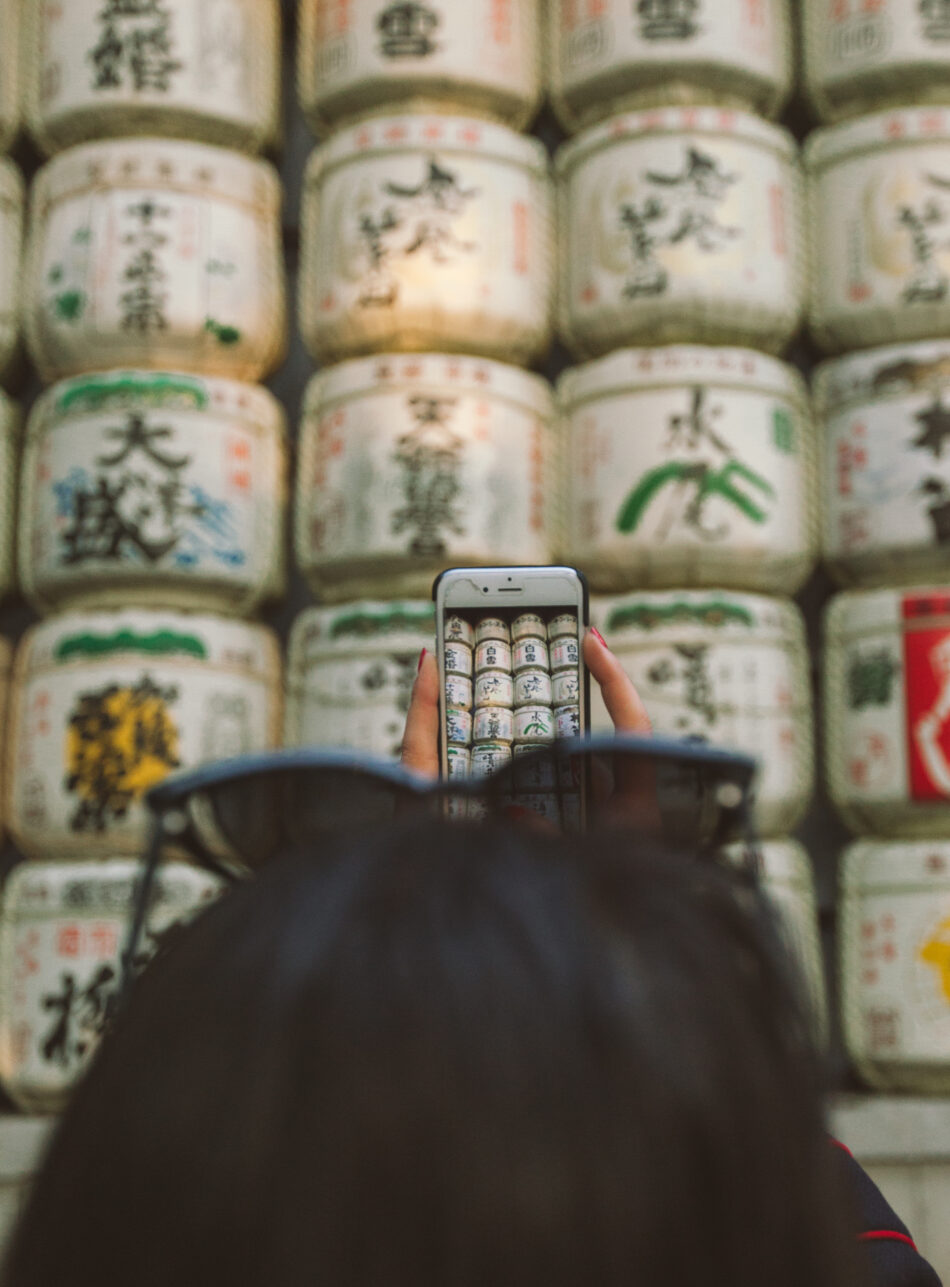 SHIBUYA TOKYO: THE BUSIEST CROSSING IN THE WORLD
Luckily it was not actually as busy as I imagined it to be – but still got the blood flowing to see so many people ebbing out and around each other to get from Point A to Point B. It was one of those sensations like watching snow fall or fire burn, it's so simple to watch but easy to get lost in a trance.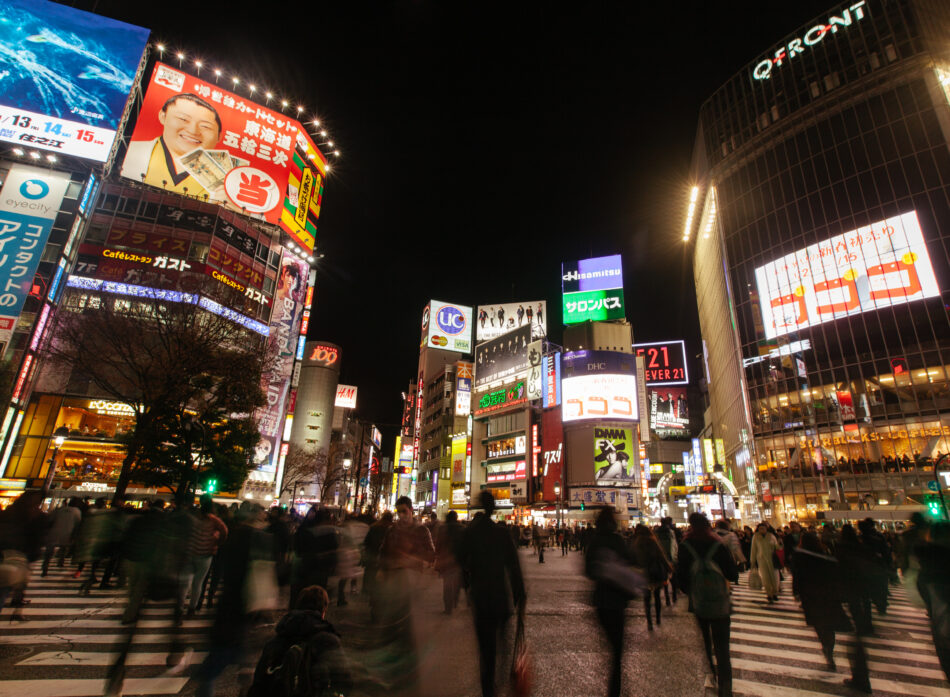 LEGIT WHITE POWDER
The only three words I'm able to utter when reflecting on the last 4 days of the trip in Hakuba. I can't begin to express words that can portray the immense feeling of ecstasy that I felt waking up every morning and seeing a thick layer of fresh snow waiting for us on the hill.
HAKUBA, I WILL BE BACK
We smiled for the entire 4 days we were together in Hakuba, it was simply the most exciting and important way to create lasting friendships with the buddies that I made throughout the tour. Snowboarding together was the glue that bonded the team together because it gave us so many reasons to laugh and connect and made it so easy for everyone to bounce off of each other. The end of the trip in the snow was the perfect way to seal everything I had experienced in Japan, in a way that made me reflect with an ear-to-ear smile on my face.
Mirae travelled on Contiki's Japan City to Slopes trip as part of The Travel Project. Want to see what other stories The Travel Project has created? Head here.
Have your own story you want to tell and would like to become a contributor to six-two? Click here.
Want to discover Japan for yourself? Go there with Contiki on: