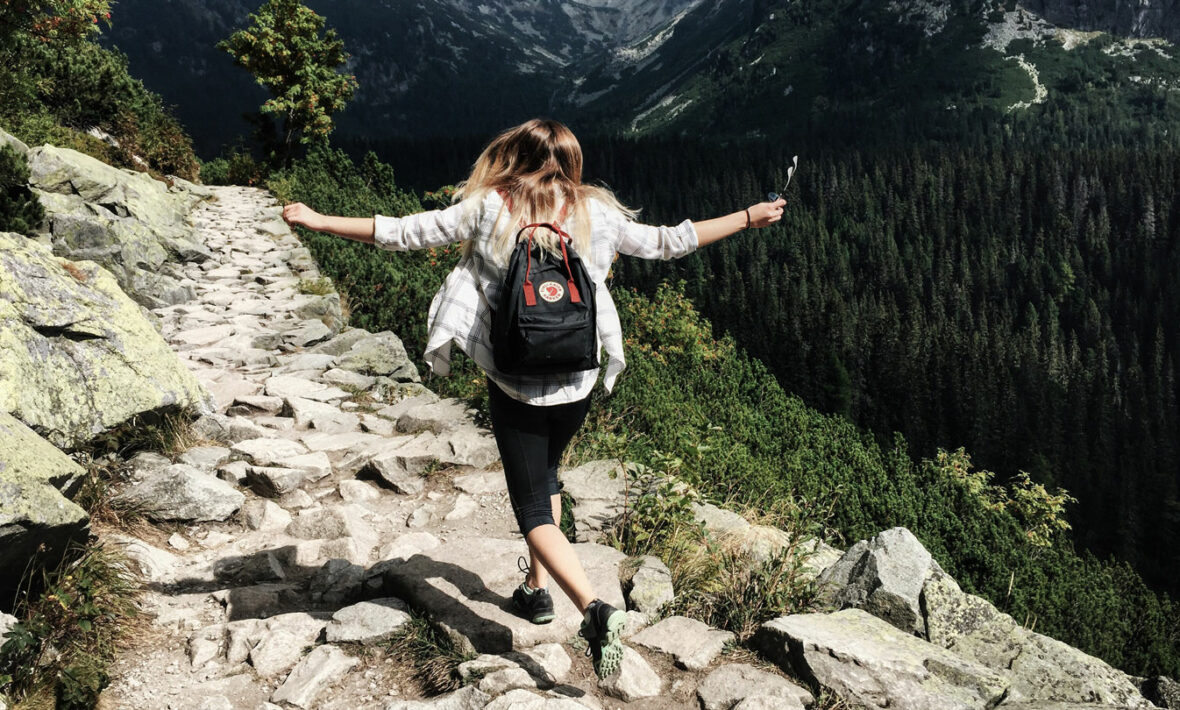 A girls gotta travel, but with the right items in your suitcase you can take your savvy traveller status to the next level. From solutions for managing periods on a trip to little safety hacks that can make you feel in control, here are ten travel products every wanderlusting woman needs in her arsenal.
Shewee AKA female peeing device
We all know the sheer terror of entering a bathroom so filthy you consider wetting yourself as an alternative to using it. With a Shewee, a female urination 'funnel', you can use the bathroom standing up just like a guy and not have to touch anything! Great for when you're going off road or travelling through areas where toilets may not be available. And don't worry, nothing leaks and they flick dry! The first time you use it you'll have a moment of "am I just about to wee all over myself" but trust me, they work.
A trendy microfibre towel
Towels are something that every traveller dreads packing because they take up so much room. We say buy a microfibre towel that's compact and does it all. If you get one with a cute print (like these Toska Active ones) you can use it for the beach, bath, exercise and even as a sarong if you're visiting religious sites. Oh, and they also dry in no time meaning no stinky wet towels grossing up your suitcase.
A menstrual cup
Many women swear by menstrual cups like the Mooncup or Divacup. Not only do they cut down on waste, hold more than regular products and leave extra room in your luggage because you're not carrying boxes of tampons and pads around, but they also save you having any awkward conversations about buying extra feminine hygiene products when you run out. Buying tampons and pads is notoriously hard in Asia, and this way you won't have to think about it at all.
Dry shampoo
Ain't nobody got time for washing their hair! This is every girls best friend in my opinion and it leaves more time for exploring because you're not battling for shower time. A quick spritz and you'll feel fresh as a daisy. Bonus tip: dry shampoo makes hair much easier to style because it has a bit of 'grab' and adds volume.
Luggage scale
If you're prone to over packing then a tiny portable luggage scale is a must-have. You can check the weight of all those souvenirs before you hit the airport and shuffle stuff around. Especially important when there are carry on weight limits!
Whistle keyring
It's always better to be safe than sorry and carrying a whistle keyring to attract attention if you feel threatened or get lost out hiking is a useful item for women travellers. It's a small enough product you won't even notice carrying it, and who doesn't need a keyring, AND peace of mind makes holidays more fun.
RELATED: HOW DO I…DEAL WITH UNWANTED ADVANCES AS A SOLO FEMALE TRAVELLER
Water only Makeup remover wipes
These are a total game changer even when not on holidays! Basically it's a specially designed cloth that only needs water to turn into a makeup removing wipe. The best part? You can wash and reuse FOREVER! Zero waste and saves on packing space = win. There's a couple good brands to try like the Makeup Eraser if you like bigger face cloths, or the Face Halo if you prefer smaller rounds to remove your glam.
Charging purse or keyring
Between Google Maps and Instagram your phone battery can run out faster than Macca's makes their cheeseburgers. A charging purse or charging keyring means you can charge on the go and have a cute accessory.
Top Secret Bra Pocket
Forget money belts, the new kid on the block for ladies is a super discreet purse that snaps onto your bra and lies flat against your body. Big enough to hold cards, cash and a single key, keep your valuables close and personal with a bra pocket.
Blister pads
These babies should be part of your standard first aid kit, because nothing kills the holiday vibes faster than realising you have a massive blister and can barely walk, let alone hike that mountain like you planned. You can get blister pads for your heels or toes and honestly, we vote you bring both just in case… there's no telling when blisters will strike!