The great outdoors awaits, because milk ain't the only thing that does a body good. Explore the various reasons why a brief visit with Mother Nature can nurture you back towards a state of nirvana.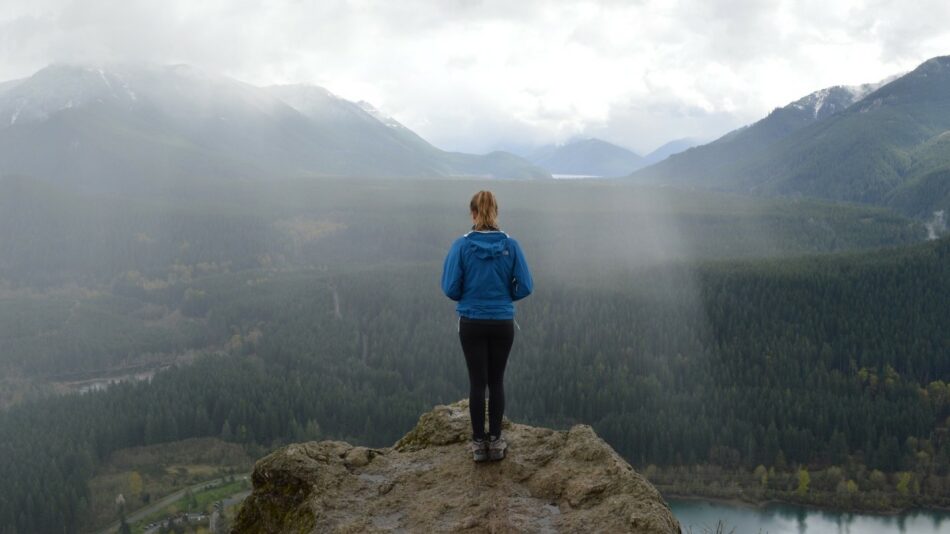 "Keep close to Nature's heart… and break clear away, once in a while, and climb a mountain or spend a week in the woods. Wash your spirit clean." – John Muir
Is your computer desktop, mobile phone wallpaper, or office wall decorated with soothing images of far-off places, outdoor escapes, or calming beaches? You're not alone. We as humans yearn to explore and be outdoors but often times find ourselves glued to our desk chairs staring at a computer screen (me writing this – casing point). If you're lucky enough to work next to a window, you're longing for some one-on-one sunshine time and the deprivation is driving you mad.
So what does this all mean? It's simple really – the answer to happiness all points to the great outdoors.
Getting outdoors is good for your health, and we can prove it…
According to a new study from Stanford University, people who spent 90 minutes walking in a high-traffic, urban environment versus people who spent the same amount of time walking in a natural environment "showed decreased activity in a region of the brain associated with a key factor in depression." What does that potentially mean for you?  While you may love your urbanite lifestyle, just a quick jaunt to a natural environment can greatly affect your mood and mitigate some of life's more stressful events.
Research conducted by the Journal of Aging Health suggests that getting outdoors on a daily basis could improve your health and reduce functional decline – meaning you'll stay active for longer.
If you encounter that afternoon slump and reach for your coffee pot, some studies suggest that a 20-minute walk outdoors could give you as much of an energy boost as one cup of coffee. Many people liken the outdoors to "fuel for the soul" as the article suggests, and we couldn't agree more.  Nature has some crazy restorative properties and sometimes you just need to get outside and get moving to power through the rest of your day.
Brands are already one step ahead of the happiness game…
We're not surprised that adventure apparel brand REI (based here in the U.S.) decided to run their #OptOutside campaign for Black Friday, encouraging people to avoid the indoor, retail madness and instead choose to hike, bike, swim, or just get outside for the day and enjoy the offerings that Mother Nature is giving you for free. Instead of turning into a ruthless shopping fanatic, REI closed their doors on Black Friday – considered the biggest shopping day of the year – and paid their own employees to get outside and do something. Over 1.4 million pledged to #OptOutside and get outdoors – check out this video from REI's CEO who says it best: a life outside is a life well-lived.
https://youtu.be/flH5ReMsZ-M
Now it's your turn to invest in your happiness…
Traveling to a destination that has you hiking, biking, swimming, or just being one with nature is high on our list of favourite ways to get outside. There are plenty of reasons to hop on a plane and escape your urban life, but personal happiness is pretty much number 1. Trade that city skyline view in for the stunning green landscapes of Ireland or exploring the lush Amazonian jungles in Peru and get your full dose of Vitamin D.
Hiking is also another alternative if you need a quick getaway that will give your endorphins a lift. If you're fortunate enough to live in a town with nearby mountains or hiking trails, grab your boots and hit the road.
Walking Meetings are a great way to incorporate the great outdoors in your work day. Even a brisk 10 minute walking meeting can have a huge impact on your creativity, according to a study by the Journal of Experimental Psychology which suggests that the act of walking (even indoors) could have a huge impact – but we think a little bit of sunshine would be better. Two birds, one stone: Vitamin D and a creative release.