Seville is hands down one of my favourite cities in Spain – it's walkable, beautiful, and has that uniquely Spanish flavour that I dreamed about before ever even setting foot on Spanish land. If a day is all you've got in this lovely city, here are some of my personal recommendations for the best things to do in Seville to make the most of your trip here:
1. Experience the Seville Cathedral early
This is SO much more than just another European cathedral. Seville Cathedral has variety on its side, with lots of smaller rooms to explore around the perimeter, the famous tomb of Christopher Columbus, and a gorgeous courtyard of orange trees.
One of its must-see features is the Giralda Tower, which has to be climbed for some of the best views of Seville. Plus, you can get some pretty amazing shots of the cathedral exterior during your climb up or down. Avoid the crowds and knock this one out in the AM.
View this post on Instagram
2. Get your GAME OF THRONES on at the Alcázar
If Game of Thrones used it as a filming location, you know before going in that it's gonna be epic. Right beside the Seville Cathedral you'll find the Alcázar or royal palace of Seville, and it's a perfect follow-up to the cathedral.
It's got that Moorish magic that'll make you feel like you've crossed into Morocco, and it's one of the most beautiful places in all of Spain. It's everything a lavish ancient palace should be, with gardens and ponds perfect for the 'gram.
SEE ALSO: 6 GAME OF THRONES LOCATIONS YOU NEED TO VISIT ONCE IN YOUR LIFE
View this post on Instagram
3. Wander is a must
The side streets of Seville are just what I like; winding, narrow, lined with shops and stunning open squares. Getting lost in the maze of barrio Santa Cruz is a great way to get some shopping done and scout out a good spot for your next activity. Doing it with a gelato in hand is even better.
4. Grab a tapas lunch, obvi
Wandering around the Santa Cruz area will lead you to dozens of adorable little tapas restaurants, and I like to keep wandering until one speaks to me. Outdoor tables and cheap sangria are a must, but what I really look for is a big tapas menu with a bunch of options for a couple of euros each. That way I can sample a bit of everything on a budget. Restaurants like Las Teresas and Bodega Santa Cruz consistently deliver the goods, which is what makes this one of the best things you can do in Seville.
View this post on Instagram
5. Climb the Torre del Oro
I know, you're probably thinking that you've climbed enough for one day after the Giralda Tower, but trust me, this view is worth it too. The Gold Tower is located right on the river so the view is totally different, and it'll make you feel better about all of that tapas and sangria you just had. The Torre del Oro is pretty gorgeous from the outside as well, and it's a great spot to get some photos in front of for a future potential profile picture of two.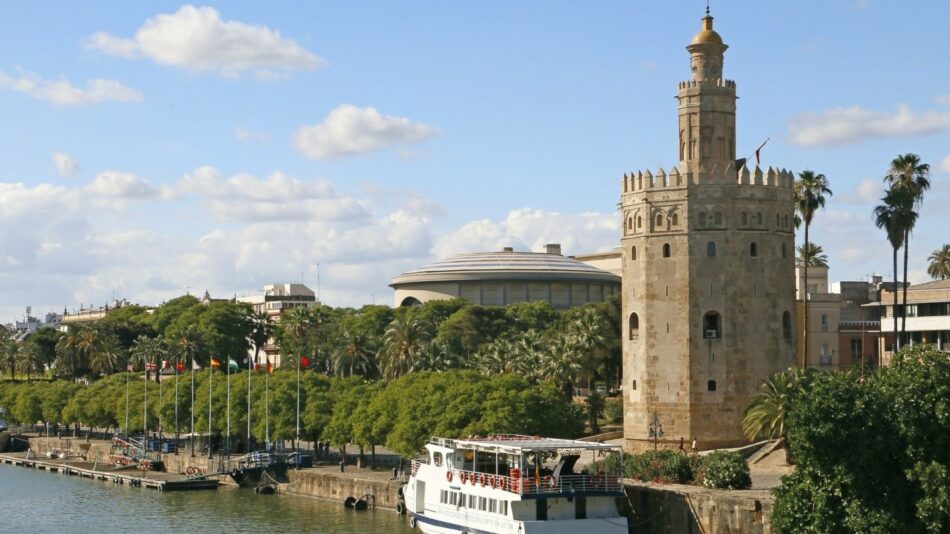 6. Strike a pose in Plaza de España
As far as main squares go, this is by far one of the most impressive and beautiful. The giant semicircle of ornate buildings are like gorgeous arms embracing the fountain and bridges within. The mosaic tile work along both the inner walls and the bridges is stunning, and the photo ops are endless. The plaza opens up into Maria Luisa Park which is fab to explore as well.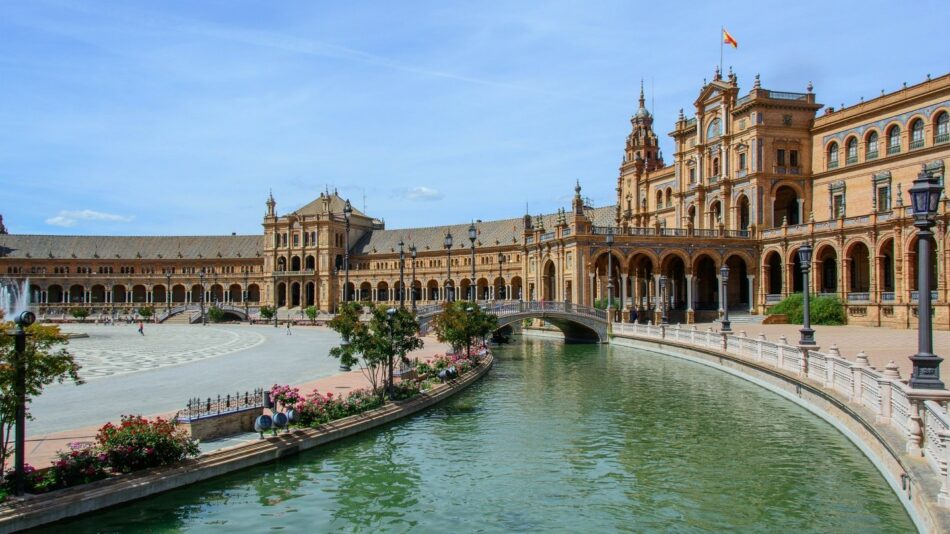 7. Get on the Metropol Parasol
If you're looking for something a little less historic and a little more quirky, the Metropol Parasol is a definite contrast from your earlier sites. It may resemble a series of giant alien wooden mushrooms, but it's cool to walk along and the markets are worth visiting as well.
View this post on Instagram
8. Start the evening with a Flamenco Show and Dinner
Is there anything better than dinner and a show? Witnessing some authentic flamenco is one of the absolute best things to do in Seville, and hopefully you can pick your jaw up off the floor enough to eat some of the famous Spanish paella. That footwork though? Honestly, it has to be seen to be believed. For dinner and dancing El Patio Sevillano and El Palacio Andaluz do both components really well.
9. Put your new dance skills to the test
Ok, so maybe you won't be salsa-ing the whole night away, but that intense passion and footwork is bound to inspire some new moves as you hit the bars and clubs of Seville. There are some great options for bars and clubs in the centre of town that are close to the river, and in my opinion there's no better way to close out the day than dancing into the night. Check out favourites like F5 Sevilla or The Secondroom.